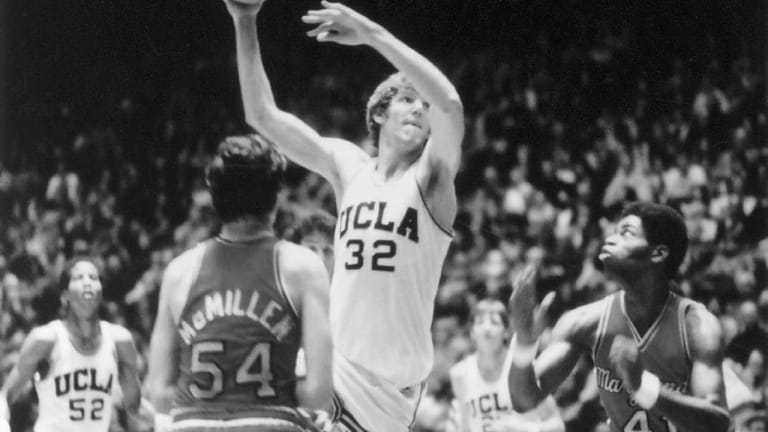 Publish date:
Big Bill Loves to Eat 'em Up
A shy young man with a huge appetite, UCLA's superstar feeds the Bruins' fast break and feasts on their foes
The Ted Walton family lives in a rambling white house on a hillside in La Mesa, Calif., a suburb of San Diego. These days the Walton residence is a relatively tranquil place because three of the family's four outsized children are away at college. Bruce, 20, and Bill, 19, are at UCLA, where the former is a 6'6", 250-pound football tackle and the latter is the 6'11" star and center of the Bruins' unbeaten, top-ranked basketball squad (see cover). Cathy, 18, is a 5'11" center on a women's basketball team at Berkeley. That leaves only Ted and his wife Gloria, their youngest son, Andy (at 16 a 6'5" forward for nearby Helix High), and two monster mongrels.
It is nothing like the old days, when all the kids were home and the Waltons lived in a gastronomic and metronomic madhouse. Poor Gloria used to spend most of her time then peeling potatoes or cooking—in a ceaseless attempt to satisfy the prodigious Walton appetites. Sometimes at breakfast the kids would have several hot dogs or hamburgers apiece, and for dinner there usually was steak or a roast. "There is no doubt in my mind," says son Bill, "that Glo's cooking is the reason I grew to be 6'11"."
Dinner always began at 6:15 sharp. On holidays the after-dinner hours were spent around the piano in song. Ted, the possessor of a fine bass, would break out with a tune. The offspring, sometimes even the shy Bill, would chime in. Indeed, music was prominent in the Walton household long before athletics. In the children's younger days, the family had its own band—Bruce on trombone, Bill on baritone horn, Cathy on drums (or flute or tuba), Andy on saxophone, Ted on piano.
"I never tried to steer my kids into sports," says Ted Walton, himself a 6'4" bear of a man with a facial resemblance to another Ted—Spiro T. Agnew. "I encouraged them to play, but only as a broadening experience, to complement their music. So wouldn't you know that they all gave up music and wound up in sports."
The Waltons are of modest means (he is a district chief for the San Diego Department of Public Welfare, she is a librarian), and they are both amused and amazed at their sudden celebrity, the consequence of Bill's exploits on the basketball floor. The sophomore with the floppy red hair and problem knees is easily the No. 1 big man in college ball, the most talked-about player of this season and maybe one of the best ever to try the game. Already he is being mentioned in the same breath with such dominant figures as Bill Russell, Wilt Chamberlain and—of course—Kareem Abdul-Jabbar (or Lewis Kareem, as UCLA Coach John Wooden sometimes calls the former Lew Alcindor).
Walton himself shies away from such comparisons, preferring instead to give most of the credit for UCLA's success this season—23 straight wins, mostly by wide margins—to his teammates. "It hurts me when people talk as if I'm the only player on the team," he says. And he means it. "I wish sports-writers wouldn't ask me anything personally at all. I would like to see them get the whole team together to talk. I don't like to be singled out as an individual because we don't play as individuals, we play as a team."
While his attitude is admirable, and while it undoubtedly does a lot to promote harmony on a team of marvelously talented players, it also is true that everything UCLA does well stems directly from Walton and his extraordinary talents. His statistics are impressive enough—21 points a game, 15 rebounds, a 63% shooting average—but they do not tell how Walton so thoroughly distorts and dominates a game. Only Russell, Chamberlain and Jabbar were able to intimidate rivals the way Walton does, and few big men ever play with the full-court enthusiasm that characterizes Walton's game. He is everywhere—tipping in missed shots, leaping out of nowhere for blocks, chasing loose balls, calling the signals for UCLA's 2-2-1 zone press. Although his critics, and they are hard to find, contend that Walton has yet to prove himself against enough topflight centers, he has manhandled such worthy opponents as 7' Luke Witte of Ohio State and 6'10" Steve Hawes of Washington.
"I think you have to be a real student of the game to appreciate the way Bill plays," says sophomore Guard Greg Lee, the team's playmaker. "We are only now beginning to realize how good he is. With Bill back there on defense, the rest of us can afford to gamble, and we can cheat getting out on our fast break."
Wooden sees even more. "He does so many things that don't show up in the box score," the coach says. "Like intimidation. How do you measure that? I know that when we had Lewis Kareem, the other teams had a lower shooting percentage. It went back up during the next couple of years but now, with Bill, it will go down again. Our opponents for the year are hitting in the high 30s and he is greatly responsible for that. Not only because of the shots he blocks but because they are always looking for him, just as they used to for Lewis all the time."
Typically, Walton's favorite maneuver is one that involves the entire team: the fast break. Usually it begins with Walton leaping high to clutch a rebound in his large, bony hands, then rocketing a pass to midcourt almost before his high-topped size 15 leather sneakers hit the floor. It ends, after a quick pass or two, with one of his teammates going in for a layup or an easy jumper. At midfloor, where he has been trailing the play, Walton—ever demonstrative—is apt to smile and clap his hands, as if he were just another fan sitting in the cheap seats behind the basket at Pauley Pavilion.
"On defense I make a point of knowing where all my guys are, all the time," says Walton, "so when I get the ball, even while facing the basket, I am thinking about the fast break. I know Henry [Bibby] is over here, and Keith [Wilkes] is close by and Larry [Farmer] is at least within 10 feet of me. When I'm trailing the play and see everything materialize in front of me—wow! That pleases me the most."
From the fourth through the eighth grade at Blessed Sacrament school in San Diego, Walton played whatever sport was in season under Frank Graziano, a fireman whose only pay for the long hours he spent with the kids was gasoline money. It was Graziano who taught the Waltons and their friends the basics of basketball and who convinced Walton, at the end of his eighth-grade year, to forget high school football (he was an end) and concentrate on basketball. As an eighth-grader, Walton was playing defensive center for Blessed Sacrament, and offensive guard, too, because he was Graziano's best ball handler.
Before his sophomore year at Helix High, Walton underwent an operation to repair torn cartilage on his left knee. Because of the tender knee, and his lack of overall strength, he spent most of his sophomore year on the junior varsity. Near the end of the season Coach Gordon Nash promoted him to the varsity, but he played in only six games and did not start any of them. "For a sophomore with no experience he rebounded pretty well," says Nash.
Between his sophomore and junior years Walton grew from 6'1" to 6'7" and Helix turned to a high-low post offense featuring Bill and Bruce. The brothers formed an odd couple. Bruce began the season at 6'5" and 283 pounds; Bill, two inches taller and a full 100 pounds lighter, was so frail that he was unable to play a complete game without resting. "He would simply get too tired," says Nash. "When that happened, he'd tell me and I'd take him out." His build often made Bill a target for opposing hatchet men who were not aware that the behemoth at the other post was his big brother.
"When they would begin to rough up Bill, I would look at coach and he would give me a nod," recalls Bruce.
"Yes," says Gloria Walton, "then when the referee wasn't looking, Bruce would give the player an elbow and let him know that the skinny guy was his kid brother."
"After that," says Bruce, dreamily, "they wouldn't rough up Bill anymore."
In Bill's junior year Helix had a 29-2 record and won the CIF championship of the San Diego section, which includes more than 50 area schools. Between his junior and senior years Bill kept growing, to 6'10½", and his stamina improved. Long bicycle rides around San Diego helped, but also, he says, "I was getting older and smarter. I put on 15 pounds, and I learned not to waste so much energy on the floor."
Early in his senior year it was obvious that Walton was an extraordinary prospect. As Helix ran up a 33-0 record and another CIF championship, he averaged 29 points and 24 rebounds, hit 70% of his shots and was beginning to demonstrate the many skills that he uses so well at UCLA. Nash and the Waltons were inundated with letters and phone calls from college recruiters. Those who came to La Mesa to see Bill always got the same response from Ted Walton when they asked to take the family out to dinner: no thanks. The more fortunate, however, were invited to dine at the Walton home. "It's a tradition we began when Bruce was being recruited for football," says Ted. Adds a friend, "Ted has a lot of character. He didn't want to feel obligated to the recruiters in any way." So Notre Dame's Johnny Dee and USC's Bob Boyd ate at the Walton table, and so did John Wooden. The Waltons served Wooden a favorite family dish—roast and potatoes—but no one will say whether he had to sing for his supper.
After his senior season Bill announced that he was going to UCLA. "I felt they offered the best combination of academics and athletics," he says now. He also knew that Lee and Wilkes, two high school stars he admired, were on their way to Westwood, and that helped him decide.
Immediately after he announced his intention, Walton left for Europe with a touring AAU team. A mere boy among the Army veterans and college graduates, he did not have much fun on the trip, or see much playing time. Once, in Czechoslovakia, he was even assigned to play for the opposition. The Americans won the game, but Walton did so well that he received a standing ovation. His most vivid impressions of Europe, however, do not concern basketball. He was upset by the poverty he saw in Italy and Yugoslavia.
Walton has this compassionate awareness with reason. His father, who oversees 200 employees and some 15,000 welfare cases, has long been concerned with the rights of the underprivileged. "Ted gets involved personally with a good many of our cases," says a fellow worker. "He is especially interested in the ADC [Aid to Dependent Children] program. He does everything possible to see that these kids are provided for, that they can get an education."
Bill Walton is also alert to racial injustices in America. "I don't blame the blacks for hating the whites," he says. "They've gotten such a raw deal for so long." He is taking a course in Afro-American studies, and his black teammates seem to consider him a blue-eyed brother. In many ways Walton is responsible for the unity on this year's Bruin team.
"Last year's team wasn't very close," says a source that knew the UCLA situation well. "Sidney Wicks and Curtis Rowe had their clique, and the whites had theirs. But this year's team isn't like that. Everyone, black and white, is close."
Walton gives most of the credit for this to the attitude of Bibby, the black guard who is the only remaining starter from last year and the only senior starter on this squad.
"I knew there wouldn't be any problems from the guys on our freshman team last year," Walton says. "I knew them really well. The only problem that could arise, I thought, would be with Henry. He'd be the top man, the senior, and he could just as easily have played the role of Mr. Cool or Mr. Above Everything. But he didn't. He's our leader. I respect him so much. If Henry told me I was shooting too much, or something of that sort, I'd quit it."
Every member of Walton's family has been influenced by the furor caused by his size, talent and success. Ted and Gloria tend to stifle their naturally gregarious ways, preferring to stay in the background, allowing their son to take or leave his recognition as he chooses. Bruce, a star athlete in his own right, has had to accept being known as "Bill's brother" and take the inevitable greeting, "Hi, Bill...uh, Bruce." At Berkeley, Cathy Walton, the family member Bill says he most resembles, is teased about her famous brother. At home in La Mesa, Andy is the double dilemma of having to follow in Bruce and Bill's footsteps. (Recently Andy earned a unique niche within the family by setting fire to their living room. He lit three candles, then forgot them. When he awoke next morning, a table and some phonograph records were completely destroyed, and the wallpaper and rugs were so badly charred they had to be replaced. Andy called in his Helix High basketball teammates to try to clean up the mess before his parents got home from a trip to UCLA, but they only made things worse. Bill refused to come home from school until everything was fixed; Bruce was enraged. "First he yelled at me," says Andy. "Then he started to chase me. I couldn't believe it. He was crazy.")
While his family has to handle fame on only a peripheral basis, with Bill it is a full-time—and often distasteful—job. Whenever he leaves his private room in what was formerly the ATO fraternity house, he becomes an object to be pointed out, gawked at and whispered about. He handles most of this with equanimity. "It doesn't really bother me," he says, "because those people have no meaning in my life." But he also tries to stay out of the public eye as much as possible.
"I realize I can't keep my whole life private," he says. "My basketball life is open to everyone, but what I do off court for my own recreation and entertainment is my own business. I do what I want to do, people don't have to know. Even Coach Wooden doesn't know what I do.
"Everybody expects me to be a certain way. They have their idea of what a college ballplayer should be like—short hair and all that—but I'm not like that. I'm myself. I love long hair. I wish Coach Wooden would let us wear it as long as we like to have it. Some people would really be surprised. They think the UCLA team is a bunch of all-American-boy types, but we're really not. I'm trying to have fun in life and not worry what other people think."
Bill is not an introvert, but he is careful about his friendships. As Bruce says, "I'm the kind of guy who likes parties where there are 25 screaming guys and 25 screaming girls, but Bill is not like that. He prefers smaller parties, with only five or six close friends." Bill spends a good deal of time alone in his room, reading, listening to records, studying. When he does go out, a frequent destination is Sepi's, a small sandwich shop near the campus that Walton calls "my favorite place." There he likes to eat a submarine sandwich or two and rap with the guys who make them. Much of Walton's free time is taken up by his girl friend, Susan, who is more than a foot shorter but just as quiet. To protect her privacy, neither she nor Bill will reveal her last name.
Between now and the end of the season, Walton's main concern as a player will be keeping himself healthy. As his reputation has grown, so has the physical punishment under the boards. After the Southern Cal game (won by UCLA 81-56 with Walton holding USC's two centers to a point each), he was sore all the next day. Also, the grueling Pacific Eight schedule is beginning to take its toll on Walton's knees, in which he has a severe case of tendinitis. For a while, Walton's special treatment—heat packs on the knees before practice and games, ice afterward—kept the knees relatively free of pain. But in January, when the Bruins had to play Stanford on a Friday night and Cal on a Saturday afternoon, the pain returned.
"I really messed up my legs that weekend," says Walton. "I need more than 15 hours between games to be ready to play again. The pain didn't go away for quite a while. Then I got something wrong with my big toes. The tendons were torn in them from jumping. As a center, I don't do that much running but I do a lot of quick jumping. It was so painful that at first I had to have cortisone shots for my toes. I also started taking medicine to reduce inflammation. I began getting it the Thursday before the USC game. It was supposed to be for my toes, but it helped my knees, too. I felt really fine against USC."
Some UCLA fans are worried that Walton may decide to turn pro before his career at UCLA is finished. It is no secret that representatives of the ABA's Miami Floridians are thinking about moving their franchise to San Diego and that the presence of Bill Walton would do wonders for them at the box office. A Floridian official showed up at the Walton household one day and was talking in terms of a $1 million deal. But it would be surprising if Walton left UCLA before his class graduated. One thing Ted Walton instilled in his children is a belief that projects should be seen through. Long ago he refused to let Bruce quit Little League in midseason, or allow any of the children to stop taking music lessons before they finished the eighth grade. Now, although Bill Walton is more or less his own man, he has not forgotten his father's principles. Besides, he wants his education. Finally, it is not likely he would let down his teammates, who also are his closest friends, even for $1 million.
"It's really a lot of fun to play with the guys we have," says Walton. "If I had played on last year's team, I know I wouldn't have liked it. But I want to play with these guys as long as I can. I don't want to play with some guys who are 40."
Walton family dinners are rare occurrences now because the older children are not often home at the same time. But when Ted and Gloria come to UCLA for a game, they get together with Bill and Bruce at a restaurant. At one recent breakfast meeting, Bruce ordered eggs sunny side up. When they arrived, they were over easy.
"Hey," said Bruce, aggressive as usual. "These aren't sunny side up."
"Well," retorted the waitress, "turn 'em over."
Bill laughed, and so did Ted and Gloria. For a moment, it was just like old times.