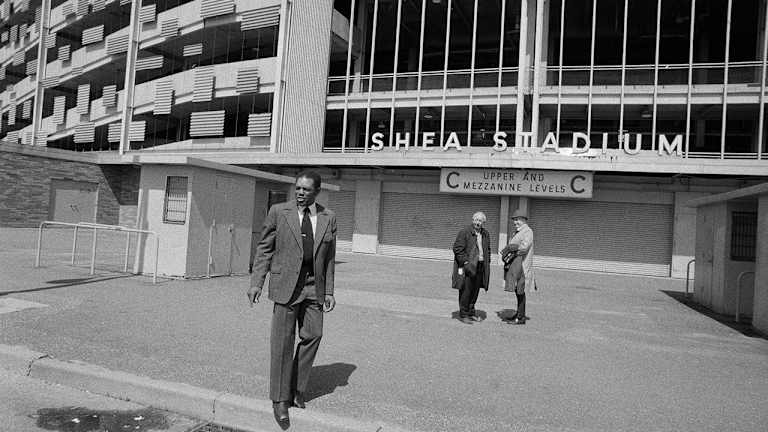 The banner draped over the second deck in the left-field stands at New York's Shea Stadium last Saturday afternoon was a fine piece of bed-sheet art. It utilized many bright colors. There were yellow jackets flying between the words of its message, which was, "There's a New Bee-U-tiful Sound Buzzin'." The history of the New York Mets has been written best on bed sheets and banners: some clever, others loving or angry or stupid or even metaphysical, like one displayed during the summer of 1971: "Should reincarnation exist, this bed sheet would like the opportunity to return merely as a bed sheet." The sheet with the bees was a tribute to Buzz Capra, a 24-year-old right-handed pitcher making his first Shea Stadium start against the San Francisco Giants, before 35,780 people.
The job Buzz Capra did on the Giants may have been overlooked by many during a zany, emotional, publicity-rich week in which the Mets picked up Willie Mays (see cover), a man 30 years older than the franchise itself. Although Willie was getting most of the ink, it was players like Capra, Jon Matlack, Jim Fregosi, Rusty Staub, Teddy Martinez and John Milner who were responsible for the most impressive start in Met history, pushing the team into a lead of three games over second-place Philadelphia and 5½ over world champion Pittsburgh in the East Division of the National League. By acquiring Mays the Mets were buying some insurance for the pennant they devoutly believe they will win. It was costly insurance, since Mays is being paid $140,000 to spend most of his time on the bench, wages even the Supreme Court doesn't get. But viewed another way, Willie is a bargain. In Mays-mad New York he sells seats.
Mays is 41 now, and fastballs he once was able to hit with his eyes shut go by him more often than he wants to admit. At the time the Mets got him, Willie, normally a superior spring hitter, was batting .184, had no home runs and only three runs batted in. But he had some pretty good company in the lower averages of the major leagues: Boog Powell, Willie Stargell, Reggie Jackson, Ted Sizemore, Maury Wills, Ken Henderson. Willie Horton and Carl Yastrzemski. And could they do with gloves or legs what Mays can still do with his?
To be sure, the Mets have never been able to do with their legs or gloves—or bats—what they are doing this year. They can score a run after two men are out. Hit doubles. Use the hit-and-run to set up a big inning. Met fans are now asking themselves an unusual question: Is our pitching good enough?
Over the last three weeks the Mets have done some remarkable things with both hitting and pitching, winning 16 of 21 games—and all eight games that were decided by one run. Matlack and Capra, the new pitchers added to the starting rotation, won five times and lost once. Tom Seaver, while not pitching well according to his own exalted standards, was good enough to be 5-1.
Tug McGraw, the animated relief specialist, came out of the bullpen to strike out 22 batters in 22 innings, win two games and save five others. Two weeks ago New York was losing 6-0 to the San Diego Padres in the bottom of the eighth inning, yet rallied to win. A few days later Rusty Staub homered in the eighth to tie a game with Los Angeles. Speed won that one for the Mets via an infield single by Martinez in the 14th. Last Friday a perfect hit-and-run single in the ninth by Fregosi set up the winning run against the Giants. The next day Capra allowed just three hits in eight innings and singled in the only run lie needed. In New York's first 17 victories the game-winning hits were provided by 12 different men.
The Mets getting Mays was the crowning touch to what has been a most bewildering season. Nobody truly believed that Horace Stoneham, owner of the Giants, would ever trade Willie, his most important object of art. Joan Payson, owner of the Mets, had long coveted Mays but was rebuffed each time she went acourting Stoneham. During spring training this year, however, the Mets began to get different soundings from Stoneham. Although the Giants had won the West Division in 1971, they had done so by pulling ahead early, then just surviving the Dodgers' closing sprint while winning only 40 games and losing 43 from July through September. Attendance at Candlestick Park totaled 1,106,043, paltry when compared with the 1,989,704 the Giants played to on the road and the 2,064,594 drawn by the Dodgers in Los Angeles.
The Giants opened this season with two victories over the Astros in Houston and then proceeded to lose 11 of 13 games at Candlestick during the team's longest home stand. With Willie McCovey injured and out for at least three months, the Giants finally decided to trade Mays and build for the future. Willie's future, too. The Met package adds up to $400,000, including the assurance of a job with the club for three years when Mays retires from the field.
Baseball people wonder all kinds of things about Mays becoming a Met. One of the most frequently discussed matters is how Yogi Berra will handle him. More precisely, if he can handle him. In San Francisco, Mays virtually wrote his name in the lineup when he wanted to. During a meeting in New York before the transaction was completed, Berra and Mays got together. Yogi made it plain that he was boss. Yogi would make out the lineup card. Yogi would play Mays at first base at certain times and in the outfield at others, times of Yogi's choosing.
When the Yankees fired Berra after losing the seventh game of the 1964 World Series, they let word seep out that he could not handle his players. Proof was supposed to be the Phil Linz harmonica affair. Remember? Linz was playing a tune on the team bus after the Yanks had lost a four-game series to the White Sox in late August. Linz remembers, all right—Yogi with respect and the mouth organ with regret. "I think the Mets will win the pennant with Yogi," he says today. "He is a good strategist and an excellent judge of pitchers and he does not panic. The Yankees were already in bad shape and aging the year before Yogi took over as manager. Mickey Mantle was hurt and Whitey Ford's arm bothered him. But somehow we won the pennant that year and the next, when Yogi took over. I think no one could have done a better job than Yogi with that team.
"I was a fool to play the harmonica. Here we were 4½ games out and I was playing a harmonica in the back of the bus. Yogi comes back and fines me. The next day he calls me into his office and says he is sorry he had to do it. Hell, I was the one at fault. After Yogi was fired the Yankees hired Johnny Keane and he panicked by the third week of the season. Elston Howard ruined his arm because Keane forced him into the lineup early. Mantle played before he was ready, too. Yogi knew that when Howard and Mantle said they could not play, they meant it. Keane was a good man, but I think he felt the Yankees were spoiled."
Twice last week situations came up in which Berra could have used Mays as a pinch hitter if he had cared about the "We Want Willie" chanting of the crowd. Both times Willie stayed on the bench. At one point M. Donald Grant, the Mets' board chairman, who had worked out the details of the winning of Willie, leaned over the rail of his field box and peered into the dugout, obviously hoping to see Mays heading plateward. The pinch hitter he saw instead was John Milner. Forty-four thousand people booed. Yogi had decided before the game that Milner would be his first pinch hitter against right-handed pitching. Milner, who was hitting .357, dutifully got on base—via a walk—and then scored the winning run.
The fans surely want to see Mays, but a lot of young ones may not want to see him in center field, where their own Shea Hey Kid, Tommie Agee, plays. Agee came to New York from the American League in 1968 and had a brutal adjustment period. He was booed time and again and harder and harder, but in 1969 he turned out to be the team's most popular hitter.
Then there are those other new faces vying for attention, too. Fregosi, a six-time All-Star shortstop for the California Angels, is making not only the switch from the American League to the National but from shortstop to third. He has had difficulties at third because, at times, he has tried to watch the pitcher and the hitter simultaneously, something a shortstop must do but a third baseman cannot. The ball comes off the bat to a third baseman either so hard or soft that only the hitter can be watched. "I think I will get it down finally," says Fregosi. "It's hard to adjust to a new position, and when you change leagues there is a whole new set of ball parks and pitchers to contend with. After you've been in one league for 10 seasons you know the pitchers as well as you are going to get to know them. Here I have to learn two or three new things in every game." But he is a solid addition to the team.
So is Staub, who is one of the smartest hitters the Mets have ever had. In each of his last two seasons with the Montreal Expos he drove in over 90 runs. He also possesses a magnificent throwing arm. But even Grandes Oranges have slumps. In the throes of one last week he broke his bat in disgust and threw it away—only to find it hanging over his locker after the game. It was put there by Seaver. After Staub laughed, took it down and discarded it again in a trash can, Seaver retrieved it and mounted it over Fregosi's locker. Thus are newcomers made welcome. At the time Fregosi's locker also sported the message: "To take a great weight off your mind, try discarding your halo."
Such jocularity contrasted sharply with the somber mood of the Mets when the season started, for Manager Gil Hodges had just died in West Palm Beach. Says Shortstop Bud Harrelson, "I don't think I ever saw Gil look so good or feel so relieved about things as he did this spring. We had the feeling in St. Petersburg that we were going to win. I think we will. Gil is still here. He's in the clubhouse in the things he left us with—the search for excellence, the belief that it was something special to be a Met. When Yogi was named manager it didn't surprise me at all. We wanted someone who was in the organization and knew us. Yogi is a very shrewd man, an excellent baseball man. Some people might laugh at the way he talks. We don't. Seaver figured out the other day that as a team we are at just about the right ages to have our best years. I hadn't thought about it that way, but I believe he's right."
Some 40 hours before Willie Mays was ready to appear in his first game as a Met he was having his arm rubbed by Trainer Tom McKenna. Seaver, Staub, Agee, Fregosi and Dave Marshall gathered around Mays and started chiding him. "Hey, old man," said Seaver, "you mean it takes you this long to get ready for one game? This long?"
Mays laughed and his pealing voice rose in response. "Now how can you say that?" he asked. "You ain't even made it through your first 10 years in the big leagues yet."
Mays made it into the lineup on a bleak, rain-streaked Sunday afternoon. The weather had diminished an anticipated crowd of more than 50,000 to 36,000. Berra didn't keep them waiting; he put Mays in the leadoff spot. After receiving a fine ovation, Willie drew a walk from Sam McDowell, the only winning pitcher San Francisco has. There were subsequent walks to Harrelson and Agee, and then Rusty Staub drove a grand-slam home run over the right field wall. The Mets on the bench jumped up and down and Rusty's average did a little jumping, too—to .394 against left-handed pitching.
San Francisco tied the game 4-4 in the fifth, and Mays stepped up as the leadoff batter in the bottom of the inning. The count went to 3-2 and then Willie drove the ball into the Giant bullpen. It was one of those marvelous moments in sport when a man does not merely rise to the occasion but soars above it. The ball park rocked as Mays circled the bases. Every player on the New York bench was up to greet him, none more joyfully than the man he had replaced at first base, Ed Kranepool. And, lo, Willie's homer was the winning hit, as the game ended 5-4. It looked like a beautiful season for the bed-sheet business in New York.
TWO PHOTOS
NEIL
LEIFER
Signing on, Mays joins Donald Grant (left) and Horace Stoneham at press conference. Signing in, Staub runs a gauntlet of hero hunters.
PHOTO
NEIL
LEIFER
Berra lets it be known that he is the boss.
PHOTO
NEIL
LEIFER
Californian Jim Fregosi, another of the Mets' new boys in town, is an apt pupil at third base.
PHOTO
NEIL
LEIFER
Mays uncoils after belting a fifth-inning home run to win his first game with the Mets.