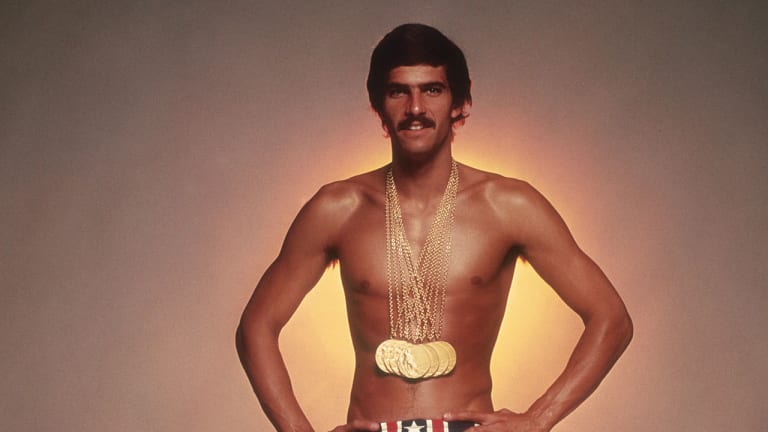 THE GOLDEN DAYS OF MARK THE SHARK
The Munich tabloid Abendzeitung referred to Mark Spitz last week as Mark der Hai, which may not have any special ring in the original but translates into the well-nigh perfect nickname of Mark the Shark. As Spitz emerged the hero of the Olympics, the same newspaper waxed indignant that the American swimmer had held aloft a pair of track shoes on one of his frequent trips to the victory stand. Before the matter was dropped, Olympic officials had summoned Spitz for a hearing, and he had showed up snappily attired in his U.S. parade uniform. What the International Olympic Committee wanted to know was whether Spitz was promoting the shoes for pay, a suspicion that would have been more justified if he had been holding up an outboard motor instead.
While exercising its customary vigilance about athletes using the Olympics to enrich themselves, the IOC showed no qualms about peddling postcards on the Olympic grounds bearing pictures of Spitz and other stars of the Games. Swim fans, for example, could buy postcards of Roland Matthes, the East German who won both backstrokes, or they could send greetings bearing the likeness of Australia's Shane Gould, who endured her first losses in freestyle competition in 18 months, but adequately compensated by winning three gold medals, each in world-record time.
Outstanding as her performance was, it was Gould's fate to be overshadowed by Spitz. Through Sunday he had competed in four individual events and two relays, and all six ended with world-record times flashing on the scoreboard and gold medals dangling from his neck. He seemed a cinch to add a seventh gold medal in Monday's 400-meter medley relay, all of which made it appropriate that the postcards were going for one mark (31¢) rather than, say, one roland or one shane. "We are selling 60% of our Shane Goulds," reported Armin Strobel, head of the firm that printed the postcards. "Our Mark Spitzes are selling out."
There were other indications of Spitz' value in the marketplace. Fan mail and requests for personal appearances piled up in his cramped room in the Olympic Village, and his floor was strewn with chrysanthemums ("I don't even know who sent them," said Spitz). He could scarcely emerge from his quarters without being swamped by autograph-seekers, and Peter Daland, the U.S. men's coach, complained that Spitz was being besieged "by ABC, BBC and every other kind of C." The swimmer had important matters to mull over. "Maybe I'll accept the offer to be on Dick Cavett," he said one afternoon, "but I think I'll turn down The Dating Game."
Spitz' star status helped make the daily competition in the 9,000-capacity Schwimmhalle the hottest ticket at the Olympics, with scalpers peddling $12 seats for $50. Within, Mark the Shark was going about his predatory business. Day after day a fresh group of victims would solemnly walk the length of the pool deck to the starting blocks, with Spitz among them, warmup jacket slung over a shoulder. In however long it would take to swim the prescribed distance faster than anybody had before, all would be over. Spitz would drape himself across a lane marker, his gleaming teeth and black mustache a study in chiaroscuro, as his rivals hauled their spent carcasses from the pool.
Spitz, brimming with confidence, was careful to express it only after a given race was over. He fretted before the 200-meter butterfly, but after easily winning in a world-record 2:00.7, he shrugged, "If it had been do or die, I could have broken two minutes." A man with palpable faith in his physical talents, Spitz had lost in the past year or so only when he became concerned about burning himself out early in a race and failed to go out hard enough. In Munich, in a semifinal of the 100 butterfly, he lapsed into that habit but came from behind to touch out his rivals after being a distant fourth at 50 meters.
"I didn't want to show how hard I could go out," he said, flashing his now-famous grin. In the next day's final Spitz stormed into the lead, his body undulating through the pool like a whip cracking, winning in a world record 54.27. Still, he scrupulously avoided flat-out predictions ("You said seven golds, not me," he scolded one reporter), and he was sufficiently frightened of teammate Jerry Heidenreich in the 100 freestyle that he talked briefly about dropping the event rather than risk spoiling his gold medal sweep. He strained his back slightly fooling around in a mini-car at the Olympic Village and finished fractions behind Australia's Mike Wenden in both heat and semi of the event, but in the final on Sunday he showed courage as well as skill in beating Heidenreich by a luxurious 0.4 of a second.
One indication of Spitz' dominance of the swimming news came when a French newspaper reported that he and Sandy Neilson, surprise winner in the 100 freestyle over teammate Shirley Babashoff and Shane Gould, were in love. The report was quickly scotched by the Associated Press, which identified Spitz' true heartthrob as Jo Harshbarger, the U.S. distance swimmer. The AP conceded that marriage was not imminent. Harshbarger being all of 15, this was reassuring. But she and the 22-year-old Spitz were spending time together, and after receiving his gold for his victory in the 200 butterfly Spitz placed it, in a grand ceremony of his own, around Harshbarger's neck. "Jo's the best-looking swimmer since Donna de Varona," he pronounced, and then added, "I was too young for Donna, and I'm too old for Jo."
Harshbarger, for her part, said, "Mark is psyching me up for my race." But Keena Rothhammer of the U.S. beat both Jo, who finished sixth, and Shane Gould in the 800 freestyle on Sunday. Earlier, the U.S. women's team had been shut out of medals in three different events, something that never happened at Mexico City, and critics suggested that the girls had been sightseeing instead of working. But Sherm Chavoor, the women's coach, said it was simply that other countries were improving. "They're catching us in missiles, submarines and airplanes, too, aren't they?" he said. When Melissa Belote in the 100 backstroke and Cathy Carr in the 100 breaststroke scored upset wins on Saturday, Chavoor's faith in his charges' dedication was upheld.
American males failed to win a gold medal in springboard diving for the first time since 1912, and the women were shut out in the platform. But Micki King, the 28-year-old Air Force captain who suffered disaster in Mexico City in 1968, vindicated herself by winning the women's springboard. In Mexico, King was leading after eight of the 10 dives only to break her left arm on the ninth. She wound up a painful fourth. At Munich she said, "I tried to think happy, like it wasn't the Olympics."
Consistent if unspectacular, King waited until the eighth dive to move ahead of Sweden's 17-year-old Ulrika Knape, who later won the platform competition and who wasn't even born when King took up the sport. Afterwards King, like all winners, had to submit to a drug-control urinalysis but, she said, "I couldn't go, so I had to wait around." When she finally left two hours later, she was alone with her gold medal. "I returned to the Olympic Village and had a chocolate drink," she said. "Three Australian weight lifters told me, 'A gold medalist shouldn't be drinking chocolate. We've got a bottle of wine.' " King and the appreciative Australians celebrated until one a.m.
The Schwimmhalle was the scene of other sentimental journeys to the victory stand. After a drought of gold medals dating back to 1960, Japanese swimmers took two of them, one going to Nobutaka Taguchi, who enshrouded himself in a sleeping bag for 50 minutes before the 100 breast stroke, explaining "It helps me concentrate," and then emerged to set a world record. Sweeter still were Gunnar Larsson's victories in the 200 and 400 individual medleys, Sweden's first golds since 1928. Larsson, who swam for Long Beach State, defeated American Tim McKee in the 400 by two one-thousandths of a second—4:31.981 to 4:31.983—but only after the electronic timer took agonizing minutes to separate the two. "There has to be a winner and loser even if it's two one-millionths," McKee said philosophically.
The East German star, Matthes, gave a sly smile and an Oriental bow before handily winning his two backstroke specialties. Matthes also swam the 100 butterfly but had a bad start. After placing fourth behind Spitz, he assumed a nonchalance utterly inconsistent with the official East German line on athletics. "I'm not disappointed," Matthes said. "It's not really serious. It's just a sport."
The biggest threat to U.S. supremacy was Australia. Although the Aussie men were disappointing—Wenden, the gold medalist in the 100 and 200 freestyle in Mexico, finished well back in both events—Aussie girls paddled off with gold aplenty. They were led by Shane Gould, who had been expected to swim only the four freestyle events and two relays. Her personal coach, Forbes Carlile, was virtually alone in wanting her to add the 200 individual medley. Shane's butterfly and breaststroke had improved in recent months and other Australian officials finally agreed with Carlile, who had insisted, "The 200 IM is her best chance for gold."
That assessment seemed sound when Gould held off East Germany's Kornelia Ender to win in a world record 2:23.07. Shane mounted the victory platform carrying a frayed kangaroo that Australian swimmers have taken to every Olympics since '56. It was an uncomfortably close win, but it hardly would hurt sales of Swimming the Shane Gould Way, a book written by Shane's mum, which was due to be published in the U.S. this week. The next day, however, she finished a disappointing third to Neilson in the 100 freestyle and recriminations were heard among the Aussies. It was suggested that the medley may have taken its toll, and there were claims, too, that Shane's mighty elbows-high stroke had partly disintegrated. Everybody agreed that her weight, up from 135 to 141, was too much for her 5'8" frame. "Shane's reacting to the stress of the Olympics by eating," one Aussie said.
As for Neilson, she was mobbed by U.S. teammates after her win over Gould and then returned to the Village to make a transatlantic call to her coach, Don La-Mont, who, it turned out, was not at home. "He's at the beach, the bum," she said. Meanwhile, Gould dined quietly with Australian officials and later joined in a celebration for her roommate, Beverley Whitfield, who had come to Munich lightly regarded in the 200 breast-stroke, yet won the event in Olympic-record time (she mounted the victory stand carrying her personal koala bear instead of the team kangaroo). "The kids crowded around Bev, and that took the pressure off me," Shane said.
She was relaxed enough the next day to wave to Australians in the crowd on her way to the starting block for the 400 free. She could also have waved to her rivals in the water, so wide was the gulf that separated them from Shane at the finish. Her confidence restored, Gould beat Babashoff in the 200 free before finishing second to Rothhammer in the 800. That gave her five medals in all.
Gould was spectacular but Mark the Shark was much more so, and swim buffs will be recounting his feats in Munich for as long as pools make waves. The big week began Monday when Spitz led Gary Hall and Robin Backhaus to a 1-2-3 U.S. sweep in the 200 butterfly and, barely 40 minutes later, anchored the winning 400 freestyle relay. He won his third gold in 24 hours the next evening, taking the 200 freestyle, and added his fourth and fifth Thursday in the 100 butterfly and 800 freestyle relay. His sixth medal came in the 100 freestyle Sunday, after which he faced a one-day wait before the final relay.
The only time Spitz was even appreciably behind in any of the finals was when he was briefly overtaken by Steve Genter midway through the 200 free. That race was also noteworthy because West Germany's Werner Lampe, who won the bronze swimming with a shaved skull, donned a wig for the medal presentation, and because the carefree Genter, who also shaves his head, grittily took the silver even though he had suffered a partially collapsed lung the week before. Doctors had drained the lung, and Genter had spent five days in Munich University Hospital. He was released the day before the 200, and a surgeon accompanied him to the pool as a precaution.
The 200 was also the race that produced the track-shoe incident. Spitz went to the victory stand barefoot, carrying a pair of German-made shoes that he put down behind him during the ceremonies. Picking them up afterward, he waved to the cheering crowd—and the cameras—first with his free hand and then with the one holding the shoes, upsetting the Abendzeitung, which said it was "impossible to advertise on the victory stand in a more obvious way." The paper even contacted Karl Schranz, the Austrian skier who had been barred from the Winter Olympics as a professional. "I'd like to see whether Avery Brundage has the guts to go against an American," Schranz said.
To charges that he was promoting the shoes, Spitz insisted, "There was nothing further from my mind." He said he had been signing autographs after the race and did not have enough time to put on his shoes before the medal ceremony. Like many Olympians, Spitz had scoured showrooms in the Olympic Village and had received free track shoes, though, ironically, not the scuffed and faded pair he had with him on the victory stand. Spitz said he had bought them in Sacramento at a discount.
All of this the world's best swimmer explained and the IOC's five-man eligibility committee cleared him after an hour-long hearing. "I'm already a Jesse Owens," Spitz kidded. "Now they're trying to make a Jim Thorpe out of me." U.S. Olympic officials defended Spitz, questioning whether Shane Gould, by waving the kangaroo, might not have been promoting Australian tourism. Of such nonsense are Olympic squabbles made.
Spitz also found himself in a public feud with Genter, who questioned Mark's motives for suggesting, as he had before the 200 freestyle, that a fellow with a collapsed lung might be better off staying out of the pool. "He's trying to psych me," said Steve. But Genter and Spitz soon smoothed the waters, which freed Spitz to dwell on such matters as a movie career. "They've got all those nude scenes nowadays," he said. "That's great." He brooded, too, about the inequities of life. For example, Gunnar Larsson strolled the pool deck after his win in the 400 individual medley, waving his track shoes—a Swedish brand—at the crowd. "You know why they didn't make anything of that?" said Spitz. "Because he's not Mark Spitz."
But then there has never been a Mark Spitz in Olympic history before, which explains why Rainer Barzel, leader of West Germany's opposition Christian Democratic Party, provided a helicopter to fly Mark's parents into Munich from Garmisch, where they were staying. As for the son of Arnold and Lenore Spitz, he seemed to be coping with all the attention well enough. Working out in a training pool a couple of hours after he had been summoned before the IOC officials, Spitz paused to chat with a friend.
"You know what I think," Mark asked in a loud voice, not caring who heard. His eyes brightened, and that brilliant smile lit up his face. "I think those IOC guys at the hotel just wanted to meet me."