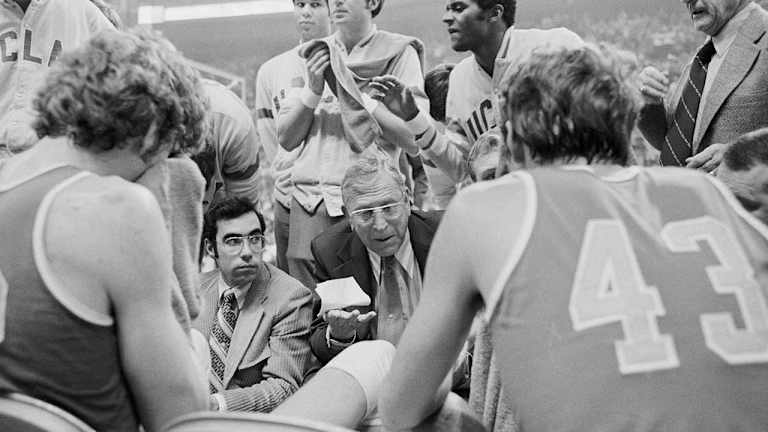 A TIME TO BLESS THE BEASTS AND FRESHMEN
The season greets two new classes, sophomore and freshman. In a year of radical change, they could turn the old power structure inside out
Let's see now. We've torn up and voted down the Olympic Games. We've turned the World Series over to a House of David softball team and watched the Dallas Cowboys finally win a big one. We've hit the moon, let women become people, paid the milk prices and put all the nasty words and bare bosoms we could find into the movies. So what else is there? Or, as sneering Buffalo Bob used to exhort members of the peanut gallery on the Howdy Doody show, "HEY, KIDS, WHAT TIME IS IT??????"
It is Get UCLA Time.
College basketball has attempted just about everything in its annual effort to unseat UCLA. In the last six years, considering the national finals alone, it has tried shooting the ball up from 30 feet out (Purdue's Rick Mount, 1969) and shooting it down from three feet in (Jacksonville's Artis Gilmore, 1970). It has presented a blue team with a four-corner stall as an element of surprise (North Carolina, 1968) and a red team with a guy supposedly named Glinder Torain as an element of humor (Dayton, 1967). It has competed with a real live professional fellow, Howard Porter (Villanova, 1971—known in the record books as Vacated, 1971) and a team that some NCAA paranoids thought was made up of professionals (Florida State's Affidavit Five, 1972). Nothing has worked.
So it happens that the guardians of the sport, like many others in time of distress, have gone to the Bible (Isaiah 11:6) for an answer and come upon the revelation that since nobody else has been able to lead them, maybe a child can. After all, a babe wrapped in swaddling clothes once pulled off a very neat upset. Plainly, there it was. Bless the beasts and freshmen.
There are many who believe the NCAA made freshmen eligible in all varsity sports only in order to cut down on all those dollars that football chews up. Well, they are mostly right. But basketball coaches (who have little use for the other game people whom they sometimes call the "oblong bailers") prefer to think freshmen were allowed to play primarily for basketball, and more specifically to help them get UCLA.
Paradoxically, many coaches have been bemoaning the new rule ever since it was announced last January. They claim the policy works a hardship on youngsters both in the classroom and on the court. They fear it will bring havoc to recruiting schedules, practice sessions, road trips, statistical records, balance of morale and the lunch hour. They say it means more pressure, frustration, disillusionment, heartbreak and dumb fouls. And they have predicted that there aren't enough good freshmen around to make a difference anyway.
All of this sounds strangely familiar, of course, just like what the football coaches said before their season began. However, as everyone who listens to Chris Schenkel knows by now, all college athletes are oblivious to pressure, inspired by adversity, able to rise to the occasion, clean, loyal, reverent and, especially, "great." Besides, they never go to class anyway. Also, as we have seen all autumn, freshmen have been at work ripping college football asunder as if it was just one big Thanksgiving turkey—proving once again that coaches pretty much know absolutely nothing.
Football being a 22-man-plus-a-whole-bunch-of-kickers sport, there are certain limitations to how large an impact one or two freshmen can make on a game, a team, a season or an entire athletic program. But basketball's surface attraction is so starkly personal and its structure so individual—dominant rebounders, hot shooters, glorious one-on-one shows—that often just a couple of players can alter the course.
If nothing else, this factor is easily recognizable by the salary levels in the pro leagues (an NBA player makes on the average substantially more than his NFL counterpart) and by the flocks of financial flesh agents who are this very second slithering into college dormitories.
In other words, if you thought freshmen accomplished something in football, you ain't seen nothin' yet. For every Archie Griffin at Ohio State there is a Wally (Wonderful) Walker at Virginia. For Notre Dame's Steve Niehaus there is Albany State's Major Jones. And for Quinn Buckner, Indiana defensive back, there is—hold it—Quinn Buckner, Indiana playmaking guard.
Realistically, the class of 1976 will not set the world on fire right away; furthermore, there is a suspicion that it is not even one of the more talented classes of the last few years. But as a barometer of things to come in college basketball, it will do. This freshman group (not all of whom will play this year) does include a potential Davis Cup tennis player at Maryland, a singer who can wail the national anthem before games at Butler, Paul Arizin's son at William & Mary and a quartet of youngsters whose splendid monikers have earned them automatic entry into the mythical Hall of Names: Utah's Luther (Ticky) Burden, Oklahoma State's Lafayette Threatt, Iowa State's Hercle (Poison) Ivy and Colgate's Indrek Kongats. Match those, football.
The freshmen aren't the only new faces appearing in starting lineups next week. Sophomores are there, too, and many coaches have expressed their sorrow that the rule declaring everybody eligible did not come one year earlier.
It would have caused some major changes in the top ten ratings if it had. For Norm Sloan at North Carolina State, it would have meant the services of David Thompson. For Johnny Orr at Michigan, it would have meant Campanella Russell. Las Vegas would have had Jimmy Baker, Jacksonville Ricky Coleman, and at Marquette Al McGuire would have been able to replace Jim (The Deserter) Chones on the spur of the moment with Maurice Lucas. This is just to name five players who, frankly, have the potential to be as good as anyone in the game. And this is not to mention a sixth, Raymond Lewis, whom Los Angeles State is said to have coveted as a freshman, too, a high school freshman. Lewis, a 6'2" guard, should—not could, should—lead the country in scoring. This sophomore class—with Thompson and the rest—should become the best ever to enter college together.
If two different herds of brand new players weren't enough to foretell the radical shifts about to transform the sport, other evidence does. Oh, there are the token changes in the rules of the game, of course. (Don't get excited. The dunk has not been returned; basketball committees are still rather Cro-Magnon for such a good piece of work as that.) But the "common foul rule," eliminating free throws for the first six common fouls of each half, will both speed up the game and give hatchet artists a nice excuse with which to perform their mayhem.
More indicative of an unmistakable kind of conversion in the game are the prospects of some schools that before the last census scarcely were known to exist, much less to be able to contend.
On the following pages can be noticed their rise and the inevitable result: the absence from the Top 20 of several teams heretofore synonymous with such ratings and indeed with college basketball itself. Kentucky, North Carolina, Ohio State, Pennsylvania, Southern California and St. John's are in no way on the decline. They seem only to have been caught up with and, in many cases, passed by funny names somebody must have picked out of the small print in Love joy's College Guide.
Everybody knows that Alabama and SMU, for example, are football dens; that Southwestern Louisiana and Illinois State sound like institutions for indigent sharecroppers, that Oral Roberts is a TV special, Furman a vacuum cleaner, and that Canisius is one of those guys the Mafia takes for a swim in concrete Guccis. But there all of them are, right up alongside the giants. The truth is that overnight Alabama and SMU, riding herd with the University of Texas, have become national contenders in basketball with the addition of—right on—freshmen. Furman has arrived with towering sophomores. Southwestern Louisiana and Illinois State boast two of the most exciting players in America, Dwight Lamar and Doug Collins. Oral Roberts has recruited everybody but Marjoe, is big, strong, fast, quick and, of course, without sin. And Canisius has Mel Montgomery.
The further truth is that there are more really good college teams in every nook and cranny than ever before, a lot of them even with a chance at the NCAA championship. As UCLA's John Wooden says, "It is now almost inexcusable for a major school not to have a strong basketball team."
Wooden's team probably is again the strongest one—according to Xavier's Dick Campbell, UCLA is in such good recruiting shape "Wooden calls his high school prospects collect"—but there is wonderful balance everywhere. The Big Ten, Atlantic Coast, Southeast and Southwest conferences undoubtedly are stronger, top to bottom, than at any time in history. And there are other obscure leagues—typically, something called the Pacific Coast Athletic Association, which includes Long Beach, Pacific. San Diego State and Raymond Lewis—that nobody in his right mind would care to mess with.
More and better athletes are responsible for all this, naturally, but the biggest factor is the economic realization that any tiny school or obscure university can get a couple of what the coaches like to call "supers," put a team out there and make a sure name for itself. In the last several years most of these new teams have entered the scene from the college-division ranks (Jacksonville, which has come the furthest, started in a church) and their clout has been on the upswing. Last season the three highest-scoring teams in the land were Oral Roberts, Southwestern Louisiana and Northern Illinois, the first two in their first years as university division teams, Northern Illinois in its fifth. Moreover, every single individual title was won by a player representing the new generation of major colleges. Lamar at USL was the scoring champion. Kent Martens, the field-goal percentage leader, was from Abilene Christian (two years a major school). Greg Starrick, who set a career record while winning the free-throw title, was from Southern Illinois (live years as a major). Kermit Washington, the rebound champion, was from American U. (six years). In fact, Washington can become only the seventh man to average more than 20 points and 20 rebounds for a career, joining a handful of gentlemen named Russell, Baylor, Silas, Dukes, Gilmore and Erving.
Just as quickly as Washington and other large rebounders can return for 1972-73, however, they will be outglamoured by an astonishing number of talented backcourt men. For if this is a year of anything, it is a year of the guard. Besides Lamar and Collins, there are Johnny Neumann of Mississippi and Brian Taylor of Princeton. Whoops, scratch them; they don't live here anymore. Pros got 'em. There are Ed Ratleff of Long Beach, Kevin Joyce of South Carolina and Richard Fuqua of Oral Roberts. Virginia has Barry Parkhill, UCLA has Larry Hollyfield, Providence has Ernie DiGregorio, Marshall has Mike D'Antoni. Michigan's Henry Wilmore, Memphis State's Larry Finch, Ohio State's Allan Hornyak and North Carolina's George Karl are others—and those are just the seniors.
Coaching is sure to rear its heterogeneous head anew this winter as a vanguard of well-groomed, double-knitted and personable young fellows continue to assert themselves in what has turned into one of the most personally vicious businesses extant. What will college basketball do without Adolph Rupp? Miss him, above all. But the new Kentucky coach, Joe Hall, moves into a promising situation. As do Gale Catlett (Cincinnati), Glenn Potter (Brigham Young) and, at New Mexico, Norm Ellenberger, who has movie-star looks, a beautiful wife and a new school color, turquoise. Another color will be prominent when John Thompson, Fred Snowden, Ron Smalls and Lefty Driesell's former assistant, George Raveling, join Will Robinson of Illinois State as black coaches of major college teams—at Georgetown, Arizona, LIU and Washington State, respectively. Thompson and Snowden will rely on freshmen right away, Smalls is just 26 years old and Raveling may win some games on his charisma alone. Nobody will be surprised if Raveling's first proclamation out of Pullman is accompanied by Hail to the Chief chimes, V-signs and the words "We want to be the Maryland of the West."
What all of this means is that even while college basketball stumbles its way through the trauma of having its outstanding players raped away by that old devil greed, and at the same time the sport suffers the recurring embarrassment of total domination by a single team, it is undergoing a vast metamorphosis. Hopefully, this will insure that a UCLA-type tyranny never recurs. Right in the middle of this transformation are the freshmen. And right in the middle of them is a 6'4" native of Bridgeport, Conn. named Walter Luckett (see cover).
One of the things the freshman-eligible rule has accomplished right away—and should continue to accomplish in the future—is a scatter-shot equalization of talent across the map. A young man goes to school where he can play—right now and a lot—and sometimes there is no room for him on a big-name campus. Any coach would make room for a Luckett or some others of this year's tall rookies—Major Jones, Robert Parish, Edmond Lawerence or Eugene Short. Yet these players selected relatively unknown schools. Jones joined his approximately 37 or so brothers at Albany (Ga.) State while Parish is at Centenary, Lawerence at McNeese State and Short at Jackson State. Three other fine big men chose to do their thing on football campuses, Leon Douglas at Alabama, Ira Terrell at SMU and Alvan Adams at Oklahoma. How quickly this latter trio blossoms will go a long way toward determining their teams' conference races. But give any one of the seven men to, say, Providence, and the Friars would be that much closer to a national championship.
Luckett, a smooth, uncommonly mature swingman who broke just about every state scoring record while at Kolbe High School and is acclaimed for his unselfish, complete game rather than for his points, turned down many offers from more famous colleges to attend Ohio University. This is the same Ohio U. of the pleasantly different Mid-American Conference that upsets all those Big Ten teams early each season before being rudely slammed back to Athens by some NCAA tournament opponent in March. The team plays in an attractive, 13,000-seat Convocation Center, green all around. It wins some, then loses some. And Luckett loved it.
"I'll be frank," he says. "My father discussed with me where I should go. We thought about what many great players do—they go to be big fish in small ponds and I liked that. I didn't want to be a number. I wanted to be recognized. Look here, I had surgery on my knee this summer. I was behind everybody. But they waited for me here. They waited to work me in. You think the big names would have done that? Man, UCLA and Maryland have so many stars they'd forget me or send me home.
"Last year this team stunk on ice," he says, "but I swear, we'll be tough now. They get the ball to me in our two-guard front and I will positively freak. I mean, I will drive those rascals wild."
Coach Jim Snyder, whose team shared the MAC championship last season, says he will open the offense for Luckett; he is very aware of his star's value. "What Walter can do for us is raise the program to a point where other blue chip players will want to come here. I'm not going to hold him back."
"Forty points a game is unrealistic," says the young celebrity, who averaged 39 last season. "But I'll tell you this. I'm shooting it. I'll get 15 just hanging around, but I'm shooting it. The people be raisin' hell in the stands and lovin' it. I know Ohio gets second-best in publicity around here because of Ohio State. But we've beaten them two straight and we can do it four more straight. I'll be followed here. I'll be known. I hope I can take the school with me."
Here is an obvious situation where a freshman refused fitting-in at a big place for the chance to turn a small place around (albeit Ohio didn't have far to turn). Other examples abound, including a rejection of UCLA by Steve Copp, a San Diego lad whom the Bruins wanted badly but who opted for his hometown school, San Diego State.
But there are many freshmen, on the other hand, whose feelings leaned in the opposite direction. Virginia's rangy 6'6" Wally Walker says, "If a freshman is going to be a star, the school can't have a good program." Nonsense. Virginia has a good program and Wally Wonderful, whom North Carolina's Dean Smith calls "the second coming of Rick Barry," is soon to be a star.
Almost everywhere one turns this season there will be new faces on good teams reaching for stardom. With all the bounty at Maryland, for instance, the Terps may only put it together if two freshmen guards, Mo Howard and John Lucas, can add the proper touches. Howard says a "motivating curiosity" to see if he could play with the best brought him to College Park. Lucas, the tennis flash, says he "seeks signs of greatness." Lefty Driesell says, "I don't want to throw them to the wolves." He may have to.
Much is expected of other freshmen as well. Larry Fogle, who attended high schools in Brooklyn and Detroit, once pausing long enough to throw in 73 points in three quarters of a game, will start for Southwestern Louisiana. Phil Sellers made a last-minute detour from Notre Dame to help boost Rutgers. Easterners Mike Sojourner and Ticky Burden went the other way to Utah. And so did Ron Lee—from Lexington, Mass. to Oregon. Bubbles Hawkins should blow freely for Illinois State, Greg Grady will be valuable defensive insurance for Florida State and 5'9" Frank Alagia may be responsible for St. John's tunneling safely out of the borough of Queens.
Sophomores, too, will be around to hang dreams on. David Vaughn is a mobile center who can run all night for Oral Roberts. Ron Haigler is thought to be the finest prospect yet to enroll at Penn. Maurice Presley and Louis Dunbar "can be great varsity players" says Guy Lewis at Houston. Southern California has Clint Chapman from Denver and Gus Williams from Mount Vernon, N.Y. Kentucky has a brilliant class, led by Kevin Grevey and Jim Dan Conner. And there are Henry Williams and Shawn Leftwich to join Coleman at Jacksonville.
There even will be combinations of freshmen and sophomores showing up in some schools' lineups. Like Marquette's Maurice Lucas and freshman I ail (Gosling)Tatum: Alabama's Douglas and sophomore Charles Cleveland; Michigan State's Lindsay Hairston and Cedric Milton; North Carolina's Don Washington and Mitch Kupchak.
Above all, there will be David Thompson and Raymond Lewis.
N.C. State, although on probation and ineligible for any national awards at the end of the season, deserves some accolade—perhaps the Ken-L Ration trophy—for the absolute dogs appearing on its early-season schedule. Thompson, who says, "I have to prove myself," faces four teams before he ever gets the chance because the Wolfpack opens with Appalachian State, Atlantic Christian, Georgia Southern and South Florida. Woof, woof. Woof, woof. By that time his point average may in the 60s and a definite challenge to Lewis, who is a prodigy of the same stripe.
Lewis closed out his freshman year at Los Angeles State last March by scoring 50 points on a Friday night and 73 points (30 for 40 field goals) on Saturday for a nice 123 weekend, missing a spare in the 10th frame. He is a whirling, swirling sleek machine with the ball who shoots 59% from the floor and has a spin-around move that makes others look infirm and obsolete. "There is no one in college who can turn me off one-on-one," says Lewis. "There probably is a whole defense that can but I haven't seen it yet. It will take 37 points a game to beat Lamar for the scoring championship. I think I can do it."
Lewis opens his own varsity career this week when the Diablos of Los Angeles Slate are the host team of the Elm City Classic in New Haven, Conn. What? If you can figure that one, you have discovered—as all these new men coming into it soon will—what the unpredictable, corny, city game of college basketball is all about.
FOUR PHOTOS
THE NEW ONES who can turn their teams on include (clockwise from upper left) freshmen Wally Walker of Virginia and Albany State's Major Jones, sophomore Campy Russell of Michigan and Oklahoma freshman Al Adams.