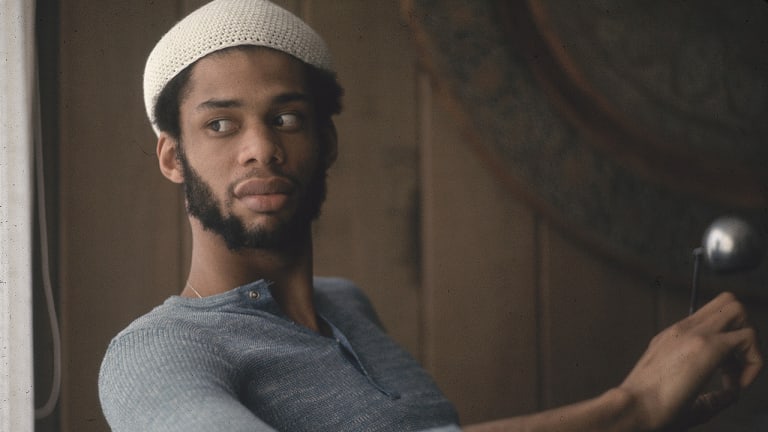 Center in a Storm
Despite the murder of seven of his co-religionists and the presence of a police escort, the masterful play of 7'2" Kareem Abdul-Jabbar has kept the injury-plagued Milwaukee Bucks on top of their division
Returning from a road trip one afternoon last week, Kareem Abdul-Jabbar deplaned, took a few quick steps across the apron at Milwaukee's Mitchell Field, climbed the stairs into the terminal and headed down the concourse accompanied by a man wearing a fur-collared beige car coat and charcoal trousers. Abdul-Jabbar's companion was of medium height and medium build and had medium brown hair turning to gray;what was distinctive about him was his shoes. They were black and had unfashionably thick rubber soles that protruded perhaps half an inch all around. They were the footwear of his profession, and identified him as clearly as the badge in his pocket. The man was a cop.
Specifically, he was a detective from the Milwaukee Police Department and, like plainclothesmen in Chicago and Detroit, he has recently served as a bodyguard for the Bucks' center. It is a job he performs amicably and one Abdul-Jabbar accepts with good humor, surprisingly so since the mere presence of the detective unavoidably reminds him of the horrible events that led to the protection.
One month ago seven persons, including five children ranging in age from nine days to 11 years, were murdered in a Washington, D.C. house that Abdul-Jabbar had purchased for them. Because the three-story, $78,000 building is also the U.S.center for Hanafi Moslems, an orthodox Islamic group of which Abdul-Jabbar is a member, and because of information given by residents of the house who survived the slaughter, both Abdul-Jabbar and the Washington police believe Black Muslims were responsible for the murders. The Muslims, whose formal name is The Lost And Found Nation of Islam, are a black separatist group founded in Detroit in the '30s. The sect has many traditional Islamic trappings but subscribes to beliefs that orthodox Moslems consider divergent from the teachings of the Qur'an. If the motive for the Washington slayings was a religious one, then Abdul-Jabbar, the most celebrated American orthodox Moslem, his wife and their nine-month-old daughter could be future targets.
The threat to Abdul-Jabbar has pushed into the background other events that had already made this a confused, unhappy season for the Bucks. Following an exhibition game in Denver, Guard Lucius Allen, who was convicted on a drug charge in Los Angeles in 1968, was arrested after traces of marijuana were allegedly found in a bag he was carrying. As he awaited trial Allen played well, and he managed to drive thoughts of a second conviction and a possible jail sentence from his mind by working hard on his already superb chess game. Two weeks ago the charge was dropped because of insufficient evidence, and Allen showed his relief by becoming one of the league's hottest players.
Two months into the season another guard, Wali Jones, was put on indefinite medical suspension by the Bucks, who claimed he had lost weight and stamina. It was subsequently disclosed that at the same time Jones had been suspended for 30 days without pay—his contract called for about $90,000 this year—for what the Bucks termed"curfew violation and conduct detrimental to basketball." Those acts have never been spelled out and Jones was later put on irrevocable waivers."We see no reasonable prospect of Jones returning to the level of performance that we expect of him," said General Manager Wayne Embry after receiving a doctor's report that asserted there were no apparent causes for the player's supposed loss of weight and strength. The case has been appealed to the NBA commissioner, and Jones is still seen occasionally at Bucks' games,viewing the action from seats given him by former teammates.
Milwaukee has been burdened by numerous other medical problems, most of them sprains or pulls that have briefly knocked players out of the lineup or caused them to perform at less than full efficiency. Coach Larry Costello says he has had his entire roster intact for only one game. The principal victim of the nagging injuries has been Oscar Robertson, who began the season with an aching toe, then suffered a deep muscle pull in his neck and shoulder and last week played with his thigh heavily taped to protect a damaged hamstring. For the first time in his 13-year career, Robertson was not selected for the All-Star Game and some of his opponents are even whispering the word "finished" when his name comes up.
It may well bet hat his huge body, which made him too strong to stop and too heavy to handle as a young player, has, at age 34, slowed Robertson down. Embry, who became the first black man to hold a major managerial position in professional sports when he took over as the Milwaukee GM last spring, is a former teammate of Robertson's and himself a very thickly constructed man. "There's no question that if you're more heavily built you're more susceptible to injuries," Embry says. "I had a lot of pulls and back and knee problems as I got older. They finally hurt so much I had to quit before I wanted to. The secret is you've got to play lighter as you get older. Oscar's about the same weight as he's always been. And when he's healthy there's no way he's finished.Every player's physical abilities lessen to some extent or another when he gets older. Oscar is such a smart player he can adjust to his limitations better than most. He was once the greatest basketball player of all time and he can still do an awful lot of things."
Last weekend Robertson played like the Oscar of old, not an old Oscar, and the rest of the Bucks, notably high-bouncing Forward Bob Dandridge, were doing a number of things that made the Lakers and Warriors, two of the NBA's strongest teams,feel a little over the hill. Even with Allen's thigh wrapped in a bandage matching Robertson's and starting Forward Curtis Perry on crutches with a sprained ankle, Milwaukee won impressively 109-88 and 135-108. Robertson was injured yet again Sunday, spraining his ankle as Milwaukee lost to Boston. But by winning two of three the Bucks remained among the NBA's classiest clubs(their record was 41-18 compared with the league-leading Celtics' 45-12), a status they have had all season despite the troubles they've seen.
But none of the Bucks had to face problems remotely comparable to Abdul-Jabbar's. He has effectively sublimated his worries on the court. Against the Lakers he had 29 points and 24 rebounds while holding Wilt Chamberlain to eight and 14 (see cover). In the Golden State game, Abdul-Jabbar scored 28 points and out rebounded Nate Thurmond.
Off the playing floor, however, Abdul-Jabbar's concerns surface. "I'm not afraid for myself," he says, "I'm afraid for my family. These [the murderers] are not very brave people and they are very sick."
The Washington tragedy claimed more victims than any mass killing in that city's history. On the afternoon of Jan. 18 a group of men numbering at least four, and perhaps as many as eight, entered the Moslem house, which is located in a well-to-do section of northwest Washington. According to Abdul-Jabbar, the two adult males in the house were told to assume the traditional kneeling prayer position so they could be shot in the back of the neck. When the men resisted, they were pistol-whipped and then killed. Four of the children were drowned, two of them reportedly while their mother was forced to watch. Two women who were shot and left for dead survived; one of them was found with seven slugs in her head. Atone point in the atrocities the assailants reputedly stopped and fixed themselves something to eat.
Although the Black Muslims deny any part in the killings, Abdul-Jabbar, his spiritual mentor Hamaas Abdul Khaalis, the leader of the capital's Hanafi community, and the District of Columbia police believe otherwise.
Islam in its orthodox form is the world's third largest religion and has existed for 1,300 years. It is composed of two main groups called the Sunni and the Shi'a. There are about 100,000 Moslems in the U.S., of whom Abdul-Jabbar says 65,000 are immigrants from Islamic countries and 35,000 American-born converts. Most U.S.Moslems, virtually all of whom are Sunni, do not identify with a particular interpretive approach to the Qur'an, such as the Hanafi's. According to Abdul-Jabbar, the difference in interpretation among the four major Sunni Moslem groups are far less than the disparities in the various Protestant sects' views of Christianity. As far as he knows, the Hanafi community in Washington numbers some 100. The Hanafi is no splinter group, however. Its worldwide membership runs into the tens of millions; for example, Turkish Moslems are largely Hanafi.
Orthodox Moslems believe that Allah is the prime being, that the last of the great prophets was Muhammed, who died in 632 A.D., and that all races are equally welcome in their community. The Black Muslims hold that 6,000 years ago a malcontented black scientist named Mr. Yacub created white men out of germs, that an itinerant silk salesman and storyteller variously called W.D. Fard, Wall Farrad and Professor Ford who showed up in Detroit in 1931 was, in fact, Allah, and that Fard's assistant, a man named Elijah Poole, is one of the great prophets.Before Fard mysteriously disappeared from Detroit in 1934, he had given Poole the name Muhammad. Today Elijah Muhammad heads an organization of undetermined membership, including Muhammad Ali, now "suspended," and musician Joe X(AKA Joe Tex).
The Black Muslims gained recognition and economic power during the era of rising black consciousness in the '50s and '60s. Their surge stopped at about the same time a young New Yorker named Lew Alcindor was questioning his own religious beliefs, ultimately deciding that the Catholic Church in which he had been brought up was a racist organization. Those also were the years of Malcolm X's greatest influence in Harlem. Malcolm had been one of Elijah Muhammad's most trusted lieutenants. He broke with the Black Muslims after a trip to Mecca had shown him that orthodox Islam embraced people of all colors. Malcolm's teaching following his return to the U.S. drew many of the brightest young members of the Nation of Islam away from Elijah Muhammad. In 1965 Malcolm was gunned down by assassins who are widely assumed to have been Black Muslims.
Hamaas Abdul Khaalis was an associate of Malcolm's who underwent a similar change in his convictions. When Hamaas and Alcindor met, Lew had already begun his own study of Islam at UCLA. The two have had a continuing association ever since. In the summer of 1968 Alcindor made a confession of faith, declaring his devotion toAllah and receiving the name Kareem Abdul-Jabbar. He adopted it legally three years later. "It was a final public acknowledgment of my belief," says Abdul-Jabbar. "I didn't do it sooner because I wanted to make sure that my feelings were not a passing thing."
Four other pro basketball players have changed their names for religious reasons: Jones, who altered the spelling of Wally to the Arabic Wali, meaning friend; Denver's Warren Jabali (formerly Warren Armstrong, whose new surname means rock in Swahili); Phoenix's Shahid Abdul-Alin (still known as Charlie Scott in box scores and sports stories); and Golden State's Mahdi Abdul-Rahman, heretofore Walt Hazzard. Abdul-Jabbar has helped both Abdul-Rahman and Seattle's Spencer Haywood, who has not changed his name, with their Islamic studies.
Since his conversion, Abdul-Jabbar has made a pilgrimage to Mecca, taken Arabic at Harvard in preparation for pursuing a graduate degree in Islamic studies and bought the house on 16th Street N.W. in Washington. He deeded it to the Hanafi community last year, and it has been recognized as a tax-exempt place of worship. He traveled there last month to help wash the bodies of the slain and bury them.
"They were like my family, like seven brothers and sisters," Abdul-Jabbar says. "I cannot feel sorrow for the martyrs because they were in Paradise before their blood touched the ground. They died doing what Allah ordered. They died defending their faith.
"But I want people to understand this is not a religious war like some have said it is.It's not a war because we're not fighting. Our beliefs direct us to try to keep a pure mind. We are ordered to exert a positive effect on our surroundings.That's why we fly the American flag outside our community and paste flags in the windows. We want to show that we hope to do good here, to work for the improvement of the whole environment and to work within the framework of the Constitution, which guarantees freedom of religion. We are not allowed to fight unless we are directly attacked and we are required to negotiate whenever we can. In the Qur'an the things most frequently mentioned are compassion and mercy. The Prophet admonished us to be forgiving, and the problems involved in merely saving yourself, in trying to submit yourself to what Allah has ordered,are too great to allow you to carry a grudge. There's too much else to be done.
"The one thing that does upset me though is that this was done simply because we're Moslems,because we want to practice a religion. Even the worst white racists don't think the way the people who attacked us do."
The Black Muslims once asked Abdul-Jabbar to join them and he refused. He does not view the sect as a religion, but rather as a group of black nationalists. He calls their doctrine, which contains repeated reference to "white devils," ademonology, not a theology.
His refutation of the Black Muslims and his celebrity make Abdul-Jabbar as vulnerable as Malcolm,and the authorities are well aware of it. Two weeks ago in Chicago, the headquarters for the Black Muslims, policemen occupied rooms at both ends of Abdul-Jabbar's hotel corridor and he was escorted to the arena by police cars while teammates rode in a bus. After the game he left the same way, meeting the rest of the Bucks at an expressway interchange en route to Milwaukee.
A man of practiced detachment, Abdul-Jabbar chats easily with his escort and admits he likes cops;his father is a lieutenant in the New York City Transit Authority force. But Allen, a teammate in both college and the pros, sees things deeper inside."I can sense that it bothers him," Allen says. "He carries it around within him. But it's not there on the court. At no time is it on the court." Which goes a long way toward explaining why the Bucks are doing so well in a very bad year.