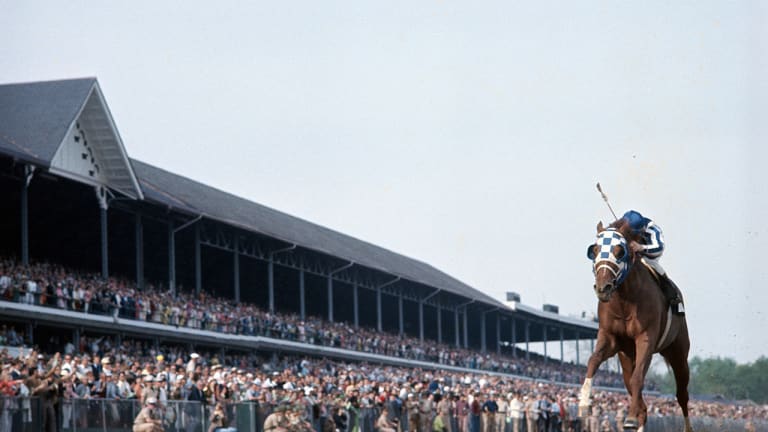 History in the Making
Secretariat is 50 feet from the finish line and the race is won—but Jockey Ron Turcotte steals a look at the infield teletimer on his way to a pulverizing Belmont victory and the Triple Crown
It was the greatest performance by a racehorse in this century. As Secretariat thundered down the homestretch at Belmont Park to the roar of nearly 70,000 fans, he took on legendary stature. His long stride carried him to the finish by an ever-increasing margin in poetic rhythm. And when the wire was reached, the mile-and-a-half Belmont Stakes won and the ninth Triple Crown in racing history earned, the closest competitor—if he can be so called—was 31 lengths to the rear. Sham, who had lost both the Kentucky Derby and Preakness to the wonder horse by the identical margin of 2½ lengths, this time finished a rubber-legged last in the field of five, outdistanced by 45 lengths. And, as if consciously seeking to silence the critics who had persistently argued that any son of Bold Ruler was suspect at classic distances, particularly over 12 furlongs, Secretariat shattered Gallant Man's track record by two and three-fifths seconds, the equivalent of 13 lengths. Along the way he also smashed the record for a mile and a quarter.
The 105th Belmont Stakes will rank among sport's most spectacular performances, right up there with Joe Louis' one-round knockout of Max Schmeling and the Olympic feats of Jessie Owens, Jean-Claude Killy and Mark Spitz. Even in horse racing, where track records are a fairly common occurrence, an animal just does not go around beating an established mark by nearly three seconds. It would be as if Joe Namath threw 10 touchdown passes in a game or Jack Nicklaus shot a 55 in the Open.
As is usual before major races in which the blue-and-white blocked silks of Penny Tweedy appear, Trainer Lucien Laurin was more talkative—and more confident—than his boss. Sitting in a front-row Belmont box a couple of days before the big race, Laurin gazed across the huge infield and squinted as he focused on the long backstretch. "I've never seen a horse as good as this one is right now," he said. "I think he'll win the Belmont easier than the other two. The Derby had to be the toughest because of the large field; you don't know what kind of racing luck you'll get. The Preakness figured to be easier because of the smaller field—and it was. The Belmont will be still easier because again there will be a small field and the turns on this mile-and-a-half track are sweeping, so if you are on the outside you lose little ground."
But the Tweedy gang was not going to be handed the huge Belmont cup and the Triple Crown trophy without a semblance of a struggle. Though Laurin thought—correctly—that Sham should be tired after chasing Secretariat through two grueling record-setting classic races, Frank (Pancho) Martin, the trainer of Sham, felt differently. "My colt has been working better than ever," he said, "so the Derby and Preakness couldn't have taken much out of him. I predict that the Belmont will be a match race, just Secretariat and Sham. The rest will be nowhere. And it will come down to which of these two is the best mile-and-a-half horse." Martin believed his colt had excuses in both the Derby and Preakness; Sham lost two teeth on the first occasion and scraped the rail on the second.
The three other starters in the Belmont were given little or no chance. Jockey Angel Cordero, who was to ride Arthur Appleton's Blue Grass Stakes winner My Gallant, said glumly, "I feel sorry for my colt, that he has to run against Secretariat." Twice a Prince, who delayed the start of the Derby five minutes by acting in the gate like a brat who won't go to bed—and who then was beaten 23 lengths, finishing 12th in the 13-horse field—was set to try again. Sent off at 17 to 1, he surprised almost everyone by finishing second, collecting $33,044, nearly double his previous earnings.
Then there was C. V. Whitney's Pvt. Smiles who had run past tired horses in the Jersey Derby at Garden State to move from last to within a nose of winner Knightly Dawn. Trainer George Poole was hopeful—but not very. "If a match race develops, and it could, Secretariat and Sham might be awfully tired at the end of a mile and a quarter. And then a late runner like Pvt. Smiles would have a chance of catching them." Owner Whitney, who won Belmonts with Phalanx and Counterpoint, declared, "Anything can happen in this race, and who knows if Secretariat can handle that last quarter of a mile?"
Pancho Martin, who schemed without success all through the spring, hoping to rattle the often volatile Laurin, tried something new before the Belmont. He entered Sham's speedy stablemate Knightly Dawn in the race and announced that Milo Valenzuela, a California-based jockey who certainly never learned his riding under Pony Club rules, would come East to ride the colt. If Sham could not handle Secretariat on his own, some people suggested, maybe Valenzuela would see to it that Knightly Dawn, in one way or another, would. In the end Knightly Dawn was scratched.
Race day was beautiful but a hot 90°. Youthful crowds gathered below and above the Tweedy box and yelled to Penny, "Tweedy Baby! Way to go!" Time and time again she stood and waved at her colt's admirers. Secretariat had already scored one triple during race week, appearing on the covers of SPORTS ILLUSTRATED, TIME and NEWSWEEK (and prompting the latter's editor, Osborn Elliott, to crack, "We're going from Watergate to Starting Gate"), and by post time there were few people at Belmont or anywhere else who did not know what Penny Tweedy looked like. She looked lovely, and she qualifies as a charming expert in public relations.
Secretariat walked majestically onto the track, settled and nonchalant about the roar that greeted him. The colt was first into the gate, having drawn the inside post position. Twice a Prince was led in blindfolded and behaved like a lamb. Within seconds the field was sent evenly on its way. Sham, with Laffit Pincay up, showed briefly in front midway around the first turn, but Secretariat moved alongside. On the backstretch Secretariat surged ahead. The teletimer was blinking out the fractions of the race—the colt had gone the first quarter in :23[3/5] and the first half-mile in a brisk :46[1/5]—and Penny Tweedy reacted nervously: "Oh, oh! I'm scared."
Secretariat began drawing away, first by 2½ lengths, then seven lengths. He covered the six furlongs in 1:09[4/5] and the mile in 1:34[1/5]. The time, by racing standards, was supersonic—and Secretariat still had not exerted himself. Turning for home after a mile and a quarter in 1:59, his margin increased to 20 lengths over Twice a Prince. Sham rapidly fell back. Ron Turcotte caught a quick glimpse of the fractions flashing on the infield board as he charged by the eighth pole 28 lengths in front and he knew he could break the track record. "Then I set my horse down for the only time in the race," he said later. "We both must have wanted the record—and we got it." The final time was 2:24, the fastest mile and a half ever run on a dirt track anywhere in the world (the record on grass is 2:23 set by Fiddle Isle in 1970 at Santa Anita over a course that is partly downhill).
The chestnut strong boy, who now has won 12 of 15 lifetime starts and $895,242 (good enough to move into 17th place on the alltime earnings list), is the first colt since Citation in 1948 to win a Triple Crown, and in the years to come it will be fashionable to say it was a privilege to run against him. Even though he was beaten those 31 painful lengths, Twice a Prince will go into the record book as having finished second in Secretariat's Belmont. My Gallant was third, 13 lengths ahead of Pvt. Smiles. And last and least this day was Sham, the race's second choice at 5 to 1.
Now that racing has a hero the likes of which the sport has not had since Kelso retired, the only regret is that Secretariat will not be around the track very long. Boss Tweedy and her partners in the colt's $6,080,000 syndicate signed an agreement months ago to retire their big horse no later than November 15 (he is expected to race next in the Travers at Saratoga on August 18 and then in the Woodward at Belmont on September 29). "If there was no syndicate," says Mrs. Tweedy, "I'd run Secretariat as a 4-year-old to test his greatness. But there isn't much chance that the syndicate members would consider voting to change the terms of the contract because of the large number of market breeders among them. These men want to put Secretariat to stud as soon as possible—and understandably so. From their standpoint he really has little else to prove, so why not get on with it?"
Ogden Phipps, who paid $190,000 for one share in the colt, the world's most expensive horse, unsurprisingly suggests it might be prudent to retire Secretariat right now, "while he's on top." This also makes good sense to his partners (who, had the deal not been made at $190,000 a share before the colt's sensational season began, might now have been asked to pay $300,000 a crack, which would have raised Secretariat's value to close to $10 million). That, however, would be taking one of America's greatest sporting attractions off center stage once and for all. This is one hero who should not be awarded instant retirement.
PHOTO
NEIL
LEIFERPHOTOAfter a mile Sham bites the dust and from then on only the clock challenged the champ.PHOTOVictory assured, cares are thrown to the wind in Owner Penny Tweedy's balcony box.