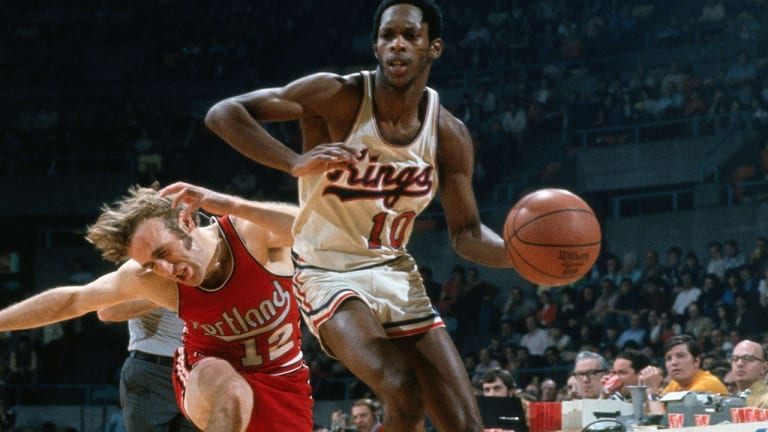 TINY DOES VERY BIG THINGS
Although he's barely six feet small, Nate (Tiny) Archibald survived an upbringing in a ghetto to become the first to lead the NBA in scoring and assists in a single season.
Under a sky white from midmorning heat, the old woman sat in a New York City park feeding the pigeons. Suddenly she noticed a lithe black running toward her. A wrinkled hand tightened around her purse, and she could feel her heart pounding. The young man ran past, indifferent to her presence, and the old woman slumped with relief. She was unaware that he was no potential mugger, but Nate (Tiny) Archibald (see cover), of the Kansas City-Omaha Kings, who earns more than $450,000 a year.
The old woman and others who saw Archibald doing roadwork this summer day had no idea who he really was; neither do many basketball fans. He is not merely the only player ever to lead the NBA in scoring and assists in a single season, a little man excelling in a big man's game. His accomplishments go beyond that, for he has endured suffering and deprivation and broken dreams.
The South Bronx is like a paper bag full of garbage held at arm's length by Whitey, a narrow river away from the borough of Manhattan, a world away from strawberry fields. It is a nightmarish place of gambling, drugs, prostitution, muggings, rape, murder, suicide. Nate Archibald was raised there, the oldest of seven children in a family whose father despaired and deserted. One of his earliest recollections is of being told not to eat the rat poison.
Archibald, who is 25, returns to the South Bronx each summer. He lives with his mother Julia and his brothers and sisters in a crowded apartment in a housing project. The Archibalds pay $109 a month rent; the neighborhood is free, and for it they are overcharged.
The smell of ammonia pervades the hallway as Archibald walks from the apartment one summer night. It is two a.m., but the South Bronx writhes and twists in the garish light of sodium vapor lamps. Incandescent graffiti glow on the skirts of the buildings, and hydrants spew water. Rock blares from open windows, the gutters are heaped with refuse.
It is warm, like most August nights in the South Bronx, and clusters of shirtless young men stand about with insolent expressions. Occasionally there is the sound of glass breaking or metal crashing to the pavement or incoherent shouting, punctuation to which they pay no mind. A few blocks away men shoot craps on the sidewalks, women loll contemptuously and winos and addicts slump against buildings. Police cars pass, their fenders smashed, their sides dented.
As he goes up the street, Archibald's eyes dart left and right. "They know that I don't carry any money so they won't try to take me off," he says. "They like to take off women. You don't know what a guy has with him. Nowadays he could have a gun or a knife, or maybe he is good at karate. So they look for women. I figured there are two things I'm good with, my hands and my feet. Of course, if the guy has a gun...well, 'Take it all, Jack. Take all of it.' "
Archibald searches the shadows of a playground littered with broken glass. "I don't see my man out there tonight," he says. "The dude's about 15, 16 years old, comes out late at night and plays by himself. He's just like I was, always hanging around listening. I'd find out there was going to be a 'run' and I'd be there waiting. If there was going to be a game, I was there, Jack. The older guys, they'd say, 'Well, we'll let him play, he's small, he'll get tired and quit." I wanted to learn, and he's that way. He don't come out when nothing's happening, just to go stand on the corner and smoke some dope and drop some wine and get into trouble. Rather than be doing that he stays in his house and comes out at night when nobody is around. He'll be out later and he'll be wanting me, wanting to go one-on-one. You'll see."
While he walks, Archibald speaks of his reasons for leaving his wife Shirley, their four young children and their Kansas City apartment to return for the summer to his old neighborhood. He does it because of his love of basketball. This year Archibald played several times a week in the Harlem Professional Basketball League, formerly the Rucker League. Austin Carr of the Cleveland Cavaliers was on his team, and Julius Erving, Billy Paultz, Brian Taylor, Charlie Scott and Dave Stallworth were regular opponents.
There was also high-class competition at P.S. 18, where Archibald learned and polished his game; he recalls the first time he saw Wilt Chamberlain there and how he was awed by his size. Archibald also worked out regularly with a group of pro and college players and ran six miles every other day.
Clothes and night life don't interest him, he rarely consents to personal appearances and he hates making commercials because of the hours they take from basketball. He makes time to coach two youth teams from Harlem and the Bronx, goading a basketball shoe manufacturer into coming up with equipment; he spends his own money to enter the kids in tournaments. He would like to become a college coach, one who would teach principles as well as the crossover dribble. His players could expect no cash under the table, they would attend class.
"The thing around the community now is to become a professional athlete," Archibald says. "But the message I try to give them is that not everyone can be one. A lot of guys, they don't make it, they can't do what they want to do, they say, 'Forget it. If I can't play ball, I don't want to do nothing.' I tell the kids, 'Go to school to play ball and get an education. Prepare yourself for the rest of your life.' "
While Archibald is blasé about the perils of the South Bronx, his mother is not. A stout, personable, warm woman of 44, she watched her husband walk out when Tiny was 14, forcing her to take a job as a clerk in a department store where in time she became a supervisor. Now she feels threatened by the growth of street crime, particularly the reappearance of neighborhood gangs. Recently a friend of one of her younger sons was stabbed and thrown off a rooftop. He lay in the morgue for three weeks, unclaimed, unidentified.
Julia Archibald was mugged walking home from work last winter. Three boys sprang at her from the darkness, twisting her arm behind her back and stealing her purse. Now she hesitates to answer when strangers ask if she is Nate Archibald's mother. All too often she has heard noises at her door late at night, and she never carries more than a few dollars. Tiny is buying his mother a large house out on Long Island, although her younger children don't want to leave the neighborhood and their friends.
For two of Julia Archibald's sons, the move is going to come too late. One day she stood up and faced the truth. Gomez, now 23, and Geronomo, a year younger, were into drugs. "I told them, 'I know you ain't getting that kind of high from drinking no port wine,' " she recalls. "They laughed. They said, 'Ma, don't worry.' Don't worry! I knew."
"I would call home to see how things were," says Tiny, who was away at the University of Texas at El Paso at the time. "My mother said things weren't too good. The guys weren't going to school. They weren't working. From that I knew what was happening. They had to be doing something wrong. Growing up, the three of us were pretty close. But I went away to school and they didn't have anybody to tell them what to do, not that I told them that much anyway, but if I did they knew it was straight. I told them over the phone, both of them—they had to straighten up."
Eventually Julia Archibald threw her sons out of the house. They would sit on her doorstep waiting for her to come back from work, perhaps to beg $5. She would give them $10 and tell them to return with the change, knowing they wouldn't. She laughs at it now. A mother's children never are bad, only mischievous, and she can smile while relating how they were transformed into addicts.
"You start out snorting, using just one bag," says Tiny. "Then that's not enough. And then you start shooting it to get a better high. Then the man has you. You're his then. You have to start stealing to get your money. That's part of it because you need money, lots of money."
Geronomo and Gomez were arrested and served jail terms for theft. Then they began the climb back. Tiny had told them that they had to get straight before they could expect any help from him. Both now live in his Kansas City home and as long as they try, what he has is theirs. Once they were considered equal to him in basketball talent. Now they are working and looking forward to entering college. Julia Archibald feels fortunate. Many drug users steal from their parents. Her sons never did that.
Tiny's brothers were redeemed. Most are not as lucky. Consider Ralph Hall and PeeWee Kirkland, two young acquaintances of Tiny's. Ralph Hall was a talented player at DeWitt Clinton High School in the Bronx. He received a slew of college scholarship offers, but his career and his life ended when he overdosed on heroin during an off-season basketball tournament.
PeeWee Kirkland is doing time in a federal penitentiary for dealing in drugs. At Norfolk State University he was a teammate of Bob Dandridge, now of the Milwaukee Bucks, and MVP of the NAIA tournament. Drafted by the Chicago Bulls in 1969, he attended rookie camp and was offered a contract. Pee Wee listened, curled his lip and informed the Bulls he carried that much money around in his pocket. "There was a story that he was playing at a playground once and he had a shopping bag full of money," says Archibald. "How much money can you put in a shopping bag? He always had with him what you might call 'protectorates.' He wasn't what you could call a gangster. He had people working for him."
When the then-Cincinnati Royals drafted him in the second round in 1970, Tiny Archibald was undistinguished and appeared likely to remain so. At DeWitt Clinton he had a fitful career and at UTEP he never averaged more than 16 points a game. Archibald was one of the smallest players to come into the NBA in years, being listed at a bit over six feet and weighing about 150 pounds. He had speed, but the trend was to big guards. The first time that Cincinnati Coach Bob Cousy and General Manager Joe Axel-son met Archibald at a Memphis motel they mistook him for a bellboy. Now Cousy says he might quit the Kings—the team was renamed upon being shifted to Kansas City-Omaha last year—if he ever were to lose Archibald.
His skills surfaced in a series of college all-star games where he averaged over 40 points. During contract negotiations with the Royals, Archibald let his agents, Lew Schaffel and Jerry Davis, do the talking while he went to sleep in a chair, even though he had only 16¢ in his pocket.
"When we walked outside, he said he didn't even want to know what he got," Schaffel recalls. "All he said was, 'Is it more than Jimmy Collins got?' We told him it was. 'Good,' he said, 'because I'm better than Jimmy Collins.' " It was an astute judgment, one the Chicago Bulls wish they had made. Collins, a rival of Archibald's from New Mexico State, was the first-round choice of the Bulls that year. He was waived out of the NBA.
A series of events transpired to cement Archibald's position as the cornerstone of the franchise. He moved into the starting lineup his rookie year when Flynn Robinson, a veteran guard, held out. Archibald averaged 16 points a game and passed well, although he was vulnerable on defense, subject to floor errors and had no confidence.
At the start of his second year, when he continued overhandling the ball, throwing it away, taking poor shots and running the offense at 78 rpm while his teammates played at 45 rpm, Cousy and Axelson reportedly contemplated trading him. The team needed a big man and they considered offering Archibald to Chicago for Center Tom Boerwinkle. The Bulls came up with 6'10" Jim Fox for Norm Van Lier, and this deal was made instead.
The Royals' captain and scoring leader, Tom Van Arsdale, was injured a short time later, and Archibald assumed those roles, although he was left off the Eastern Conference All-Star team in midyear. The slight so riled him that he scored 34 points a game for the rest of the season, finishing with a 28.2 average that was second only to Kareem Abdul-Jabbar's.
Last year Archibald established himself as the best second-round pick since Willis Reed. He became the highest scoring guard in NBA history, with a 34-point average, had 11.4 assists a game and played more minutes than anyone else in the league. He was named to the midseason All-Star team and was so proud of being selected that he was the first and only player to show up for practice. Archibald's importance to the Kings is calculable. One night he sat out a game with an ankle injury and Detroit won by 44 points.
"Cousy helped Archibald some, but most of his success was just the result of natural ability," says Van Lier, who cherishes memories of the season he and Archibald spent together. "I saw that all he needed was a little experience, some confidence and the opportunity. When he got it, he was a natural star. And he looked sweet doing it, too. Nate's life is basketball, and he looks beautiful executing. I rate him No. 1. The brother's mean, man. He comes to play every day and he does it to death. I don't believe there is anything he can't do, and his moves are inexhaustible. He'll stand out there 25 to 30 feet away from the basket dribbling. It looks so easy to go up and take the ball away, right? Wrong. Nate's just baiting you. He wants you to make a move for the ball because when you do, you're all his."
"Nate's one of the most unselfish players in the game," says Chicago's Bob Love. "I've seen him go a whole quarter without shooting, and he still killed us whistling those passes in underneath. The fact he led the league in assists explains his unselfishness. If anything, he's underrated."
Archibald's style has altered the order of the NBA. Once the behemoths were the intimidators; now they find themselves helpless as Archibald bears in on them. "I feel like I can draw a foul most every time," he says. "You would think that the big man has an advantage, but I would say I have it, because he has his arms up high and he has to come down on you. I get shots blocked, but not very often, because I don't just shoot a layup. I go right at the big man and make him commit himself, then I make my move." Nowadays many of the league's top teams have a small guard.
"Nate has added an extra dimension to the game," says Portland Guard Charlie Davis. "Cousy and them could clear out the ball, pass it, but there's never been one like Nate who could set those dudes up, score and pass." Says Jerry West, "He looks like a high school kid and plays like a superstar. One step and he's at full speed and gone." When asked if Archibald's "dominance" of the ball could hurt Kansas City, Oscar Robertson looked incredulous, then responded drily, "The only way his style could hurt them is if he played against them."
Floyd Layne is the binding of Nate Archibald's existence. He served as his surrogate father when the streets beckoned. "I can't remember the first time I saw Tiny," says Layne, who played on CCNY's 1950 NIT-NCAA championship team and overcame the stigma of having been a fixer to run community centers when Archibald was growing up. A sagacious man, Floyd was basketball coach at Queensborough Community College for three years and hopes to hook up with a pro team. "He probably was under my feet somewhere," Layne goes on. "I wondered then what he was doing always hanging around. And I found out—brain picking. That's what he was—a brain picker, always listening."
The dean spoke to his rapt student of the hazards of the streets. "We would talk about drugs, not specifically but in a general sort of way," Layne says. "It was a thing like, 'You can't go there because those guys are going to be doing this or that, and you don't want any of that, so stay away from there.' " Layne also helped make Archibald more outgoing. In the beginning, Nate expressed himself only on the court. There he could be totally free, haughty at one moment, laughing another. Off the floor, he was too often sullen and withdrawn. He was cut from his high school team his sophomore year and at the start of the next season he walked away from practice. Layne met with the coach and asked him to allow Archibald to return.
"I always did say that Tiny should have been playing," says Pablo Robertson, who played for Loyola of Chicago but was not big enough for a pro game that in those days did its drafting out of basketball magazines. But around the playgrounds of Harlem, Pablo Robertson is lionized. "You could see Tiny's ability even though he would get into the games for only the last two minutes when his team was 20 points ahead," Robertson says. "I told the coach he should be playing." The coach relented, and Nate was All-City his senior year.
Layne still is one of Archibald's few confidants. He coaches Tiny's team in the Harlem League and supervises his workouts. Layne says he can see a change. As the pressures ease and Archibald becomes more sure of his status, as the stress from his brothers' situation dissipates, he is able to cope more easily. Edwin Greenidge and Layne, Archibald's new agents, recently negotiated a seven-year contract for Archibald, which further increased his confidence. It should. According to Axelson, Archibald got the "largest money commitment ever made to a professional athlete."
The one doleful item is the Kings' future. Archibald is disheartened because an NBA championship seems all but unobtainable; the Kings won only 36 of 82 games last season. But as the team adds talent, he sees his role changing. "I'll be scoring a lot less," he says. "I was never a great scorer, anyway. Anybody can score points. But running the ball club is different, and I can do that. Right now I'm going to have to score because we don't have the scoring punch of other teams."
Toward the end of the summer the Harlem Professional League staged an invitational tournament with all-star teams from six cities. Much of the event's financial success depended on the local team making good. If New York was eliminated early, attendance surely would suffer. Thus the tournament organizers were in agony on opening night when Archibald inexplicably failed to appear.
At halftime New York was trailing in its game with Chicago. Then Archibald walked into the gym, and a murmur went through the crowd. A friend explained that one of Archibald's youth teams had been in a tournament, and that Archibald had hurried to the gym as soon as the game was over. As Archibald walked to the dressing room, the crowd's murmur turned to raucous applause, and the public-address announcer said: "Tiny is here. Now the fun begins."
After making up a 13-point deficit early in the third quarter, New York took a slim lead in the last few minutes. But the outcome still was in doubt, and money changed hands in the stands as people chose sides. Then Archibald glided down the right side of the floor, starting his move to the basket with an inimitable series of rolling shoulders and stutter steps. Four Chicagoans surrounded him, a picket fence of arms and legs; as he sprung into the air and pumped once, the slats of the fence moved with him. He seemed hopelessly trapped; at best he could get off a wild shot or try to bounce the ball off an opponent's leg and out of bounds.
Then he gave another hunch of his body, his head drew back and his arms slithered forward to their fullest, his fingertips stretching around a Chicagoan's back. Given this narrow opening, Archibald whisked the ball to a New Yorker free under the basket, and as the ball went through the hoop for the goal that assured victory, a great roar arose from the crowd. Women danced up and down, wringing their hands and screaming; men bent over with mirth, slapping palms; small boys jumped from their seats to spin like tops. Laughter was everywhere, even on the face of the Chicago coach, who shook his head slowly. On the New York bench Floyd Layne sat, his back stiff, his eyes proud as he watched Nate Archibald go upfloor. And Layne thought back over the years and looked at what he saw, a young man free of drugs, free of poverty, free of despair, free, free at last.
PHOTO
NEIL
LEIFER
Archibald, whose strategy on layups is to force the big men to commit themselves, beats two Portland biggies to the hoop.
FOUR
PHOTOS
NEIL
LEIFER
In the summer Archibald lives with his mother in a project in the South Bronx (top), goes one-on-one with neighborhood kids—whom he counsels on the perils of the streets, the value of an education—and, looking like one of the gang, joins them on the sideline to await his turn on court.
PHOTO
NEIL
LEIFER
On the run, Archibald deftly passes between Paul Silas and John Havlicek.