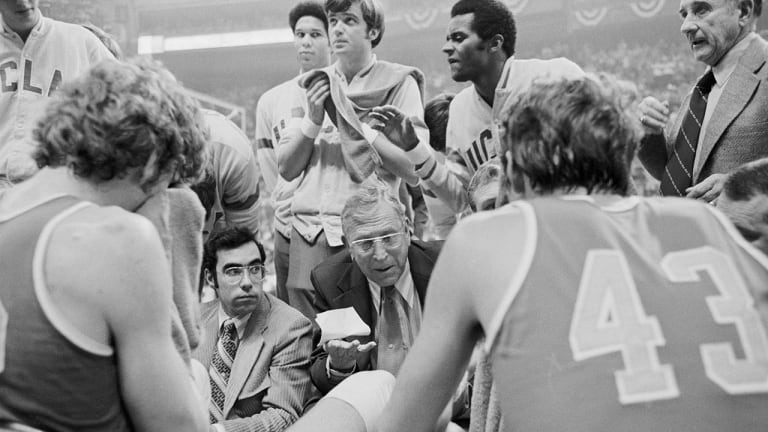 Publish date:
After 88 Comes Zero
That is basketball's arithmetic as UCLA's winning streak is snapped in three tumultuous minutes that woke up the echoes at Notre Dame.
It ended the way Hollywood would have written it, drama and symbolism holding hands with ghostly legend at Notre Dame, the denouement arriving on an arching shot from the corner. It was an attempt born of chance and cloaked in destiny, and the UCLA miracle ceased. The winning streak was over.
In the shadow of The Stadium and The Gipper and The Golden Dome, on a leaden Saturday in South Bend, Dwight Clay stared opportunity in the face and never shivered. His jump shot with 29 seconds remaining wiped clean UCLA's 88-game winning streak and once again cast Notre Dame as the bad seed in the Bruins' victory garden.
Clay was not out of costume in the 71-70 victory. Although he has the poorest shooting percentage among the Notre Dame regulars, it was the fourth time that the junior guard has helped win games with blithe final-second shots, and the second time that he has broken a streak. He fired in a basket against Marquette last year that ended the Warriors' home-floor successes at 81 straight and earned him a nickname: "Iceman."
In those frantic closing seconds against UCLA, Clay did not figure in the Irish plan. Notre Dame had scheduled a play designed to get the ball to John Shumate, its extraordinary center who had been battering away inside against the Bruins' weary Bill Walton throughout the second half. It was Walton's first game since suffering a back injury 12 days earlier and his teammates were more than ready to give him some help. They surrounded Shumate, and Gary Brokaw spotted Clay in the corner. A few seconds later, the Iceman cameth. "He's the best clutch shooter in the country," yelled Brokaw over the victory din in the Irish locker room. "The man has proved it. When he has to do it, he does it."
"I wanted the ball," said Clay. "I was open and I was waiting."
That summed up the mood of the Irish. They were ready and waiting for UCLA. This time they did not get 46 points from Austin Carr, as they had on Jan. 23, 1971, the last occasion anyone had beaten UCLA, but the tableau unfolded with just as much incongruity. Except for four very early ties, UCLA had led the entire game, adopting for the most part the posture of a man playing with a toy. But then the unpredictable currents of emotion switched and the Bruins were swept away on a tide of panic as their elegant play turned crude.
During the last three minutes they were outscored 12-0, sabotaged by four puerile turnovers and, while the Irish were sinking six straight shots, they were fluffing six in a row. In the final moments their frantic attempts approached burlesque as they stuttered over a series of open shots. "They threw the ball away, they ran into their own men. I guess the crowd shook them up," said ND's freshman starter, Adrian Dantley.
UCLA's John Wooden, once a high school coach in South Bend, offered no excuses, claimed indifference to the expiration of the win streak and cited this Saturday's rematch in Los Angeles as a better barometer of strengths. Notre Dame is No. 1, Wooden seemed to be saying, for right now.
"You don't mind if we don't show up next week, do you, John?" Irish Coach Digger Phelps said to Wooden.
"You better," Wooden answered with a smile.
The Bruin players mirrored their coach's proud demeanor in defeat. He told them: "Winners do the talking. Losers keep quiet." Following his advice, they accepted the loss calmly, without rancor, unsalted by tears. "They played a good game, they won, that's all we can say," whispered Keith Wilkes.
But for Notre Dame the flush of victory was exhilarating. There is little harmony between the two teams. Both are vain, and defeat does not dwell comfortably. During Phelps' first season at Notre Dame, UCLA beat the Irish by 58 points. Last year Wooden admonished Shumate for jostling with Walton and implied reprisal. Later Wooden sent a letter of apology. During Saturday's game there were frequent little incidents that could have flared into serious trouble.
"If I had Tommy Curtis here I'd stuff him in that locker," Clay snorted afterward, peeved at the UCLA guard for mocking him during much of the game. "He was talking that street talk. I told him to shut up or I'd punch him in the mouth. All that bad-mouthing, that's for the playgrounds. It's worked for 88 games, it's not going to work anymore."
Earlier in the week, the opposing players had exchanged similar pleasantries in the press. UCLA starting guard Pete Trgovich, who grew up in East Chicago, Ind., just a few football fields away from South Bend, said, "I despise Notre Dame. I stopped liking it when Johnny Dee left. I don't like Digger Phelps." Countered Clay: "If they gave a foul for bad language, Walton would be out of the game in two minutes, especially if he blocks your shot."
The game even exceeded its promise. For weeks it had simmered as UCLA and Notre Dame marched on unbeaten. The teams presented contrasts that went beyond Los Angeles and South Bend, beyond their coaches and players and pedigrees. It was the Establishment against the nouveau riche, West vs. East, a master coach against an aspiring heir.
Phelps would have none of Wooden's blasé pregame attitude. He even bought a book about Wooden, read it and passed out excerpts to his staff. "I want to understand the man," he said. Phelps showed up at the Bruins' game with Iowa in Chicago Stadium on Thursday night, huddling conspicuously with his assistants, immersed in machinations, poring over diagrams of Bruin strategy.
Wooden cloaked his feelings in his usual restraint. "I haven't seen Notre Dame play," he said. "I did talk to a friend about them, not a basketball man, just a friend."
"We heard they were scouting us against Kentucky," replied Phelps.
Earlier the UCLA coach had been less than specific over whether Walton would even make the trip east. Not until Walton showed up with the UCLA team in Chicago on Wednesday and went through a private workout (he never did see action against Iowa) was it certain he would play against Notre Dame.
"I'm really surprised," said Phelps dryly when he heard the news.
Phelps' commitment to the game is not difficult to fathom. Only a few years ago he was an acolyte, the freshman coach at Penn. The son of an undertaker, he speaks with a glib humor that belies his competitive self. "Listen," he says. "I can get you a good deal on a box." Still, there were tears in his eyes after his team beat Indiana this year. And at practice his approach is caustic.
"Get off the court," he snapped at a reserve earlier in the week. "You don't even know what day it is."
"I know how uptight he is about the game," said Brokaw. "I'm trying not to make mistakes so he won't holler."
The week began with Phelps in his office on Monday sorting through tickets that at the moment were more popular than rosary beads. On the wall was a framed piece of paper, the diagram of Clay's winning shot against Marquette. Notre Dame had shuffled off to a 1-6 start last season and that, following on the heels of a 6-20 year, had the faithful wondering if Phelps might make a better embalmer than inspirer. Clay's shot helped turn around the year, and the Irish went on to finish second in the NIT.
Although Notre Dame was scheduled to play Georgetown Tuesday night, the entire community was gearing only for UCLA. At the post office, a religious brother told Phelps: "Well, we've got the Jesuits Tuesday and God on Saturday."
This was the atmosphere Phelps had aspired to since he first knew success as a high school coach in Pennsylvania. He arrived at South Bend after a 26-3 season at Fordham, his only year as a head coach in college, but his fame had not preceded him.
"Trigger, would you like a drink?" asked a woman at his first South Bend cocktail party.
Phelps could have used plenty of drinks that first season. His team captain suffered a broken leg. Another guard had a bad knee and displayed the mobility of "Schultzie," Digger's three-legged pet dog. The team lost by 65 points to Indiana. Phelps, a big eater, took to drowning his sorrows in soufflés.
Now, two years later, all that was over. "We're ready for UCLA," said the 32-year-old coach, who had even taken the precaution of having his team practice cutting down the nets. "For the first time we want our kids to go out and just play. UCLA is very simple. It's the Lombardi concept. They merely execute."
He planned a number of changes from his previous UCLA strategy. Switching to a man-to-man defense, he would play Shumate behind Walton to take away the lob pass. In addition, he wanted to keep the ball away from Wilkes, forcing the UCLA guards up on Walton's side of the floor, and he wanted to take away Walton's baseline move, obliging him to hook into the middle.
Generally speaking, the strategy worked. Only twice did Walton score after getting a lob pass, though he did hit 12 of 14 shots from the floor. Big Bill hurt the Irish, but he did not cripple them. Wilkes made but two of nine shots in the second half, and no field goals in the last eight minutes.
Shumate is the spice of the Notre Dame team. He outscored Walton in their two meetings last year, though Walton did not play the whole way in those easy UCLA wins. On Saturday they both had 24 points. Shumate was palpably ready. At one stage Clay had complained that his phone was ringing incessantly with calls from well-wishers. "Eat it up," the ebullient Shumate told him. "This comes only once in a lifetime."
In two early confrontations against Walton Saturday, Shumate was forced into traveling calls. But he tempered his anxiety thereafter and acquitted himself well, especially in the final minutes, and it was he who grabbed the rebound of UCLA's last miss. "This is the greatest feeling I have ever had," he said.
If Notre Dame is good, it seems likely to get better. There are six freshmen on the team, including Dantley, another of the fine line of players Notre Dame has plucked out of the Washington, D.C. area, a list that includes Carr, Bob Whitmore, Collis Jones and Sid Catlett. Indeed, Carr and Jones drove all night from the East Coast to South Bend last spring to meet Dantley and persuade him to attend their alma mater.
The most noticeable thing about Dantley is his strength. In his first game with the Irish, he bent the rim during warm-ups. Phelps talks with awe when describing how he was called for dunking in the Ohio State game. At the time there were Buckeye players hanging on each of his arms.
Early in the season, Dantley grew homesick. He fell behind in his studies, so much so that Phelps excused him from practice several times so he could catch up. With the aid of tutors he did. "All I've been thinking about is UCLA," he said at one point last week. "I don't believe I've ever been more mentally ready for a team. When I was a little boy, that's all I ever thought about, UCLA."
The specter of UCLA dominates Notre Dame as much as it does the rest of college basketball. The pregame frenzy reached heights of silliness when it was rumored that Notre Dame students, aware that Walton is allergic to bee stings, were going to make buzzing sounds at him Saturday. (They didn't.)
The UCLA players, meanwhile, were reacting like airplane pilots riding a Ferris wheel. On Friday Andre McCarter, a reserve guard, was sitting on the steps outside his motel room playing a flute. "There's no rah-rah stuff about the game," he said. "We look at it like a business, like a job. That's how it is at UCLA. It's like the pros, except you don't have any income."
"We don't talk about the streak," said Wilkes. "We want to win, but we don't sit around talking about it."
In the end, Notre Dame won it the way it should not have won it, with a move born of desperation. The Bruins looked invincible in the first 14 minutes, raging to a 17-point lead and evoking fantasies of the future when two large golden arches would be constructed outside Pauley Pavilion. Between them would hang a sign: 11 BILLION WON.
Then Phelps put freshman Ray (Dice) Martin into the game, a ploy destined to give the Irish a hot roll. Martin played the point guard position, where he turned in an exemplary performance, and Clay moved to wing. Martin did not have a turnover in 22 minutes, set up the offense and strengthened the press. He also drew an offensive foul from Wilkes with 45 seconds remaining to set the scene for Clay's winning shot.
Flushed from the victory that came only weeks after Notre Dame won the national football championship, the students poured onto the floor at the end of the game. "We want to be No. 1 in both sports and UCLA is in the way," Clay had said earlier. The Bruins have not exactly disappeared, but while it lasts, being a double No. 1 is fun.