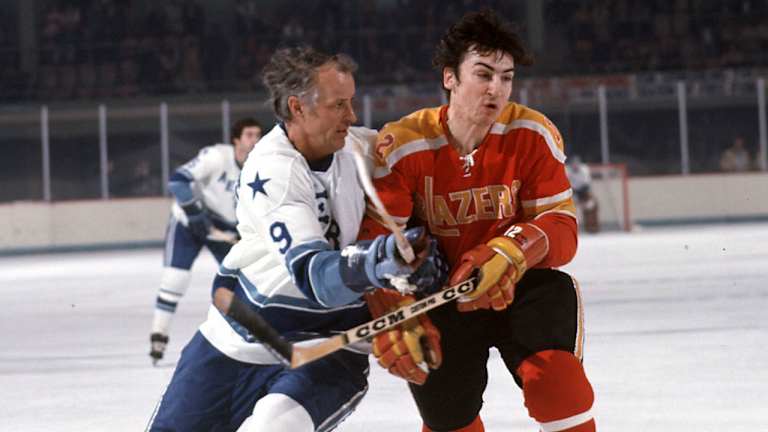 Superdad Skates Up A Storm
The hockey played by Gordie Howe at 45 has lost little since the majestic, intimidating years in which he won NHL glory—witness the way the Houston Aero warrior has risen to the top of the WHA
The question, Clarence Campbell, is this: What does your crusty old National Hockey League think now that one of its 45-year-old pensioners—you remember the name, Gordie Howe—is leading that other league in scoring, no doubt will be that other league's Most Valuable Player, is the father of that other league's probable Rookie of the Year and may give Houston one of its most welcome winners since old Sam himself? Will the NHL owners put an asterisk beside his name in the record books? Will they remove his plaques from the Hall of Fame? Will the Detroit Red Wings take down the Gordie Howe pictures hanging on the walls of the Olympia? Whatever happens, Mr. Campbell, Gordie says the Red Wings should not take down his pictures. "If they do that," he says, "they'll have too many walls to repaint."
See, Mr. Campbell, even though Gordie is turning 46 in three weeks, even though two of his sons play with him in Houston, even though he has some arthritis in his wrists and probably rubs a little darkener into his silver-streaked hair, he can still play hockey the way it was meant to be played. And don't believe for a minute what Ted Lindsay, Gordie's old linemate in Detroit, said the other day—that the World Hockey Association must be a terrible league if a 45-year-old player coming off two years in retirement can be the leading scorer. "I was 41 when I had my most productive scoring season in the NHL," Gordie says. That year he had 103 points for the Red Wings and finished third in the point race behind Phil Esposito and Bobby Hull. And if the Red Wings had not tried to make him the prince of all paper-clip counters, he probably still would be the best player in Detroit.
This was Gordie Howe last Thursday in Chicago, following a 3-2 Houston victory Tuesday over Vancouver. As always, his stick stayed high—menacingly-high—when the puck was not attached to it. As always, his head never stopped bobbing. And, as always, his eyes, deeply recessed in his scarred face, never stopped blinking. They were working at about 180 blinks a minute as he skated into the face-off circle near the Aeros' goal, whispered something to his son Mark and pointed his stick to a spot along the boards, just across the blue line. The Howes were on the ice to check the power play of the Chicago Cougars, and as Gordie talked and Mark listened, a Chicago leather-lung shouted, "That's it, Daddy, tell little Markie where to go." Gordie laughed, but Mark didn't, and then the linesman dropped the puck.
Obeying his father's orders, Mark skated to the spot beyond the blue line, and when he arrived there Gordie had the puck waiting for him. Mark streaked down the ice and rifled a rising shot past Cougar Goaltender Rich Coutu. To prove that goal was no fluke, the Howes repeated their act five minutes later on what was supposed to be another Chicago power play. Gordie blinked. Gordie spoke. Gordie pointed. Mark nodded. Instant replay, except this time Mark scored on a shot along the ice.
Later, Gordie neatly set up Mark's third goal of the game and 31st of the season and also had one of his own low shots deflected into the net by Houston Center Jimmy Sherrit as the powerful Aeros routed the Cougars 9-4. "Gordie's so good that he makes a farce of the game," said Houston Right Wing Frank Hughes, who also scored the hat trick.
As the week ended, Howe, who won six NHL scoring championships in his 25 years with the Red Wings and is the leading goal-and point-getter of the universe, was No. 1 in the WHA scoring race with 28 goals and 61 assists for 89 points, two ahead of Mike (Shaky) Walton of the Minnesota Fighting Saints. Howe & Sons could also take credit for Houston's emergence as the strongest team in the WHA. Gordie has a lock on the MVP trophy, while 18-year-old Mark, who plays left wing on his father's line, seems headed for the top rookie award. The third Howe, 20-year-old Marty, plays regularly on defense, and while he may not win any trophies, he leads the Howe family in penalty minutes and body checks.
"The secret to it all is that I'm happy on and off the ice for a change," Gordie says. "The game is fun again, compared to the way things were the last several years in Detroit. Playing with my kids makes it fun, of course, and so does the atmosphere in Houston. Look, if I want to get away from hockey now, I can play golf or go fishing after practice. In Detroit the only thing I ever did was shovel snow off my neighbors' driveways."
Back in September, though, there was doubt even among the Howes that Gordie would be able to return to the ice without forfeiting the prestige he had won in the NHL. "If I failed badly," Howe says, "people would remember me more for trying to make a stupid comeback at 45 than for all the other things I did in hockey." Training camp was physical drudgery as Gordie fought to lose 12 pounds. "He used to get red as a beet during practice," Mark says. "We really worried about him." Gordie started the season slowly. "I couldn't remember how to grab the stick," he says, "and I was tripping all over myself." He tripped over teammate Andre Hinse's skates in practice one day and suffered a concussion when his head hit the ice.
"Poor Andre thought it was all over," Mark says. "He figured Dad would never play again and that it was his fault because he had tripped him. Andre was so upset he went out and sat in a bar all one afternoon." Gordie spent one night in a hospital, the doctors releasing him in time to play in Houston's next game.
Some Houston players and team officials suggested to Gordie that he wear a helmet, like his sons. "Helmets are the greatest thing in the world," was Howe's response, "for kids—not me."
Howe believes he reached a physical and mental peak about six weeks ago. "All of a sudden everything began to come easy again," he says. "At the start I had to think about what I was doing, but now I was doing it by instinct, just like the old days." Shortly afterward Howe scored the first "Texas" hat trick—four goals in one game—of his career.
Howe watched his diet closely and moved easily into Houston's leisurely life style. "Gordie's big on cottage cheese, fruit salad, ground round, Jell-O, hot and cold cereals and ice cream," says his blonde wife Colleen.
"You can be sure that I don't neglect the ice cream, and of course nothing tastes better than a few nectars of the gods after a game," says Howe. Or tones him up better than a long, muscle-relaxing swim in the heated pool at his $225,000 home in the Memorial section of Houston.
Once Howe regained his playing condition he also seemed to regain his old meanness. "Put it this way," says Frank Hughes. "When the rest of us get the puck, there are always a couple of opponents ready to whack us, knock us down and take it away. But when Gordie gets it they clear away. Cripes, he gets 20 or 30 feet of room. He never has to shoot off his backhand; he can always move the puck around to his forehand. The players know he didn't survive for all those years by playing it cute."
Gordie gets irritated at mention of his pugnacious side. Recently Mark joked with a friend, "I knew my dad was an old man, but I didn't know he was a dirty old man." Gordie seethed when Mark's comment appeared in print, and last week he seethed again when he read a magazine caption that identified him as "hockey's mean old man." But as another Houston player says, "That's Gordie, and it always will be Gordie. That is why he is great."
After the victory over the Cougars, the Aeros bussed to O'Hare Airport and bedded down for four hours. They were up Friday morning at 5:30 to begin the long trek to Edmonton, Alberta, for a game that night with the Oilers. Arriving in Edmonton, Howe put the DO NOT DISTURB sign on his hotel door and told the operator not to ring his room. "It's bad enough trying to play two games in two nights at my age without having to put in a day like today," he said. "It might be a long night." It was, not only for Gordie but for all the Houston players. They were listless, as Coach Bill Dineen had expected, and lost 5-2. Both Marty and Mark received a thump or two and were taken to a hospital for X rays, but no fractures were found. Gordie waited for word about his sons, then returned to the hotel to see his 80-year-old father.
"The old rascal came over with one of my nieces," Gordie said. "It's about a six-or seven-hour drive from Saskatoon, but I never know they're coming until I see them at the game." Albert Howe looks closer to 70 than 80, and he was sipping a nectar of the gods when his son walked in. Before Gordie could say hello, his father had something to say about the game. "You ol' rascal," he said, "you didn't have the legs going tonight." Gordie's face creased in a grin. "No comment," he said.
PHOTO
The hair is silvery now, but there is strength to spare in the imposing shoulders and arms.
PHOTO
Oof! Gordie pays a call on a Vancouverite.