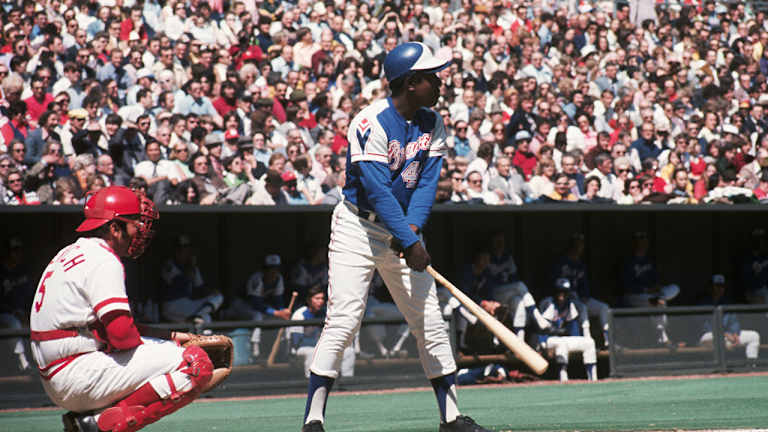 Poised for the Golden Moment
Now begins the final assault by Henry Aaron on Ruth's home-run record in a season that brings a controversial new ball but plenty of energy for everybody in another quest—the title held by the A's
No, it is not just another opening, most assuredly not just another show. Bad Henry has already seen to that. The start of the 1974 baseball season is a gift from him to all Americans, an occasion, a celebration. With Henry Aaron it is not only a matter of when he breaks Babe Ruth's home-run record or where he breaks it but how many homers he hits after he consigns 714 to the vault of golden numbers. How many generations will pass before his record is broken. Yet one wonders how his Atlanta Braves, a troubled franchise, will draw after 715 is struck. Aaron and those numbers have grown so large that the team is overshadowed.
How is it with Henry, anyway, after his 20-year climb, as he reaches up to plant his flag at the summit? Well, he has not lacked company. Reporters by the hundreds have been studying his demeanor—he is calm, as usual—and probing for the revealing quote—calm on that score, too. He was not busting fences in exhibition games, but then he seldom does.
You remember the flap over Aaron's work schedule. At first he said he would not play on opening day in Cincinnati. Then he said he would not play in any of the first three games in Cincinnati; that the people of Atlanta deserved to see him tie and break Ruth's record during the team's 11-game first home stand. After a considerable delay Commissioner Bowie Kuhn hinted rather strongly that Aaron should indeed play in Cincinnati, and he will. And maybe he will get 714—even 715—there, for he hits well against the Reds. Through the years he has had more homers against them (95) than against any other team, many, of course, in the late Crosley Field bandbox. Riverfront Stadium is a longer fetch. However, one of his favorite victims has been Don Gullett, Cincinnati's fine lefthander, and Gullett is scheduled to start the second Braves-Reds game.
It is impossible for Aaron to play every day at his age. In 1973 he got his 40 homers in just 120 games. In many of those he came out in the late innings to rest and because he doesn't play defense that well anymore. There is much speculation on how often he will play during the Braves' home stand. How will the Braves announce probable absences to the fans? Or will they? Any manager would relish the prospect of playing against Atlanta if he knew that Aaron was not going to start. The Braves are in the position of being damned if they do and damned if they don't, and Aaron is right in the middle. But just as he overshadows the team, no doubt the drama of the quest fulfilled will dim all the controversy that will have gone before.
Except maybe the fuss over the new cowhide ball. It replaces the good old horsehide ball, because of a shortage of horses, one presumes. Some ball. Oh, it is round and has stitches and the autographs of the league presidents. But it doesn't work very well. It rolls funny at times, comes apart on occasion and goes lopsided. Sometimes hits that start out with line-drive purpose hang in the air and die. Everybody knew that this year's models were going to be made of cowhide but few suspected that they would behave in such queer ways.
"Let me see if I understand this correctly," says the Mets' Rusty Staub. "The ball is messed up. The ball?" Jocko Conlan, the Hall of Fame umpire, watched an exhibition game and listened to the sound of bat hitting cowhide. "It seems like they been in the icebox for a long time," he said. Sparky Anderson, manager of Cincinnati's Big Red Machine, went so far as to say, "We're going to ask for a new ball every time we hit one."
Well, the ball is new and there also is a popular new adjective in the National League. It is "young," as in Young Giants, Young Dodgers, Young Cubs. There are seven new managers—or at least new since last April—who are not so young, and one of them, the man in Oakland, has received a novel gift from Owner Charlie Finley. Alvin Dark has a pinch runner from the world of track to play around with, a ploy in Finley's push to add the category of designated pinch runner to that of designated hitter, which changed half the nines to tens last season. The National League still lets its pitchers come to bat.
But no one will bat in Yankee Stadium. The wrecker's ball is the only one in play in the shrine where 27 World Series were held, and until renovation is complete the Yankees are emergency boarders over at Yogi Berra's place, Shea Stadium.
The cockeyed optimist of the moment is the Texas Rangers' Billy Martin. He believes his team is a contender. "It has improved 50%," he says. "Last year Las Vegas listed the Rangers at 200 to 1 to win and this year we're down to 150 to 1."
The odds are quite a bit better for Bob Gibson of the St. Louis Cardinals in his pursuit of a remarkable pitching record. Because of Aaron's assault, Gibson's drive toward 3,000 career strikeouts has barely been mentioned, but consider this: 11 players have made 3,000 hits; only one pitcher, Walter Johnson, ever fanned as many as 3,000 batters. Gibson enters the season just 72 shy of the mark. Chicago's Milt Pappas has a hand in the numbers game, too. He needs one victory to join Cy Young and Jim Bunning as the only pitchers to win 100 games in both leagues.
Pappas is one Cub who did not get traveling papers. Of the several who did, Ferguson Jenkins is still steaming. "I don't think those people at Wrigley Field ever saw but two players they liked," he says, "Billy Williams and Ernie Banks. Billy never said anything and Ernie always said the right thing." Dick Allen, a man who plays on the South Side of Chicago, talks but wishes he didn't have to. "I'd like to hire one of those Hollywood doubles, you know," he says. "I'd like to go out and play the game and then let my double do all the other stuff—talk to the press and sign autographs."
Elsewhere the talk is about favorites—Pittsburgh in the National League East and Cincinnati in the West; Baltimore in the American League East and Oakland, dear Oakland, in the West. Contenders should make things hot enough for them to approach baseball's record 1973 attendance—30,108,926. Front-runners and longer shots alike will feel something of the energy pinch, but anxiety on that score has sharply abated. There will be fewer charter flights, and lights will be kept dim at most parks until just before game time, but that's about it.
Which is welcome news. At the start of the season we are fortunate to be able to concern ourselves with people, not power. It is a time to wipe an eye for the casualties of the spring—men like Luis Aparicio, a once-marvelous shortstop given his unconditional release in the dwindling days of training, an event that took place after our scouting reports went to press. Above all, however, it is a time to celebrate heroes. Your turn at bat, Mr. Aaron.
ILLUSTRATION