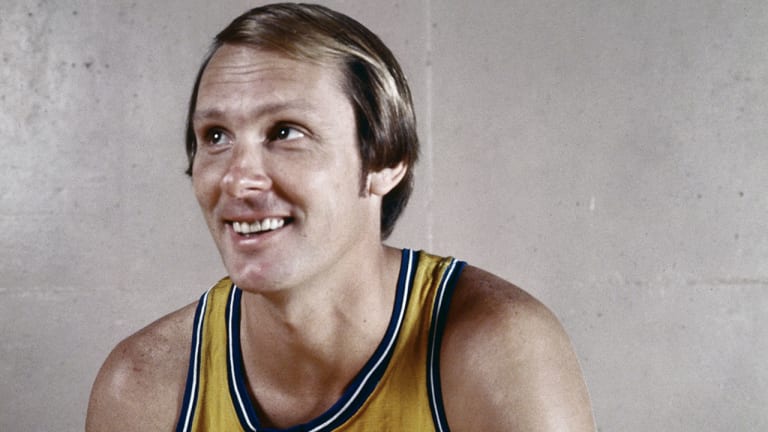 The Golden State of Rick Barry
Once scorned for being a gunner—and a traitor—he is now the leader of a harmonious team that is confounding the NBA
On the court his facial expressions range from pure Buster Keaton to the tortured look of an opera buff at an Alice Cooper gig, and they all serve to disguise the fact that this is the happiest of all his nine pro basketball seasons for Rick Barry of the Golden State Warriors.
Of course, things have never been quite what they seemed with Barry, the 6'7½" forward with radar-accurate shooting skill. He has been bad-mouthed on both coasts, booed in cities between and branded as a guy with dollar signs where his soul should be. Yet he has never flat out reneged on a contract, nor asked that one be renegotiated, and he currently relishes his nonpaying role as team-elected captain. If he fails to reveal the fun his profession affords him, it is only because he smiles in competition about as often as he misses a free throw.
Barry practices his trade best as a scorer, and he has known the hostility directed toward that talented breed ever since his first pro season (1965-66), when he was named NBA Rookie of the Year. Ignoring the statistics enumerating his assists and steals, fans grumbled about his seemingly indifferent defense—which wasn't all that bad—or asserted that Barry would sooner give blood than give the ball to a teammate.
Most of all, however, Barry has stuck in the public mind as the epitome of the disloyal moneygrubber ever since he jumped from the Warriors to the ABA Oakland Oaks seven seasons ago. Other basketball players—and athletes in other sports—have since jumped teams after breakfast and before dinner on some days, but Barry, who led the way, remains in contempt, not a pioneer but a Hessian, marching only to the sound of the fullest cash register.
"That reputation really bothers me," Barry says, "because I think it's unfair. I've never played one league against another, like some guys, and I'm not even one of the 25 highest-paid players in the NBA, but people brand me as money-hungry. [Barry's current salary is around $218,000, and if that seems high it probably doesn't match the earnings of an Elmore Smith or a John Brisker, let alone that of an established superstar.] I guess I've inherited the reputation because I was the first name player to go to the ABA, but I went purely because Bruce Hale [Barry's collegiate coach and father-in-law] was there. If he hadn't been general manager of that team, there's no way I ever would have gone to Oakland. Everyone thinks it was because of the money, but I know that I could have asked [Warrior owner] Franklin Mieuli for the same amount, and after he gulped two or three times, he would have given it to me.
"I've had sportswriters take out personal vendettas against me because I jumped. I was branded a traitor, which disappointed me more than anything, but I've accepted it. Adverse publicity has never affected my game. And one thing, no matter what they said about me, no one could ever criticize my ability to play the game."
Indeed, even when public scorn was at its height, only fools impugned Barry's talents, which have reached a pinnacle of all-round excellence in this, his 30th year and ninth active season. Last week his 32.9 scoring average was the NBA's highest, he led the Warriors in assists, steals and minutes played, and his free-throw shooting, which has always been remarkable, has moved up to astonishing. In his first 151 attempts from the line, Barry made 138 for a .914 percentage.
"I can't envision anyone playing better than Barry is right now," says Warrior Coach Al Attles, whose surprising club leads the Pacific Division despite the loss over the past six months of Nate Thurmond, Clyde Lee, Jim Barnett, Joe Ellis and Cazzie Russell through trades, release or the kind of front-office ineptitude that once made the franchise a Bay Area joke. Mieuli, in one of the few smart moves anyone remembers him making, turned personnel matters over to Dick Vertlieb, his new general manager, before the season started, and Vertlieb quickly signed the team's first three draft choices, including UCLA's Keith Wilkes, the No. 1 pick, who is having a fine season at forward.
Barry's statistics are not the only reason for his internal harmony this season. He has always scored a ton of points for whatever team he played for and rated high in the game's less obvious facets as well.
His relationship with his teammates is helping Barry to have his finest season. He is the key to the Warriors' success, and the team's newfound "chemistry" comes from the fact that everyone realizes this, accepts it and is determined to make whatever combinations are required work. The chemistry is a subject that arises whenever anyone discusses the team.
With the departure of Russell, who, a Bay Area reporter once said, "dove after a loose ball in stages," and the Thurmond trade, which brought Center Clifford Ray to Golden State from Chicago, the chemical reaction was begun. Where there was no love lost between Barry and Russell, Barry and Ray soon became good friends. The personalities of all the Warriors have since blended together better than Scotch and water. While the new chemistry may not, in the end, prove potent enough to bring an NBA title to Oakland this year, it obviously has worked wonders for Warrior peace of mind, so much so that Attles is leery of making trades, even deals that might improve the team, lest he diminish its spirit. As an example of unity, the Warrior substitutes cheer the starters like a bunch of rabid undergrads, and Barry, who used to regard practices with much the same affection he might bestow on cold sores, now seems to revel in the team's workouts. That the whole thing sounds slightly cornball makes it no less real.
"There are a super group of guys on this team," Barry said on the eve of a game in Phoenix last week. "Players who put the team ahead of self. I think basketball is the epitome of team sport anyhow, and we've got players now who complement one another for the sake of the team. Team success is what everyone here is after. I've never seen a guy down on himself after he had a bad performance, as long as we won. In the past he might have been more concerned about his poor shooting, and even if we had happened to win the game he wouldn't have been any happier."
In the opinion of Jeff Mullins, the Warriors' veteran guard, Barry is playing so well because he is under such great pressure. "It appears to me that he performs best in situations where the whole thing is on his shoulders," says Mullins. "It's back to that for us now. Last year there was some doubting. If he missed his first five shots or so, Cazzie would come in. The situation upset him. Now there's no question in my mind that this is the best I've ever seen him play, with more desire, intensity, leadership and everything else. He's the key. Everyone expects him to get the big basket. He can carry a team to great heights and he's shared himself with the younger players. I'm his biggest fan. He's a pleasure to watch."
"Pressure is something you put on yourself," Barry says. "I could shoot the same shot with one second left to play or early in the first quarter, and one really would be no different than the other. But one second left to play—that's the time when I really like to have the ball. If you miss, no one boos you for being a bum, and if you make it, you're the hero of the game. I'm under more pressure trying to sink a five-foot putt for a $2 Nassau."
If Barry shrugs off the idea of pressure so casually, he has assumed his role as team captain with deadly seriousness.
"It meant a great deal to me to be chosen before the season began," he says. "I'd never been a captain before, and I thought if I ever was going to be, this was the year. When I saw the attitude of the guys in training camp, I made up my mind to show them that I wanted it. It's more than me going out and shaking hands with the opposing captain before the game starts. By my taking an active role and pointing out mistakes, we can be more successful. I told my teammates I would criticize them at times, but it would be from a constructive standpoint. If I can make a guy a better player, it makes us a better team. The guys have been great because they've accepted it. No one gets upset."
Nor are the Warriors troubled by racial disharmony, which might have been expected on a club whose blacks outnumber whites 10 to 2. "We haven't had any such problems," Barry says. "Those that existed back when I was in college don't exist as much for the younger players today. Consequently, I don't think these fellows have any deep-seated racial prejudice. We like each other for what we are, not for the color of our skins.
"I was kidding Charlie Johnson the other day, saying, 'Don't tell me about you guys being put down. You had all the great detectives, didn't you? There was Boston Blackie, Sam Spade, The Shadow....' It's a great atmosphere. It's the first time I've been on a team where a black guy will call me to ask if I want to go to eat. In Portland a few weeks ago, we got in and we all just went out and ate. That used to be unheard of. I think it's super."
"He really accepted the responsibility of the captain's role and has made it work," Attles says in his deep bass voice. "He leads by example and he's even toned himself down a little bit. He's tried to take a less active posture emotionally. He still gets upset with the officials, but he doesn't work at trying to fight them."
For longtime Barry-watchers, the curbed temper may be the biggest turnaround of the year. Once the tempestuous baiter of referees in both leagues, Barry has comported himself this season with admirable, if not rigid, restraint. In a game last week against the New Orleans Jazz, an expansion team playing like one, Barry was called for a personal foul and at once flashed his old look of anger, disgust and disbelief at the referee. Called for another foul eight seconds later, he was Mr. Cool. Ultimately, the Warriors won 122-101, with Barry scoring 32 points.
To a man, the Warriors admit that they have less individual talent than last year's club, yet they feel their collective accomplishment may be greater. Apparently the fans agree, since attendance is almost 20,000 ahead of last season's.
It has also been theorized that with the acquisition of Ray, the aggressive center who hopes to teach drama when his playing days are over, the Warriors now have a killer instinct embodied in someone other than Barry. In the past the Warriors were known as a collection of nice guys lacking the internal viciousness, or whatever, to scrap to a title. But even now, the new look does not work all the time. Just when it appeared that Golden State had lost the patsy image, it came back to haunt the team last week in Phoenix.
Up by 10 points with 5:25 left in the fourth quarter, the Warriors ran out of gas and finally lost to the Suns in double overtime, 108-106. "This has to be the least intelligent basketball game we've played," Attles said.
Barry's 30 points marked the 18th time in 23 games he had hit that total or higher, but it was little solace. He played 53 of the 58 minutes, but had to rest on the bench for almost three minutes of the final overtime. "I was tired the whole game," he said. "I had to push myself to get moving. I slept 13 hours—maybe it was too long."
All of which suggests two obvious questions: Can Barry sustain his high-powered performances throughout an entire season? And what happens to the Warriors if he gets hurt?
As to the former, Mullins says, "I remember when he led the NBA in scoring in 1967. If someone held him to 18 points one night, the next night he'd go for 50. He might have one bad game, but not two or three in a row. This season has been the same way."
"If something happened that took him away for a long period of time," Attles says, "we'd have a problem. Over a short period I think we could sustain it. Lose your best player, you've got to suffer."
Whatever happens, Barry plans to play out his career with the Warriors before taking up broadcasting, a sideline at which he has already enjoyed some success. "If I don't have any injuries, I could play two or three more years and still be productive," he says. "Beyond that, who knows?"
Away from basketball, Barry appears to have resolved the personal problems which have caused several brief separations from his wife Pam. They recently adopted a 6-week-old daughter, Shannon Leigh, to complete a basketball-sized family with their four sons—Scooter, 8; John, 5; Brent, 3; and Drew, 1.
"Right now, enjoying life has become more important to me," Barry says. "I'm really getting to enjoy my kids, so I take more time to be with them because they grow up so fast. I'd like to be on a championship team. But if that doesn't happen, it won't be the end of the world. I was a loner a lot more in the past. Doing things with people now is more important to me."
What Barry does with the people in Warrior uniforms will bear watching all season long.
PHOTO
Often overlooked is Barry's ability to move well without the ball, as here against The Jazz.
PHOTO
Center Clifford Ray, obtained from the Bulls, added killer instinct to Warrior chemistry.
PHOTO
First draft pick Wilkes has been a big plus.