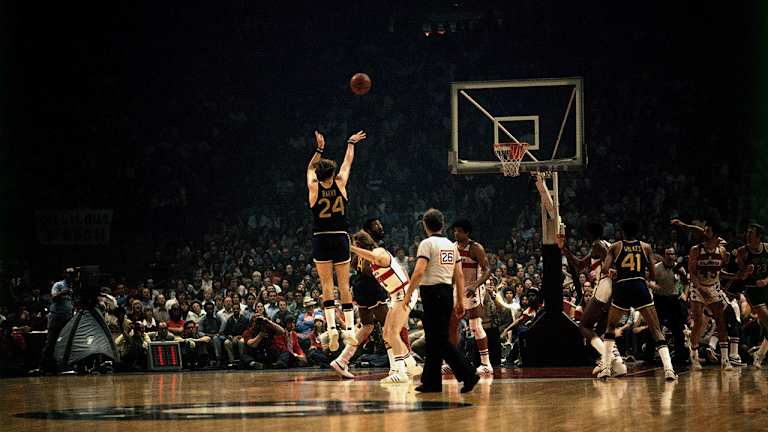 Golden State? Ah, yes, Golden State. Consigned by experts to fourth place in the NBA Pacific Division even before the first dunk of the season, behind such powerhouses as Portland with Bill Walton (Walton?). Glimpsed again, in a rather loftier position, with Rick Barry headed for a super year even for him. Noted still later, when playoff time finally arrived, disposing of Seattle in six games and then Chicago in seven. Looked good as well as lucky there, but of course the next event on Golden State's calendar was a thrashing at the hands of whichever bully-boy team emerged from the Eastern playoffs.
And suddenly last week, there were the Warriors dismantling the overwhelmingly favored Washington Bullets and winning the whole thing, with everyone scrambling to figure out where they had come from. "Like the phoenix," said Golden State owner Franklin Mieuli, "we have risen from the ashes."
"I guess no one took us very seriously," allowed Alvin Attles, the Golden State coach.
How could anyone? Take the first game when the Bullets were playing poorly but still leading by 14 points at halftime. No sweat, said Attles. He reached for his bench and began sending in players of conspicuous anonymity: Phil Smith, Charles Dudley and Derrek Dickey. "They've got to be kidding," said the Bullets as they were being taken in by the joke 101-95.
Last year, Dudley, a guard, was doing graduate work at the University of Washington and playing in pickup games at the gym. The Warriors drafted him in 1972, then waived him, and he signed with Seattle, where he was cut after 12 games. Smith is a rookie guard from the University of San Francisco. Dickey is a second-year forward out of Cincinnati.
After the first game, in which Smith scored 20 points in 31 minutes, a Washington reporter cornered him in the locker room and demanded, "Who are you?"
"What?"
"Who are you? I mean, if you had to introduce yourself to the American public what would you say?"
Smith thought. "Well, I'd say, 'Hi, I'm Phil Smith from the University of San Francisco.' "
The Bullets were embarrassed by the loss but not overly concerned. All week they had been reading that this would be the greatest mismatch in NBA playoff history. Can you believe Keith Wilkes, a rookie, trying to stop Elvin Hayes, and giving away three inches and 45 pounds to boot? And what could Center Clifford Ray do on the boards against both Hayes and Wes Unseld.
Washington had gambled on the playoff schedule, but even that didn't seem to matter. The original setup called for the first two games to be played in Washington, the next two in Oakland and the remaining games to be alternated. Then it was discovered that the Ice Follies had first call in the Oakland Coliseum and that the Warriors couldn't play the fourth game in the Cow Palace, their alternate site, because of a karate championship.
Because it had the better season record, Washington had two options: play the first game at home and the next two in San Francisco, or open away and then play the next three at home. "Three straight at home sounded good," said K.C. Jones, the Bullets coach, "but I didn't want them to win that first game." He opted for opening at home.
But the Warriors won anyway, and the action shifted to San Francisco. "Things will be different," said Unseld, Washington's massive center.
With Barry scoring 36 points, Golden State came from 13 back to win the second game 92-91, Washington missing two shots in the last six seconds. Then the Warriors made it 3-0 by winning 109-101. Toward the end of that game, the Bullets had looked bad—flagging and disorganized—as they were being manhandled by Barry, who got 38 points, and other unheralded bench warmers like George Johnson, who put in 10 points and grabbed nine rebounds after taking over from Ray at center.
At that point the Bullets realized that things might never be different, that no team in the NBA's 28-year history had ever come back from a 3-0 deficit in a championship final. And before the fourth game they began to think in losers' terms. "It's very important that we get a couple of victories, even if we lose the series," said Unseld. "We need it for the future. For next year, for our state of mind. If we don't, there's so much humiliation all summer."
The Warriors had murdered the Bullets on the boards, thereby choking off Washington's running game. Someone finally remembered that the Warriors had led the league in rebounding.
"We don't have that one big rebounder," Attles said. "What we have is eight guys getting eight each. Everybody is involved. Sometimes I think when you have that one big rebounder, everyone else has a tendency to stand around."
No Warrior stood around in the series. Attles sent in his troops in waves, and they came scrambling and scraping and swarming at the Bullets. "We go at you 12 different ways," said one of the Warriors. "The Bullets don't know which way to bite. They don't know who is going to do it to them, they just know it's going to happen." By the end of three games, Golden State's reserves had scored 115 points. The Bullet bench had scored only 53.
"They're plain outhustling us," said Mike Riordan, the Bullets' master of the hustle. "No, that's not quite it. We're hustling as much as ever, but we're doing it in spurts. They are sustaining theirs longer. And they are getting to the loose balls, to the rebounds, cutting off the easy baskets."
The hustle factor is an appropriate introduction to the catfish which animated the Warriors. At the end of last season, when the Warriors lost six of their last seven games and a place in the playoffs, Mieuli decided someone else ought to run the club, which he had personally directed with little success since 1963.
"Lou Mohs, a former general manager of the Lakers, made up my mind for me," Mieuli said. "He told me one day that if I was going to be successful in pro basketball I'd have to get a catfish. I said, 'A what?'
" 'A catfish,' said Mohs. 'My father and a friend fished together for 26 years. Same place, same bait, same everything. But the friend always caught most of the fish. Finally, after 26 years my father asked him what he was doing differently. The friend reached over and opened his bait bucket and in it was this big old ugly catfish. He had those minnows stirred up like crazy. Franklin, that's what you need. A big old ugly catfish.' "
Done, said Mieuli, who had been accused of becoming too emotionally involved with his teams. He brought in Dick Vertlieb as general manager and chief executive officer. "You're my catfish," said Mieuli.
Vertlieb's first move was to sign Wilkes and Smith, the Warriors' top draft choices. It was the first time Golden State had signed a No. 1 pick since 1969. Then he traded veteran center Nate Thurmond to Chicago for Ray, $500,000 and a first-round draft pick. And signed Dudley and Bill Bridges as free agents.
"I was just lucky," said the Catfish. "Wilkes and Smith were picked before I came and I just had to sign them. And to be honest, we traded Thurmond because I needed cash to carry out some other things. We got Ray, but I was just hoping to maintain the team. I didn't think he would improve it. And Dudley—shoot, I was just doing a favor to a friend who suggested we give him another tryout. With the deals I've made, Al Attles has bailed me out. The job he and the athletes have done. I've just been real lucky."
"I see they are calling us a team of destiny," said Attles for his part. "I guess that means they're trying to say that we're not a very good team. We play hard, we're tough and that's why we win. No one likes us, no one thought we should be here. But I'm not saying prayers. There aren't any old ladies going to churches making novenas for us to win. This team is good. That's why we are winning."
Charles Johnson, one of the starting guards, shook his head. "Hey, man, this isn't a religious happening. This isn't due to transcendental meditation working in some mysterious way. This is us."
In the first three games the slender Wilkes held Hayes, who had averaged 27.0 in the playoffs, to point totals of 29, 15 and 24. "Destiny? That's a little heavy," said Wilkes. "It's more like making Elvin work for his points. Pushing him out, fronting him, making him play defense and tiring him out. Then what happens, happens."
What happened last Sunday was that the Warriors race-horsed through another of their patented comebacks, this time from 14 points down and minus Attles, who had been ejected following a near-brawl in the first quarter, and won the fourth game 96-95. That one team would sweep the series was not too surprising; that it was the "Warriors who did it stunned even those who in recent days had become believers. But really, what else would you expect from a team that hires a catfish to run its operation.
PHOTO
Behind a screen provided by ready-reserve George Johnson, series MVP Barry pops one in.