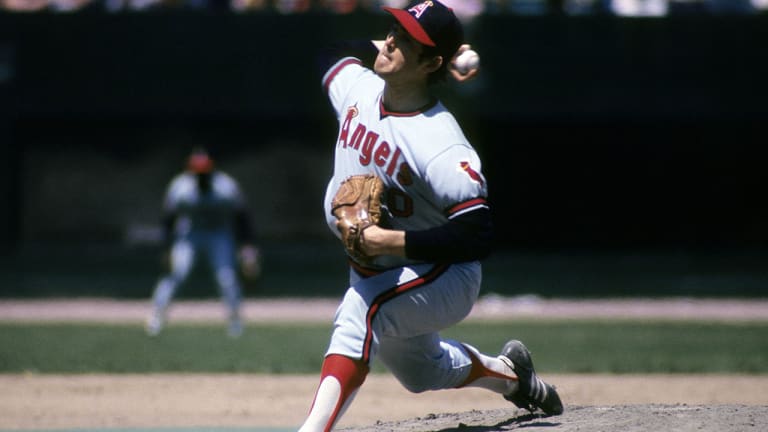 The Bringer of the Big Heat
To say Nolan (Four No-Hitter) Ryan is fast is an understatement. Even his curve has been clocked at 85 mph
It had been raining intermittently this humid May night in Cleveland, and Nolan Ryan, who was between pitching starts, was utilizing the dry spells to loosen up his legendary right arm. From a distance of perhaps 75 feet he lazily played catch with California Angels Catcher Tom Egan and Pitching Coach Billy Muffett. He was throwing effortlessly, but even so the ball made explosive thwaak sounds as it reached mitt and glove.
"Yessir, Nolie," Muffett cried out, wincing slightly after one thwaak, "your damn arm is dead."
Muffett was jesting, of course. Ryan's arm, which has accounted for four no-hitters and virtually every strikeout record of consequence, may be more alive than any that ever threw a baseball. Nevertheless, as Muffett spoke, the damp night air was rent by a terrible clap of thunder, as if the Creator Himself were responding to blasphemy. Lord knows, a man who can throw as hard as Nolan Ryan is no ordinary mortal. He is among the blessed, an exalted figure to be held in awe. The supreme fastball pitcher, more even than the long-ball hitter, is baseball's noblest creation, for as in the fight song, he brings down the thunder from the skies. He does not throw a ball; he throws lightning, smoke, flames, heat, blue darters, dark ones, high hard ones, hummers, aspirin tablets. In baseball vernacular, he does not throw at all; he "brings it." He is never just plain Bob, Joe or Sam; he is Rapid Robert, Smokey Joe, Sudden Sam, Dizzy, Dazzy, The Whip, The Big Train, The Ryan Express. He is the stuff of legend.
There was the time in the mid-1920s when Jigger Statz of the Cubs complained bitterly to the umpire over a called third strike thrown by the Dodgers' fabled fireballer, Dazzy Vance.
"Where was the pitch?" Statz was asked by Dodger Outfielder Zack Wheat as the teams changed sides.
"Well," said Jigger, "I couldn't see it, but it sounded low."
Consider the simple eloquence of Yankee Ping Bodie explaining why he struck out against Walter Johnson: "You can't hit what you can't see."
"You couldn't hit him on a Monday," said the Reds' Rube Bressler, recalling Vance in Lawrence S. Ritter's wonderful book, The Glory of Their Times. "He'd cut the sleeve of his undershirt to the elbow, you know, and on that part of it he'd use lye to make it white, and the rest he didn't care how dirty it was. Then he'd pitch overhand, out of the apartment houses in the background at Ebbets Field. Between the bleached sleeve of his undershirt waving and the Monday wash hanging out to dry—the diapers and sheets flapping on the clotheslines—you lost the ball entirely. He threw balls by me I never even saw."
This is the mystique of the fireballer. Those who stand before him speak as if they should be carrying white canes instead of bats. Norm Cash of the Tigers did come to the plate once against Ryan carrying a piano leg, reasoning, it is assumed, that it would serve him just as well. Batters speak respectfully of pitching craftsmen; they speak reverently of fastballers.
"You have to respect pitchers like Catfish Hunter," says Baltimore Catcher Dave Duncan. "He has that perfect control. But a guy like Ryan doesn't just get you out, he embarrasses you. There are times when you feel you've won some sort of victory just hitting the ball."
The fastball pitcher's inevitable weakness is wildness. But there is strength in that weakness, for it evokes fear. Reggie Jackson has said that he is not so much afraid of being embarrassed by Ryan as he is of being killed by him. Ryne Duren, the old Yankee fireballer, could transform the doughtiest of hitters into poltroons merely by warming up. All of his warmup pitches would be thrown violently and one would invariably go so far awry it would thud sickeningly into the screen behind the plate. Wildness was not Duren's only strong weakness. He was notoriously myopic, squinting down at the hitter like some gigantic Mr. Magoo through thick-lensed spectacles, and, as he later admitted, he was not always entirely sober. Who then in his right mind could dig in at the plate against a man who could throw a baseball through armor plate, who was wild at best, who could see the hitter only dimly if at all and who, to cap it off, might well be in his cups? In his brief career, Duren was the most feared pitcher in baseball.
The wild fastballer is the fire-snorting dragon of baseball lore. Frankie Frisch, the manager and second baseman of the St. Louis Cardinals' Gas House Gang, watched a very young, very fast, very wild Bob Feller warming up before facing his team in a spring exhibition game in 1936. After one of Feller's misguided deliveries splintered a section of the backstop, Frisch turned to rookie Lynn King.
"Young man," asked Frisch, "have you ever played second base?"
"No, sir," replied King.
"Well, you're playing there today."
Baby Doll Jacobson of the St. Louis Browns spun frantically away from one of Vance's pitches in another exhibition game only to discover that what he had assumed was a beanball actually was a curve that spun sharply over the plate.
"Strike three," the umpire called. "You're out."
"Yes," said Jacobson, lying flat on his back, "and glad of it."
Steve Dalkowski became a fastball legend without ever reaching the big leagues. There are those who saw him, including Oriole Manager Earl Weaver, who consider him to be the hardest thrower of all time. But incurable wildness kept him in the minors, where he set records for both strikeouts and bases on balls. Foul-bunt attempts off Dalkowski's hummer supposedly flew out of the park, and one day he was so wild, it is said, that one of his fastballs shattered a bat rack. But he could bring it.
"He'd come right over the top," says Weaver, "and that ball would rise maybe six inches. I honestly believe he was faster than Ryan."
Efforts to time Dalkowski's high hard one in 1958 proved inconclusive when it required 40 minutes for him to find the range of the timing device. Panting with exhaustion, he was still able to record 93.5 miles an hour.
Such devices are considered suspect by fastballers. When Ryan's pitches were timed at 100.9 and 100.8 mph last year by Rockwell International scientists, Feller, whose recorded best was 98.6 mph, protested that Ryan benefited from more sophisticated hardware. Feller took great pride in being the fastest pitcher on record, and to this day he is nettled by the Ryan timings. "I'm not quibbling, mind you," he said testily the other day, "but comparing the way we were timed is like comparing apples and oranges." For that matter, supporters of Van Lingle Mungo, the colorful Brooklyn fastballer of the '30s, claim he was once timed at 118 mph. They do not say how, though.
Not all of the hard throwers have been wild men. Walter Johnson, still rated by historians as the fastest of the fastballers, was deathly afraid of killing someone with one of his pitches, so he developed unerring control. In 1913 he walked only 38 batters while striking out 243. For the first six years of his career, Sandy Koufax was throwing out of control. When he learned to place his pitches, he was on the road to the Hall of Fame.
Ryan has been wild throughout his career, although now at age 28 he seems to be following, not always steadily, in Koufax' footsteps. When he was a youngster with the Mets, "I hadn't the slightest idea where the ball was going," he admits. The Mets, to their eternal regret, eventually gave up on him, reasoning that Ryan's great arm would never be an accurate one. Pitching regularly with the Angels the past three seasons, he has led the major leagues in both strikeouts and walks, but this year the gap between the two seems to be widening, and that is no small feat for one who throws so terrifically hard.
Fastball pitchers rarely learn much about control before they reach the majors. In high school, college and the minor leagues, they are facing undisciplined swingers who are content to take their quick licks and escape to the serenity of the dugout. Don Drysdale, once a fireballer for the Dodgers and now a broadcaster for the Angels, is convinced that Ryan is learning, as Koufax did, to be a pitcher, not a thrower.
"He'll probably have 75 fewer strikeouts this season," says Drysdale, "but he's a much better pitcher. He'll throw more like 115 pitches a game now instead of 175. His velocity is not as consistent because he's not as worried about it. He's come up with a good change to go with the fine curve and the fastball."
Ryan insists, however, that he has not changed his pitching philosophy, which calls for him to throw as hard as he can as long as he can. Considering his extraordinary stamina, that is quite a long while. When the Rockwell machinery timed him last September, his fastest pitch was thrown in the ninth inning. At his pace he does not expect to pitch beyond his 35th birthday, reasoning that by then his hummer will be but a memory. Others, Feller included, have stayed on in the game, using guile in place of the fast one, but Ryan does not relish the prospect. "I don't picture myself as a junkball pitcher," he has said. "I've always been a fastball pitcher."
So he has, although in his childhood in Alvin, Texas, 30 miles from Houston, he was more of a longballer. "There were other kids who could throw as fast between the mound and home, but nobody could throw a ball farther than I could," he says. Eventually he shortened his range, opting for speed from the mound, not distance. In his senior year at Alvin High School he was virtually the only pitcher, appearing in 24 of his team's 36 games. It was then that he saw Koufax pitch for the first time.
Koufax was at the top of his form, and he instantly became Ryan's idol. Iconoclastically, Ryan has broken Koufax' single-season strikeout record (383 to 382), is ahead of him in strikeouts per nine innings (9.70 to 9.27) and of course just last week he tied his major league record for no-hitters (4). Ryan has also equaled Tom Seaver's and Steve Carlton's record of 19 strikeouts in a nine-inning game and has struck out 19 twice more in extra-inning games. Koufax, who is living in his customary seclusion in Paso Robles, Calif., congratulated Ryan after his fourth no-hitter, commenting, a bit wistfully perhaps, that he saw no reason why someone so young should not pitch a few more.
Ryan is at an age when pitchers traditionally reach their peak, so the records should continue to tumble. However, he professes only casual interest in immortality. As a small-town boy from Texas, he is determinedly homespun. He met his beautiful wife Ruth when both were youngsters in Alvin, although he acknowledges with a deprecatory laugh that "we didn't start dating until I was 15 and she was 13." They were married upon her graduation from Alvin High eight years ago and now have a son, Reid, three, and two dogs, a Labrador named Gyp, who enjoys playing catch with her master, and an English pointer named Betsy. In the off-season the Ryans live on 8½ acres outside Alvin; during the season they live in a California ranch-style home in a middle-class neighborhood in Anaheim. They drive a Chevrolet.
Nice young people with such simple tastes might not be expected to adapt to the hubbub of the Big Apple, and, indeed, the Ryans could scarcely wait to flee New York. Although he pitched badly—wildly, actually—as a Met, Ryan was still a minor celebrity in his Queens neighborhood, a status which made him uncomfortable: "Kids coming to your door all the time, people bothering you in restaurants." Although now he is legitimately famous, he is living more the life he wants, which is as a homebody. "Reid," he says of his son, "is just like any other kid in the neighborhood. Nobody thinks of him as anyone special."
This disinterest in being special separates Ryan from many of his flashier brothers in the fastball fraternity. Koufax ultimately rejected celebrity, but only after his career ended. Feller was a country boy who nevertheless developed a keen taste for lucre. Vance and Mungo were roisterers. Sam McDowell was not exactly serene. Dizzy Dean reveled in self-glorification and Lefty Grove's irascibility set him apart from the run of mankind. Only self-effacing Walter Johnson seems comparable. Although he died the month before Ryan was born, Johnson may have a spiritual heir in the modern-day strikeout king.
Ryan wears his hair short and neatly trimmed and is a tidy, unflashy dresser, unlike the many peacocks in modern sports. He is an uncommonly handsome young man with near-perfect features and a long, lean physique. With his good looks, lanky build and Texas drawl, he would seem a natural for Western roles in Hollywood, just up the road from Anaheim. But Ryan is content merely to pitch fastballs, invest his $125,000 annual salary in Texas property and wait patiently for the future.
"We're enjoying California," he says, "but we always go back home to Alvin. I like working around cattle, but I'm not much of a cowboy and, with the economic conditions, I don't suppose it's feasible to be a rancher. Right now I'm just into baseball 100%."
He is acutely aware, however, that his lustrous career could end tomorrow. "On a team of 25 guys you'd be amazed how many have arm trouble," he says. "But a sore arm doesn't jeopardize the career of anyone but a pitcher. With us, once you've hurt your arm, that's it." Such wonderful fastballers of the past as Smokey Joe Wood and Ewell (The Whip) Blackwell enjoyed only one superlative season before arm trouble finished them. Ryan has so far been spared such bad luck, although a pulled leg muscle during spring training this year eventually led to elbow difficulties when he altered his pitching motion to compensate for the injury. He was forced to leave one game early and he missed a start, but the arm is as good as ever now, which is as good as any arm ever has been. Still, Ryan recoils at the mention of the cruel blows dealt such fireballers as Dean and the Cleveland Indians' Herb Score. Both were struck by batted balls, and if Ryan has a weakness as a pitcher it is that he does not see the ball well coming off the bat.
Dean's career was ruined in the 1937 All-Star Game when his toe was broken by a ball hit by Earl Averill. When he attempted to come back from the injury too soon, he hurt his arm favoring the leg—much as Ryan, to a lesser extent, hurt his arm this spring.
Score's injury was even sadder. He had won 16 games as a rookie in 1955 and 20 in 1956, leading the American League in strikeouts both years. At first he had only the fastball, but it was considered by some the equal of Feller's in his prime.
In 1956 he had begun to gain control of his curveball, an accomplishment that seemed to assure him years of stardom. "I wish I had his future instead of my past," said the aging Hal Newhouser. It was a wish best left unfulfilled, for on May 7, 1957 the Yankees' Gil McDougald caught hold of a Score fastball and sent it screaming back. The ball struck Score in the right eye. He fell to the mound, blood seeping from his nose, mouth and eyes. His nose was fractured and his eye was so badly injured it was feared he would lose sight in it. Score was a month shy of his 24th birthday, and though he recovered from his injuries and attempted several comebacks, his career was effectively finished.
Last month Score sat in the press box in Cleveland's Municipal Stadium watching Ryan work out. He is an Indians broadcaster now, an affable man who, at 42, still looks as if he could throw the high hard one. Score feels the fastballer's kinship with Ryan, any there-but-for-the-grace-of-God regrets swallowed by his admiration for the young pitcher.
"He's spectacular," Score said. "With someone like Ryan there is always the possibility of a no-hitter or a strikeout record. He is the kind of pitcher who draws fans. It's exciting to watch him. What people don't realize is that he has a great curve. All the really good fastball pitchers did—Koufax, Feller, even Sam McDowell. When I came up, Feller was at the end of his career, but he could still snap that curve. It had such a great spin on it that you could hear the ball hissing through the air. Ryan has that kind of curve. He throws it hard."
Remarkably enough, in some games Ryan's curveball is his best pitch, and on those occasions he will not hesitate to throw it in three-ball situations. No hitter with a keenly developed sense of self-preservation can afford to watch for the Ryan curve. He must be ever alert for the dread Ryan fastball, and since the Ryan curve has been timed at nearly 85 mph, it often looks to the hitter like the Ryan fastball aimed at his head. The prudent hitter will then back off. Thwaak. "Strike three, you're out."
There are a number of fastball practitioners in the majors now, the most renowned being Seaver, Vida Blue, Steve Carlton and Jim Palmer, but none is in Ryan's league. And no one can say what it is that causes him to throw so much harder than anyone else. "Velocity" is the antiseptic word ballplayers now employ to describe speed, but it seems woefully inadequate in conveying the special essence of a Ryan hummer.
Sheer physical strength is not the source of his speed, although at 6'2" and 198 pounds, Ryan has a good pitcher's build. Feller was slightly smaller, Koufax the same size and Johnson a bit larger. But muscles do not give a man arm speed. "If they did," says Oriole Manager Weaver, "I'd have everybody working out with weights. No, it's not that. No one knows what it is. It's like asking what makes a man run fast."
Ryan describes his delivery as "compact," the leg tucked into the chest, the kick only moderately high. He does not throw directly overhand, but, as he puts it, "At about 11 on the face of a clock." Unlike many fastball pitchers, Ryan does not hold the ball out on his fingertips. Instead, he "chokes" it back into his hand, the fingers across the seams. Feller was another across-the-seams fastball pitcher, the theory being that the ball will rise more rapidly with this rotation. This hopping motion is essential, for no matter how hard a ball is thrown, if it does not "move" it remains an inviting target.
When he was with the Mets, Ryan's delivery was inconsistent, varying from game to game, inning to inning. He credits former California Pitching Coach Tom Morgan with correcting this deficiency. Consistency has bred confidence so that now Ryan appears as an imperious figure on the mound, strutting impatiently about his realm, waiting for the hitter to summon up the courage to confront him. Actually he is scarcely conscious of the hitter's existence. "I know he's there, but I don't notice him at all," he says. "I am throwing to my catcher. He is the only one I really see up there. If I paid attention to the hitter, it would ruin my concentration."
Ryan has thick, powerful legs and supple wrists, both of which are invaluable to a fastballer. The thrust off the mound and the snap of the wrist are the prime sources of speed, Ryan believes. Not every fastball pitcher has supple wrists, but most curveballers do. "Tom Seaver does not have loose wrists," Ryan says. "Because of this he does not have a real good curve ball. What he does have is an excellent slider."
There is another factor: rhythm. A good pitcher feels rhythm as surely as a dancer does. When it is all there, nothing seems beyond him. There is sheer exaltation in movement. Ryan refuses to romanticize this sensation, but Feller, a more emotional sort, does not hesitate.
"I had a game against Philadelphia in 1947," he recalls, "when it was all there. They went down as fast as they got up. I struck out 11 of the first 12 hitters and I threw only one curveball. The ball felt like a bullet in my hand. I was moving so smoothly and the ball was just hopping in there. I know I could have struck out 20 that day. I could just feel it. Then after the fourth inning I slipped off the mound and hurt my leg. It was all over just like that."
Every fastballer has been fiercely proud of his gifts, even the humble Johnson. During one close game he had given up hits to the first two batters in the ninth. Teammate George McBride had the temerity at that moment to trot out to the mound and advise the great man to "bear down." Piqued by such impertinence, Johnson promptly fanned the final three hitters on nine pitches.
"McBride," he is reputed to have said afterward, "that will teach you to mind your own darn business."
Ryan's sense of pride is equally keen. Before the Sunday, June 1 afternoon game with Baltimore he asked Ellie Rodriguez, who had not played in almost a month, if he would be catching that day. "Yes, I am," said Rodriguez, who enjoys catching Ryan, even though one of his fastballs once dented a religious medal hanging on his chest. "Well," said Ryan, "I'll be throwing these." And he handed Rodriguez a tiny rubber ball. "Funny thing," said Rodriguez after the game, "he wasn't kidding."
It was one of those days when Ryan had it all—rhythm, leg thrust, wrist snap; when the fastball missed, the curve was unerring. And mixed with those pitches was a changeup that had the Orioles lunging futilely at anticipated hummers. The weak-hitting Angels scored only one run, but it was enough, as Ryan dominated the Oriole batting order. When he survived a seventh inning in which two runners reached base on a walk and an error, the 18,492 at Anaheim Stadium roared in appreciation. Fourth no-hitter?
In the ninth Ryan jogged to the mound, bringing the fans to their feet. They would cheer every pitch in this inning. Al Bumbry, who had struck out his first three times at bat, flew out to left field. Tommy Davis, long a Ryan nemesis, bounced out to second after running the count to 3 and 2. Bobby Grich took a curveball for a called strike, then fouled off a fastball. With the count 2 and 2, Grich stood ready for "the heat." Two years ago, perhaps even a year ago, Ryan would have given it to him. But the older and wiser Ryan of 1975 gambled on an off-speed pitch. As Grich looked on incredulously, a changeup floated in for a called third strike. A fourth no-hitter.
Ryan was embraced by his teammates and kissed by his wife, who was radiant in red. The stadium organist played The Eyes of Texas.
Ryan sat in the clubhouse afterward, politely answering the customary no-hit inquiries—"When did you start thinking about it?" "Did anybody say anything?"—his green-gray eyes calm and smiling above black sun smudges. Ryan was asked to compare his no-hitters, a privilege few pitchers can enjoy. He had not been as overpowering in this one as in some of the others, he suggested matter-of-factly, but then again, nobody hit the ball particularly hard. George Goodale, an Angels front-office man who collects Ryan statistics, offered his expert opinion that this was the easiest of all the Ryan no-nos. The Angels' President Red Patterson, a former Dodger publicity director, and Drysdale were in charge of the Koufax questions.
"Actually," said Patterson, "Nolan is more like Feller than Koufax. The fastball and the control are about the same, although I think Nolan may even have a better curve."
"Sandy's fastball may have moved more," said Drysdale, weighing the familiar question carefully. Drysdale is a man torn by considerations of loyalty. Koufax was his teammate; Ryan pitches for the team he pushes on the air. He still has the scowl that terrified hitters, only now he uses it to express conflicting thoughts. "Both had the big fastball and the curve, but they're hard to compare at this stage. Sandy generated a lot of excitement at Dodger Stadium and so would Nolan if he were pitching there, but people are coming around to him here now. Here and everywhere."
Last Friday 29,513 came around to Anaheim Stadium to see Ryan try to make it two no-hitters in a row. It was not a bad try—a two-hitter against Milwaukee for his 10th victory.
In eight seasons Ryan has assured himself a bright, particular place in baseball history. The only strikeout record that may elude him is Johnson's ponderous career total of 3,508. But is he really faster than Johnson or Feller or Koufax? Or Vance or Mungo or Score? Or Dean or Grove? No one will ever know, of course. Fireballers are too enshrouded in legend. And as the years pass, they seem to throw harder and harder.