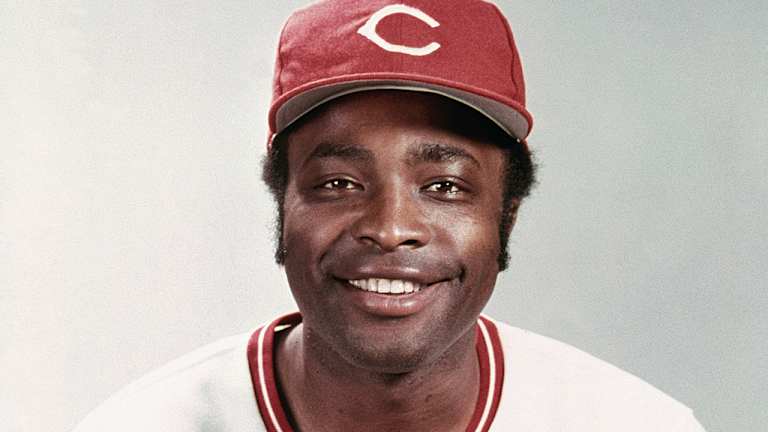 The Little Big Man
Only 5'7'', Joe Morgan is baseball's most complete player. He harasses pitchers, hits, steals, scores and fields, all with an air of arrogance
"C'mon, let's go," said Little Joe Morgan, opening the car door. "I'm a movin' man, you know. Got to run over to San Francisco now and get some cues and chalk and stuff for my new pool table, then got to play some golf. We can do all our talking on the move."
Morgan had just spoken at a luncheon at the Lemington Hotel in Oakland, where he had told the members of the Kiwanis Club, "You American League fans know me as the little guy from Cincinnati who hit that darn blooper that beat Boston in the World Series." He also had recently returned from the Super-teams competition in Hawaii. "The Reds beat the Red Sox easy, but we lost the finals to the Steelers," Morgan said as he left the hotel. "They didn't cheat this time, like they did in that playoff game with my Raiders in January when they let the sides of the field get all iced up so the Raiders couldn't work their down-and-out passes. At the Superteams, it came down to the last event, the tug-of-war, and we had no chance. The Steelers' smallest guy must've outweighed me by at least 100 pounds."
Morgan steered his lime-green-and-cream Cadillac for the Bay Bridge toll booth with the shortest line. "Hey, lend me a half a buck, will you?" he said. Morgan took the two quarters and handed them to the attendant, then slowly pulled away from the booth. Fred Lynn's name entered the conversation. Had the National League's Most Valuable Player talked much with the American League's Most Valuable Player on baseball's banquet circuit?
"I got to know Fred in Hawaii," Morgan said. "He's a great kid, really smart, but I'm worried about him. To be a star, to stay a star, I think you've got to have a certain air of arrogance about you, a cockiness, a swagger on the field that says, 'I can do this, and you can't stop me.' Like when I get to first base and take my lead, the way I take that lead—the mannerisms I use—tells the pitcher, 'I'm going, and what're you planning to do about it?' I know that I play baseball with this air of arrogance, but I think it's lacking in a lot of guys who have the potential to be stars. You know, once you get tapped as a star, once you have the type of year that Freddy had, they're always after you. They say, 'We've got to stop this guy Morgan or this guy Lynn from getting on base.' The concentration on you is harder than it is on any .250 hitter. To be a star, to stay a star, you've got to cope with all this and still be able to do what you want." Morgan spotted the billiards supply store and angled his car against the curb.
"What worries me about Lynn is that he doesn't seem to have this air of arrogance," said Morgan. "It's always been part of my makeup. Maybe it comes from being a little guy. I've always been a lot pushier than other people. Joe Morgan has never waited for things to happen. No, sir. Joe Morgan has always made things happen."
Little Joe Morgan's 1975 happenings included a National League pennant and a World Championship for the Cincinnati Reds and a Most Valuable Player Award for himself, which he won 321½-154 over Philadelphia's Greg Luzinski in the most lopsided MVP balloting in league history. On the field the 5'7", 157-pound Morgan did not simply swagger with arrogance. He radiated it with every action, from the savage pumps of his muscular left arm as he awaited pitches to the brash way he called his teammates off infield pops. Morgan won his third straight Gold Glove award for fielding excellence, led the league with 132 bases on balls, finished second in stolen bases with 67 in 77 attempts, was fourth in hitting with a .327 average and fourth in runs scored with 107, had 17 home runs, drove in 94 runs and hit into only three ground-ball double plays, a league low. Morgan also tied Tony Perez as the Reds' leader in game-winning hits with 15.
In the National League playoffs against Pittsburgh, Morgan destroyed the Pirates with four stolen bases, and in the World Series against the Red Sox he won the controversial third game with a 10th-inning single and the climactic seventh game with what he now affectionately calls "that darn blooper" in the ninth inning. As a reward for all these accomplishments, the 32-year-old Morgan—pound for pound or by any other determination the most complete player in baseball—recently signed a contract that increased his annual salary from $1,000 per pound to more than $1,200 per pound, or a total of $200,000 for the 1976 season.
"I'm very proud of that darn blooper," Morgan said during the drive back across the bridge to Oakland. "Very few players in the big leagues would have made contact with that pitch, believe me. In fact, the kid [Jim Burton] made an almost perfect pitch to me, a slider low and away. Three or four years ago I definitely would have struck out on that pitch. I have very good discipline at the plate, and at that moment all I wanted to do was hit a single to center field. That discipline kept me from pulling off the pitch, kept the pitch from being too far away from me, like it would have been for a normal hitter." Morgan thought for a moment. "Dick Groat told me years ago not to believe the old baseball saying that your blooper hits and your line-drive outs even up during a year. He was 100% correct. I've hit far more line drives that have been caught than darn bloopers that have dropped in, simply because good hitters like me hit more line drives than bloopers. Think about the Series. Dwight Evans [the Sox Rightfielder] robbed me of what probably would have been a Series-winning home run in the sixth game, then I won it the next night with my only blooper in seven games."
Morgan drove to the Alameda municipal golf course about 10 miles from the Oakland airport, parked behind the pro shop, opened the trunk of his car and transferred his golf clubs from a bulky green-and-white tournament bag to a lighter Sunday bag. "There are no caddies here, just pull carts, so I'll lug my own clubs around and walk for the exercise," he said.
Morgan pushed his drive on the first hole, and the ball disappeared into a ditch. "Mulligan," he shouted, teeing up another ball. This time he cracked a perfect drive, drawing the ball into the center of the fairway. He followed that shot with a high eight-iron approach to within four feet of the cup, but pulled his putt and missed an easy birdie. "The trouble with this Arnold Palmer putter of mine is that I'm using it like Arnold Palmer," Morgan groaned. "I haven't sunk a putt in months. I think I'm going to switch back to my Jack Nicklaus putter on the next hole." He did, but he pulled another makable birdie putt. "I guess it's me, not the putter," he said. "All I know is that this game's a lot more frustrating than baseball."
As he took off toward the next tee, he spoke again of baseball. "I cherish the fact that I'm considered the most complete player in the game," Morgan said. "I'm not saying the 'best' but the 'most complete.' The 'best' is always a matter of opinion, but the 'most complete' is right there on paper. I'm blessed with the ability to do more things than other people can. I'm not the best power hitter in baseball, not the best hitter for average, not the best fielder, not the best base stealer. But when you put all those things together, no player in baseball can do any two of them better than Joe Morgan. Take stealing. Forget how many bases people steal. No one in the world can steal a single base better than I can. If there's one base to be stolen with two out in the bottom of the ninth inning, I can steal it.
"Listen. I've always believed that a .320 hitter is not an asset to a team unless he also contributes in other areas. I remember something that Ron Brand told me when I played in Houston, something that put the meaning of 'asset' in focus for me. I was hitting about .280, and I was talking real cocky, and Brand said to me, 'Joe, a lot of guys hit .280, but there aren't any other players in baseball who can get on base like you can. That's what you should be proud of, not your .280.' At the time I didn't take what he said in the right way, but now I'm proud of all the walks I get. To me, my greatest moments are when I walk, steal second and third, then score on a sacrifice fly. We've produced a run without a time at bat. Think what it does to a pitcher's mind when he hasn't given up a hit but he's gotten one run behind." Delighted at the imaginary pitcher's distress, Morgan began to laugh.
"Something like that happened last season when we beat Tom Seaver 5-3 just before the All-Star break. Seaver was dealing with us, mowing us down. We had maybe one hit for six innings. I was in a slump, too, but I walked to open the seventh. Now Seaver was mad at himself. I could see him saying, 'How can I walk that little jerk?' He knew that if he had thrown me strikes I was out, because his stuff was untouchable. So I went to work on his concentration. When a great pitcher like Seaver gets into a certain rhythm, you're dead unless you break it. By walking—on quite a close pitch, as I remember—I automatically changed something for Seaver. He had been rocking and firing the ball, now he had to work out of a stretch. I forced him to make a couple of tosses over to first, then I stole second base on his first pitch. He was really upset with himself now. I kept jumping around out at second, trying to distract him, and I'm sure Seaver didn't know what I was going to do next, steal third or stay put. Well, with all this going on, he hung a curveball for Perez. Tony hit it out of the park, and we won the game."
Morgan quit after nine holes, stored his bag in the trunk and rushed home for dinner with his wife Gloria and his two daughters, 6-year-old Lisa and 3-year-old Angie. "When I'm in town, the family always has dinner together at six o'clock," he said. That must be just about the only time the Morgans are together, because by 7:45 the next morning Little Joe, wearing a floppy white hat and a rubber jacket over his sweat suit, was tracking down balls at the Oakland Hills Tennis Club. Ron Trentler, the club's social director, studied Morgan as he raced from one side of the court to the other, relentlessly returning the cut shots and lobs hit by lanky Don DeNevi, a criminology professor at Oakland's Merritt Junior College and one of the top-seeded players in the club. "Don runs Joe crazy about four mornings a week," Trentler said. "Joe plays for exercise, but he says that tennis also helps his hand-eye coordination. When he retires from baseball, I'll bet he becomes a very respectable tennis player."
Trentler sat down and poured a cup of coffee. "Joe has always been Little Joe around Oakland," he said. "We played baseball together as kids down at Elmhurst Park on 98th Avenue in East Oakland. I still remember our first meeting. I was captain of the Dukes in the Young American League, and I had first choice when we selected players for the teams. I didn't know Joe Morgan from a hole in the ground, but I had heard a lot of the other captains say they were going to pick Joe Morgan first. So I beat them to it and picked Joe for the Dukes. Then this little kid popped out of the crowd, the smallest kid around, and I thought I had been taken. After I picked my team, I asked each kid where he wanted to play. Joe said, 'I play second base,' not 'I want to play second base.' He batted .900-something for the Dukes every year, and he always led the league in home runs. There were no fences at Elmhurst Park, and Joe hit line drives over the first baseman's head that didn't stop rolling until he had raced around the bases.
"Joe was overly aggressive on the field in those days, just as he is now. One day he wanted to pitch, so I said, 'O.K., I'll play second base.' Well, the first two batters hit balls that went right through my legs for errors, and Joe was hopping mad. He walked out to second base and glared at me. 'They weren't even bad hops, Ronnie,' he said. 'Here. You take the ball and go back to pitching, and I'll show you how to play second base.' "
Just then Morgan came into the clubhouse dripping with perspiration. "Hey, Joe," Trentler said, "I really crack up when I hear those television announcers marvel at how good you are at second base, even though you have to play on all types of surfaces and have to worry about bad hops off the seams. Those people have never seen Elmhurst Park. The infield at Elmhurst was sandy, powdery dust with a lot of pebbles. In some places you sank in four or five inches of sand, in other places you stood on rocks. Balls would hit into the sand and skid on you, or they'd hit the rocks and hop on you. What those TV people don't realize is that Little Joe was born learning how to play bad hops on the worst infield you can possibly imagine."
"I always wanted to be a big-league ballplayer," Morgan said as he wiped the sweat from his forehead. "We lived on 61st Street, not far from the old Oakland Oaks park, and my father took me to five games a week when the Oaks were home. I saw Jim Marshall, Steve Bilko, all those big home-run hitters. When I was 12, Jackie Robinson was the only thing in my mind. I had a Jackie Robinson glove and a Jackie Robinson bat. Then when I was 14, I became a Nellie Fox fan. He was a little guy, and I figured that if he could make it to the big leagues, I could, too. Nellie and I later became good friends; in fact, it was Nellie who suggested that I flap my left arm while I'm at bat in order to keep my elbow away from my side and get all the short fly balls out of my swing. Nellie and I had a long talk on the telephone last fall, just before he died."
After drying himself, Morgan drove home and worked for an hour on the universal gym set up in his garage. He punched a speed bag, squeezed hand grips, tried some wrist rollers and some curls. Finishing his workout, Morgan stopped in the kitchen, poured himself a tall glass of milk, sat down and began to fiddle with some dominoes while waiting for Gloria to complete a telephone conversation. "I play dominoes to keep my mind in condition for baseball," he said. "Dominoes require concentration, just like baseball does, and I'm a very good dominoes player. In dominoes you have to concentrate hard on little things that happen and be able to remember them later in the game. It's the same thing in baseball. When I make a mistake on the field, I put that mistake in the back of my head. Then when the same situation presents itself again, it all comes back to me, and I don't make the same mistake again.
"My biggest assets are my concentration and my discipline. When I'm at bat, my self-discipline is so strong that I'll consistently take pitches a sliver off the plate because I know that they're balls. Joe Morgan will stand there and wait to get a pitch he knows he can handle, because if Joe Morgan starts to swing at pitches out of the strike zone, he won't be a good hitter. Most people don't have that kind of discipline. Same with base stealing. I usually can tell when most runners are planning to steal because they don't have the self-discipline to stand around the base and relax. They get impatient, too anxious, and as a result they tip their hands. When I'm on base, no one knows what I'm going to do. That's discipline."
Gloria put down the telephone. "How many people we got coming to the pig roast Sunday?" Morgan asked. "About 36 so far, not counting all their kids," she said. Morgan looked surprised. "What kids?" he said. "Hey, this pig roast is for adultsonly. Just tell them that we don't like to have a lot of kids running around the pool without any supervision, O.K.?" Gloria nodded her head.
"I met Gloria when I was in the 11th grade and she was in the ninth," Morgan said. "She knows the one word that really ticks me off, the one word I hate, but she doesn't use it very often. It's 'punk.' I don't like it when people call Joe Morgan a punk!"
Morgan walked back into what he calls his "music room," which also serves as his trophy room. He checked his telephone recorder, returned a dozen calls, confirmed a scheduled appearance at a local church function and arranged a golf date for the following morning at the Cypress Point Club in Pebble Beach. Then he sat back in his lounge chair and talked baseball again.
"People don't know Joe Morgan the baseball player," he said. "They don't know about Joe Morgan's dedication. There were times last year when I was hitting .330 and still went to the batting cage and hit for an hour or more because my swing was not where I wanted it. Ted Kluszewski is our hitting coach, and he stays on my case, which is cool. When he sees that I'm beginning to uppercut the ball, he tells me, 'Joe, you're hitting funky,' and off we go to the cage. I have a batting tee in my garage, too, and I hit tennis balls off it in an attempt to keep my swing level. I also watch films for hours on my video machine, studying my swing to pick out little things that might keep me from falling into a slump. In fact, I've even got a little poem that I like to recite to myself when I'm slumping. It goes like this:
See the ball before you stride,
Let it go if it's outside.
If it's a curve, it should break down,
So jack up and hit it downtown.
"Believe me, Ted and I have worked long, long hours to get all the fly balls out of my swing. You know what they say: 'When a little guy hits the ball in the air, it comes down and he's out, but when a big guy hits the ball in the air, he trots around the bases.' What power I have comes from my bat speed; in fact, my bat is probably as fast as anyone's in baseball. The quickness in my bat actually makes the ball jump off it. This quickness also allows me to have a fraction more discipline at the plate than other guys, because I know I can wait longer to see the ball. And the longer I wait, the better I am able to determine whether the pitch is going to be in or out of the strike zone." He paused. "Quickness, discipline, concentration, dedication. They're all part of Joe Morgan's baseball game."
Morgan put on his air of arrogance the next morning when his golfing partner, Doc Russo, stopped his car to pick up Milwaukee Relief Pitcher Ed Sprague for the ride to Cypress Point. "Hey, Ed," Morgan said from the back seat, "I'll bet you that you don't break 90 at Cypress." Sprague turned around. "You're on," he said to Morgan. Little Joe tried to hide a grin. "C'mon, Doc," he shouted, "you've got a whole heap of lanes open. Kick it in the rear, get it cruisin'. I got me a fish. Ol' Ed here has never seen Cypress. Wait till he gets to the 16th hole. He'll shoot his 90 on the 16th alone, if he doesn't run out of golf balls first. Ed, you got no chance."
Morgan laughed again. "Normally I never talk to pitchers, not even Ed," he said. "I made an exception with Bill Lee of the Red Sox during the World Series. He made a statement in the paper that I didn't like, something to the effect that 'to stop Morgan from stealing, all I have to do is look him in his eyes and freeze him.' At the time I guessed that Lee meant freezing me like you freeze an animal when you're hunting him down. Well, when I reached first base in the seventh game, I stood by the bag and yelled to Lee, 'Are you watching my eyes?' Then I yelled, 'I'm going to steal the base.' And, you know, I stole it without even sliding."
Sprague mentioned that Lee had led the American League in pickoffs. "In my opinion, he doesn't have a good move," Morgan said. "He might have a good move for average base runners, because they don't read him well. Good base runners should be able to read someone like Lee pretty easily.
"People don't realize it, but it's harder to be a good base stealer than it is to be a good hitter. Everyone loves to hit. The first thing every kid does is reach for a bat. Same thing in the big leagues. Hitting is fun. When you're a base stealer, you've got to do more things than a hitter. For instance, when a hitter pops up, he usually bangs his helmet onto the ground, takes his bat and disappears into the dugout tunnel for a few practice swings. But when a base stealer pops up, he has to go back to the bench, take a seat and study the people directly involved with his base stealing. The rhythm of the pitcher, the habits of the catcher, the motions of the first baseman. By doing this, when the base stealer finally does get on base, he will not have to waste two or three pitches figuring out what's going on.
"Now, I'm not about to divulge any secrets I discovered about Lee's pickoff move, but I studied him when he was in the bullpen and on the mound and got his rhythm and delivery down pat. As a rule, I can tell what a pitcher's going to do—throw to first base or throw to the plate—by the first move he makes. You see, I've advanced to the point where I see a pitcher's total body; I don't focus on any part of it. I don't have to look specifically at his head or his shoulders or his legs, but I still see all of them in perfect focus. It all gets to be like a green light that says 'go' or a red light that says 'stop.' With lefthanders like Lee, that first telltale move usually is in their legs. They lift their right leg straight at you, and if they go past a certain point, they have to throw to first base. If not, they have to throw home. To me, it's easier to steal against a lefty than a righthander, because I can clearly see every move that the lefthander makes.
"I almost always steal on pitchers, not catchers, and there's a good reason for that. If I get my jump against the pitcher, the catcher has very little chance of throwing me out. Sometimes he will make a great throw and nail me, but there's never a time when I'm counting on a catcher to make a really poor throw, a throw so bad that I'll be able to get in there safely."
Sprague turned around again and said, "It's a good thing you don't play in the American League, because now I'd pick you off easy." Morgan laughed. "We'll see what you do with Cypress Point first," he said.
Walking to the 16th tee, Sprague needed only two bogeys and a par to shoot an 89 and win his bet with Morgan. Then he saw the hole, probably the toughest par-3 in golf, stretching 225 yards across water and ice plant to an invisible green set on a cliff above the Pacific. "Unreal," said the six-foot, 200-pound Sprague, reaching for his driver. On this day, with a biting wind directly in the faces of the golfers, even Nicklaus would have had difficulty reaching the green with anything but a helicopter. Sprague deposited his first drive into the ocean. Then his second. Then his third. Then his fourth. Hitting nine now, counting all his penalty strokes, Sprague finally played safely to the left side of the cliff.
"What're you laughing at, you cocky little bleep?" Sprague snapped at Morgan. "Let's see how many balls you hit into the ocean."
Morgan, who was on his way to shooting a very respectable 83 from the back tees, put down his driver and took a four-iron from his caddie. "Fro playing safe, Ed," he said. "I'm not going for that green. I'm just a little guy, you know, not a big hitter like you." Morgan cracked a perfect iron across to the fairway, chipped close to the pin and dropped the putt for his par.
"Ed, you have two choices," Morgan said. "You can pay me now, or you can pay me later."