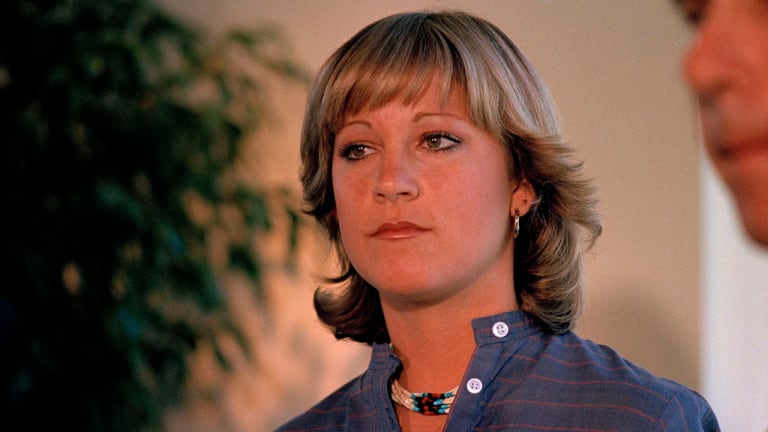 The Court Belongs to Chris
From Olympian and other heights came the candidates: Klammer and Comaneci, Young and Jenner, Nicklaus and Morgan, Dr. J and Tony D. If it was a very good year for men, it was a spectacular one for women. For the 21-year-old on the opposite page it was a year of such distinction that she became the outstanding athlete of them all. Because she dominated her game as no other man or woman did in any sport, she is Sportswoman of the Year for 1976.
About a year ago a tennis magazine asked the playing pros to rate the best strokes in the game. The consensus gave the women's forehand to Marita Redondo, the backhand to Evonne Goolagong, the volleys to Martina Navratilova on the forehand and Goolagong on the backhand, the serve to Virginia Wade and the overhead to Rosie Casals.
And what of Chris Evert, the best woman player in the world for three years, the winner of two Wimbledons, two U.S. Opens, two French Opens, two Italian Opens, three Virginia Slims championships and 101 consecutive matches on clay? What about the depth and pace and accuracy of her ground strokes? What about that impenetrable backhand that has young girls from Long Island to Long Beach hitting out with both fists?
The answer is that there are players who are stronger than Evert and more naturally talented athletes than Evert and more explosive volleyers than Evert. What Evert has more of, what makes her a champion who each year moves farther and farther beyond the reach of mortal tennis players, is grit. Chris Evert has true grit. Character. Mental tenacity. She is a clear thinker in a thoughtful game. And she never gives up.
"She won't carry anyone and she'll never tank a match," says TV's Bud Collins. "She's the ultimate professional."
"She concentrates to the last point," says Margaret Court. "It makes her a champion. Even when she is losing she concentrates and doesn't give up."
In the San Francisco Slims tournament last March, Evert met Redondo, the California 20-year-old with the big forehand, in the semifinal. Marita was high, having beaten No. 3-ranked Virginia Wade the night before, and was playing well. Evert was tired from three tournaments in a row and was playing lethargically. The crowd was with Redondo; it uproariously cheered Evert's every mistake. The players split the first two sets, both decided by tie-breakers, and suddenly Evert was down 5-1 in the third set.
Now, the Redondo match was not one of the most significant of Evert's career, or even of the year, and the circumstances—a fired-up opponent, a bloodthirsty crowd, a four-game deficit in the deciding set—would have led even the greatest of players to thoughts of room service and the late show. But Evert is an artisan and tennis is her craft, and will is the most precious of her tools. She drew herself together, won five of the next six games, won the tie-breaker and won the match—and the killer crowd gave her a thundering ovation. It was now 11 p.m. At midnight she played doubles, and at noon the next day, in a final match scheduled early for TV, she beat Goolagong 7-5, 7-6.
On her record Evert has been the best woman tennis player in the world since 1974, the year she won her first Wimbledon singles title. In the last three years she has won 44 of the 62 tournaments she has entered, and her career record against the foremost players in the game reads as follows: Evert 18-Goolagong 11; Evert 8-King 7; Evert 7-Court 4; Evert 20-Wade 4; Evert 19-Casals 1; Evert 15-Navratilova 3. Only Nancy Richey is even at 5-5.
But acceptance of Evert has been gradual and always a bit grudging, rather like what Jack Nicklaus went through before the sheer weight of his accomplishments broke through the resistance of public and press. Just as Nicklaus' galleries would gasp in wonder at the power of his drives and then root for Arnold Palmer to whip him, so tennis crowds, while properly awed by the tenacity of Evert's baseline game, love to see her beaten. It is as though they imagine themselves across the net, rendered impotent by her devastating consistency.
Evert's peers have dwelt at such length on her powers of concentration and so little on her strokes that one could be forgiven for having this impression: while everyone else is playing tennis, Evert takes an unfair advantage by resorting to another game, some sort of mystical hybrid made up of one part backhand to nine parts concentration.
But 1976 has done it; the last of the skeptics has been won over. Natasha Chmyreva, the 18-year-old Russian who gave Evert a scare in the Slims tournament in Houston early in the year, said, "Chris is so great because when she misses she looks around as if something is wrong." Said Virginia Wade, after losing 6-1, 6-2 in Washington last January, "I don't want to play Chris again for a long time. When you play Chris, you tend to disappear." Navratilova, after Evert and Goolagong the best on clay: "When girls play her on clay they think of how many games they might win, not about winning the match."
"I think she'll be the greatest woman player ever to hit the ball," said Bud Collins. "If she gets her volley down, they can close the tournaments."
With Margaret Court and Billie Jean King more or less retired, only Evonne Goolagong remained this year to challenge Evert's hegemony. Ever since 1972 when the two—Evert, 17, and Goolagong, 20—met for the first time in a semifinal at Wimbledon, their matches have been among the best attractions in tennis. Goolagong was "the utterly carefree strokemaker" and Evert "the best-schooled competitor America has produced since Maureen Connolly," and Goolagong won in three memorable sets, 4-6, 6-3, 6-4.
Through 1974 Goolagong won their important matches, but in 1975 the tide turned. When they met in the final at Forest Hills, the No. 1 ranking was at stake and this time Evert won. But because Forest Hills had that year converted from grass to Har-Tru, a claylike surface, many Goolagong supporters, and a lot of other people, saw the victory as only another inevitable Evert win on clay.
As 1976 began, Evert was on a 35-match winning streak dating back to Wimbledon in July, and she had won her last five matches with Goolagong. Their lifetime competition stood at 13-9 in Chris' favor. Nevertheless the talk was that this might be Goolagong's year—that she was playing the best tennis of her life, that her marriage had worked wonders for her confidence and that those notorious and unpredictable lapses that had kept her from reaching her potential were a thing of the past.
Eleven tournaments preceded the first major event, the Virginia Slims championship in Los Angeles in April, and of those 11, Goolagong won five and Evert five. On paper the rivalry looked even, but in fact it was not. Evert had beaten Goolagong three of the four times they had met—but she had also lost a first-round match in Boston the last week of March to Dianne Fromholtz of Australia, 2-6, 6-2, 6-3. It was her first loss in the first round since 1971, when she was 16. The next week in Philadelphia Evert lost again, this time to Goolagong in the final, 6-3, 7-6.
"Losing in the first round in Boston was a terrible feeling and a great feeling," says Evert. "It meant I had the whole week to myself. I was disappointed, but I was relieved, too. Losses are always a relief. They take a great burden off me, make me feel more normal. If I win several tournaments in a row I get so confident I'm in a cloud. If I lose, I go back to the dressing room and I'm no better or worse than anyone else. A loss gets me eager again."
Two losses in a row, however, left her somewhat shaken. In the weeklong break between Philadelphia and the Slims championship she went home to Fort Lauderdale and worked with her father, mainly on her forehand. Her confidence had returned by the time she reached Los Angeles, but it was not enough to get her past Goolagong, who was playing at her peak. Evonne won 6-3, 5-7, 6-3.
"L.A. was so close," says Chris. "It could have gone either way. I was confident enough to beat her, but she played better than I did. She had me on the ropes. I made Wimbledon my goal after that. It was the first time in my whole life I had set a specific goal for myself. I had never said I was going to win this tournament.
"I've had a good time this year, for the first time. I'm a lot happier than I used to be. But maybe my tennis went down a notch or two for a while."
The World Team Tennis season begins in May and barnstorms its way through to the end of summer, Wimbledon coming just past its midway point. Chris had signed with the Phoenix Racquets for 1976 and now she looked to the Racquets to get her ready for the big one. She worked out with the team every day from four until six and then she would stay on another hour, playing sets with Coach Tony Roche and talking about Wimbledon. She enjoyed team tennis, the camaraderie, the shared victories, the novelty of crowds pulling for rather than against her.
"The first half of the team tennis season was the best I've ever played," she says. "I lost once in 22 matches. I didn't know before what training really was. After playing three hours a day and with men, I was strong and eager."
Goolagong, too, had reason to be confident approaching the final at Wimbledon. She was playing the best, most consistent tennis of her life. She was making fewer unforced errors than ever before. She had cut down on her loose points. Her second serve, which had tended to lack depth, to sit up a bit, was improved. Her backhand, first serve and backhand volley, which had always been superb, seemed even better. Her semifinal match against Wade had been a walkover, 6-1, 6-2; she had beaten Evert all four times they had played on grass; and she had the wholehearted backing of the British press and fans.
Evert, by contrast, had a difficult three-set match against Navratilova in the semifinals. In her five previous matches she had lost only 10 games in all, but against Martina she dropped 13. And the press was giving her a going-over.
"They said I wasn't playing well, that Evonne was at her peak," Evert recalls. "Wimbledon is like that. You have to overcome a lot of things. They'd write something nice one day, and I'd think maybe they like me a little, and then they'd rip me. I had to stop reading the papers."
Like their Slims match, the Wimbledon final was close, but it was less a display of great tennis than a battle of nerves. "It was the first time I ever saw Evonne nervous," says Evert. "Looking across the net at her I saw strain on her face and I knew she wanted to win it very badly. It made me a little more confident. Usually it had been the other way around."
Evert took the first set 6-3, Goolagong the second 6-4. In the third set they broke serves back and forth until Chris found herself down 5-6 and serving to save the match. "I was almost defeated then in my mind," she says. "I remember looking up in the stands and seeing Rosie Casals. I sort of shrugged, and she pointed toward the net."
Taking Casals' advice, Chris went to the net three times in that game and each time she did, she won the point. "I'm fairly confident about my volley these days," she says, "but still, getting up there during the finals at Wimbledon is tough."
Evonne lost her next serve, and finally Chris, leading 7-6 and 40-30, flicked a perfectly disguised backhand top-spin lob crosscourt to Evonne's backhand corner, a foot or so inside the baseline. The shot caught Goolagong leaning in a little, anticipating a passing shot, and the match was over. Evert tossed her racket into the air and beamed broadly.
"I can't tell you exactly what I was thinking," she says, "but I felt like saying something to those people. Then I thought of my father and how I wanted to get off the court and call him. I miss having him around to share in my happiness. He can't take it. They would have had to carry him out. We are really alike. Boy, are we emotional!"
At Forest Hills, back among friends, family and countrymen, Evert was utterly relaxed and confident. She says she knew she was going to win it after her first match. For the record, she beat Greer Stevens 6-0, 6-1; Glynis Coles 6-0, 6-0; Sue Barker 6-1, 6-0; Natasha Chmyreva 6-1, 6-2; Mima Jausovec 6-3, 6-1; and, finally, Goolagong 6-3, 6-0. That is 12 games lost out of 84, in the U.S. Open. It is not the sort of thing one is likely to see soon again.
Two years ago Evert estimated that she had reached 70% of her potential. Today, two U.S. Opens and a Wimbledon later, she says, "Mentally I don't think I could get much tougher. I'd just crack. Physically I still have weaknesses. I think I have the best ground strokes in the game, but 10 women have better serves. To improve I'd have to get stronger. With three months to work on it I could, but I don't have three months. And then there's my volley. Playing doubles has forced me to go to the net and my volley has improved, but you can't expect to improve much in a year or two. After all, I began hitting ground strokes at six and volleys at 18."
Chris is going home to Fort Lauderdale for Christmas. She is going to hit balls every day for a month with her little sister Clare, who is nine, and she is going to help her 15-year-old brother Johnny get ready for the Orange Bowl Juniors "and not worry about whether my volley is going in, just worry about his game."
There are aspects of her life as a professional tennis player that worry her, the self-absorption that is necessary, the distance that must be maintained between rivals who might otherwise be friends, the moodiness that overcomes her during a tournament and causes her sometimes to snap at people she loves.
"Rosie told me that Billie Jean was the same way. 'You both know what you have to do,' Rosie said. 'If you were any different you'd be No. 20 in the world.' Maybe it means I care a lot."
Off the court Chris Evert is an honest, friendly, likable, intelligent, unassuming 21-year-old millionaire superstar. On the court, she is the best female tennis player any of us is going to see for a very long time. And boy, does she care.
Of all the things that have grown out of the bloodless revolution in women's affairs that has been going on for a decade, the most significant is options. Freedom lies in having options, and nowhere has the increase in the number of options for women been more dramatic than in sport. Gone are the days when the closest a girl could get to organized sport was the cheerleaders' bench. Girls have become participants instead of spectators and the people who have helped to raise their aspirations, and who by their performances have made 1976 unforgettable for all of us, are the ones who have demanded the utmost of themselves, champions such as these:
One of the nicest sights of the 1976 Winter Olympics was that of a French girl and a West German girl hoisting a Canadian girl to their shoulders and all three of them grinning delightedly. The moment, frozen by hundreds of cameras, bore the mark of Mittermaier just as the whole glorious Innsbruck spectacle had. It spoke of sport that is fun and competition that is its own reward. Rosi had just been beaten, by .12 of a second, out of a third gold medal, which would have made her the first woman ever to sweep the Olympic Alpine events, and there she was, saluting her conqueror, with happiness all over her dimpled face.
Earlier, plunging down a treacherous course, aiming at a seemingly unbeatable time recorded moments before by Brigitte Totschnig of Austria, Rosi won the first major downhill race of her 10-year career. Next she won her specialty, the slalom—101 gates and 1,312 icy feet that knocked out all but 19 of the 42 starters. Then, with the world wishing her well, came her silver in the giant slalom.
A few months later, having added the World Cup to her Olympic medals, 26-year-old Mittermaier retired. They were already calling her "grandmother." "I prefer they not start calling me great-grandmother," she said.
Try to think of women who have performed on a world-class level in more than one sport and you get as far as Babe Zaharias. Try to come up with anyone who has held world championships simultaneously in two sports and you get Sheila Young, speed skater and cyclist, plus a turn-of-the-century Dutchman who did it in the same sports.
In Innsbruck Young won the gold medal in the 500 meters, her specialty, the silver in the 1,500 and the bronze in the 1,000. No American had ever won three medals in Winter Olympic competition. At the World Sprint Championships in Berlin in March she swept all four races at 500 and 1,000 meters and won the gold medal for the third time.
Then, in the cycling season, at the World Sprint Championships in Italy, Young upset the defending champion for her second world sprint title. The first was in Spain in 1973 when her opponent had caused her to crash in the first heat. Young came back in the rerun, cut and bandaged, with surgical clamps holding together a gash in her scalp, and won in straight heats. An awed reporter said, "She must have been the toughest girl in the world."
What began on a frozen pond in Riverside, Conn. culminated 11 years later on the victory stand in Innsbruck when 19-year-old Dorothy Hamill smiled demurely and myopically out at an admiring world beyond the lights.
She has been called "captivating," "winsome" and "impeccable," all of which overlooks the fact that first of all she is a profoundly dedicated athlete. Seven hours a day, six days a week, for three years she prepared herself for Innsbruck. "On the seventh day I took ballet lessons," she says. She conquered a weakness in the compulsory figures, and she controlled her tendency toward debilitating attacks of stage fright. Her "short program" earned her nothing lower than a 5.8, even a perfect 6.0 from one judge.
A month after Innsbruck she won the world championships in Göteborg, Sweden, and then she turned pro. Now, for the Ice Capades, she skates five minutes a show, nine shows a week, 25 weeks a year, gets $2 million for her efforts and nobody begrudges her a penny.
The year was no more than half over when Judy Rankin became the first woman golfer to earn $100,000 in a single season. It was an interesting milestone, but with LPGA purses on the rise, an inevitable one. More significant was her year as a whole. She played 26 tournaments, won six, finished in the top ten 19 times and earned a total of $150,734.
To understand how completely Rankin dominated the LPGA tour this year it helps to translate her winnings into male dollars. If Jack Nicklaus had won the same share of the men's total purses that Rankin did of the women's, Nicklaus would have earned roughly $482,000 instead of $266,438. "It's been a matter of consistency," says Rankin. "I haven't had any bad weeks. If you can stay close, a lot of nice things will happen."
Speaking of consistency, let it be known that Judy Torluemke Rankin, 31, athlete, wife and mother, has not missed the cut in an LPGA co-sponsored event since 1965.
When Nadia Comaneci scored a 10 on the uneven bars on the opening night of the gymnastics schedule in Montreal, the first perfect score ever awarded in Olympic gymnastics, a howl of protest went up from certain Eastern European quarters. Comaneci responded that no one should have been surprised, since she had done it 15 times before.
By the completion of the Montreal Games, the 14-year-old Romanian had won gold medals in the uneven bars, the balance beam and the all-around event, a silver in the team competition and a bronze for her individual floor exercise. In the process she picked up six more 10s.
Tiny Nadia, pony-tailed Hero of Socialist Labor, had changed the look of women's gymnastics forever.
"When she can flawlessly exceed the most hazardous degree of difficulty in the point book," says one expert, "the judges have no choice but to give her a 10."
She smiled little. She cried not at all. Comaneci captivated with her skill alone.
At 7:45 on the evening of July 22 in Montreal, East Germany's Kornelia Ender mounted the block at the head of Lane 4 in the swimming hall for the start of the 100-meter-butterfly final. The starter's gun cracked and one minute .13 seconds later she had won her third gold medal of the Games and had equaled her own world record.
Ender rested on that particular laurel for exactly 25 minutes, and then she was at the start again, this time for the 200-meter-freestyle final against her American rival Shirley Babashoff. "For a year I trained to keep up with Shirley," she said. "And what I had extra, I would add it on at the very end." Which is what she did, in one of the best races of the 1976 Olympics. The two swimmers remained within inches of each other for 150 meters, and then, with the "extra," Ender pulled away for a world-record 1:59.26 and her fourth gold medal.