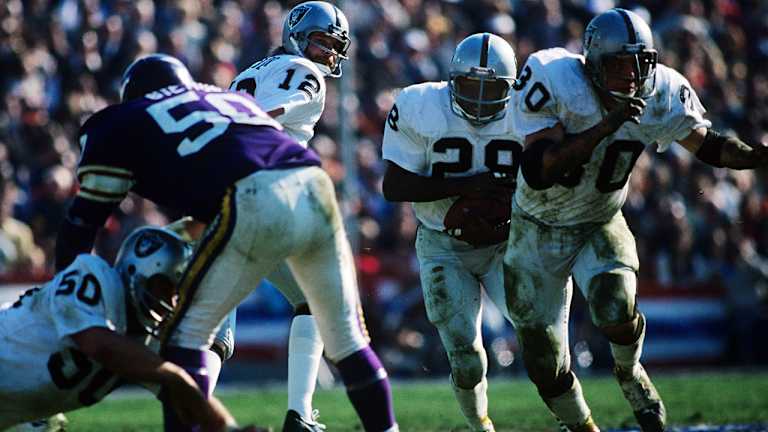 The Raiders Were All Suped Up
And the Vikings were all but wiped out in the Super Bowl, as Oakland ran and passed pretty much as it pleased in setting a record for total offense. But the final score may be of interest only to trivia fans
For your final halftime stunt, ladies and gentlemen in the stands for Super Bowl XI, write down on your cards what you think of the Minnesota Vikings so far. Now hold the cards up.
Nah, it would never clear the censors. The football game was essentially over by then, as so many Super Bowls have been concluded prematurely by the Vikings, who somehow seem to save their worst for Pete Rozelle's answer to urban strife set to music and pigeons. The only fascinating part was how ingeniously easy Minnesota made it for the Oakland Raiders this time. It was perfectly evident that the Raiders came to play a superb game; it was just that no one realized they wouldn't have to.
Before the final score becomes a question for trivia experts, let it be stated that the bearded, brawling Raiders won the "World Championship Game" 32 to 14 last Sunday afternoon. They did it by lavishing on themselves all kinds of luxuries seldom seen in clashes that are supposed to be close and hard-fought and nervously contested. They played throw-and-catch as if they were in a game of two-below touch. They made a running star out of a former USC halfback who isn't known by his initials. They had a punt blocked for the first time since Ray Guy was in diapers. They missed a field goal and two extra points when Errol Mann kept aiming at the Ventura Freeway instead of the Rose Bowl uprights. They got a 75-yard touchdown dash with an interception out of a fellow who can't outrun anybody but John Madden and Fran Tarkenton. And what it all meant was that these Raiders were so ready and so talented, they succeeded in turning the Super Bowl halftime extravaganza into something people seriously watched.
This, of course, was well after the Vikings had gotten the two big breaks in the early part of the proceedings—a missed Oakland field goal and a blocked Oakland punt—and wound up with a 16-0 halftime score. Oakland's favor. After that it was perfectly clear to the 100,421 Pasadena witnesses that the Vikings were going to do for the Raiders what they had done for the Kansas City Chiefs in the 1970 Super Bowl (they lost 23-7), what they had done for the Miami Dolphins in the 1974 Super Bowl (they lost 24-7), and what they had done for the Pittsburgh Steelers in the 1975 Super Bowl (they lost 16-6).
And when it was over, poor Fran Tarkenton repeated what he had said after two of those wonderful exhibitions: "They played extremely well. We played lousy."
Before the Vikings started making a 137-yard runner out of Clarence Davis, and letting Ken Stabler find Fred Biletnikoff and Dave Casper open all over the field, there was this bizarre turnaround in the first quarter which may have had something to do with the destiny of both teams. What it did was so discourage the Vikings that they looked forever after as if they would rather have been somewhere else—like icefishing, perhaps—on Jan. 9, 1977.
When Viking Linebacker Fred McNeill flew in from the left side to block Guy's punt—something no sane person thought could happen—and then covered the football on Oakland's three-yard line, and when he did it 10 minutes into the first period with the score still 0-0, there was reason to suspect that these old men of the North were finally going to overcome their bad Super Bowl habits. That feeling didn't last long.
After Chuck Foreman made one yard, Tarkenton decided to give the ball to Brent McClanahan for another stab into the middle of Oakland's line. Somewhere in there McClanahan lost the ball—either because Otis Sistrunk growled at him or Phil Villapiano bit him. McClanahan later explained the fumble by saying, "No comment, no comment, no comment, no comment." Eight of those, in fact. In any case, Willie Hall came up with the ball for the Raiders. And after that it was just a question of whether Stabler wanted to pass for more yardage than Davis ran for.
How the Vikings managed to block the punt without Nate Allen doing it from the right side was interesting. McNeill jumped to the outside of his blocker just before the snap and had a clear path to Guy from the left. Actually, the blocked ball bounced over Bobby Bryant's head at the seven-yard line, or Bryant no doubt would have duplicated his feat in the NFC title game against the Rams, when he dashed 90 yards with a kick that Allen had blocked—the play that probably sent Minnesota to Pasadena. With a good hop, Bryant would have had a touchdown, and Minnesota would have had the lead. As it happened, Minnesota got nothing. The Vikings simply began extending a weird Super Bowl record that now finds them scoring zero points in the first halves of their four games against 51 for all the fortunate AFC teams that have met them.
When Stabler took over and drove the Raiders 97 yards for their first flicker on the scoreboard—a 24-yard Mann field goal—a pattern began to emerge. Casper was going to be open, so was Biletnikoff, and Davis was going to burst through openings—most often to his left against the overaged and undernourished right side of Minnesota's defense—and compile statistics similar to those that Miami's Larry Csonka (145 yards) and Pittsburgh's Franco Harris (158 yards) had amassed against the Vikings in previous Super Bowls.
On their right side the Vikings started Jim Marshall at end, Wally Hilgenberg at outside linebacker, Bryant at the corner and Paul Krause behind Bryant at safety. Marshall is 39 years old, and while he was listed at 240 pounds in the program, he started the game at 228. Hilgenberg was playing the final game of his 13th NFL season; they say, charitably, that he was "a step slower" all year. Bryant, a 170-pounder, never has relished body contact, and Krause has spent most of his 13 years avoiding collisions, too.
That Oakland intended to direct its ground game to Minnesota's right side was hardly a secret, for the Raiders have always had great success running to their left behind the massive bodies of Guard Gene Upshaw (255 pounds) and Tackle Art Shell (290)—not to mention Tight End Casper (230) when he sets up left. "When we put Casper over there with Shell and Upshaw," says Coach John Madden, "we've got some tough bunch."
They sure had. It was like tanks against Jeeps, battleships against corvettes. "We knew it had to be won in the pit," Upshaw said afterward. "The game plan was to run at 'em. We knew if we could run at 'em, Snake would get 'em on the passing." Or as Davis said, "All the glory should go to the guys up front."
During the first half alone the Raiders directed 17 running plays at Minnesota's right side and only three at the left—and gained eight times as many yards. After recovering McClanahan's fumble at the three, Oakland was still in a hole with a third and seven at the six when Davis signaled the running order for the day by racing around his left side for 35 yards. Oakland's left-side blocking was so overpowering, in fact, that Marshall never made a tackle during the long afternoon.
Halfway through the third quarter, Davis, who played after O. J. Simpson and before Anthony (A.D.) Davis at USC, had gained more than 100 yards, reeling off dashes of 20 yards and 35 yards and 13 yards and 18 yards. He was going to wind up with 137 in all, although he carried the ball only 16 times, an average of a mere 8.6 yards a carry, and he didn't even play the last six or seven minutes. Oakland established a team record for total offense with 429 yards, as Stabler also pierced the Vikings by completing 12 of 19 passes for 180 yards. This included a nifty pass to Biletnikoff at the Minnesota one, followed by a lob to Casper for Oakland's first touchdown.
The Raiders scored their second touchdown when Biletnikoff made a sliding catch of a 17-yard pass at the goal line and then Pete Banaszak took it across, giving Oakland a 16-0 halftime lead. A 40-yard Mann field goal made it 19-0 in the third quarter.
Then, for a few fleeting moments, it appeared that Tarkenton might make a game of it—maybe even engineer a wild, come-from-behind Minnesota victory that he could talk about on NBC's Grandstand for the next six months. Taking advantage of two penalties against the Raiders, who for the most part performed like gentlemen, Tarkenton finally moved the Vikings into the end zone in the final minute of the quarter with an eight-yard flip to rookie Sammie White.
Trailing 19-7 now, the Vikings held the Raiders on downs. A Guy punt traveled only 32 yards, giving Minnesota a first down at its own 22. Tarkenton skillfully moved the Vikings to a second and one at the Oakland 35, but Raider Middle Linebacker Monte Johnson spilled Foreman for a loss of two yards and Tarkenton—scrambling to avoid a group of Raiders—threw an ill-advised floater to Foreman that was picked off by the ubiquitous Hall. Stabler immediately located Biletnikoff alone in the middle and hit him for a 35-yard gain, leading to a second easy Banaszak touchdown and a 26-7 Raider lead.
"We came out to open up the game," Stabler said later. "We had no intention of being conservative. We wanted to let it all hang out."
It might have hung out even more if Minnesota's Jeff Siemon hadn't been in the game at middle linebacker. He made 15 tackles by himself, and it was Siemon who pointed out that Minnesota's aging defense couldn't afford to stay on the field as long as it did without getting exhausted.
One thing Minnesota's latest Super Bowl caper does, quite naturally, is bring up all those questions about Tarkenton again. Fran is now not only 0 for 3 in the spectacle, but he has also thrown only two touchdown passes—and one of those was to Oakland's Willie Brown, the one Brown returned 75 yards for the Raiders' grand final touchdown in the fourth quarter. Happily, Brown, the 14-year cornerback who is one of the four leftovers from the Oakland team that lost Super Bowl II to Green Bay, had to outdistance only Tarkenton himself on the journey.
What Tarkenton did not do against Oakland was make anything happen when it mattered. Over and over, the Vikings would get the ball and not go anywhere. It was well into the third quarter before Minnesota got any deeper into Oakland territory, by virtue of its offense, than a few feet across the 50-yard line.
When it was all over, there were various suggestions on how to remedy the situation. Coach Bud Grant said the Vikings ought to play the Super Bowl on Wednesdays, perhaps. And someone said it was time Tarkenton quit playing as if he were trying to protect a 16-0 deficit.
Throughout much of the week it had seemed that the Freeway Bowl would be played on a Pasadena water bed. It wasn't until Saturday that anyone in the Los Angeles area saw sunshine. Aside from spoiling a lot of the golf games planned by the multitude of NFL owners and their friends, the weather obviously threatened to change the nature of the contest. It simply kept raining. And when it wasn't raining the skies were darker than the smog had ever made them. So, more than ever, everybody liked the Raiders, who have always been good mudders. As someone put it, "Al Davis found a way to bring the mud with him." This, of course, was a reference to the old claim that the Raiders sprinkle their home sod to impede speedier opponents.
Davis, who was supposed to be the villain of the event, kept a low profile all week. You would have thought that with the Raiders finally in the big game again after a nine-year wait, Al would have hung around and enjoyed the limelight. But he was practically invisible. On game day, as he loitered on the field after the Oakland team buses arrived, he was asked where he had been.
"Aw, you know me," he said. "If I come around, I say something controversial, and the commissioner doesn't get the headlines."
Meanwhile, the Raiders seemed to enjoy the experience of what has become known as Super Week. Madden relished his press conferences, endlessly "thanked" the press for all their kindnesses, and did his best to think up funny things for the 11 million members of the media on hand to write and talk about.
Naturally, Oakland's George Atkinson drew considerable pregame attention. Over and over, he was grilled on his past atrocities in the secondary. For him, there was nothing unusual about his exploits. "I treat pass receivers the way you would treat a burglar in your home," he said. "What would you do?" he added, asking the question of his listeners.
"Call you," said a media wit.
The Vikings were loose, too. But it was probably easy for them to be that way, this being their fourth trip through the publicity mill the NFL has created. Bud Grant was humorous in his own quiet style. "We're the good guys this time," he pointed out.
What would be the best thing the Vikings would have going for them?
"Experience," Grant said.
And what about the rain?
"You don't have to shovel it," he said.
After the debacle, the Vikings wisely tried to maintain a very low profile. For the fourth time they looked as if they had never been in a championship game, and once again they did an injustice to the winner.
After all, as Oakland brought the American Conference its fifth straight Super Bowl championship, and eighth in nine years, Stabler and Davis and Biletnikoff and Casper and all of those other Raider heroes couldn't have been that good. If they are, then maybe the old National Conference should apply for admission to the Ivy League.
PHOTO
MVP Fred Biletnikoff set up three touchdowns with his peerless catches. Here he's nabbed on the goal line by Nate Wright near the end of the first half.
PHOTO
Clarence Davis, the game's leading rusher with 137 yards in 16 carries, wheels down the left sideline with Bobby Bryant and Paul Krause in hot pursuit.
PHOTO
Using his head, Pete Banaszak, a veteran of the loss to Green Bay in Super Bowl II, tumbles into the end zone for his second touchdown, Oakland's third.
PHOTO
Up to an old Minnesota trick, Fred McNeill blows in to block a Ray Guy punt, but the Vikes blew a chance to take the lead by fumbling on the Oakland two.
PHOTO
Otis Sistrunk puts the collar on Fran, who had a rough time putting Minnesota on the scoreboard.
PHOTO
How sweet it is! Monte Johnson hugs Freddy.