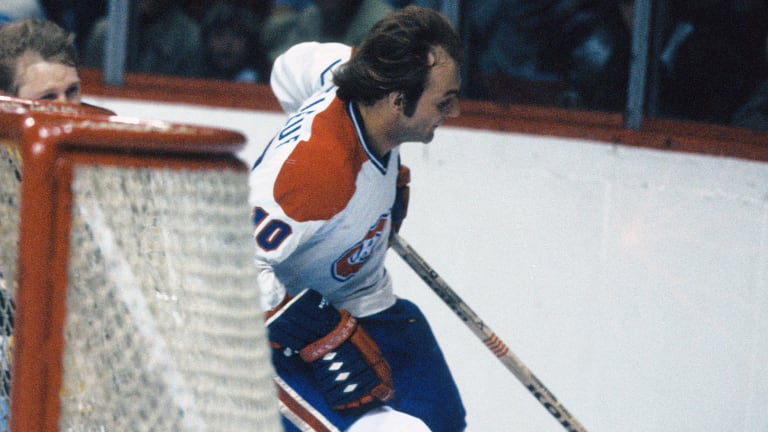 On the Whole, It's the Donut Line
Centers come and go, but Montreal wings Guy Lafleur and Steve Shutt fly on toward the goal-scoring title.
A certain amount of togetherness on a hockey line is welcome, but the Montreal Canadiens' Guy Lafleur and Steve Shutt may be overdoing it. They room together on the road, meet with their wives for dinner when the team is in Montreal and, chummiest of all, are currently one-two—or two-one—in the National Hockey League goal-scoring race. The sweet-shooting Lafleur. a 25-year-old right wing who has led the NHL's point-scoring race for most of the schedule, and the trigger-happy Shutt, a 24-year-old left wing, both are approaching the 40-goal mark. And one almost always assists on the other's goals. Now what could be cozier than all this?
Well, there is one thing. Hockey lines, remember, consist of three men, and it would be all the more inspirational to report that Lafleur and Shutt could not be flying so high without the specific and indispensable help of Peter Mahovlich, the 30-year-old, 6'5", 215-pound center who successfully played on their line much of the past two seasons. After all, the defending Stanley Cup champion Canadiens are far ahead again in the Norris Division, and practically everything else about them—goalie Ken Dryden, the defense corps of Larry Robinson, Guy Lapointe & Company, team depth—is the best in hockey. So wouldn't it be nice to be able to flatly call the Lafleur-Shutt-Mahovlich line the best in hockey, too?
But such a yearning runs afoul of Montreal coach Scotty Bowman, who juggles his lines, well, left, right and center. Bowman directs the Canadiens while sucking ice cubes that he fishes from a bucket beneath the bench, and it was while refreshing himself in this fashion seven weeks ago that he decided to try somebody else at center with Lafleur and Shutt. The Canadiens were winning and Lafleur and Shutt were scoring in bunches, but while their line was on ice, too many opposition goals were being scored. Worse. Mahovlich, normally a pretty fair goal-getter himself, was having trouble finding the net. Bowman sounded like a cattleman worrying about an outbreak of hoof-and-mouth disease. "What if Shutt or Lafleur also goes bad?" he fretted. "I've got to get Peter going." He then decided to replace Mahovlich on the line with another seasoned center, clever little Jacques Lemaire.
Operating between Lafleur and Shutt, Lemaire has supplied some back-checking and has joined his new linemates in the goal-scoring fun. And the Canadiens are still winning. They hold a whopping lead of some 30 points over the second-place Pittsburgh Penguins, and they have the best record by far in the entire NHL. However, it would be premature to acclaim the Lafleur-Shutt-Lemaire line as the best in hockey. Why not? "I don't know if I'll keep the line together," cautions Bowman. "It all depends." And indeed. Mahovlich has sometimes been brought back to his old line for a few shifts—or even games—at a stretch.
About all you can say, therefore, is that the best line in the NHL at the moment is Lafleur, Shutt and Fill-in-the-Blank. This also is a commentary on the wondrous Canadiens, who are peerless even when slumping (Mahovlich) or thrown without warning into strange company (Lemaire). But it also underscores a change in the way hockey lines are now employed. In earlier times everybody sought stability on lines, reasoning, fairly enough, that it took a while for three players to develop the split-second precision necessary for whipping a puck back and forth while skating at 30 mph, a task lines are called upon to perform again and again during furious two-minute-odd shifts. Coaches carefully formed their lines—the ideal was to get a scorer, checker and playmaker on each one—and then sat back and waited for the gears to mesh.
The result was that the best lines often lasted five or six years, some even longer, and developed identities reflected by a lot of nicknames. Like Toronto's Kid Line of Joe Primeau, Busher Jackson and Charlie Conacher, which ran roughshod in the 1930s. Or the most explosive combination of the '40s, the Boston Bruins' Kraut Line of Milt Schmidt, Woody Dumart and Bobby Bauer. And will people ever stop arguing whether Detroit's Production Line of Gordie Howe, Ted Lindsay and Sid Abel was better than Montreal's Punch Line of Maurice Richard, Toe Blake and Elmer Lach?
Nowadays, lines seldom stay together long enough for anybody to nickname them. Buffalo Sabre General Manager. Punch Imlach blames the change partly on the evils of expansion, asking, "With all the turnover on rosters, how can anybody possibly hope to keep a line together?" It is a further sign of the times that far from each line having a scorer, a checker and a playmaker, many of them don't have any of the three nowadays. But the wholesale juggling going on is usually a matter of choice rather than desperation. Finding flexibility more appealing than familiarity, coaches are coming up with more and more excuses to improvise their lines. Trying to end slumps is one reason. Another is injuries. But there are also a thousand tactical considerations that keep coaches busily mixing and matching lines.
The upshot is that no lines, not even the most potent, are sacred. The unnamed line of Phil Esposito, Ken Hodge and Wayne Cashman set countless records while helping the Boston Bruins win two Stanley Cups, but as soon as the line began to show signs of ineffectiveness, Esposito was traded to the New York Rangers—and Hodge soon followed. The Philadelphia Flyers' Bobby Clarke, Reggie Leach and Bill Barber combined for an NHL-record 141 goals a year ago, but when Leach got off to a sluggish start this season, Coach Fred Shero unhesitatingly shunted him to another line. It was with similar dispatch that Buffalo Coach Floyd Smith recently broke up his French Connection of Gilbert Perreault, Richard Martin and Rene Robert. The three were not getting along, but Smith insists, "The main problem we were having was that other teams were able to key on this one line. Now we've spread them over three lines." Significantly, the Connection, which had been largely intact since being formed in 1972, was the only line around with a nickname anybody had ever heard of—unless you count the Long Island Lighting Company, a handle pinned on the New York Islanders' Bryan Trottier, Clark Gilles and Billy Harris last season after they had played together—get this—for 38 games. But that was last season. After a slow start this season, the Lighting Company was turned off for good by Islanders coach Al Arbour.
When it comes to shaking up lines, nobody stays busier than Bowman. Owing to Montreal's depth, he is able to keep his troops relatively fresh by starting the game with a rotation of four lines instead of the usual three, one of the four being the sort of checking line that all NHL clubs covet but few have. After a few minutes of action, though, the intellectual gymnastics Bowman likes to perform while sucking on his ice cubes makes the concept of "regular" lines a faint memory: "Let's see now, Yvan Cournoyer is a little tired after the power play, so maybe I'll put Mario Tremblay on the next shift. Fine, but Tremblay is young and that experienced leftwinger might eat him up so.... Hey, here come their big guns. Better get my checking line out there...."
By means of such rapid-fire cerebration, Bowman has used upward of 30 different line combinations in a single game, scrambling and unscrambling so frequently that players have been known to scrawl on the locker-room blackboard, in exasperation, "What's My Line?" The manic juggling also makes life interesting for Montreal's French-language tabloids, which tend to find ethnic implications in even the most routine adjustments, particularly when a French player is removed from a high-scoring line. Bowman is sorry about all that. "Coaching would be easy if you just used set lines," he allows, "but you've got to adjust to situations that arise."
All of which makes it slightly startling that the Lafleur-Shutt-Mahovlich line survived relatively intact for more than two years. The line was formed in November 1974, at a time when each of the three had reached a critical point in his career. Lafleur, one of the most highly touted players ever to don the Canadien bleu, blanc et rouge, had not lived up to his notices in his first three NHL seasons, and there was speculation he would be traded—or that he would jump to the WHA team in Quebec City, where he had been a legend during his amateur career. Shutt, drafted No. 1 by the Canadiens in 1972, was unhappy about his lack of playing time and wanted to be traded. And the word was that Mahovlich was more interested in carrying the puck than passing it.
As for what made this unpromising combination click—and it clicked spectacularly—it should be quickly suggested that the man teammates call the Flower was ready to blossom no matter what line he was on. That is, Lafleur would still have excelled in the things—playmaking, shooting and forechecking—that made him a first-team NHL all-star the last two seasons. He would still have scored something like last season's league-leading 125 points. And he would still have enjoyed the trappings of success that have, for better or worse, come his way. These include a line of men's toiletries produced under his name (a women's line, "Guy," is due soon) and the fact that he found it prudent to learn to handle a .357 Magnum—practicing three times a week at a local police station—after a reported kidnapping plot during last spring's Stanley Cup playoffs. For more than a month Lafleur was shadowed by private detectives.
But Lafleur believes that going onto the new line helped things along. "At first, with the Canadiens, I played with Henri Richard and Yvan Cournoyer," he was saying the other day. "They were great names and older than me, and I think I was too impressed with them. I did too much thinking about them. It is more comfortable with Steve. We're the same age and good friends, and it is great to be on the same line."
Shutt relishes the friendship, too. A gregarious Torontonian, he was confident enough to have begun tooling around in a 1956 Bentley before becoming a star; nevertheless, he had been stung when Montreal's French-language papers were quick to criticize some of his early mistakes on the ice. Lafleur unfailingly defended him, and Shutt says now, "I really appreciated Guy for that." It might have eventually silenced his critics that Shutt married a Montreal girl, but he also answered them in more relevant ways. He got to the ice in a hurry, worked hard and was tough in front of the net, where his quick release justified his nickname of Bullet. Last season he scored 45 goals, second on the club to Lafleur's 56.
The senior citizen of the three, Mahovlich, is a clubhouse comedian who was only too glad to join Lafleur and Shutt in the banter that NHL linemates feel duty-bound to exchange. Thus, when his wings inevitably complained that they played on a "donut line" that had no center, Mahovlich replied, also inevitably, that he played on a "helicopter line" that had no wings. When the line was first formed, Mahovlich's play justified the criticism that had been leveled against him; he insisted on stickhandling his way up the ice, a hulking, jut-jawed figure who used his great reach to coax the puck past defenders. The trouble was that this obliged Lafleur and Shutt to wait for him at the blue line. But Mahovlich soon enough saw the wisdom of adjusting his style and "head-manning" the puck to his wings.
"When you've got wings that move like Steve and Guy do, you want to get the puck to them on the break," he now concedes. Mahovlich's reach also helped him snag loose pucks at the offensive end. It was no accident that he led the Canadiens in assists both seasons the line was in business.
But any glowing references to Mahovlich—and therefore to the entire line—must be phrased, for now anyway, in the past tense. The trouble began when the line played as a unit in last fall's Canada Cup. Mahovlich, a dedicated reveler, was huffing and puffing on the ice. Lafleur remembers chatting with him over a beer at the Hotel Bonaventure. "I told him he should start taking care of himself," Lafleur relates. "I told him he wasn't doing Steve and me any good, or himself, either." In the regular season Mahovlich scored four goals in the first 16 games, then lost his touch completely, getting just two more goals in the next 23 games. He also was giving the puck away, and there was that back-checking problem.
Ken Dryden says of the situation, "Last year Pete, Guy and Steve were a true line. They worked the puck around the zone, keeping it in until one of them got an opening. The best thing about keeping it in the zone like that, of course, is that the other team can't score. But this year Guy and Steve were involved in a lot more two-man breaks. They were scoring a lot but they were also getting trapped up ice, which made us vulnerable on defense."
In breaking up the line, Bowman was, as usual, playing more than one angle. Of the decision to switch Mahovlich to left wing on another line—with Doug Risebrough and Mario Tremblay—Scotty says, "Sometimes Pete loses concentration. The way to get him going is to give him some new responsibility. Besides, I'd like to get a little more size on the wings." The decision to bring in Lemaire rather than somebody else? "Jacques is a good back-checker, which is what this line needs. But I'd also like to see him become a bit more offensive-minded. Playing with Guy and Steve should help."
May all of life's problems be so resolved. In a recent four-game stretch, while playing alongside Risebrough and Tremblay, Mahovlich got two goals and two assists, and the smile he had been wearing for weeks suddenly seemed real. Moreover, Lemaire had already equaled last year's total of 20 goals and was plainly enjoying the fast company he was keeping. The baldish Lemaire likes to scoot around making short, quick passes, a different style from Mahovlich's. "Jacques passes more than Pete did but not as well," says Shutt. "Pete passes longer but Jacques gets up the ice quicker. Pete uses his size to get the puck while Jacques darts in there for it. Each guy has his own style."
When he is really juggling up a storm, Bowman likes to say, "In a way there are no such things as real lines anymore. They just don't last long enough." Yet there remains a one-for-all quality about even the most fleeting of today's lines, a shared awareness that if even one of the three members falters, then everybody does. This is why Lafleur can shrug off his torrid scoring race with Shutt by saying, "I really don't care who wins it, as long as we do." It is also why the two of them save a little togetherness for Fill-in-the-Blank, whoever that might be at the moment. One morning, right after Lemaire joined the line, Lafleur jokingly called out to him in the club's locker room, "Hey, Jacques, stick with Steve and me and we'll put you on the map."
A few weeks later the team was on a flight from Denver to St. Louis, and Lemaire was sitting next to a reporter who was interviewing him about the rewards and responsibilities of centering for the NHL's top two goal scorers. Lemaire suddenly turned and caught the eye of Lafleur, who was sitting farther back in the cabin. "You were right, Guy," he nodded. "You and Steve have put me on the map."