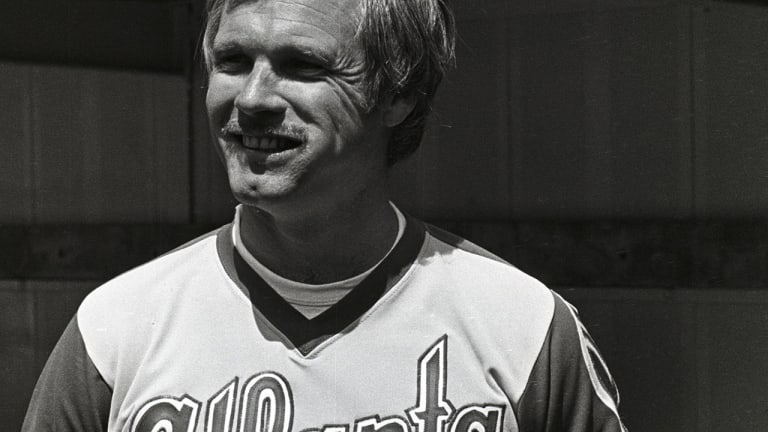 Publish date:
Benched from the bench
Flamboyant Braves owner Ted Turner tried to put a stop to his team's 16-game losing streak by becoming a manager. He lost one more and his seat in the dugout
It was College Night at Atlanta Stadium last Friday, and a raucous crowd of 20,000 turned out, not so much to watch the last-place Braves perform as to see if that eternal sophomore, Atlanta owner Ted Turner, would do what he had done in Pittsburgh two nights earlier—put on a uniform and manage his team.
Not since the days of Connie Mack had an owner prowled the dugout calling his own shots during a game, but Turner had been desperate. After all, his team had lost 16 games in a row.
There are sanctions against such a dual role. Baseball Rule 20-E, which wasn't intended to apply to a case like Turner's, forbids an individual from managing a team in which he owns stock, because it might result in a conflict of interest. But Turner is an impetuous sort who pays little attention to rules or higher authority. When he decided that the best way to stop the Braves' streak was to relieve Dave Bristol of his duties and put on the manager's cap himself, Turner consulted neither National League President Chub Feeney nor Baseball Commissioner Bowie Kuhn.
"Take 10 days off," said Turner after summoning Bristol to his Pittsburgh hotel room. "I'm seeing too many long faces. We've got to take the pressure off. You go scout the farm system. I'll manage the team."
"You're crazy," said Bristol in reply, "but go right ahead. It's your team."
Although managers in Japan are sometimes given leaves of absence for prayer and meditation, Bristol had no interest in establishing that practice in the U.S. Feeling thoroughly humiliated, he headed home to Andrews, N.C., where he could ride his horses and not have to say what he really thought about the affair.
Turner reminded those critical of his decision that he, too, has been humiliated—by the Braves' pathetic play. He had sat still during a similar period of ineptitude last season, when Atlanta started out 8-5 under Bristol, just as it had this year, only to lose its next 13 in a row. And so, though he has no more managerial savvy than might be expected of a millionaire TV executive whose two sons play in the Little League, Turner put on a gray Atlanta road jersey with No. 27 on the back and led the Braves onto the field Wednesday night against the Pirates.
At 38 he still looked young enough to pass for a major-leaguer—an aging veteran, perhaps, like the erstwhile ace of the Braves' pitching staff, Phil Niekro, who is just a few months younger than Turner but undoubtedly feels a good deal older after beginning this season with a 0-7 record. But there was something about the awkward manner in which Turner ran wind sprints, the long, prematurely gray hair straggling from beneath his cap and his thin Howard Hughes-type mustache that revealed him to be an impostor. Even Connie Mack, a good player in his day, had the sense to put on a dark suit and a straw hat once he settled in as owner-manager.
By the crudest of fates, Pittsburgh brought a 10-game winning streak into Three Rivers Stadium and, needless to say, the Pirates were anything but daunted by the unfamiliar figure in the Atlanta dugout. The final score was a respectable 2-1, but the loss extended the Braves' streak to 17—the fourth longest of all time and within six of the major league record. During the defeat Turner did nothing more dramatic than run out to the third-base coach's box to confer with Vern Benson about pinch hitters. Yet by the next morning, sports pages all over the country had made Teddy Ballgame, as Ted Williams often referred to himself and as the Atlanta writers now call Turner, big news. That brought Feeney, an old adversary, into the fracas.
When Turner purchased the Braves last year from a group of absentee owners known in Atlanta as "the Chicago 12," he quickly turned a moribund franchise into one of the liveliest in either league. He dreamed up zany promotions, including motorized bathtub racing, and even took part in a mattress-stacking contest.
More important than these antics was Turner's unrestrained presence in the stands. He could nearly always be found in the same seat on aisle 105, right behind the Atlanta dugout, keeping a close eye on what was happening on the bench. He was constantly yelling things like "awwrright!" and "not too shabby!"—a mode of speech that can be described as Southern bebop. He autographed everything but the fans' hot dogs, and he learned from the players how to keep a chaw of Red Man going for nine innings. Though the Braves finished last in the Western Division, attendance rose by 300,000, and Turner became a local hero, the most visible fighter in the battle to change Atlanta's image as a sports loser.
All this was fine with Feeney. It was Turner's poker games with his players, his rushing to the plate to greet home-run hitters and his plans for illegal incentive bonuses that had to go. This season Feeney and Turner had already clashed over the Braves' instant-replay screen on the center-field scoreboard, which umpires charged was being used more and more frequently to question their judgment on close calls. When Feeney learned of Turner's latest caper, he read him Rule 20-E over the phone and told him to get out of the dugout.
On Thursday, with Benson running the team and Max Leon providing three-hit pitching, Atlanta won a 6-1 victory over Pittsburgh that halted the losing streak but established a dubious new standard for managerial instability by giving the Braves three different field leaders in as many days. Nonetheless, the scene in the locker room afterward rivaled that of a World Series winner.
"Let's play again right now. We're hot," said Outfielder Jeff Burroughs, wielding one of the bottles of champagne he had ordered up for his teammates. "Geez, it sounds like Christmas," said Turner, lugging in a case of cold beer for his boys. "The war is over."
Buoyed by the apparent success of his shakeup and still hoping to manage again, Turner returned to Atlanta and appealed Feeney's ruling to Kuhn, another nemesis. Kuhn has tried to suspend Turner from baseball for a year because of his "tampering" with Outfielder Gary Matthews, now of the Braves, while Matthews was still playing out his option with the San Francisco Giants. Turner appealed his suspension—a decision is expected within the next few days—which was the only reason he was in a position to make his move last week.
To the delight of the early arrivals among the College Night crowd. Turner walked onto the field wearing old No. 27. He took batting practice, booted a couple of ground balls at second base and then was called to the dressing room to read a telegram from the commissioner. It said in part:
"Given Mr. Turner's lack of familiarity with game operations, I do not think it is in the best interest of baseball for Mr. Turner to serve in the requested capacity."
Turner quickly telephoned Kuhn, whom he refers to as "the Big Chief," and asked, "How am I supposed to get the experience?"
"In the stands, like the other owners," said the Big Chief. "Why can't you be like everybody else?"
"Because I'm in last place," Turner said.
Obviously there had been nothing funny about the Braves' predicament before Turner made his quixotic decision. Atlanta pitchers had given up 48 runs during one three-game stretch that included a 23-9 drubbing by Cincinnati in which the Reds scored 12 runs in a single inning. But the sad situation turned into low comedy once Turner, who by his own admission tends to act and talk before he thinks, took over.
In fact, somebody ought to compile a little red book of quotations from Owner Ted. It would surely contain some of his best from last week, which included:
"If you can't do anything else, make a lot of noise."
"Turning around the Braves is like Mission Impossible."
"It [his managing] can't hurt us. It's going to help us in the long haul. I'm learning things. I'll be around for 30 years, until I go to the great baseball diamond in the sky. If there's reincarnation, I'm coming back as a player."
"I bought the Braves for two reasons—to get an autographed ball without pleading for it and to get good seats."
Turner is probably right that his shenanigans did not hurt the Braves on the field. And they certainly paid off at the gate. On Friday night, before that healthy crowd of 20,000, Atlanta lost when Ken Reitz of the Cardinals broke up a scoreless battle in the ninth with a three-run homer. On Saturday, Bristol was reinstated as manager. He had done no scouting, and said he merely hoped he still had the respect of his players. The Braves lost again, giving them a 9-24 record—the worst in baseball—and leaving them 16½ games behind the division-leading Dodgers. Yet on Sunday afternoon there were 40,000 fans in Atlanta Stadium to see what would happen next. Surprisingly, the Braves won 15-12.
"I still predict we'll have a World Series here in five years," said Turner.
Chances are that either Turner will have his Series or he'll have installed himself as the cleanup hitter by then.
TWO PHOTOS
As a skipper, turner did little except talk till Chub Feeney, Bowie Kuhn hushed him.