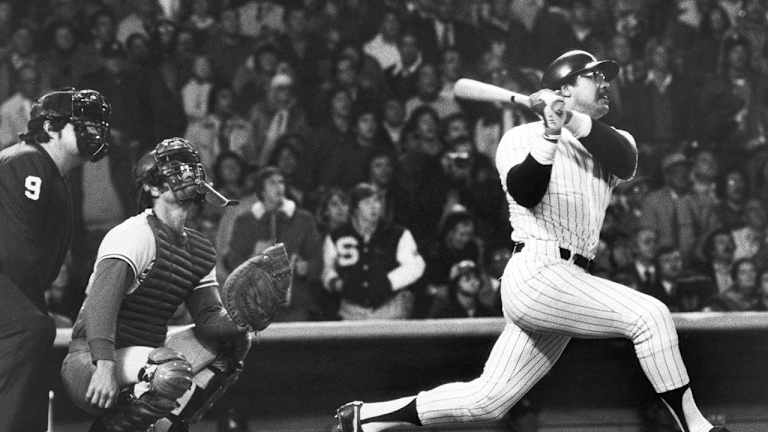 REG-GIE! REG-GIE!! REG-GIE!!!
His clobbering of L.A. and the record book with three home runs propelled Reggie Jackson into a whirl that touched all the bases
It had been a nocturnal day, the dampness and gloom relieved only by the lights in the office buildings, but now, at dusk, shafts of sunlight separated the clouds. From the windows of Reggie Jackson's Fifth Avenue apartment the orange leaves of Central Park could be seen glistening below. Jackson ignored this fleeting victory of light over darkness. For him day and night had become indistinguishable, so frenetic had been his pace, so numberless his obligations during the previous 60 hours. He was sprawled on a living room chair, apologizing for the bareness of his walls. "Most of my paintings have already been shipped to California," he said. "They're too expensive to be left here over the winter. How about some wine. White or red? I'm going to have me a Heineken."
He looked for all the world like a political candidate after a hard day on the hustings. His tie was loose, and the knife-edge creases of his trousers were intersected with fresh wrinkles; he was coatless, and his vest was unbuttoned. Jackson insisted he was not tired, only dazed. He had been that way, he said, since the last of his record-tying three home runs had dropped behind Yankee Stadium's center-field fence in the sixth and, because of him, final game of the 1977 World Series, which New York won 8-4. All three of those homers were hit on the first pitch, and each hammered the Los Angeles Dodgers deeper into a hole from which they never emerged. Jackson, sipping his beer and smiling, recalled them with pleasure.
"Well, the first [a two-run shot in the fourth off Dodger starter Burt Hooton] put us ahead 4-3, so that was real enough. It was a hook shot into the stands. Before the second one [a two-run line drive in the fifth], I talked to Gene Michael [a Yankee operative in the press box] and asked him what Elias Sosa threw. I knew I was going to hit the ball on the button after hearing from Gene, but I didn't know how quick it would come. That one iced the game 7-3. Before the last one I saw Charlie Hough warming up. A knuckleballer. Frank Robinson taught me how to hit that pitch in 1970 when he managed me in winter ball. I thought if I got a decent pitch I could hit another one out. Anyway, at that point I couldn't lose. All I had to do was show up at the plate. They were going to cheer me even if I struck out. So the last one was strictly dreamland. Nothing was going through my mind. Here it's a World Series game, it's going all over the country on TV, and all I'm thinking is, 'Hey man, wow, that's three.' "
Jackson broke or tied eight World Series batting records against the Dodgers. His three home runs in the finale tied him with Babe Ruth for the most hit in a game, and they were the most ever hit consecutively. His Series total of five homers was another record, and with a home run in his final at-bat in the fifth game and a walk in his first plate appearance of the sixth game, he hit the most consecutive homers in more than one Series game. He had the most total bases in a Series, 25, and tied the record for most in a game (the sixth), 12. He scored the most runs, 10, and equaled the most in a game (again, the sixth), four.
At the end of Game 6 his teammates flocked to Pitcher Mike Torrez, who had pitched his second complete-game victory of the Series, and Jackson sprinted in from right field, dodging and bowling over the spectators, who had flooded on the field, like an NFL running back. He hardly stopped running for the next several days. For more than two hours after the final game he stood before his locker, entertaining and supposedly enlightening wave upon wave of newsmen with his philosophy, his theology and his analyses of the war-torn Yankee season, all the while quaffing champagne and exchanging pleasantries with those of his friends and teammates—they are not necessarily the same—who could get within shouting distance.
Jackson is beyond argument the top media draw in baseball. The space around his cubicle after even far less consequential games looks like the site of a crap game or a rugby scrum. Journalists are attracted to him not merely because he is dramatic and—that word again—controversial, but also for the even more basic reason that he is both willing and able to talk. Those of his colleagues who are less voluble and articulate, and that would include virtually all of them, smolder with resentment, like Cinderella's stepsisters, over the attention heaped on this media darling. It is a cross Jackson cheerfully bears.
He departed the Yankee clubhouse "about half crocked" on champagne sometime after two in the morning. He was driving his Volkswagen down Second Avenue, headed for a favorite saloon, Arthur's Court, when, he says, he observed the Honorable Hugh Carey, governor of New York, emerging from a place at 74th Street. Jackson stopped to chat, and they agreed to continue their discourse at the Jim McMullen bar two blocks away. "We talked till five in the morning," said Jackson, unimpressed by this revel with the state's chief executive. "Mostly about kids."
Jackson, wobbly but still game, sped home to shower and change clothes. At 6:30 a.m. he was standing at a slight lean before the Today show television cameras. Then it was back to the Stadium, where he and those of his teammates still functioning and in the proper humor assembled for a ticker-tape parade up Broadway to City Hall, where Mayor Abe Beame read a proclamation declaring Wednesday, Oct. 19 New York Yankee Day. There, Joe DiMaggio, who had thrown out the first ball of the climactic game, prophesied a new Yankee dynasty. Considering the number of Yankees who say they wish to play elsewhere, the old Clipper's vision of a new ruling family seemed no more reasonable than Dodger Manager Tommy Lasorda's claims of access to a Big Dodger in the Sky. When Jackson was asked by a newscaster after the reception what his plans were, he replied with uncharacteristic brevity, "I'm going to bed."
But he did not. He visited friends at the plush Cartier jewelry store, picked up his Rolls-Royce at the Stadium, bought some newspapers to confirm his own greatness, took a 45-minute bubble bath, watched television with the sound off, had dinner and retired finally at midnight after 40 hours of being more or less on his feet.
A better-rested Jackson entertained small clusters of visitors in his apartment for most of the following day. He did go out to receive the Series MVP award at the Plaza Hotel. Walking to his car after the ceremonies, he found that he required the services of policemen to escape mobs on the sidewalks. "Before the Series they would just stop and stare," Jackson said. "Now they come right up. They're polite enough—not too many backslappers—but I could've been there all day signing autographs."
His performance in the Series did not, he felt, balance out the strife he endured during a season that had him variously at odds with his teammates, his manager and the fans. "No, it's more a relief," he said. He leaned back in his chair as if to demonstrate the point. "I feel almost let down now. I realize that a lot of what happened I brought on myself. When you get so much money, a lot is expected of you. There are too many numbers involved with the Yankees. You take the economic situation in the country, the city being bankrupt, and here we are, the pinstripers, the money men. Little things we did and said became major. To me I'm just another person. It confuses me when people get all hyped up over what I do. There are 800 million people in China who don't give a damn. But I feel happy about what happened. I feel a great strength. I feel good for the people who stuck by me. I feel happy for the kids who can see that I made it back after all those odds against me. It was hard enough earlier. Just think what it would've been like if I hadn't performed."
Jackson took a long pull on his beer. "Sure, I'll be a Yankee next year. I'm a Yankee mainly because of George Steinbrenner. I'll continue to be one because of George Steinbrenner. But I'll say this, if things aren't better next year, I'll quit. No, that's not quite it. I just don't know if I can take it, that's all. But how can things not be better next year?"
Some friends dropped in, notably the Rev. Jesse Jackson, the Chicago civil rights activist. Reggie asked them to wait in the dining room while he finished talking about himself. He was going home to his Bay Area condominium in a few days, and he was looking forward to seeing his neighbors again, his old friends, some girls and his cats. This business of his requiring fan adulation is, he snorted, so much nonsense. He likes smaller groups, not adoring crowds.
Reggie left the room to pour some more wine for his other guests. Rev. Jackson stepped into the room. Like Reggie, he is a large, broad-faced, mustachioed man. The two Jacksons look enough alike to be brothers, which they are not.
"Because of his intelligence and his gifts, Reggie's domain is bigger than baseball," said Rev. Jackson. "All the bad pitches to him do not come on the diamond. He is a fascinating man. He has a sense of history, which so many athletes don't have. I think that's why he gets up for the big games. He has a sense of moment. Greatness against the odds is the thing. Anyone can be famous. Just by jumping out of one of these buildings you can be famous. To be great is a dimension of the authentic."
Reggie came back into the room, looking authentic enough. "Hey, you don't have to go now," he said to some guests preparing to leave. "Sit down. Have some wine. We'll talk a while."
TWO PHOTOS
After each of his homers, the first two shots to right and the third a booming blow to center, Jackson tipped his cap to the adoring bleacher masses.
PHOTO
Olé! Torrez got a second Series win in Game 6.