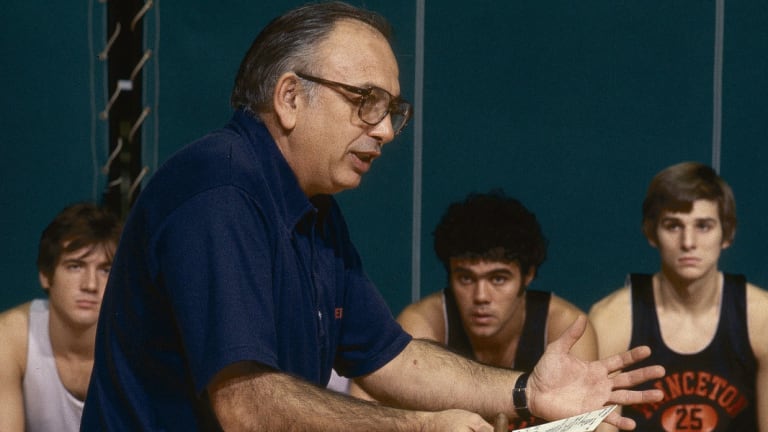 Blue-Collar Coach in a Button-Down League
Pete Carril looks dumpy, smokes stogies and hangs around a seedy bar, but with a 190-81 basketball record at Princeton, he does not need an Ivy image.
Billy Omeltchenko tells the story best, although any of his teammates seated around a table at The Pub, Princeton's on-campus watering hole, could relate a similar encounter. This one took place several years ago when Omeltchenko, now a starting guard on the Princeton basketball team, was a senior at Great Neck (N.Y.) North High School and was being recruited by a few colleges in the East.
"One night I was told that Pete Carril, the Princeton coach, would be in the stands to watch me play," Omeltchenko recalls. "During the game I noticed this bald little man lying down on the bleachers with his head propped up on one elbow. He looked like a bum. He was wearing gray corduroys with suspenders and Hush Puppies with white socks, and he was sucking on a cigar butt that was maybe an inch long. After the game, my coach came by my locker and said, 'Billy, I want you to meet Coach Carril.' And it was him, the guy in the bleachers! I mean, he looked like Columbo. I didn't see how he could be from Princeton. He said, 'Nice to see ya, nice to see ya,' and then spent the next 20 minutes tearing my game apart. I couldn't get over him. He was wonderful. So here I am at Princeton, paying $6,500 a year to play basketball for him."
Omeltchenko's recruiting tale describes the predicament that Pete Carril finds himself in while trying to foster winning basketball at a rich man's school. It also hints at how he has gone about assembling such successful teams as his present group, which is attempting to make the Tigers the stingiest defensive team in the nation for the third season in a row and which will be aiming for Princeton's third straight Ivy League championship when conference play begins this week.
First, Carril stuns a prospective player with his "I'm no Clark Gable" appearance (though he does have Gable's ears). Then he gives the recruit an honest—some might say brutal—appraisal of his talent. "When Barnes Hauptfuhrer came here," says Carril of a former Princeton center who was drafted by the pros in the third round, "I told him all he had was a good handshake." Next. he mentions the fact that freshmen are too busy studying to play varsity ball in the Ivy League (although they will be eligible next season) and that the annual tab for a Princeton education is $6,500, not counting any crew-neck sweaters a player might purchase at one of those quaint little clothing shops along Nassau Street.
As a parting shot, Carril will throw in some poetry, usually something about the struggles of life that he can relate to his arduous task at Princeton. One of his favorite lines comes from Thomas Hardy's The Convergence of the Twain, which is about the sinking of the Titanic: "And as the smart ship grew/In stature, grace. and hue,/In shadowy silent distance grew the Iceberg too."
Carril likes to pose as an intractable, if somewhat bumbling, sidewalk philosopher who is at once a congenial and rigid advocate of conservative values. But he is a little too aware of what's going on to pull it off. He is sophisticated enough to appreciate both sides of almost any argument—whether it involves a fight between him and the admissions department over getting a good high school player into Princeton or something more substantial, like the mining of Haiphong Harbor—and this torments him. As a result, Carril, who is a genuinely funny man when he wants to be, goes back and forth between comedy (a willingness to poke fun at even his most sacred ideas) and tragedy (a foreboding that the world is going to pot around him) so often that nobody around him thinks anything of it. He worries about everything, including who is going to go out to pick up the vegetable soup for lunch. When Princeton beat a good St. Bonaventure team 59-55 to win last year's Kodak Classic, Carril came to the big alumni victory party in Rochester, N.Y. wearing a frown. "Aren't you ever going to be happy, Coach?" asked his star player, Frank Sowinski. "I don't know, Frankie," said Carril. But then he ordered the new trophy filled with beer, and everybody got a little drunk.
This is hardly the stuff of which ordinary basketball coaches, most of whom are unabashed backslappers, are made, but Carril's odd personality must be persuasive, because the Tigers have won 35 of their last 36 Ivy League games while continuing a Princeton tradition of knocking off a couple of powerhouses, a Notre Dame or an Alabama, every season. The Tigers have done all this despite a recruiting budget of $3,800 a year, which, as a North Carolina assistant coach recently told Carril, "is what we spend on telephone calls." Also working against Carril's chances for consistent success are Princeton's entrance requirements, which would prevent most good players from going there, even if they were inclined to. Sowinski, the leading scorer, maintains close to an A average in engineering. His college-board scores coming out of high school were 1,230, good enough so that few admissions departments outside the Ivy League would have thought twice about his qualifications. But, of the three categories—likely, probable, unlikely—into which Princeton puts applicants during the initial phases of the admissions process, Sowinski was listed as a probable.
The case of Bill Bradley notwithstanding, the Tigers have uncovered few athletically skilled intellectuals over the years. To be sure, since he took over as coach in 1967, Carril has produced four first-round pro draft picks—Geoff Petrie and John Hummer (1970), Brian Taylor (1972) and Armond Hill (1976)—but even with those players in the lineup the Tigers had to scratch and claw for everything. They succeeded because of the passion Carril instills in them for defense (they held their opponents to 51.7 points a game in 1976-77, relying mainly on old-fashioned half-court man-to-man) and the brilliance of his tightly disciplined offense. Since the speedy Taylor signed with the Nets, Carril has become even more conservative, slowing the pace of his offense to a walk.
"Depending on how much talent the other team has, we might run through a series of plays three or four times before we even look for a shot," says Omeltchenko. "It isn't that we can't get a shot the first time through. Coach Carril's philosophy says that we should make our opponents play defense longer than they're used to. That makes them anxious; they commit dumb fouls on defense and mental mistakes when they get the ball back. The only thing wrong with our system is that it puts quite a lot of pressure on the player who finally takes the shot for us. He better make it."
Princeton's simple style of picks and rolls, screens and back-door plays lulls a lot of people to sleep—and not just Tiger opponents. "Some of our games are pretty boring," says Center Bob Roma. "I remember when I was on the freshman team I didn't even go to all the varsity games."
Basketball at Princeton is strictly light entertainment, providing students and faculty with an early evening respite from the writings of Darwin or Plato. There is no rush for season seats among townspeople; most of them buy tickets at the door. As Carril says, "The real superstars here are in the library. In fact, some of them take their sleeping bags into the stacks so they can study off and on all night long. My son is one of them. He's more interested in whether the bald eagle will become extinct than whether the basketball team will win. He came by the house late this fall, shook my hand and said, 'Good luck during the season, Dad.' The president of the university has a $228 million fusion project to worry about. Does he have time to think about the basketball team? Truthfully, I think we occupy our proper place here. But that makes my job pretty difficult."
The other day Carril went out for a leisurely afternoon drive and decided to take a visitor on a sightseeing tour of the campus.
"Hold it," barked a uniformed guard at the rear gate. "Where are you going?"
"I just thought I'd show this fellow the campus," replied Carril.
"I'm sorry, but your sticker has expired."
"I know," said Carril, who seemed to enjoy the fact that the guard obviously did not know who he was. "But...."
"That means you can't drive on campus until you get a new one."
Carril turned to his passenger and, half laughing and half sneering, said, "Do you think Dean Smith has to put up with this? Further evidence that around here you learn humility."
Being beset by genuine obstacles on all sides does not satisfy Carril; he works at making his problems seem worse than they are. As he walks slowly onto the floor before a game at Jadwin Gymnasium, he appears near death. Ah, the burden of it all has finally broken the little guy down. But, no, the ball is in the air, and he erupts into a sideline coaching act that is pure theater—reminiscent of Zero Mostel's strange metamorphosis in Rhinoceros. Carril wants every call from the officials. He bitches and moans, stomps the floor, yanks at his shirt and all but cries when things fail to go in Princeton's favor.
When the Tigers win, you would never know it from looking at Carril as he walks off the floor dragging his coat. Actually, he doesn't walk; he trudges. His large, sad eyes and dark complexion seem to hark back to Old Castile, the region in Spain where his father was born and where for centuries Moors and Christians battled for the right to live on barren soil in an unforgiving climate. If ever there were someone whose background seemed ill-suited to collegiate Gothic and Ivy League pretense....
Carril was born in Bethlehem, Pa., on July 10, 1930, and lived for the first 20 years of his life at the corner of Third Street, directly across from the Bethlehem Steel works where his father found a job after immigrating. The family's day-to-day existence was rather grim, but Carril recalls how grateful his parents were to have a weekly paycheck during the Depression and how much fun he had down at the Bethlehem Boys' Club.
It became Carril's second home. He acquired his great love for pool by hustling games there after school, and he played on the club baseball team with Chuck Bednarik, a neighborhood hero who later became a football Hall of Famer with the Philadelphia Eagles. Dues were 50¢ a year, and young Pete could sometimes make that much on a summer afternoon selling watermelon to the workmen at the Bethlehem drop forge. In those days there was no fence to keep passersby off the factory grounds; but one was erected in 1941, a time, Carril recalls, when he looked out his window one day and saw National Guard tanks rolling up to quell the violence caused by the national steel strike.
"In that part of Pennsylvania people lead especially isolated lives," says Carril. "I can remember taking a 10-mile bus ride to Easton for a high school basketball game and thinking I was going overseas. Nobody ever leaves that area. There is a statue of a bugler on top of a building in the center of Easton that, according to local legend, keeps calling to those who have strayed until they return. I'm not sure that bugler is ever going to get me, but when I took the coaching job at Princeton, my wife's parents sent us two huge flower pots full of soil. They didn't trust New Jersey dirt."
Neither Carril's players nor the Tigers' opponents will believe this, but in high school he was a 5'7" run-and-gun guard whose coach believed that a good team should take 100 shots a night. Princeton averaged 46 shots a game last season. Back then, Carril says, he shot enough to make his teammates mad. He was a smart, quick player who made a small man's All-America team when he was a senior at Lafayette College.
Carril's first college coaching job was stickier than the one he has at Princeton, because the school was located in his hometown. The Lehigh varsity was 4-17 the year before he arrived, and the freshman team was worse. Carril put those same players through the wringer and somehow came out with an 11-12 team that pulled several upsets. Still, Lehigh is Lehigh, and under normal circumstances Carril's small-time heroics merely would have qualified him for another year there. But that spring Carril's old college coach, Butch van Breda Kolff, having taken Princeton to the threshold of an NCAA title with Bradley, was leaving to coach the Los Angeles Lakers.
"I know a guy who is the best coach in the world," van Breda Kolff told the Princeton athletic committee. "But you'll never hire him, because he doesn't fit the Ivy League image. He's balding. He's got floppy ears. He doesn't dress Ivy. He's just plain Petey Carril."
Van Breda Kolff was no button-down type himself. He violated the canons of sartorial good taste by wearing cut-off sweat pants on the Princeton golf course, and he was a chain smoker of cigars—a nasty habit he picked up from Carril during an evening of player-coach beer drinking at Lafayette. But van Breda Kolffs record—four Ivy titles in five years—proved that neatness was not essential to winning at Princeton. When the committee got a glimpse of Carril, they rightly assumed he was simply a sawed-off version of VBK.
Carril's first Princeton team won 20 games, tied for the 1967-68 Ivy title and managed to keep its poise during a string of nine consecutive road games—something that was to become a scheduling trend. What makes Carril's 190-81 record during 10½ years at Princeton even more remarkable is that the Tigers have averaged 15 away games per season. Many of those matchups have been with powerful non-conference opponents, who, not surprisingly, have a combined record of 57-73 against Princeton.
Carril's next team won the Ivy championship outright. Then in a game that is still talked about by basketball buffs, the Tigers came within a whisker of knocking off UCLA at Pauley Pavilion in the finals of the 1969 Bruin Classic. It took a 12-foot jumper by Sidney Wicks with :03 left to play to give the eventual NCAA champions a 76-75 victory. In 1971-72 Princeton bombed North Carolina 89-73 when the Tar Heels, with Bob McAdoo and Bobby Jones, were on the way to finishing third in the NCAAs. The next season Florida State, with four starters back from a second-place NCAA team, fell by a 61-59 score. The list of David and Goliath encounters goes on and on, including the Tigers' victories over Holy Cross, South Carolina, Oregon and Providence on their way to the 1975 NIT championship. Alabama was victimized 61-59 during the 1975-76 season. And last year Notre Dame, ranked second in the country at the time, was embarrassed by a 76-62 score.
Predictably, these achievements have produced a great deal of admiration for Carril among his colleagues, and his reputation has also spread to the pros, to which two of his players—Petrie and Taylor—came so well prepared that they were Rookies of the Year. John Killilea, the former Boston Celtic assistant coach who is now with the Milwaukee Bucks, remembers being in Los Angeles and watching Princeton work out before its '69 meeting with UCLA. "I listened while Carril went over his game plan," says Killilea, "and that night Princeton played practically a perfect game. They did everything the way Carril outlined it and lost on a physical feat by Wicks. It's the best example of following a game plan I've ever seen."
Chuck Daly, for years Carril's rival at Penn and now an assistant coach with the Philadelphia 76ers, once gave a pep talk to his Quaker team in which he said, "We have to play our hearts out to win this game. Princeton is a tough team. And they're better coached."
Praise, even when it comes from his peers, does not sit well with Carril. He is too preoccupied with his Princeton-is-like-no-place-else malaise to take solace in old victories or pats on the back. He feels no kinship with the majority of coaches in the country, who can offer players full athletic scholarships worth thousands of dollars a year, while the Ivy League hands out aid only according to need. This has sentenced him to some depressing evenings in places like Mansfield, Pa., listening to Tom McMillen's mother tell him, "We have been tremendously impressed with Princeton but, tell me, why don't you give scholarships? It doesn't seem fair for us to have to pay all that money when Tommy can get a scholarship somewhere else."
Ah, the irony. McMillen, destined to be a Rhodes scholar, was unwilling to pay to play at Princeton and ended up at Maryland. Ron Haigler, who made Carril's life miserable as a player at Penn, wanted to go to Princeton and could have qualified for a lot of aid, but found it was the only Ivy League school that would not accept him.
The admissions department has been known as Heartbreak Hotel to Carril ever since 1970, when he learned that Jan van Breda Kolff, a good student and the son of the former coach, was not going to be accepted at Princeton. The incident set off a bitter feud such as had not taken place since Hamilton and Burr, a Princeton alumnus, shot it out above the Palisades in 1804. Van Breda Kolff's college board scores were borderline by Princeton's standards, but he went on to become a B student at Vanderbilt and was named Southeastern Conference Player of the Year as a senior. Carril has never gotten over the van Breda Kolff case, and his resultant cynicism seems to have affected his relationships with people he used to be close to.
"I consider Pete to be a friend of mine," says Brown Coach Gerry Alaimo, who played pinochle with Carril before Princeton-Brown games until Pete suddenly announced he was not playing anymore. "But there are things I don't like about him. I think he intimidates officials. I don't know if it's because of his size—he is a little squirt—or his reputation. But he gets away with a lot."
Which he does, sometimes. But ref baiter or not, Carril's reputation suffers mostly because until this year he never belonged to the National Association of Basketball Coaches. This means that during those lively sessions in the crowded hotel lobbies at the NCAA finals he has never been kidded by his fellows about such matters as his treatment of officials. The coaches' meetings are always held at the tournament, but Carril prefers to stay home and watch the games on TV.
"I am tough to referee a game for," Carril admitted recently, while puffing on what was left of an El Producto and checking out the paint that was peeling off the ceiling of his den. "I want them to be totally fair. I don't want them to influence the game in the least. You have to remember that with our players we have to do so many little things to be successful. If we are off by just this much, many of our close wins would turn into close losses. That's why I don't have time to worry about being friends with coaches. Too many of them want to talk about how your wife and family are before the game, and then 10 minutes later we're trying to knock each other's heads off. I say forget about the buddy-buddy stuff until after the season. Then maybe we'll go over to Andy's Tavern and have a beer together."
Andy's is the little place across the tracks where Carril goes to unwind and avoid what he calls "the intelligentsia—those who don't want to see us get too big." When Joe Fasanella, the proprietor, was alive, he rode herd on anybody who came in and pestered Carril about basketball while the coach was trying to eat pizza or play cards. If Uncle Joe got wind of an importunate questioner, he would ring a large bell behind the bar, and the intruder either shut up or was escorted to the street. If Carril was going to be out late on a recruiting trip, Fasanella had a midnight snack waiting for him when he got back to town. After losing to Kentucky in last year's NCAA tournament and staying up all night celebrating the end of the season with his players, Carril walked into Andy's at 7 a.m. and Joe forthwith served up cognac and scrambled eggs.
When Fasanella died in September, Carril was crushed. At the wake he pressed a small package into Joe's hands. Wrapped around it was a note that read, "Wherever you're going you might be able to use these." Inside the slip of paper was a pinochle deck.
Fasanella, a blue-collar guy who ran the dumpiest bar in town, was typical of Carril's friends. Andy's is not merely an escape for Carril; it is more a way of life to him than Princeton University is. The rest of his cronies include Red Trani, a stonemason who takes a nap in Carril's office every morning while he runs game films (who wouldn't be put to sleep by those?); Georgie Boccanfuso, the Princeton athletic maintenance supervisor, who reputedly keeps $900 in cash in the trunk of his car, $500 in half-dollars in his refrigerator and an undisclosed number of coins buried in his backyard; and Marv Bressler, who is head of the sociology department at Princeton but is excluded from Carril's list of intelligentsia because "he isn't pompous." Bressler says, "Pete is the last Calvinist. His teams win because it's his will against the players'. And he is tougher."
Despite Carril's endless complaining that nobody on campus gives a hoot about his basketball team, it seems of late that he has acquired a following of friends and admirers who do not care all that much about winning and losing, but who appreciate someone who produces amid adversity. The Daily Princetonian recently conducted a survey to find out who students felt best fulfilled the objectives of his position at Princeton. President William Bowen did not come out on top, nor did either of the university's two Nobel laureates or the physicists who run that expensive fusion project. Just plain Petey Carril did.