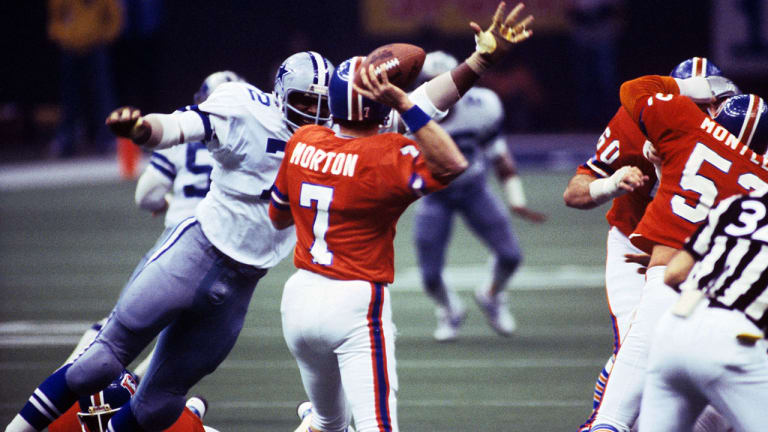 Doomsday in the Dome
That ferocious Dallas defense forced and recovered four Denver fumbles and intercepted four passes as the Cowboys belted the Broncos in the Super Bowl
As Super Bowls go, the one played indoors last Sunday in New Orleans was way up there for mosts—it had the most fumbles, the most hitting, the most noise, the most penalties, the most tricky plays, and no doubt the most Xs and Os stamped on a coach's forehead, as Dallas' Tom Landry nailed Denver's Red Miller to a blackboard and left him there. And when last seen, the Cowboys' two biggest heroes, Randy White and Harvey Martin, were still lecturing the State of Colorado on the mysteries of the flex defense. As a final gesture of victory, another Cowboy star, Linebacker Tom Henderson, went prancing down the field as the last seconds flashed off and jumped up and stuffed a football over the crossbar. Maybe he thought it was Craig Morton's right arm.
The score was Dallas 27 and Denver 10, as the National Conference finally captured one of these things after five straight failures, and it seemed that close only if you were sitting on the Denver side of the Superdome. Actually, Dallas jumped into a 10-0 lead in the first quarter and after that the margin was never less than 10 points, even when Denver finally held on to the football long enough to put a few drives together. All the while, it was a case of the Cowboys doing just about whatever they wished on offense, and so thoroughly confusing the Broncos with their Doomsday II defensive genius and manpower and quickness that the Bronco assistant coaches upstairs on the headphones must have sounded as though they were under a Kamikaze attack as they screamed down to the field with their guesses and remedies for poor Craig and poor Red.
The Broncos had the same flaming emotion that had carried them so stunningly into Super Bowl XII in the first place, but the Cowboys had everything else—the more gifted athletes, certainly the superior quarterback in Roger Staubach, who has now won as many Super Bowls (two) as Bart Starr, Bob Griese and Terry Bradshaw—and all of the smarts. Dallas was so much the better team it could even overcome getting too caught up in its own expertise and flimflam in the second quarter. If the Cowboys had taken advantage of all the Denver turnovers, the 76,400 in the audience would have deserted the Superdome for Bourbon Street long before they announced the Punt, Pass and Kick winners.
The Broncos never did come close to figuring out the flex defense and all of the stunts and blitzes that go with it. Led by Too Mean Harvey Martin and Too Strong Randy White, the Cowboys' front four put so much pressure on Morton that he set a Super Bowl record for interceptions (four) before the first half had even ended. And this was the quarterback who had been intercepted only eight times in 14 regular-season games. By the middle of the third quarter, Morton was on the sidelines, having been replaced by obscure backup Norris Weese.
One had to feel sorrow for Morton, who was also a Super Bowl loser as the Cowboy quarterback in 1971. For one thing, he had done so much to make the Broncos a miracle story during the season and the playoffs. For another, he was a good friend of many of his Sunday enemies, and he and Roger Staubach had even hugged one another after the opening flip of the coin. Dallas won that, too.
While the Cowboy defense was the dominant force in the game, Dallas was not without its celebrities on offense. Staubach had a fine day, hitting 19 passes out of 28 for 182 yards. Tony Dorsett, until a knee injury put him out late in the third quarter, was among the big things Denver did not have—a runner who could scare you to death. He gained 66 yards in the first half, 22 more than the entire Denver team. And Butch Johnson made a diving catch of a Staubach bomb for a third-quarter touchdown that will have to go into the scrapbooks alongside Super Bowl catches by Max McGee, Lynn Swann and Fred Biletnikoff.
The final insult came in the fourth quarter after the last important Dallas sack—Hi, Harvey—caused the last of Denver's four fumbles, this one, too, giving the Cowboys the ball at just about the spot where they appeared to have leased a condominium. On the Broncos' 29-yard line. On the next play, Landry sent in a bit of business called, if you can believe it, "Brown right formation, X opposite shift, toss 38, halfback lead, fullback pass to Y."
What it called for was a Staubach hand-off to Robert Newhouse, who would pretend to run a sweep to his left. But what Newhouse would really do was stop all of a sudden and hurl a deep pass to Golden Richards, who would by then be racing behind the confused Bronco secondary. Dallas performed the maneuver exquisitely. Newhouse's pass was on the mark, and Richards, who wasn't all that wide open but managed to outmaneuver two Denver defenders, cradled it in as he was entering the end zone.
Well, even if Newhouse threw as many touchdown passes as Staubach did, it was Roger's constant pecking that caused such grief to the Bronco defense. Denver lusts to hit people, just as the Cowboys do, but first you have to find them, and Staubach was constantly motioning, screening, zoning, shotgunning, trapping and keeping the hitters off-balance.
Staubach also had some good advice for Butch Johnson on the 45-yard touchdown pass that put the Cowboys up by 20-3. This particular Dallas play had a somewhat simpler name: Spread orange left, ray 15. But before he said any of that, Staubach told Johnson, "Don't run the in-pattern, run the post." Staubach's logic was that Denver Defensive Back Bernard Jackson, who would be covering, sometimes gambled to the strong side and maybe Butch could beat him the other way. He did. Johnson dropped the ball as he tumbled into the end zone, but as the reruns clearly showed—happily for the zebras—he had retained possession just long enough.
"Roger told me to run a good post, and the rest is history," said Butch. Someone said, "It looked spectacular." And Butch said, "It was."
However, members of the Dallas defense had more reason to talk than anyone else.
Martin, who devoured Denver Tackle Andy Maurer like so much barbecued shrimp, said, "He stopped me short in the first half, but I gave him some different looks and went inside on him a lot. Orange Crush is soda water, baby. You drink it. It don't win football games."
White, who dined on so many platters of Denver Guard Tom Glassic on the half shell, said, "We knew pressuring Craig was the key and it was all on our shoulders. We wanted it."
And then there was the gesturing Henderson, who added, "I'm sorry they took Morton out. I wanted him to throw me a couple."
One of the more amazing aspects of the game is that the score was not 35-0 for Dallas at the end of the first half. Denver committed enough crimes against itself to do a life term in Leavenworth. When Morton wasn't throwing the ball directly into a white Cowboy jersey, one of his own receivers would give it away after he caught it. Not only did the Broncos lose the ball in these normal ways, they once lost it on what was supposed to be a punt return, when the ball bounced off John Schultz' headgear as he tried to block for Rick Upchurch. Yep, it hit him in the head. Once more a Cowboy wound up with the football.
Why didn't the Cowboys do more with all these boners? Maybe it was because of their own sophistication. Ahead 13-0 early in the second quarter after Dorsett's touchdown and two field goals by Efren Herrera, they became a bit too cutesy when they got down in scoring range. It was as if they had already learned that whatever they wanted to do would work, so they decided they would show the Broncos what a real mosaic of an offense looked like. Staubach put everyone but Landry in motion, ran misdirection pass routes, tried throwing across the field and against the flow and screening—all those things—and in the end Herrera would wind up missing another field goal. He missed three, in fact, for the day.
On the other hand, one possible reason for all this flimflam was that the Cowboys could not use their preferred double-tight-end attack when in scoring position because backup Tight End Jay Saldi didn't dress for the game as a result of a calf injury.
Before the Cowboys were able to turn Denver's first two turnovers into 10 points, they had to overcome some sloppiness of their own. Tony Hill foolishly attempted to field a Denver punt near his goal line. He fumbled it away, but the Cowboys got lucky when Aaron Kyle outscrambled a herd of Broncos for the ball at the one. Morton's first interception came shortly thereafter, when Waters and White forced him to throw a horrible wobbler that Randy Hughes intercepted on the Bronco 25. Very quickly, Staubach hit Tight End Billy Joe DuPree for 13 yards, and then Dorsett took over. He ran for six, then one, and finally skittered off left tackle for a touchdown, standing up.
The next time Morton got the football, it was time for him to meet Too Tall Jones. The towering end pressured Morton into throwing another nowhere-in-particular pass. Bob Breunig tipped it, Kyle intercepted it and Dallas had it on the Denver 35. Newhouse ran for nine yards, then Dorsett zipped for 18 more around right end to give the Cowboys a first down at the Bronco eight. When a pass failed and Staubach was sacked, Herrera kicked a 36-yard field goal to make it 10-0.
The Cowboys earned their next three points by driving all of 32 yards following a punt. Starting at the Cowboy 43, Staubach tossed a screen pass to Preston Pearson for 11 yards, and Newhouse made a tough seven, but the Cowboys ultimately were stalled at the Denver 25. Herrera hit the 43-yard field goal early in the second quarter.
After this, the Cowboys turned a succession of opportunities into a succession of zeroes. By one way or another—which do you prefer, a fumble or an interception?—the Cowboys took over at their 40, and then at Denver's 40, 27, 28 and 35, and what they failed to accomplish with all of Landry's subtleties did as much as anything to keep Denver alive at the half, trailing only 13-0.
In the opening series of the third quarter, Denver forgot to fumble or give up an interception and quickly cut Dallas' lead to 13-3, when Jim Turner booted a 47-yard field goal. But just when the Broncomaniacs were getting their orange up, Staubach countered with the touchdown bomb to Johnson that put the Cowboys on top 20-3.
Still, Denver was not dead—yet. Rick Upchurch took Herrera's kickoff and returned it to the Dallas 26, a Super Bowl record of 67 wiggling, weaving yards. On first down a retreating Morton threw a screen pass directly into the hands of Too Tall Jones, but Too Tall obligingly dropped it. Nevertheless, this convinced Miller that it was not Morton's day.
Out came Morton and in trotted Weese, who runs better than he throws. At least he was an improvement over Morton, who wasn't throwing well and couldn't run at all. Four plays later Weese had the Broncos in the end zone, Rob Lytle covering the final yard for the touchdown, and Denver was back to within 10 points at 20-10.
End of rally. Newhouse wrote finis to Denver's special season when he lofted his 29-yard surprise to Richards to give the Cowboys their 27-10 victory and their second Super Bowl championship—both, incidentally, won in New Orleans.
All week long, people who fancied the Cowboys had kept trying to prove that Denver was not very good. Look how the Broncos came out of the gate, they said. Jim Bakken missed four field goals for St. Louis in the opener. Then the Broncos got Buffalo, Seattle and Kansas City, pure dogs. Four-and-0. Then Ken Stabler threw seven interceptions. Then they got Ken Anderson hurt when they beat Cincinnati, and after a loss to Oakland, they caught the Steelers arguing among themselves and partly banged up. By then, Denver had confidence—and a 7-and-l record. And when you think you're good, well, that's half of it.
The man who made the Broncos think they were good was Miller, who wound up the regular season with an orange telephone, an orange radio, an orange toilet seat, an orange shower curtain and an orange Christmas tree. "Winning is in the mind of the player," Miller said repeatedly. "We're, a team of destiny."
Mainly, the Broncos were a team of defense, especially at linebacker. One of them, Bob Swenson, talked about what had come over them all, since the good defense was there before Red Miller took over from John Ralston, who resigned last January.
"Red got us to go to the ball," Swenson said. "We're like a bunch of piranhas. After last year it had just gotten to the point where Ralston had to go, and everybody knew it. The team would go into a room to watch films, and as soon as the lights were out, about half a dozen guys would stretch out in the aisles and go to sleep. All of us owe a lot to those 12 guys who stuck their necks out to get rid of Ralston. Red's a great coach and everything, but just about anybody would have been an improvement over what we had."
Swenson came to Denver as a free agent, and he believes his success and Denver's—with 14 free agents, including four starters—says something about the intelligence-gathering of the National Football League and its pretense of being so thorough. "The draft is bull," Swenson said. "The scouts for most of the teams are 100 years old, and most of them don't know what they're doing. I went to school at Berkeley, and most of the NFL scouts think the students are still rioting in the streets out there. They didn't want to look at me."
One thing the Broncos wanted very much to look at was what they had assumed would be the Super Bowl "insanity." They had expected pretty much of a party atmosphere and they eagerly looked forward to it. Unfortunately, the Broncos never got to experience it, to join all the other Bourbon Street crawlers, because Miller instituted a midnight curfew starting on Tuesday, the day after they arrived. In contrast, Landry turned the Cowboys loose until Thursday. His reason: "You've got to trust and respect your players."
Denver's Maurer found time to complain about the lack of frivolity. "Most of us are disappointed, I'd say. We were looking for all the distractions we had heard about. We kept asking, 'Where is it?' Finally, we said, 'This is the Super Bowl?' Hell, we have more fun than this in Denver."
It seems that one of the two Super Bowl teams always winds up being disappointed in the hotel accommodations. This time, both squads were in hotels at the airport (selected by the NFL), and of the two, the Broncos felt that theirs was the poorer. They complained of numerous cockroach sightings, and at one point no fewer than 11 Broncos got stuck in an elevator.
For its part, the Cowboy organization had learned from past experience—a Super Bowl victory over Miami in 1972 and losses to Baltimore in '71 and Pittsburgh in '76—that too much time can be squandered unless someone is there to take care of every little detail. Things like getting a car for a player or a plane reservation for his wife, or a dinner reservation for a distant cousin at Moran's or Antoine's. Thus, Dallas had a special squad of people assigned to do nothing but conquer the French Quarter. The organization set up an elaborate office with seven secretaries who were there to do nothing more than handle player requests, and those of Cowboy owner Clint Murchison, General Manager Tex Schramm, Landry and their pals. If Harvey Martin wanted to go to the King Tut exhibition to see what a real mummy looked like, as opposed to those in Pat O'Brien's or Galatoire's, a special secretary handled it. The Cowboys also were prepared to get tickets, sometimes in huge quantity, for any friend of the Texans'. They even had a team acupuncturist in town.
By reputation, Denver was supposed to be the looser team, but at their press sessions the Cowboys seemed more relaxed—or less formal. At those affairs, which are covered by all sorts of representatives of things like the Passaic Herald-News and the Grosse Point Crisis Club, men with the Dallas team would shout, "Who wants Charlie Waters?" Off to the side, Doug Todd, the Cowboy public relations director, held his head from the previous night's experiences in the Quarter and recited his current most favorite country and Western lyric: "If the phone don't ring, you'll know it's me."
But all of this was before Harvey and Randy and the Flex, and the words that were spoken by Craig Morton at his own last rites: "They just took away everything we had."
Well, they can't take away those 12 regular-season victories or that AFC championship, Craig. You'll be back. Just hope it's the Minnesota Vikings you find there the next time. Those Dallas Cowboys are mean.