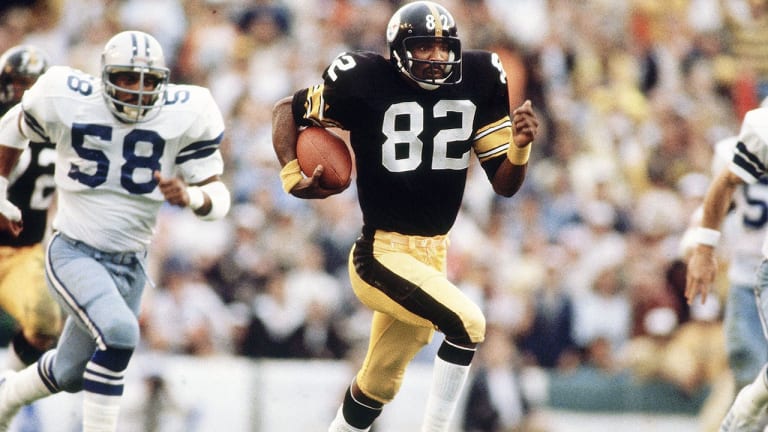 What A Passing Parade!
The leader of the band of Steelers who defeated the Cowboys 35-31 in Super Bowl XIII was Terry Bradshaw, who strutted his stuff by throwing for four touchdowns
For three quarters and almost six minutes of the fourth last Sunday, Super Bowl XIII, which Pittsburgh wound up winning 35-31, was everything professional football's championship game is supposed to be, but rarely is. It had the NFL's two best teams, the Pittsburgh Steelers and the Dallas Cowboys, doing amazing things in heroic—and sometimes haphazard, even peculiar—fashion on the damp Orange Bowl turf.
It had Tony Dorsett scuttling around and through the Steelers on the game's first drive only to have the Cowboys fumble away the ball on an ill-conceived, triple hand-off gadget play that was supposed to end with a pass thrown by Quarterback Roger Staubach.
It had Terry Bradshaw passing the Steelers to a quick 7-0 lead on a 28-yard lob to John Stallworth in the end zone at the end of a bang-bang 53-yard drive. It had Bradshaw losing the ball on a fumble, and then three plays later Staubach combining with Tony Hill on a 39-yard touchdown-pass play that tied the score at 7-7 on the last play of the first quarter. It had Bradshaw, after recovering his own fumble in the backfield, being sandwiched by linebackers Thomas (Hollywood) Henderson and Mike Hegman, with Henderson pinning Bradshaw's arms while Hegman pickpocketed the ball and ran 37 yards for a touchdown and a 14-7 Dallas lead. It had Bradshaw complaining that his left shoulder was sore and being told by a team doctor that it might be separated.
It had Bradshaw immediately returning to the game and throwing a short first-down pass to the ubiquitous Stallworth, who turned it into a 75-yard touchdown play as Dallas Cornerback Aaron Kyle, who had been burned on the first touchdown, missed a tackle. It had Bradshaw sending Pittsburgh to the locker room with a 21-14 halftime lead by lofting a seven-yard pass to a leaping Rocky Bleier in the end zone.
Then, in the third quarter, it had Dallas, suddenly starting to look like the better team, all set to tie the score at 21-21, only to have Tight End Jackie Smith—with nary a Steeler in sight—drop Staubach's eminently catchable pass in the end zone. The Cowboys had to settle for Rafael Septien's 27-yard field goal.
And now, six minutes into the fourth quarter, the Steelers were desperately clinging to a 21-17 lead—the same score, incidentally, by which they had defeated the Cowboys in Super Bowl X in Miami—and Bradshaw was dropping back and, under pressure, hoisting the football into one of Lynn Swann's holding patterns 33 yards downfield. Swann and Dallas Cornerback Benny Barnes were chasing the ball in relatively close file, with Barnes slightly in the lead, when Barnes slipped or tripped or stumbled and fell. Swann tripped over Barnes and fell, stretching out vainly for Bradshaw's pass at the Dallas 23-yard line.
Field Judge Fred Swearingen threw his yellow flag. To those who saw it live, the pass play looked to be a case of two players bumping and tripping over each other. That is the way Swearingen apparently saw it, too, but his flag meant one of two things: offensive pass interference on Swann for tripping Barnes, or defensive pass interference on Barnes for tripping Swann.
The call was against Barnes, and Pittsburgh had a first down. Four plays later. Franco Harris crashed up the middle on a 22-yard trap play to put the Steelers ahead 28-17, and there were only seven minutes to go. If that turn of events demoralized the Cowboys, what happened on the ensuing kickoff shattered them.
Dallas inexplicably stationed Defensive Tackle Randy White, who was playing with a cast on his fractured left thumb, in the middle of the field near the 25-yard line as Roy Gerela prepared to kick off. Pittsburgh Coach Chuck Noll had called Gerela to the sideline for a brief conference following Gerela's successful conversion, and told him to kick deep. But Gerela slipped and his kick bounced directly to the 250-pound White, who had no clear idea what to do with it. He half fumbled and half lateraled the ball, only to have it wind up in the hands of Pittsburgh's Dennis (Dirt) Winston at the Dallas 18.
Before Tom Landry could even grimace, Bradshaw—who enjoyed his most productive day as a pro, throwing for 318 yards and four touchdowns, both Super Bowl records—fired a first-down pass into the end zone that Swann leaped high and plucked from out of the night, as only he can. And the riskiest Super Bowl of them all was a rout, with the Steelers leading 35-17. The elapsed time between the two touchdowns was 19 seconds.
Staubach then rallied the Cowboys against Pittsburgh's obviously relaxed defense. He threw a seven-yard touchdown pass to Billy Joe DuPree at the end of an 89-yard drive, which was highlighted by Tony Dorsett's 29-yard run. After Dallas recovered an on-side kick, Staubach passed four yards for a touchdown to a wide-open Butch Johnson. With the score now 35-31 and 22 seconds to play, Dallas would have one last chance if it recovered another on-side kick. But Septien kicked the ball squarely to Bleier, who fell on it on the Dallas 45, and a disgruntled Bradshaw ran out the clock.
"Our guys started celebrating when it was 35-17," Bradshaw said later, "and it made me mad. They were slapping hands and shaking hands and saying how great it was. But it wasn't so great, because the game wasn't over."
Quite naturally, there were three versions of what happened on the controversial interference call on Barnes.
Barnes: "He [Swann] shoved me, knocked me down and tripped over me. When I saw the flag, I was mad, damn right. It was the closest I'll ever come to punching an official, I guess. I cussed him. I think he must have known he was wrong, because normally when you cuss an official, you get penalized."
Swearingen: "It was a judgment call. The two players bumped before the ball was even close to them. They were both looking back and the defender went to the ground. The Pittsburgh receiver, in trying to get the ball, was tripped by the defender's feet."
Swann: "I believe Barnes did interfere. But I'm not sure, because I wasn't in a position to see. I know I didn't push off of him, and I was tripped. It was a very important play. If we hadn't scored right after that, we'd be in the locker room right now, and the Cowboys would be doing all of the interviews."
Besides Bradshaw's arm and his superb receivers (Stallworth, who did not play in the second half because of a muscle cramp, caught three passes for 115 yards and his two touchdowns; Swann caught seven for 124 yards and his score), the other thing that helped defeat the Cowboys was the touchdown they blew late in the third quarter, which would have tied the score at 21-21. Smith, the marvelous old former St. Louis Cardinal whom Dallas had called out of retirement in September, flat-out dropped Staubach's pass in the end zone.
The play came from Landry, and it was an inspired call. The ball was on the Pittsburgh 10, third and three. Landry sent in an extra tight end, Smith, indicating a run. Dallas lined up with Scott Laidlaw as a single setback and Dorsett went in motion to his right. But instead of handing off to Laidlaw or passing in the flat to Dorsett, the most likely eventualities, Staubach threw over the middle to the 38-year-old Smith who was wide open. However, the ball was low and slightly behind Smith. Staubach says he threw it too softly, and that that's why Smith, who was on his knees, dropped it.
"He was so open I could have punted it to him," said Staubach sorrowfully.
Smith could only say, "It was a beautiful play that Coach Landry conceived. When I slipped, I guess I was just trying to be overcautious, and that's why I dropped it."
For Pittsburgh, nobody dropped anything that mattered. Stall worth's two touchdown pass plays were very different, and they both say something about Bradshaw. The first was a cunning 28-yard beauty—the Steelers call it "One Eleven Out"—that Bradshaw thought would take advantage of Kyle on Stallworth, man-for-man, and it did. Stallworth got behind Kyle and caught the ball easily in the end zone.
The second came at what might be described as a mildly opportune time: in the second quarter, after the Cowboys had taken their 14-7 lead by virtue of the Brink's job that Henderson and Hegman had performed on Bradshaw. Bad shoulder or no bad shoulder, Bradshaw was right back running for his life again. This time he found Stallworth at the Pittsburgh 35. Stallworth shook off a glancing blow by Kyle—more or less a flesh wound—and, using a couple of blocks and his speed, outran everybody for the score.
Earlier, in what was as wildly exciting a first half as two good teams have ever played, in or out of the Super Bowl, the Cowboys had done something no other club had achieved against the Steelers all season. They scored a touchdown in the first quarter.
Granted, it was on the last play, when Staubach connected with Hill, but Dallas already had hinted very strongly that it could move the football and, surprisingly, that it could move it on the ground, most notably with Dorsett, who gained a tough 96 yards on 15 carries, running traps and misdirected sweeps.
The Cowboys received the opening kickoff and moved downfield for big yardage and a first down at the Steeler 34 when, perhaps ill-advisedly, Landry sent in the double reverse which Pearson fumbled and Steeler Tackle John Banaszak recovered.
All game long, though, it was Bradshaw who was the dominant presence, who was mainly responsible for turning XIII into the best Super Bowl game of all as well as the highest-scoring. It was Bradshaw who took ferocious licks from a Dallas defense that sacked him four times. It was Bradshaw who kept playing with an injured shoulder. It was Bradshaw who kept finding Swann and Stallworth and Tight End Randy Grossman just when he needed them. And it was Bradshaw who escaped a Cowboy rush and improvised the touchdown pass to Bleier that put the Steelers ahead to stay 21-14 just before halftime.
Bradshaw had driven the Steelers to the Dallas seven, principally on passes of 29 and 21 yards to Swann, and now he faced third down. Bradshaw called a pass-run option play and sprinted to his right. Hemmed in by the Cowboys—and with no place to go—Bradshaw finally spotted Bleier in the end zone. Bleier leaped high to catch Bradshaw's pass behind Linebacker D.D. Lewis.
"Today I relaxed, felt good and had fun," said Bradshaw, who was the unanimous choice for MVP. "I had a little bit of a lackadaisical attitude. I didn't want to get uptight. I don't need anyone telling me how great or how smart I am, or how smart I'm not, I just tried to go out there and help win a football game."
Which he did—and how.