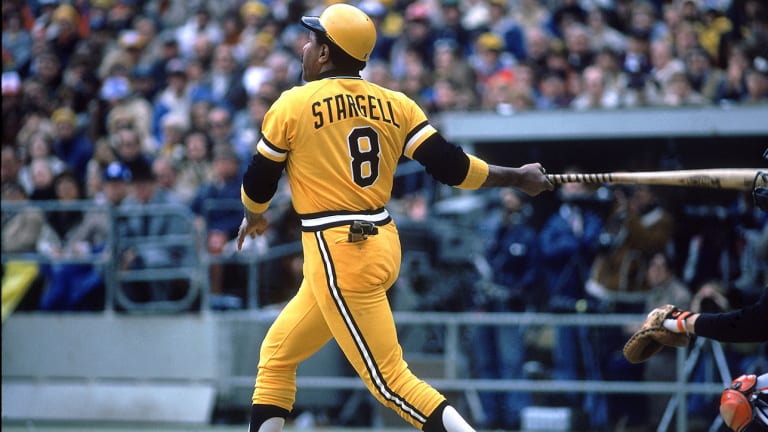 Fine, Like Good Wine
At 39, Willie Stargell is still a vintage hitter and has led the Pirates into first
It had not been a productive game for Willie Stargell. The steaming fastballs of Houston's J. R. Richard and the muggy Pittsburgh air limited him to a single hit in four trips to the plate. This modest effort made the 38-year-old Stargell the target of some abuse from the very immodest Dave Parker, who loudly suggested that the Pirate captain should ease into a less demanding line of work. "Hey, Pops," Parker shouted, "maybe you should start taking it easy. You're not getting around on the fastball anymore."
Stargell isn't buying any of that talk these days, and with good reason. While Parker may represent the future of the Pittsburgh team, Stargell is its heart and still a very important part of its present. After a fine 1978 season in which he batted .295, hit 28 home runs, drove in 97 runs and earned the National League's Comeback Player of the Year award, Stargell has been even more productive this year. He has spearheaded the Pirates' drive to the top of the league's Eastern Division with a .295 batting average, 22 homers and 56 RBIs. And he has made only one error in 75 games at first base. In his 17th season, Stargell is convincing everyone that, like the fine wines he collects on his baseball travels, he is getting better with age. Well, almost everyone.
"Pops Stargell? He can't hit, can't run, can't throw," says Parker, "but I love him anyway. He means a tremendous amount to everyone on this ball club. He's our leader, our stabilizer and, for me, my baseball father."
The key to his success, Stargell says, is hard work and an old-fashioned approach to the game that shows in a variety of ways. He refuses to wear a batting glove, even when the weather is cold. When he steps into the batting cage before each game, he does so with a specific purpose in mind, unlike other players who make batting practice an impromptu home-run derby.
The 6'2", 225-pound Stargell uses his first round of swings to loosen and stretch his massive shoulders. This is also the reason that during games he windmills his bat while waiting for the pitcher's delivery. On his second turn in BP, he tries to rocket hits to all fields. On later turns he finally unlimbers his home-run stroke, driving balls to the most distant portions of the stands. When he is home at Three Rivers Stadium, some of the blasts touch down close to the markers in the upper deck in rightfield that designate the landing sites of his most prodigious shots. That's evidence enough that his strength has not diminished. When the game begins and he is facing the rapid fire of a pitcher like Richard, Stargell will use a bat that is one ounce heavier than usual to avoid committing himself too soon on pitches. Although this is contrary to convention, Stargell says it works—usually. "It's an old trick I picked up from a pretty good player," he says. "Roberto Clemente."
Stargell learned his lessons from the master well, because since Clemente's death in December 1972, Stargell has been the man who has epitomized the offense-minded Pirates. His career statistics—.282 and 451 homers—are impressive, but even more striking have been his numbers the past two seasons, coming as they have after disappointing performances in 1976 and '77.
Stargell's troubles began on May 24, 1976, when it was discovered that his wife, Dolores, needed immediate surgery for a blood clot in the lower part of her brain. Understandably, baseball became less important to him, as he spread himself among his wife at the hospital, his three children at home and his job at the ball park. The months his wife spent on the critical list destroyed the concentration that has always been essential to his game. He finished the season hitting .257, with 20 homers and 65 RBIs—respectable figures, but his lowest run production since his rookie year, 1962. "The '76 season was hell, capital H-E-L-L," says Stargell. "I couldn't concentrate. I could only see Dolores with all this equipment strapped on her, and my mind drifted quite a bit."
After his wife underwent a series of successful operations and began her rehabilitation, Stargell suffered ailments of his own. Midway through spring training in 1977, he developed an inner-ear malady that sidelined him for the first two weeks of the season. In July, while trying to break up a fight between teammate Bruce Kison and Philadelphia's Mike Schmidt, he pinched a nerve in his left elbow—and ended his season. His 63-game totals were a .274 batting average, 13 home runs and 35 RBIs.
Despite these setbacks and surgery to correct the pinched nerve, Stargell came to spring training in 1978 with renewed determination. Winter workouts and participation in a Nautilus training program convinced him that he was ready for a comeback, even if no one else agreed. However, Stargell was more disappointed than pleased with his play last season.
"I felt I should have hit .300 with about 30 homers and 100 RBIs, so for me it wasn't a good year," Stargell says. "I know there were some people saying I was through, but nobody remembered to ask me about my feelings on the subject. They just summed things up in their own words. People don't realize that there are a lot of emotions in baseball or how much pride and deep feelings are worth."
Stargell, who has long been an institution in Pittsburgh and still favors the city over the suburbs, finds the praise that his resurgence has drawn "a little embarrassing." He downgrades his comeback by crediting it to an old secret—"closing my eyes and swinging hard."
A more likely explanation for the resilience of the Pirates' alltime leading home-run hitter ("I'd have about 600 if I hadn't played seven years in Forbes Field") is that he and his teammates are, as usual, fighting for the division title. Living up to their reputation as free swingers, the Pirates have batted .279 since the All-Star break and their 20-10 record during that period moved them 1½ games ahead of Montreal by the end of last week. "I probably would have retired long ago if we hadn't been contenders all these years," Stargell says. "It helps to have a cause to shoot for, to have everything on the line. I run my best race down the stretch."
Whether he is making a stretch run or mugging it up with the Pittsburgh fans, as he did on a recent Camera Day, Stargell's pleasure comes from enjoying life and helping others to do the same. He is chairman of the Willie Stargell Foundation, which sponsors many activities for children in the area and is active in the fight against sickle-cell anemia. When Stargell is asked to sign an autograph, he does so willingly, and he makes the occasion even more memorable for the fans by engaging them in conversation.
Stargell's view of baseball is refreshingly down home. "We're only playing out there," he says. "If we have to concentrate so damn hard that we can't have fun, we may as well put on a suit, sit in an office and give dictation to some secretary—that's how a business should be run. When I lose the desire to go out there every day, then I'll let some other excited youngster enjoy it. Until then someone will have to take it away."
Clearly, that time is not at hand. "When I think of old, I think of 300-year-old sheep," Stargell says. "It's a shame people dwell on age, because they give in to it. People said I was washed up, but if I think I'm qualified to do something, nothing's going to hold me back. If I quit because I let someone influence me, it would eat my heart out."
So nobody is pushing Pops aside, not the pitchers in the National League, not even Dave Parker.