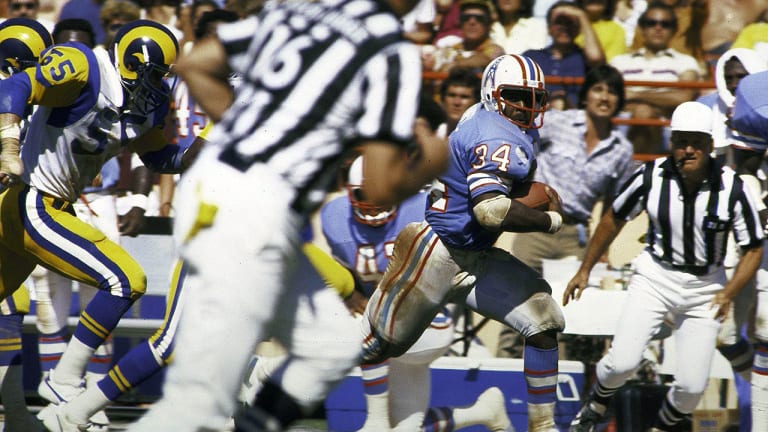 The Roots Of Greatness
Motivated by the preachings of a noble mama and propelled by his mighty legs, Earl Campbell has left plank-shack poverty far behind. But the man who was the NFL rushing leader as a rookie never forgets to look back
Here is what we know about the state of poverty: its boundaries do not appear on any map; it has no flag or official song, but once you are there it is difficult to get your zip code changed; as a character-building experience it is overrated by the rich and overpopulated by the poor; and it's a place where nobody goes for the weekend.
Earl Campbell had never given much thought to being poor, had never really realized how deprived his family had been, until—in the space of a single year—he won the Heisman Trophy, signed a contract worth $1.4 million to play for the Houston Oilers and became the hottest thing to hit the NFL since Monday Night Football. When the full weight of his family's privation hit him, Campbell decided to take some of his NFL greenbacks and build a spacious new house for his mother and then turn the rundown plank shack where he had grown up into a museum where other underprivileged kids could come see firsthand that the NFL was, indeed, the land of opportunity.
And so, as Campbell's fortunes soared on football fields across America last season, his mama's new house went up. And lest the contrast between his past and his present would be too subtle to grasp, Campbell had the new house built about 25 feet from the old one, with only a large gray septic tank between them.
If anyone ever deserved to have a shrine of his very own after only one year in the NFL, that person surely is Earl Campbell. Last year as a rookie he rushed for 1,450 yards—more than O.J., more than Walter Payton, more than Tony Dorsett, more than any other running back in the entire league—and he led the Oilers, who had had an 8-6 season in 1977, to the AFC championship game against the Pittsburgh Steelers, who then put an end to Campbell's spectacular season.
The Steelers, who had lost a game to the Oilers in Pittsburgh during the regular season when Campbell ran for three touchdowns, were glad to have seen the last of Campbell. "He can inflict more damage on a team than any back I know of," says Mean Joe Greene. "O.J. did it with speed, Campbell does it with power. He's a punishing runner. He hurts you. There are very few tacklers in the league who will bring Earl Campbell down one-on-one. When we're preparing for the Oilers, we emphasize the importance of gang-tackling Campbell. We work on it."
For Campbell, there was no period of transition as there had been for Simpson, no bow to the depth chart as Dorsett had been obliged to make with the Cowboys the year before. From the moment Campbell touched the ball for Houston, the Oilers were the Earlers. On his third professional carry he took a pitchout and thundered 73 yards for a touchdown against the Atlanta Falcons. Campbell became the first rookie to lead the NFL in rushing since Jim Brown did it in 1957, and he led the Oilers to a 10-6 record—and their first playoff berth in 12 seasons.
"Houston could always move the ball with the passing game and the quick screens and the gimmicks," says Coach Don Shula of the Miami Dolphins, who lost to the Oilers in the Astrodome in a game in which Campbell scored four touchdowns and rushed for 199 yards, and then lost a playoff game to the Oilers in Miami. "When the Oilers got Campbell it made Dan Pastorini that much more effective at all the things he's been doing through the years. I don't think it's any coincidence that Pastorini came into his own as an NFL quarterback at the same time the Oilers got Campbell. He's the guy Pastorini was always looking for and never had."
Among the 29 awards Campbell won were NFL Rookie of the Year and NFL Player of the Year. Bum Phillips, the Oilers' coach and maybe the only clipboard toter in the league who refuses to take himself seriously, says of Campbell that no one in the past 20 years had a greater impact on the NFL in his first season "except Pete Rozelle."
The Oilers had gone 9-33 for the previous three years when Phillips, wearing his lizard-skin, zircon-encrusted, needle-hosed cowboy boots, took over in 1975. In those days you could fire a cannon into the Astrodome's stands without hitting anybody and fire the same cannon at the Oilers with only a 50-50 chance of hitting a real football player. Bum had a 10-4 record in 1975, a 5-9 season in 1976, the 8-6 record in 1977, and the big juicy No. 1 pick in May of 1978.
Soon Houstonians took to saying, "Since Earl came...." Well, for one thing, since Earl came, the Oilers have played to sellout crowds in the Astrodome; average attendance rose to a capacity 51,573 in 1978, and all tickets for this season's 10 games, including exhibitions, were sold out last March.
Elvin Bethea, Houston's standout defensive end the last 11 years, recalls the grim pre-Campbell days. "Before Earl came along," Bethea says, "this was just a stopover for a lot of players. We'd show up on Sunday and give the other team a good fight, but we knew all along what the outcome was going to be. Earl put us at the watering hole; now we're going to drink with everybody else."
Until Campbell arrived, the quarterback had long been the Oilers' most visible player. Dante Pastorini had earned a reputation as a hell-raiser by racing jet dragboats and crashing cars, and it seemed that if anyone was likely to have a personality clash with Campbell, a Baptist Bible-thumper, it would be the infernal Dante. Instead, Campbell and Pastorini soon came to hold one another in a kind of awe. Pastorini can't get over Campbell's attitude. "It would be easy for a guy coming into the game with all those accolades and all that publicity to be cocky or arrogant," says Pastorini, "but Earl's not that way. He does his job, and if he hasn't got something good to say, he doesn't say anything. You hear a lot of backbiting in this league, but I've never heard anyone say a bad word about Earl."
When Phillips talks about Campbell you could swear those tiny hairs on top of the coach's great granite head are standing straight up, out of sheer excitement. "Earl has gotten nine million compliments without letting them swell his head," Phillips says. "I said if he got by last year without changing, he'd survive. I don't believe he'll ever change now. Earl's mama did a heck of a job raising him."
There may be no greater tribute one Texan can pay another than telling him he must have a wonderful mama. Nowhere are mamas held in greater esteem, and nowhere are the things that mama don't 'low held in lower repute. When Campbell was going through the hazing that veterans traditionally inflict upon rookies in training camp, he was required to stand up during one meal and sing a song from soup to nuts. Campbell sang Mamas Don't Let Your Babies Grow Up To Be Cowboys, a country-and-western anthem to the Texas matriarchy that was made popular by his good friends Willie Nelson and Waylon Jennings.
Like all but three of his 10 brothers and sisters, Earl Christian Campbell was born at home in the same bed where he was conceived. From the time she was pregnant with Earl until he was a sophomore at the University of Texas, Ann Campbell worked as a cleaning lady for some of the wealthiest families in Tyler, Texas. She did floors, polished other people's silver for their fine parties, and at Christmas she gratefully accepted the hams they gave her. When her famous son signed with the Oilers, Ann Campbell didn't do cartwheels. "All this money don't make me nervous," she said. "I was always in fine places, beautiful homes. They may not have been mine, but I could enjoy them just the same."
There is a prevailing roundness about Mama (it is no use calling her Ann, this being among the things that Mama most assuredly don't 'low), a pleasing full-bodiedness that makes her seem to be built implausibly close to the ground. Mama's face is expressive but doesn't give away anything she isn't ready for you to know. One of her front teeth has a gold jacket, giving a certain unassailable value to just about everything she says.
Ann and Burk Campbell were married in June 1942, soon after the U.S. entered World War II, and she spent the war years living with her parents and his uncle while he served in the Army in France. After five years of marriage they inherited a 14-acre plot in Tyler, on which they began to grow peas and corn, and eventually roses.
Now and then Willie Nelson sings Stardust, which contains this lyric:
The nightingale tells his fairy tale
Of paradise where roses grew.
Tyler grows more than half of the rosebushes sold in the U.S., as many as 20 million bushes a year. There are small wooden roadside stands all over Tyler at which a dozen roses sell for a dollar, and there are 2,000 people who depend upon the Tyler rose industry for their living. Though the Campbells couldn't hope to compete with the larger nurseries, they scratched out a living.
"I've been on this corner for 32 years," Mama said the other day, "and all my life I never had to file an income tax return, never had no money in a bank. What little we made on the roses we spent right here. We had to take a lot of our clothes from the Salvation Army, stuff we could get for 25¢ or so. My kids were never crazy, though. They never refused to wear other people's old clothes. We grew all the food we needed. In the spring I'd slaughter a calf or a hog and we'd have our beef and pork for the year."
As the Campbell family grew in number, its members in size, more spacious quarters were needed. When Earl was 10 years old, the family moved a few hundred feet to another house on the same property. Mama recalls that the family completed the move just in time to celebrate Christmas of 1965 in their new house. "But the whole time we were moving, my husband was always complaining he didn't feel right," she says. "We'd only been in the new house for four months when he died of a heart attack."
The house that was so new and full of promise in 1965 now is abandoned. Perhaps because it is raised on concrete blocks, it has something of the look of an old jalopy. In fact, there is the front seat of a car on its porch.
On summer days the tar on County Road 492 blisters where it passes these two Texas monuments, and small bubbles percolate to the surface. At noon on sunny days, trees strain themselves to produce a few feet of shade. All around the Campbell house the wind holds its breath, and the sky is the purest blue. The new house is made of brick and seems to catch the full brunt of the sunlight; the old house gets the same light, but its gray, weatherbeaten pallor makes it look like the big house's shadow.
Last spring when the new house was finished, Earl Campbell's mama couldn't shed the old shack that had been like a second skin to her for 13½ years, so she asked Earl to leave it standing. That is when he began to consider the idea of turning the old place into a museum.
"When they told me I could start moving everything into the new house," Mama says, "I was kind of sad about it, you know. It took me quite a while to get everything moved in, and I kept my bed in the old house for a long time. One day my daughter asked me why I did that, and I just told her I wanted to take my time. If I was moving and night was to catch me in the old house, why I'd just spend the night there. And if it caught me in the new house, I'd sleep there. I wasn't particular."
When Earl was growing up, he shared a room as well as a bed in the old plank house with his brothers Herbert and Alfred Ray. It was the first room you saw when you opened the front door.
The Campbells in residence varied from one year to the next, depending upon the intercession of natural disasters. When Ann Campbell's mother and sister lost their home in a fire, they packed up three children and moved in, temporarily swelling the ranks to 15. The air above the peeling linoleum floorboards always was close and clammy during the long Texas summers. In the winter the family sometimes used space heaters to keep warm, but the body heat of several Campbells to a bed usually provided warmth enough even on the coldest nights.
Ann Campbell always told her children, "If you want to be someplace safe, be in church." And every Sunday from the time he was christened until he went away to college, that is where Earl was, front and center at the Hopewell Baptist No. 1. For four years he sang in the church choir.
"I never paid a fine for any of my children and never bailed any of them out of jail," Mama says proudly. "We always had a lot of love, and I think that's why they all turned out so well. We worked together in the fields during the day, and we all slept together at night."
It seems odd, given his extreme rectitude now, that Earl was his mama's only real problem child, the one who came the closest to real trouble with the law. When Earl was in the sixth grade at Griffin Elementary School, he began smoking a pack and a half of cigarettes a day, a habit he maintained for three years. "I used to be a thug from about the time I was in the sixth grade until I went into high school," Earl says. "I lived the street life for a while. I gambled and stole, and I used to make a pretty good living shooting pool. I did just about everything there was except get mixed up with drugs."
Naturally, this type of behavior didn't win him his mama's gratitude. "She's the onlyest person in life I would steal for, or lie for, or kill for," Campbell says now. "She's a great lady, but she's a terrible person to be on the bad side of. I'm her son and it took me a long time to get on her good side."
That ascent to grace didn't occur until Campbell was nearly 14. One evening, as he set out upon the road to one of Tyler's iniquitous downtown street corners, probably for a crap game, Earl abruptly decided to change his ways. "I never really liked the country life when I was growing up," he says. "I was always searching for something else. Then that day out on the black tar road that passed by where we lived, I said, 'Lord, lift me up.' "
Once set upon the path of righteousness, Campbell found football. He was so strong and so gifted that in his senior year at John Tyler High School he scored 28 touchdowns, leading his team to a 15-0 season and the state 4A title.
"You just knew every time he got the ball he was going to get you three or four yards, even if there was no blocking at all," says Miami Dolphin rookie Tight End Ron Lee, a teammate of Campbell's at John Tyler. "And at each level he's advanced—and made it look easy. I guess you could say that Earl's just a person who was born to be great."
After Campbell had scored two touchdowns in the state championship game, the coach of the losing team said, "I always thought Superman was white and wore an "S," but now I know he's black and wears No. 20."
When Campbell left home for the first time in his life, to attend the University of Texas, 200 miles away in Austin, he became so homesick that, as former Longhorn Coach Darrell Royal recalls, he "would sit on the curb and face in the direction of Tyler."
In college Campbell took every opportunity to spread the credit for his rushing feats among his teammates. "If it were up to Earl," wrote David Casstevens in The Houston Post, "he would probably change the name of the 'I' formation to the 'We.' "
Last year, after Billy Sims of Oklahoma had won the Heisman Trophy that Campbell had won the year before, Sooner Coach Barry Switzer offered this comparison between Campbell and his own star running back: "Earl Campbell is the greatest player who ever suited up. He's the greatest football player I've ever seen. Billy Sims is human. Campbell isn't."
When the Oilers, desperate for both a quality football player and a box office attraction, acquired the No. 1 pick in the 1978 draft from Tampa Bay and then used it to select Campbell, former Texas Assistant Coach Pat Patterson warned Bum Phillips what to expect. "When you meet Earl," Patterson said, "you're not going to believe anybody can be that honest and sincere. So you're going to be waiting for him to make a slip, for his true temperament to show through. But you can stop waiting because it's not going to happen. Earl is exactly what he seems to be, one of the nicest people you'll ever meet."
In college Campbell never shied away from hard work, and, when pressed, he wasn't diffident about assessing his own worth. Worth, as it happens, is a concept dear to his heart. Once, when someone implied that Earl would be picking up easy money when he signed with the pros, the 5'11" Campbell drew himself up to his full height and said coolly, "There isn't a check big enough to pay me back."
As Campbell has discovered, it's much easier to leave the state of poverty than it is to get rid of the poor man's state of mind. When he purchased a comfortable three-bedroom house on Houston's southwest side last year, he asked a contract landscaper to quote him a price for cutting, weeding and trimming the lawn. When the contractor told him it would be $150 a month, which he could easily afford, Campbell whistled softly and thanked the man for his time. Then he went out and bought himself a power mower. "Earl isn't going to waste any money," says Oiler offensive backfield Coach Andy Bourgeois. "He's a most frugal young man."
Campbell dislikes signing autographs, probably because he finds the attention embarrassing. Whatever his reasons, he avoids such situations. Yet when he ran out of candy last Halloween, rather than go out and buy more, he gave each kid who came to his door an autograph. A heartwarming instance of generosity, or just plain old tightfistedness?
Consider this. Shortly before the Oilers' training camp opened in July, Campbell threw a small party for a few of his close friends in Houston. When he stopped by a liquor store near his home, he was amazed and somewhat horrified to learn that it would cost him $60 or $70 to stock his bar for the evening's roistering. Rather than cough up that kind of money, Campbell identified himself to the owner of the store, and then proceeded to talk the man into supplying the liquor for the party in exchange for four autographed pictures. When Campbell tells this story, he does so without irony, trying to make a point about the high cost of hooch.
None of this is meant to imply that Earl Campbell is cheap. His thriftiness is punctuated by occasional bursts of generosity, or in the case of his Earl Campbell Crusade for Kids, a long-standing commitment to making life a little more pleasant for underprivileged children in the Houston area. This summer he went on local television in Houston and asked the community to donate old books, school supplies and toys to the crusade. Campbell's fans came through with a truckload of gifts, and Earl kicked in with some lunch boxes and notebooks of his own, then handed the swag out to kids in several Houston parks.
Though he doesn't own an expensive car, Campbell recently bought a $34,000 Mercedes 450 SEL for Reuna Smith, his girl friend of the past 10 years, "just for putting up with me all that time." As training camp got under way at San Angelo State, Campbell gathered his offensive linemen around him and gave each of them a gold money clip in the shape of a spur, engraved with the words 1,000 YARDS. An act of simple gratitude, or a rite of self-preservation? "If I took all the credit all the time," Campbell says, "maybe someday our offensive linemen and Pastorini will say, 'O.K., this time we're going to let Earl really do it alone.' I'm nothing without them."
And, he might truthfully add, they without him. He has the speed and quickness of a great running back, as well as a marvelous sense of invention that can turn a routine off-tackle play into a big gainer. The power he generates by his enormous thighs and prodigious backside makes it nearly impossible for a single tackier to bring Campbell down.
Toni Fritsch, the Oilers' placekicker, was at Campbell's home recently when, without warning, he grabbed his host around the thighs—"ties," as Fritsch calls them in his Austrian-accented English—and began imploring Campbell to protect his massive assets. Fritsch is 5'7", weighs 200 pounds and is balding; he looks more like a cabdriver than a pro football player. But he has Super Bowl rings on both his hands, thanks to five years' employment with the Dallas Cowboys, and they give his monologues a lift they might otherwise lack. Fritsch looked up into Campbell's face and shouted, "Watch out, please, Mr. Oohl. These are your capital. You can buy a new house, a new car but, excuse me, please, these you cannot get back."
It seems that all of Campbell's teammates are protective of him. Last season Pastorini passed for more touchdowns and yardage than he ever had before and also had the second-best completion percentage in his eight-year career—hats off, he says, to Campbell. "Earl made us the best play-action team in football," Pastorini says. "We were on the verge of becoming a good team even without him. Earl can make us great."
Freezing onrushing linemen dead in their tracks by faking to Campbell, Pastorini has time to wait for his receivers to get open. The quarterback had often been booed in Houston, especially on the several occasions he had publicly requested to be traded, but with Campbell alongside him, he suddenly was being called a "field general." Campbell's presence also seemed to have a tonic effect on Bethea, who had grown tired of Houston. "Nobody had worked harder than Elvin," says Pastorini, "but he had lost some of his enthusiasm for playing in a losing situation year after year. When you're losing, you wonder when it's going to end and where your career is headed."
Says Bethea, "It's hard to go out and play when you lack confidence that the offense is going to do anything with the ball when you get it for them. With Earl, the defense isn't constantly on the field. A thing like that makes a big difference."
The Oilers gave the ball to the Tyler Rose an average of 19 times a game in 1978, and he responded with an average gain of 4.8 yards and 13 touchdowns while fumbling only seven times. With a number of talented wide receivers—notably Ken Burrough, Rich Caster and Mike Renfro—the Oilers rarely threw to Campbell; he caught only 12 passes. But if Pastorini calls on him to run pass patterns this season, or to become a blocking back, or, for that matter, to wallpaper the Astrodome, no doubt Campbell will.
"Anything you ask him to do," says Phillips, clearly impressed, "he's going to do it. It's very important to have a player of Earl Campbell's caliber, but it's even more important to have him be the kind of kid he is."
One authority on the subject of running in the NFL believes it is an instinct for leadership that makes Campbell such a surpassing talent. "Earl's physical talents are considerable, of course," says O. J. Simpson, "but he has inspirational quality far beyond those talents. He provides a certain lift to a team; everything will be going along normally, then all of a sudden he takes over. I tell you, I'm inspired by his kind of performance."
Campbell's running style is markedly different from the way Simpson ran when he was in his prime, though the results are often the same. More often Campbell, who carries 225 pounds, is compared to the Cleveland Browns' superstar of 1957-65, Jim Brown. But Brown's old coach, Paul Brown, and Simpson both feel the comparison is not entirely apt. "Earl jukes as many as he runs over," Juice points out. "He's a true halfback, and Jim was a fullback. I was amazed how short Earl is. He sure looks bigger on the TV."
Paul Brown is right when he says Campbell will have to put together a string of outstanding seasons before he can be meaningfully compared with Jim Brown. "Brown didn't take an intense physical pounding for his yardage," says Paul Brown. "Campbell does it the physical way. He's not as good a pass receiver as Jim was, and I don't think he has the same straightaway speed. But Brown never liked the blocking aspects of football, and I think Campbell tries to do his part. The only thing you can question about Campbell is whether his style is the type that will allow him to have a long career."
There are a few incandescent moments in any great athlete's career when muscle seems more tightly joined to bone, and when his body crackles like a summer cloud with heat lightning. When one of those moments coincides with desperate necessity, it is advisable not to stand too near, for the brilliance can be blinding.
Last November, Campbell had just such a moment—really an entire game of such moments—on a Monday night in the Astrodome against Miami on national TV, churning through and around the Dolphins, as previously noted, for four touchdowns and 199 yards. Campbell can remember thinking after his third touchdown that he couldn't move anymore, that he was so exhausted his legs felt like concrete piles—the kind that hold bridges up. Late in the fourth period the Oilers were holding a 28-23 lead and facing second-and-long at their own 19. Pastorini could see that Campbell was breathing heavily, but when he knelt down in the huddle he called, almost automatically, "Pitch 28."
"Before Pastorini tossed me the ball," says Campbell, "I would have sworn I couldn't run anymore at all. Even after I was through the hole and I saw [running mate] Tim Wilson hit his man, I didn't think I could make it to the other end of the field. Then I saw pure sideline, and I decided to keep running until somebody knocked me down."
Nobody did. Campbell swept right end, his body leaning hard to the left, and then straightened and rumbled down the sideline 81 yards to the end zone, ensuring a 35-30 Oiler victory.
"He gave them what they had to have," acknowledges Miami's Shula. "He had some head-on collisions with our players and I think he won them all. We had some people get run over that don't get run over." Dolphin Linebacker Steve Towle, a friend of Campbell's, was similarly impressed. "When he sees his spot, he's into it before the hole can be filled," Towle says. "He had two tremendous games against the Dolphins in one season, and I can't recall anybody else I could say that about."
After the Monday night game, Campbell lay wide awake until nearly dawn, just as he does after every game. The buzz in his ears wouldn't go away, and the lightning in his body he had not used up was now flashing behind his eyes. "I usually lie there in bed, tossing and turning, until about 4 a.m.," Campbell says. "Most of the time I have flashbacks from the game, mental pictures in which I can see holes forming in front of me, and then see the defensive linemen fill them up as they charge at me. But I'm never scared. It's just like in the game, fear doesn't enter into it."
Earl Campbell put down a pool cue in his game room, and his face tried to break into a smile, but his lower lip was so full of snuff he couldn't. "Waylon says cowboys are like smoky old pool rooms," he said. "You clear 'em all out in the morning."
And with that, he began to sing in an affecting falsetto:
Cowboys ain't easy to love and they're harder to hold,
They'd rather give you a song than diamonds or gold....
Mamas don't let your babies grow up to be cowboys
'Cause they'll never stay home and they're always alone,
Even with someone they love.