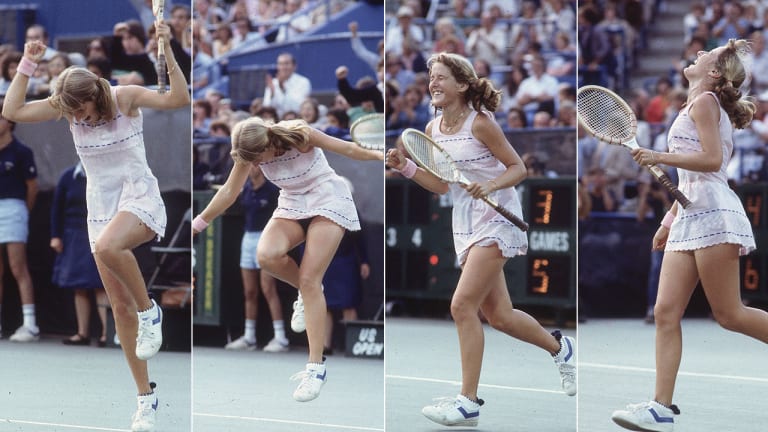 Publish date:
She Simply Couldn't Believe It
Magnificently fulfilling her boundless promise, Tracy Austin became a legend Sunday. By winning the women's title at the tender age of 16, she is now the youngest champion—male or female—in the history of the U.S. Open.
This was a title that Austin was destined to win, but even so, her 6-4, 6-3 triumph over a slimmed-down and fresh Chris Evert-Lloyd was startling not only because it came a trifle sooner than anyone expected, but also because it snapped Evert-Lloyd's Open championship streak at four and dashed any hopes she had of regaining the domination of women's tennis that she enjoyed as recently as last year.
The unrelenting and unflappable Austin was three months younger than Maureen Connolly was when she won in 1951. And, indeed, Austin is still a kid. After winning, she gave her bouquet of roses a couple of twirls and went off to telephone her friends and relatives. "I can't believe it," they all said. "I can't either," said Tracy.
For most of the tournament Evert-Lloyd played as if she again were indomitable. In the past few months she had dropped 15 pounds and regained her mobility, and as she raced through her opponents she looked every bit a champion. But on Sunday, Austin gritted her teeth and said, "Let's play tennis." Evert-Lloyd tried every gambit, and when there was nothing left to try, Austin knew that now and hereafter time is on her side.
Austin beat Evert-Lloyd by being steadier than the player who invented steadiness. "I wound up losing points that I thought I had won," Chris said later. "I think six months ago she wouldn't have gotten to a lot of those shots."
Evert-Lloyd was rocked by critical mistakes. In the first set she was up a break at 4-3 but blew a game point on her serve by missing an easy overhead. She went on to lose that game—and the set. Then, in the first game of the second set, she gave away a love-40 lead.
Few people actually gave Austin a chance; even Robert Landsdorp, her coach, rated her only "about a 40%" possibility and rashly promised Tracy that he'd give up smoking if she won. One of the first things Austin recalled in victory was that vow.
That it came down to Evert-Lloyd and her apparent clone, Austin, in the finals was not particularly surprising because the Open has been Chris' province for many years, while her chief rival, Martina Navratilova, considers the tournament her personal horror show. Navratilova has won Wimbledon twice and taken a string of other titles, but her 7-5, 7-5 loss to Austin on Saturday marked the third time in four years she had exited from the Open in the semis; the other time she was a first-round loser. The defeat certainly did nothing to enhance Navratilova's contention that she is the world's best woman player. In fact, considering Austin's Open performance, Martina may now be no better than No. 3.
For her part, Evert-Lloyd was devastating in her 6-1, 6-0 semifinal dismantling of Billie Jean King. Evert-Lloyd needed only 50 minutes—she won 48 of the final 63 points—to end another of the resolute 35-year-old King's comebacks following surgery. King has become something of an expert on rehabilitation; this time she was recovering from a heel operation she underwent last December, not to mention a sore neck she got the night before her match with Evert-Lloyd. But judging from the demoralizing result against Evert-Lloyd, it may have been age, not injury, that did King in. "She wasn't the old Billie Jean," said Evert-Lloyd. "She wasn't hyper. I could sense that she didn't have the old spirit."
Chris came into the tournament not only lighter and faster, but also full of beans. Small wonder. Her victory over King was her 17th straight match win since Navratilova beat her at Wimbledon. And that was hardly her most impressive streak. When 20-year-old Sherry Acker edged her 6-4 in the first set of a fourth-round match, it snapped a string of 46 straight sets without a loss in the Open. Evert-Lloyd went on to blast Acker 6-0, 6-2 in the next two sets, and her subsequent defeat of King raised her Open victory string to 31 matches.
On Saturday there were a few poignant moments in the players' lounge when Chris watched the day's play on television. Her companion was Jimmy Connors, whose aides-de-camp, Pancho Segura and Lornie Kuhle, moved away from the two and left them to visit quietly. Not too long ago they were kids. Now they were veterans getting ready to play two upstarts.
Evert-Lloyd's final-round opponent may only be 16, but hardly anyone in tennis regards Austin as a child nowadays. Her second-round opponent, Andrea Jaeger, who is only 14, even called her "an older woman." She is hardly that, although at 5'4" and 110 pounds Tracy is no longer a toddler.
Tracy faltered only once on her way to the finals. In her fourth-round match with 19-year-old Kathy Jordan she was within three points of defeat in a third-set tie-breaker but rallied to win. The rest of her preliminary matches were boringly easy, because no other opponent won more than three games. Even so, Landsdorp wasn't convinced she was hitting the ball well. Thus, when her match with Navratilova was moved from Friday to Saturday so it could be televised, Austin used the extra day to practice.
Had they bothered to look, the few travelers along Plum Beach Road in Sands Point, a community about 20 miles from Flushing Meadow, would have seen a young girl and a teaching professional engaged in a tennis lesson. It was Austin and Landsdorp. They worked out both in the morning and the afternoon at the home of Dick Zausner, the Austins' host during the tournament. Landsdorp drilled her on basics; "settling her down" he called it. After the sessions Landsdorp and Austin reviewed strategy. They agreed that in tight spots Navratilova likes to slice her serve wide, and Austin filed away that information.
Against Navratilova she started out tentatively. Austin had beaten Martina only four times in 15 tries, and never outdoors. In big tournaments this year—the Avon Championships and Wimbledon—Navratilova had won. Their Open match began with Austin double-faulting, and the first time she played a shot to Navratilova's forehand the ball came rocketing back with "sucker" written all over it.
However, when Austin looks across the net, she sees two opponents: whomever she is playing and history. She relishes the fact that she is the youngest ever to play at Wimbledon, and she was excited about snapping Evert-Lloyd's 125-match clay-court winning streak this summer. She also knows that Billie Jean was 23 years old before she won her first U.S. Open title, and Chris was 20.
Austin played from behind all day against Navratilova. Seven of 11 times Martina won the first point against Austin's serve, and overall she won the first point 15 times in 22 games. But though Austin usually trailed, she never looked as if she would lose. She kept mixing up her shots, not letting Navratilova find her tempo, and jumped into a 5-2 lead in the first set despite a rash of double faults.
Martina stubbornly squirmed back, deadlocking the set at 5-all, and was ahead love-40 in the next game and ready to march into the finals before she remembered where she was and kicked it away. Austin rallied to win her serve and then ran out the set with two consecutive winners: a backhand cross-court passing shot and a forehand down the line off Martina's serve.
The second set was a copy of the first in that Navratilova had her chances but Austin kept winning. At one point Tracy even aced Martina—on a powder-puff second serve that caught Navratilova out of position. Once again Martina pulled herself together, serving outright winners six times over a three-game stretch to draw even at 5-5, but Austin held service and then hit a series of excellent returns in the ensuing game for a love-40 lead and three match points. When Navratilova—now in an exceedingly tight spot—sliced her next serve, Austin was waiting. She stretched out and sent back a skimming shot that Navratilova half-volleyed wide.
Afterward Navratilova's eyes were glistening. But she soon cheered up. "At least I got farther than Bjorn Borg," she said. And when asked to pick the winner of Evert-Lloyd vs. Austin, she said, "If I bet, I might put $1,000 on Chris, and $999.99 on Tracy." Playing or predicting the Open just doesn't seem to be Martina's racket.
FOUR PHOTOS
WALTER IOOSS JR.
After her straight-set victory the delighted Tracy Austin danced and pranced her way to the net to greet the defeated Chris Evert-Lloyd, who failed in her attempt to win a fifth consecutive Open championship.