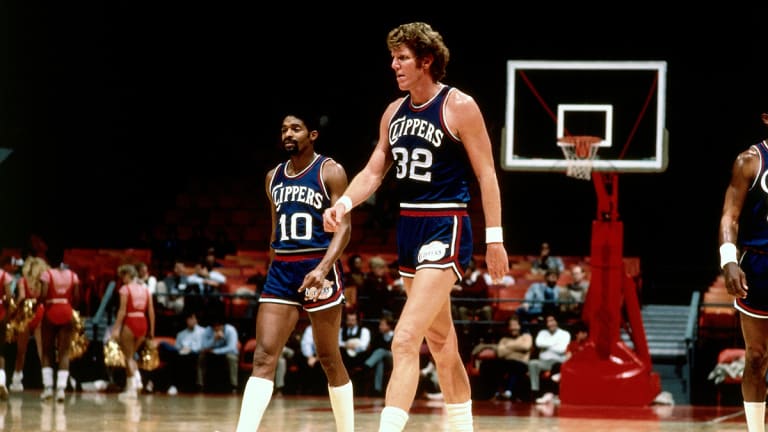 Climbing to the Top Again
Out for a year with injuries, a reflective, more temperate Bill Walton has changed the style—if not the substance—of his life as he starts anew in San Diego
At noon the sky is a brilliant blue, cracked wide open A and spilling all over the peaks of Yosemite National al Park. The pink-white glaciers and crystal tarns, the rushing streams and slag-gray rocks, the emerald brush and dusty trails are mere handservants to the sun, which is in command. And Bill Walton is walking up a mountain.
Check that. He is truckin' up a mountain which, as members of Walton's generation surely know, is quite something else again. Walton is gobbling up yardage like Earl Campbell in the open field, only this field is tilted upward at 60 degrees, and the goal line is way up there above 11,000 feet. His arms, spread like the wings of a giant albatross, flap gently below his russet-haired head. His legs, impossibly long and—although spindly toward the ankles—amazingly strong, eat up great chunks of mountainside with every stride. His feet, gnarled and scarred from the pounding of so many basketball games, feet that have been neglected, inspected and injected, are now resurrected.
Walton is wearing a T shirt that boldly screams OREGON DEAD on the back. It says so much: that a part of Walton's life—four sometimes happy, sometimes miserable years of living and playing basketball in Portland, Ore.—is dead; and that the wearer of the shirt is part of a legion of young Americans that worships and lives by the funky messages of laid-back, California-style life as preached by the Grateful Dead, the original acid-rock band, a vestige of the '60s counterculture that has made it intact almost to the '80s. So, it would seem, has Walton.
Three hours up this mountain, yet it is not work for him; nor would it be for anyone traveling with him. The companion would be pulled along like a smiling water skier on the enormously powerful tendrils of energy that constantly trail Walton. The companion would quickly come to understand why, when Walton is healthy, he is the greatest basketball player alive.
Spend several days with Walton as he is running, no, truckin' through his world—playing Frisbee on soft green lawns, buying elegant suits in Beverly Hills, appearing on TV shows, body-surfing in San Diego, playing basketball, doing stand-up comedy at rubber-chicken Rotary luncheons, participating in family sing-alongs, taking grueling bike rides—all of it punctuated by the sounds of the Grateful Dead, and you will begin to understand his energy. And now, truckin' up a mountain in the High Sierras, you almost know what is going through his head. Here it comes now...
Truckin' got my chips cashed in
Keep truckin', like the doo-dah man
Together, more or less in line
Just keep truckin' 'on....
One or another Grateful Dead tune is always running through his head, even when he is triggering fast breaks. Though most of the lyrics seem to have been written just for him, Walton says, "They're for everybody," which is true—at least for the half million "Deadheads" who fully understand the hedonistic messages of the band.
As he hikes, images flicker from Walton's 26 years:
A long, skinny, redheaded kid growing up in a strong Catholic middle-class home in the San Diego suburb of La Mesa. Lots of family activity—music, games, church, books, trips to the mountains, lively discussions. None of the kids—Bill, Bruce, Andy or Cathy—are ever stifled. Ted, a county welfare official, and Gloria, a librarian, encourage their children in their every opinion. But sports are where the kids are headed. At age eight Bill tries basketball, makes his first hoop on his very first shot—a heave from midcourt—and soon he is really playing. Watching, questioning, studying, learning, practicing. Ted drives him to games all over the area, including ones around the San Diego naval base, where he begins to learn of elbows and broken noses, cracked teeth and bloody lips. At age 14 he is 6'1"; over the ensuing summer he grows to 6'7" and becomes the 160-pound "Spider Walton" who leads Helix High to 49 straight wins and two district championships. Soon he is 6'11", off to UCLA and those 88 straight victories, two NCAA championships, three College Player of the Year awards.
But suddenly there is all that other stuff, personal things that are getting as much ink and notice as his basketball. The antiwar, anti-Nixon politics. The arrest for protesting the mining of Haiphong Harbor. The long hair, the bike, the strange food he eats, the company he keeps. If one believes the talk, the marijuana he smokes. But, hey, the guy can play basketball.
Then he signs with Portland for big money. What happened to all the socialist talk? And, ugh, the clothes and the hair are worse. And the things he says. Just because he is a vegetarian, does he have to say that his teammates disgust him because they eat "decayed animal flesh"? And what happened to the basketball? He keeps coming up with all sorts of injuries and bone spurs. Some Portland people call them "brain spurs." And he refuses to do what other players do when they are hurting—play anyway. And Jack Scott, the feared "sports activist," moves right into Walton's house, fills his head with more radical ideas, and soon Walton is being hounded all across the country by the FBI because Scott allegedly is hiding Patty Hearst and her Symbionese Liberation Army kidnappers.
The basketball? Even when he does play, the Trail Blazers are awful for two seasons. But that changes in 1976-77 as Walton, quite spectacularly, again becomes the best player on his level, which now happens to be the NBA. The Trail Blazers blow all comers out of the water, and they are even better the next year until Walton goes down with another injury. The team founders, and Walton makes a desperate attempt to play in the playoffs, only to get hurt again. Broken foot.
A volcano erupts. Walton says that the Trail Blazers pressured him into taking painkilling injections, ignoring the risk of serious injury to him, and demands to be traded. The Trail Blazer management becomes apoplectic, while Walton's injury is so serious he spends seven months in a cast, sees virtually all musculature in his left foot disappear and misses the entire 1978-79 season.
Last spring he signs with a new team, his hometown San Diego Clippers. In the summer more operations—bone spurs are removed from both ankles. And now, one month away from the beginning of training camp, Walton is truck-in' up a mountain.
Truckin', I'm a going home
Whoa whoa baby back where I belong
Back home, sit down and patch my bones
And get back truckin' on.
Everything is perfect now for Walton. He's back in California with his family and the mountains. But more than anything, it is the anticipation of playing basketball again that lights up his face so that it matches the color of his hair. "I love it," he says over and over and over. And to that emphatic statement he adds his slightly goofy but infectious "uh-huh-huh" laugh, as though he is sure you do not believe him. He has probably proclaimed his love for basketball more times than he has for any member of his family. And there's none of this "five more years" stuff. Walton would like to play forever—and still many people think that he is only in it for the money. It is not hard to figure why so many people have been unable to understand Walton for so long.
He has had just as much trouble understanding them.
Busted down on Bourbon Street
Set up, like a bowling pin
Knocked down, it gets to wearin' thin
They just won't let you be....
There are only 10 more steps to the top now, and when Walton finally gets there, his energy explodes. There is a fire on the mountain. On the left is a razor-sharp peak covered by a glacier, with a shimmering tarn—its water deep, clear, cold and delicious—beneath it. On the right is a huge flat rock—stage-sized—with a meadow just in front of it. Walton's beaming smile manifests his contentment.
"A nice place for a concert," he says.
Walton, who has flown to Egypt to attend a Grateful Dead concert at the base of the Great Pyramid during a lunar eclipse, points to the flat rock. "There's the band," he says, allowing his imagination to roam. "And they're already playing." His arms go out as if he's conducting, and the steady electric blues beat takes over.
Truckin'
The song plays through, though Walton doesn't make a sound—until it comes time for the chorus, which he chooses to sing out loud, along with the imaginary band:
Sometimes the light's all shining on me
Other times I can barely see
Lately it occurs to me
What a long, strange trip it's been...
This week spent with Walton is that long, strange trip in microcosm. It begins where it should, at UCLA, where Walton will appear at an All-Star game for the benefit of the Soulville Foundation, a charity for underprivileged children in Los Angeles. The afternoon before the game, there is an invitation-only cookout in the lush UCLA Sculpture Garden, a chance for beautiful people to be seen in their California cookout finery, eat hot dogs and ribs and meet pro basketball players such as Swen Nater, Gus Williams, Paul Westphal, Marques Johnson, Dennis Johnson, Magic Johnson...and Bill Walton. Most of the chitchat is about Walton, who has not yet arrived. "Is he healthy?" "Can he play?" "Is he really wearing suits?"
Nater, who was Walton's substitute in college and is his teammate in San Diego, puts worriers to rest. "Bill's all right," he says. "He'll make a real fine backup for me."
Soon there is a commotion. Walton arrives, dressed in cutoffs, T shirt and sandals—the uniform he made infamous during his undergraduate days—along with his wife, Susan. Walton is carrying their two sons, 3-year-old Adam and 1-year-old Nathan, and a blue Frisbee. He makes his way through the crowd with a few "hellos" and perfunctory handshakes, telling everyone "the foot feels fine." He spots a friend and wings the Frisbee. The crowd clumsily parts to make room for his high-energy game. Children flock around him, wanting to play. "You can play," Walton tells them, "if you play with your own Frisbee." Later he says, "One thing I've learned is not to let other people spoil my fun."
After an hour the Waltons leave and go to a natural-foods restaurant in Westwood, because Bill has become disgusted by the hog-dog eaters. Susan says, "Oh, Bill. When I first met you you used to eat hot dogs for breakfast!"
The Waltons will drive back to San Diego following the game, but after lunch Bill registers at a hotel for the sole purpose of changing into a checked three-piece suit. "Two years ago I showed up at this game in rags and I never heard the end of it," he says. He does not play, but sits next to Coach Lenny Wilkens on the bench, sings The Star-Spangled Banner sotto voce, smiles for photographers and grants interviews freely. People buzz about "the new Bill Walton," and Walton clearly loves it. A friend points to banners hanging from the Pauley Pavilion ceiling commemorating the NCAA championships won in two of Walton's years at UCLA, 1972 and 1973. "No 1974," says the friend. "Embarrassing," says Walton.
The next morning Walton returns to Los Angeles for a whirlwind day. He is chauffeured around town in a stretch limo, his appointments clicked off by Hal Kolker, once the personal representative of rock star Neil Diamond, now the Clippers' vice-president in charge of marketing and promotion. The first stop is a visit with Dr. Tony Daly, Walton's orthopedic surgeon, and Dr. Ernie Vandeweghe, pediatrician, former Colgate and New York Knicks star and longtime friend of Walton's.
Walton is up on Daly's examining table, telling the surgeon that his left foot, the one that caused him the worst misery of his life, is "feeling great." Daly presses down mightily on the foot and asks Walton to lift it. Walton practically picks Daly off the floor.
"That's fantastic!" shouts Daly. "Two months ago you couldn't lift that foot at all." Walton is grinning like a kid who has brought home straight A's. Daly explains that because of the bone spurs that developed at the points where the ankles join the feet, Walton had been unable to flex his feet properly. Thus, he had been "playing on his toes" almost from the time he first joined the Trail Blazers in 1974. "He would jump off his toes and land on his toes, straining the muscles, tendons and bones in his feet, causing himself almost constant pain," says Daly. Daly believes that it was because of the increasing severity of the pain that Walton reluctantly agreed to be injected with the painkiller Xylocaine before the Portland-Seattle playoff game on April 21, 1978. With the feeling in his feet deadened, Walton had no way of knowing that he was placing too much stress on them; as a consequence, Daly believes, the tarsal navicular bone in his left foot fractured. This July, Daly removed the bone spurs, freeing Walton's feet to move up and down as they should.
Since then Walton has been training prodigiously—doing calisthenics, lifting weights, stretching, running, riding his bicycle 50 to 60 miles a day and playing full-court basketball. "It's like I'm playing a whole new way," Walton tells Daly. "I can jump better, and my feet don't hurt."
Vandeweghe, who negotiated Walton's San Diego contract and has spent the summer helping to counsel Walton—as much as that is possible—so that he can become a more palatable, likable, marketable person, says, "I was sick to my stomach the first time I saw that foot. It was atrophied, with hardly any bone mass. It looked like a 6-year-old's foot. Now it's probably as strong as ever."
With the glowing medical report in, Kolker whisks Walton off to his next stop, Eric Ross & Co., one of Beverly Hills' swankest clothing stores. Kolker fancies himself a hip tutor, bent on introducing Walton to all the "right stuff" for his immersion into the beautiful millionaire jock society. As Kolker points out where this star buys underwear and that one buys bagels, Walton continually needles him. "Hal's Disneyland," he calls the trip.
"You could learn to love it, Bill," says Kolker.
"I like San Diego, Hal. And basketball, the mountains and the Grateful Dead."
With Walton's arrival, the clothing store whirs. Under the direction of owner Ronn Teitelbaum, tailors and clerks swarm over Walton. "Twenty minutes," says Kolker, as though he has a Saudi prince in tow.
Head tailor David Lenga mounts a stepladder in order to fit Walton for four three-piece suits, four sport coats with slacks, several pairs of jeans and an overcoat. "Nothing too trendy," says Teitelbaum, "but definitely in style." Total price: nearly $10,000. Customers gape at the sight of the tailor with tape measure climbing over Walton like a Lilliputian binding Gulliver.
Back in the limo, Walton says, "I like nice clothes."
"Fourteen-hundred-dollar suits?"
"If I'm going to go out and talk to people, I might as well look good. Maybe I didn't care so much about that before. But...people change."
Next stop: the famous DiFabrizio Bottega, where Walton is having shoes made A mold of his foot—size 17—will join those of Frank Sinatra, Cher, Barbra Streisand, Wilt Chamberlain et al. displayed on DiFabrizio's wall. "Great shoes," says Walton. "New size for me."
"You mean your foot has grown?" says a puzzled DiFabrizio.
"No. I used to wear 17, but at UCLA my feet started sliding in my basketball shoes, so I went down to 15. My toes were all curled up, but I didn't slide."
"Didn't they hurt?"
"Sure. But I thought everybody's feet hurt."
Then it's over to the NBC studios in Burbank, where Walton is taping—will his radical, flag-eating friends from the old days believe this?—The Hollywood Squares. Backstage, Walton is greeted by the outstretched hand and pancaked face of Peter Marshall, the show's host. "Hiya, Bill! So glad to have you. Hope you have a lot of fun with us here on The Hollywood Squares."
Walton shakes hands and smiles thinly. A moment later he turns to Kolker and says, "Who is that guy?"
The questions asked in the game are written specially for each "star." In Walton's case, they aim straight for the stereotyped themes that have been hung on him by the press and public for years, and each one evokes the hoped-for giggles from the garden-club and tea-group ladies in the studio audience. For instance: "True or false. The late, great anthropologist Louis Leakey once stated that one of the reasons that mankind survived down through the ages was that he smelled so bad that other animals did not want to eat him." (Walton correctly answers true.) And "Hippocrates had a favorite medicine, Bill, that he prescribed more than anything else. You probably have it in your kitchen cupboard, or your refrigerator. What is it?" (Walton says mustard; the right answer is honey.) And "True or false. In Shakespeare's England, the average guy took a bath once a year." (Walton correctly replies true.)
Walton plays along gamely, but after the show he says, "Hey, that was terrible!"
The long day is finally over, but as Walton heads to the airport for the flight back to San Diego, Kolker starts talking about the big promotions he has in mind for the Clippers this year, including a Grateful Dead concert hosted by Walton, appearances by the famed San Diego Chicken and a cheerleading squad, the Clippers' Skippers, culled from among San Diego's finest examples of feminine pulchritude. "You can be one of the judges, Bill," he says.
"I'll just play basketball, Hal," says Walton. "I'm not a gimmick guy. Cheerleaders and chickens aren't my style."
The Waltons' new home on the north end of Balboa Park, a few blocks from the San Diego Zoo, is what a man with a new seven-year $7 million contract might be expected to own, and contrasts radically with the scruffy farmhouse and rundown apartment in downtown Portland where the Waltons used to live. It is a sprawling French-style house—seven bedrooms, seven baths, swimming pool, tennis court, spacious backyard—perfect for an expanding family, which the Waltons are; their third child is due in March. The rooms are done in earth tones, and the furniture consists mostly of huge pillows strewn about on warm, Indian-style rugs. There are walls full of books—every book from every college course Bill and Susan ever took, medical books, books on philosophy, religion and nutrition, plus countless other volumes. There are daguerreotypes of American Indians, a photograph of Malcolm X and a few Grateful Dead posters. With the exception of several shots of Bill in action, there is no clue that a star athlete lives here.
The house is wide open to friends and family members, who are free to show up, bed down in an empty room and stay a couple of days, helping themselves from the refrigerator and playing with the Waltons, who are always into one game or another. At meals, everyone at table joins hands as they say grace—the prayer is nothing exotic; just a standard thanksgiving to God for the blessings of the table and the day and a few requests that He watch out for the well-being of the diners. Susan, a funny, dynamic, auburn-haired pure-California lady, serves up bowls of salads, rice, beans, pasta, quiches and vegetables. Bill's portions are 2½ times larger than those of all other normal-sized males, and he washes his food down with lots of beer.
Bill and Susan have been together since they met while attending UCLA seven years ago; they were married last February. Their premarital arrangement didn't upset their families, but they did try to make it official in Portland four years ago. "It was real crazy," says Susan. "All the parents and friends were over for dinner, people were passing joints back and forth across the table, and Jack Scott got real rambunctious. This was during the Patty Hearst stuff. Some DJ had written a song about her, and Bill's name was in it. Jack insisted on playing the record. That night Bill came down with tonsillitis and I had terrible stomach pains, and when we woke up in the morning. Bill said, 'Hey, I don't think we should get married.' I said, 'I don't either,' and we called the whole thing off."
At noon the next day, Walton is the featured speaker at a luncheon meeting of the Escondido Rotary Club, and the room is full. Once again decked out in a natty three-piecer, Walton could have been president of the local Jaycees or the Young Republicans, glad-handing, howdying and joking with all the Bobs, Jims and Harolds, the captains of the middle-class American business world. After watching Walton, who towered over the rest of the men on the dais, pledge allegiance to the flag and sing America the Beautiful, almost all the Rotarians remark in some fashion or another how good it is to see Bill "straightened out."
Taking the microphone, Walton is as smooth as a Vegas comic. He is Don Rickles as he barbs a couple of Clipper teammates in attendance, Johnny Carson as he delivers a few subtle double entendres and some harmless bathroom humor. He pokes fun at himself—"Portland wanted to trade me for Euell Gibbons and a case of carrot juice. That would be about right. Euell Gibbons and I played the same number of games last year"—and when the club president orders all members with beards to pay a dollar fine in honor of their guest, Walton quips, "Why don't you fine everyone without beards?"
He works the audience with practiced skill, although he had never made a speech of this kind before last November. He tells them lots of good, inside basketball stuff and a terrific story about how the Philadelphia 76ers tried to get him to quit school after his junior year at UCLA and sign with them in 1973. Walton had been having trouble sleeping in his tiny bed in the motel where the Bruins were staying before the NCAA championship game in St. Louis, so he arranged to switch hotels with Athletic Director J. D. Morgan, and after some confusion ended up in the Presidential Suite of the elegant Chase-Park Plaza. "It had three floors, telephones and televisions everywhere and a bed big enough for six," Walton said. "Well, we played a pretty good game of basketball to beat Memphis State. I took 22 shots, made 21 baskets and scored 44 points, and afterward everyone was coming back to the suite for a party. Now I'm the first one there, and I hear a knock at the door and there's Gene Shue and Irv Kosloff, the coach and owner of the 76ers. They walk in and look at this room and they don't know what I'm doing in there. Gene Shue says, 'Bill, we want you to come play for the 76ers. We're willing to pay you lots of money.' I look at them and I look around the room and I say, 'You've got to be kidding! How could you folks possibly do anything better than this? This is the way UCLA takes care of me, and I'm definitely going to stay!' So, they agreed and left, and then all my buddies came and we partied two or three days straight and had a great time!"
The Rotarians howl and applaud. Indeed, Walton's performance is so well received that he is able to slip into a pro-environmentalist, antinuclear-energy rap and out again so deftly that no one in the audience has time or reason to register so much as a snicker or a scowl. Later, one Rotarian who has followed Walton since Walton's high school days, says, "If anyone ever told me there'd be a day when I would enjoy listening to Bill Walton for an hour, I would have said he was nuts. But I'll be darned. The guy is terrific."
That night Walton is on the basketball court at a San Diego high school, along with several other present and former Clippers, Nater, Kevin Kunnert, Kermit Washington and Freeman Williams; Paul Westphal and Joel Kramer of the Phoenix Suns, who are summering in San Diego; Walton's friend and Ernie's son, Kiki Vandeweghe, who plays at UCLA; and some local players. While Walton jogs up and down the court, jumps rope, stretches out, everybody else shoots around, waiting for him to get ready. Then play begins, and Walton is devastating: running, jumping, passing, blocking shots, scoring, as though he had never been away. During one stretch he hits 10 or 11 baseline jumpers in a row. And after twice swapping players for weaker ones to even up the competition, Walton's team still wins every game. "You know what I'd say?" says Westphal. "I'd say we can stop waiting for Bill to get ready."
At 4 a.m. the next day it is off for Yosemite. It is the first real backpacking trip Walton has made since his first son was born, and he is, as he often used to say, "pumped."
Getting there involves an airplane ride and a 20-mile hitchhike, and Walton is joyous in his freedom. Cars pass by for a quarter of an hour before one finally stops—some kind of a vehicle designed for midgets. "Turn it down, are you kidding?" says Walton. "When I was 19 I hitched a ride in the back seat of a Volkswagen with two packs and a crate of tomatoes across my lap. For 300 miles! It was great!"
By dusk he is nine miles into the back-country and exhausted from walking, and after a plunge into an icy lake and a dinner of freeze-dried macaroni laced with chili sauce and hot coffee, Walton unrolls himself by the campfire.
"This thing about my changing..."he says. "I don't think I've changed as much as I've grown. Oh, I've changed in some ways, but everyone changes as they grow older and do different things. Because everything I said and did when I was younger was so scrutinized and chiseled in marble, now that I'm presenting myself differently, people think I'm a different person. No...you know, I have a wife and two kids now, and a third on the way. I can't be as selfish as I once might have been.
"At UCLA, one of the most difficult things was that I wasn't comfortable being a basketball star, not off the court, anyway. I wasn't used to having reporters following me around, and I wasn't ready for it. I just wanted to be a college student, spending my free time doing what my friends were doing, not talking to a lot of people I didn't know. I thought that was perfectly logical, but most people thought it was weird.
"Because I was a basketball star and not just another college student in the '70s, I was very weird. And very lonely. I didn't have a lot of friends. There were times when I had none. I used to walk to games wearing a T shirt and sandals, and people thought that was weird. I lived a half mile from Pauley so I walked, and people used to yell at me and say I was crazy. I really took it personally that people didn't like me. So I started riding my bike, because that was the only way I could get around without people stopping me, and they thought, 'Wow, that guy is weird!' "
The early '70s were bitter, divisive and passionate times, and like thousands of college students everywhere, Bill Walton was committed to stopping the Vietnam War, getting rid of Richard Nixon and exposing the abuses of the FBI. And when things finally began to heal, the protesters found places to live and work inside the patched-up society—in the law, the arts, business, politics. But it has taken until now, until he has put on a three-piece suit and started speaking to Rotary Clubs, for Bill Walton to be accepted.
"Athletes are always advised not to make waves," Walton says, "not to call attention to themselves in unpopular situations. I had been taught by my parents to be honest, and I always make a conscious effort not to separate one part of my life from another." Thus, when Walton was arrested for occupying the UCLA administration building along with 51 other students in 1972, he was the one who made the six o'clock news. He was the one whom Los Angeles Mayor Sam Yorty labeled "a Communist dupe." And when he said things like, "No man should be allowed to be President after he's 35," and, "If a black man gunned me down right now I'd figure it was all right because of what whites have done to blacks," the quotes were trumpeted in newspapers all across the country. Never mind that they were spoken by a 20-year-old sophomore, this was an All-America speaking, and the country had a right to know.
Early in his senior season certain aspects of Walton's life clashed with those of his superconservative coach, John Wooden. They had nothing to do with basketball. Walton's vegetarian diet, his resistance to Wooden's strictures about haircuts, the fact that he was living with Susan, things he did in the privacy of his home, brought about a confrontation. Wooden felt that Walton was being led astray by one of his teammates.
"I always felt that you couldn't have a better person than Bill as far as practice and playing games were concerned," Wooden says. "But those were years of rebellion for him. I felt, unfortunately, that away from the basketball court he was more of a follower, while on the court he was definitely a leader."
Shortly after the confrontation, Greg Lee, the point guard who had passed to Walton for 14 assists in Walton's magnificent 21-for-22 NCAA championship game the previous spring, was benched for most of the 1973-74 season. To be sure, Walton nonetheless went on to become the College Player of the Year for the third straight time, but his disaffection for "the Establishment" grew even greater. Further, it was probably no coincidence that the Bruins' winning streak, which had reached 88 games, was broken that season, and that UCLA lost four games, including the NCAA semifinal game to North Carolina State. Walton insists that the wounds of that season have healed. He says he loves John Wooden and owes him much. And he has used his influence to get Lee, who has played pro ball in Germany, a contract with the Clippers.
Early the next morning Walton is hiking again, loving the sky and the sun and the mountains. "I grew up here in Yosemite," he says as he stops to munch some fruit. "Every summer my dad would bring us up here for a couple of weeks. I can't wait until Adam and Nathan are big enough so I can take them." An occasional hiker passes. Some of them are oblivious, off on their own trips; others ogle the biggest human they have ever seen. Some stop and squeal, "Hey, I know you. You're Walton! How's the knees? How's the team? How about an autograph for my kid?" Walton handles the intrusions with aplomb.
At the top of Donohue Pass, 11,056 feet above sea level, a dude comes floating along with a beard and long hair and purple Coke-bottle shades. He floats right by with a nod, sees Walton's Grateful Dead shirt and mutters, "Hey, how's the band?"
A Deadhead!
Walton nearly falls off his rock. "Grrreat!" he says, just like Tony the Tiger. A while later Walton catches up to the guy—his name is Dave—and stops to chat. "I think I've seen you before," Dave says to Walton.
"Probably at a Grateful Dead concert," says Walton.
"Yeah. I guess so," says Dave.
Fruit is shared, and the two talk the language of the Dead.
"I know I've seen you," says Dave.
"At a Grateful Dead concert, I'm telling you," says Walton, playing Dave to the hilt.
Dave snaps his fingers. "Were you at the concert in Pauley the day before New Year's?"
"Yep."
"Were you one of the guys dancing around on the stage when that Egyptian guy was singing?"
"Yep."
"That's where I saw you!" says Dave, satisfied.
Shortly afterward, Walton picks his way down a precipitous mountainside so narrow and strewn with loose rocks and boulders that three Japanese hikers—a man and two women—at the bottom have to wait for him and Dave to get down before they can go up. They stare at Walton. "Does your size help you?" one of the women says politely.
Walton pulls himself up as tall as he can get, breaks into a huge grin, and says with a most definitive nod, "Yes."
Walton walks on, laughing. "What do you do when you're not walking up mountains?" he asks Dave.
"Well," says Dave, "on September 15 I have to go back to Santa Cruz and become a college student."
"I know how it is," says Walton. "On September 14 I have to go back to San Diego and become a professional basketball player."
"You're not...no...hey, you're not...?"
"Yep."
Walton makes camp along the Lyell River, about 25 miles from Yosemite Valley, his destination. He slings his food in a sleeping-bag sack over a high tree limb to protect it from bears, which he has heard, but does not quite believe, are around.
"Hey, what happened to your foot in Portland, anyway?" Dave asks Bill.
"You name it," says Bill with a big laugh.
"Oh. You know I was in Portland last year when the Blazers were going to training camp, and The Oregonian ran a picture of you playing the drums in Egypt with the Dead."
Walton laughs some more. "Yeah. They didn't much like me up in Portland then. But, hey, I did what I could. I was in a cast. What could I have done in camp? Pass out the aspirins?"
"Let me ask you. If what happened with your foot hadn't happened...?"
"I'd still be in Portland."
"It wasn't the money?"
"It's never been a matter of money. You know the Grateful Dead line, We used to play for silver, now we play for life? I play for my life. I'd play every minute I could even if there was no money at all. I enjoy the money, but mostly what I enjoy is getting out there in a gym with a few basketball players, some shoes, balls, rims...it's grrreat! There's nothing I'd rather do. Especially now, because for a year and a half I was forced not to. That was the first time since I was eight that I laid out that long. It was terrible. Before I got to Portland I was never really injured. My rookie year I was leading the league in blocked shots and shooting 51% after 17 games, when my foot went out. My doctor said it was bone spurs. But the Trail Blazer doctor said, 'Here. Take these pills and shots and you'll be fine.' "
Walton laughs. He often laughs when recalling these memories, like a whistler in a graveyard.
"I didn't think so, so I refused. Boy, they didn't like that. The next year I was playing pretty well, until I came up with a sore leg one game and took the first shot of my life in order to play. An important date, February 8, 1976."
"Why did you decide to take the shot?" asks Dave.
"Hey," says Walton with another laugh. "Knocked down gets to wearin' thin."
The camping party is zippered up tight in sleeping bags and the thermometer reads 17° at midnight. Then come sounds of breaking tree limbs, heavy breathing, scratching and grunts. Walton and Dave are asleep, so it can't be either of them. "We got some bears after our food!" comes the shout.
"Hey, Dave," Bill yells. "Bears!"
"Uh-oh," says Dave.
And nobody moves. Or sleeps. For hours.
In the morning, the food sack is found ripped in two, and everything is gone but the powdered milk—"I didn't like that stuff anyway," says Walton. Even a plastic bottle of suntan oil, pierced by two nasty teeth, has been drained. So the trip is abandoned early, and Walton and his companions set out toward the Tuolumne Meadows ranger station, looking for a fat bear getting a suntan.
In between there are a few stops and more talk. Walton is fighting actively against nuclear energy and thinks that "all the nuclear waste should be dumped in Richard Nixon's front yard." He likes California Governor Jerry Brown and would like to see him run for President. Walton also is very concerned about human rights and world hunger. His solution is to break up the industrial oligarchies and put business in the hands of the enterprising, caring little guys, which, millionaire though he is, he insists include himself. He makes a joke about being a "born-again capitalist" and pulls from his pack a bottle of Bill Walton's Wonder Bee Pollen, which the bear missed, because Walton had cached it in his pack the night before. Packaged by Earth Mother Corp., of which Walton is part owner, its label shows Bill playing basketball with a huge American flag behind him, and includes his signed endorsement: "...not only is it good for me, it's good for everyone."
The "born-again capitalist" remark and Walton's new reverence for the flag have been used in newspaper articles to neatly explain his transformation—the speeches, the suits, the squeaky-clean image. "Doesn't it offend you," he is asked, "that these symbols are what is important, more important than who you really are?"
"Why?" he says. "I got tired having people thinking I'm weird. In Portland, because I had long hair I was weird. Because I liked to be outside I was weird. Because I liked the Grateful Dead I was weird. Because I had friends living in my house I was weird."
"When you won the NBA championship you weren't so weird."
"Yes I was. But I was tolerated. When I decided I had to quit the Trail Blazers I was very weird. That's why it's so great to be in California. Here I'm normal" Walton laughs and laughs.
"This is the thing. That year and a half that I couldn't play basketball I did a lot of thinking. I realized that life is much more enjoyable if people like you, and that you don't have to compromise your values to have that. Take the Rotary Club. The Pledge of Allegiance, singing America the Beautiful, wearing a suit, those are rituals. The Grateful Dead has rituals, too. The important thing isn't the rituals, it's the communication that follows. The important thing is for me to get up there and talk to those people. It's foolish to get into arguments over idiotic issues like the Pledge of Allegiance, the clothes I wear, the food I eat. Those are all personal things. What's important is to talk to people. You're never going to influence people by telling them they're foolish. The best way is to tell them they're great. Why haggle over labels—remember, I've never been a gimmick guy—when all you want to do is get your message across? And it's much easier to get your message across if people think you're just like them."
The rest of the hike is quiet. The temperature is 96°. Walton waves off an offer of water. "Right now I'm just thinking beer," he says. "I want to get so thirsty I can't even talk."
When he finally reaches civilization he is slightly down. But he hits the first store for a case of beer and finds a lake beside which to drink it all. The glow comes back, and things could not be more perfect for Walton. He is excited about being with the Clippers—with the extraordinary shooter Lloyd Free and with his old friend Greg Lee and with Gene Shue, the coach who tried to coax him out of the Presidential Suite in St. Louis.
But he knows there still remains a matter to be cleared up: just how much flesh Commissioner Larry O'Brien will extract from the Clippers as compensation to make his old team, the Trail Blazers, "whole."
"Randy Smith and Swen Nater," Walton says. "The commissioner's a smart man. He knows what the Trail Blazers did. He won't ruin the Clippers to help Portland, will he? Randy we could lose because we have plenty of guards, and Swen is dangerous for me to practice against. The one guy we can't lose is Kermit Washington. He's great! Stronger, maybe better, than Maurice Lucas."
Weeks later Walton would describe the sick feeling he got on the fourth morning of training camp when Assistant Coach Bob Weiss kept popping out to call players into Shue's office: Smith, Kevin Kunnert, Washington. "Everybody knew what was happening," said Walton. "They didn't know when or if Weiss would ever stop calling names. I felt terrible. Couldn't look at anyone. These guys were being run out of town because I signed a contract to play with them." The end result: Kunnert, a backup center, and Washington, the irreplaceable, were sent to Portland, along with two first-round draft choices. Smith was traded to Cleveland to replace one of those lost draft picks. "Yesterday we were a great team," says Walton. "Today we are just a good one. It's ridiculous. I work all my life to be a great player and play on a great team, and now the commissioner takes that right away. It's the same thing all over again. The Trail Blazers are not the bad guys. They're the good guys. I'm the bad guy."
Which in the eyes of some is what Walton's been all along because they couldn't stomach his association with Jack Scott ("He was a very close friend and he helped me a lot"); the Patty Hearst connection ("I never met her in my life"): and the day in 1975 that he called on the people of the world to "stand with us in our rejection of the United States government."
"Regretting something is not productive," says Walton of his past. "Just as pointless as trying to convince yourself that the person in an old photograph is not you. Obviously, at those times I believed in what I was doing, or I would not have done them."
The one thing he does regret, agonizes over, whether he laughs about it or not, is his decision to take those needles in Portland. "I acted foolishly a year and a half ago," he says. "I made the mistake of believing my friends [Bob Cook, the doctor, and Jack Ramsay, the coach] when they told me it wouldn't be wrong. There is an amazing scene in the film North Dallas Forty. The team lost by a point and in the locker room the players are all blown away. An assistant coach—this jerk—is trying to hurry everyone along, and a huge lineman just freaks, yelling over and over, 'Whenever you call it a business I call it a game! Whenever I call it a business you call it a game!' An incredible speech. And you know, it's really difficult for an athlete to tell the difference between the business and the game. I missed it. Now, theoretically, I've learned my lesson."
"Do you ever think about getting hurt again?" he is asked.
"Never think about getting hurt. I know it's going to happen. I just hope that when it does, I'll have the personal courage to decide for myself whether or not I can play."
Unfortunately, the inevitable injury would not wait. Three games into the exhibition season, Walton's left foot became too sore for him to play. "Too much too soon," he said.
"It will be all right, I know it will," he added, as if wishing would make it so. He has gone through the injury routine enough times by now to know that a lame foot cannot stop his life. And he turns, as usual, to the Grateful Dead for the lesson:
No one's noticed but the band's all packed and gone
Was it ever here at all?
But they keep on dancin'...