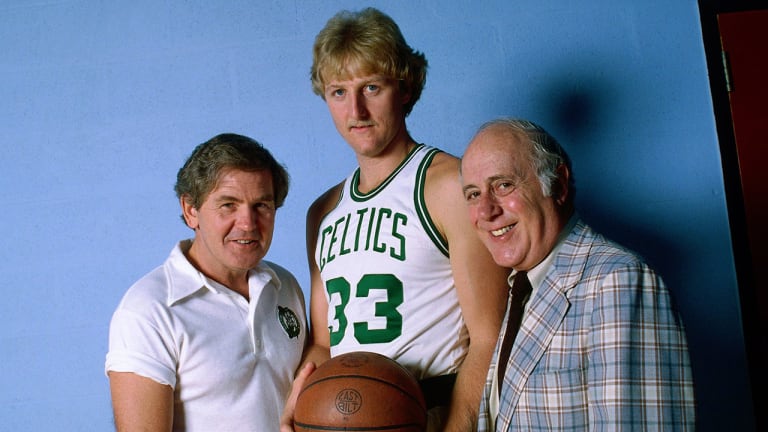 Two For the Show
The Celtics' Larry Bird and Lakers' Magic Johnson have the hottest hands to hit the beleaguered NBA in a long time
Larry Bird, the Designated Savior of professional basketball, was being driven back to Boston following a recent visit to the sport's Hall of Fame in Springfield, Mass. Agent Bob Woolf, who negotiated Bird's five-year contract with the Celtics—at $650,000 per, plus an estimated $325,000 signing bonus—was at the wheel of the gray Cadillac Fleetwood. Bird's contract is the most lucrative ever for an NBA rookie; indeed, only veterans David Thompson in Denver, Bill Walton in San Diego, Moses Malone in Houston and Artis Gilmore in Chicago make as much or more. Woolf glanced over at the $3.6 million man and said, "All I can say is you'd better be good."
"I'll knock 'em dead," replied Bird.
"But what if you don't?"
"Then everybody will say, 'Gee, I don't know what could have happened to him. He sure was good in college.' "
And both of them broke up laughing. Why not? Bird and Woolf have the cash; the NBA and the Celtics have the crossed fingers. If Bird is anything short of splendiferous on the court, he will be judged a failure of enormous proportions. Not since Walton came into the NBA in 1974 has there been so much interest—yea, unbridled hope—invested in a single player. Says Bird with a shrug, "Nobody expects much of a rookie." Wrong. Says Boston's new coach, Bill Fitch, "I'd say he adds a little to our expectations." Ah, come on, Bill.
Bird, like Walton, comes out of college as a player of exceptional promise, but that's hardly the only reason for the excitement he has stirred up in the pros. The central cause for all the to-do is that Bird, again like Walton, is white, while NBA rosters are predominantly black. The hope among those who think that the color of the players has a major influence on whether fans come out and tune in is that Bird will make them do both in increased numbers. However, there are those who think the NBA's apparently sagging image has nothing to do with a paucity of Great White Hopes, and Bird's among them.
"I can see why fans don't like to watch pro basketball," he says. "I don't, either. It's not exciting." If that makes those at league headquarters cringe, it is also classic Bird. He talks straight ("Very few people can turn a team around by themselves, and I'm not one of them"), he shoots straight (28.6 points per game last year at Indiana State, where he was College Player of the Year) and, most important, he passes straight. Indeed, Bob Cousy, the greatest ball handler in the league's history, says, "He has exceptional passing ability, the best I've ever seen." Nonetheless, Fitch cautions, "Yeah, but if the guys he's passing to are throwing up bricks, well, Bird won't be too good."
Speculation about Walton's signing with San Diego (see page 102) and the subsequent debate over compensation for Portland, Walton's old team, generated plenty of headlines during the off-season (both months of it). But just as much talk centered on the negotiations and signings involving Bird and another rookie on the left coast, former Michigan State whiz-bang Earvin (Magic) Johnson, 20, now with the Los Angeles Lakers. Former UCLA Coach John Wooden says, "Frankly, it has been difficult for me to understand how the Lakers could lose with Kareem Abdul-Jabbar. They shouldn't have needed Magic to win. With him, surely they will."
Surely. For Magic has exuberance that registers an 8.5 on the Richter scale, which is the main missing ingredient in the pro game. There are those who snipe that he can't jump well, can't play defense at all, can't be a guard at 6'8" and can't shoot well enough to play forward. All he can do, it seems, is get his team to win by finding fast-break opportunities when there seem to be none and repeatedly making passes of star quality. Los Angeles Assistant Coach Paul Westhead says, "He's like an artist. He creates basketball as he goes along." Laker General Manager Bill Sharman says his only concern about Johnson is that "he has had so much success so quickly that I hope we don't expect too much too soon."
For his part, Magic says, "I discovered as a kid that the way to win was not to have a bunch of guys who could shoot 20-foot jump shots. What we'd do is get five average guys who could shoot layups. Then we'd pass—and win."
Johnson signed for considerably less money than Bird got. One source says Magic received $300,000 a year for four years, plus a $100,000 signing bonus. During the negotiations, Magic fired his agent, Georgia attorney Jack Manton, and pretty much went it alone, with a bit of help from his father and a longtime friend, Charles Tucker. "I had him $600,000 a year for five years," says Manton. "What Magic and his people did was leave $1.5 million on the table. It's sad."
But others say Magic got a whole lot more than that. Included in the deal, according to these sources, was a lot of real estate and deferred money. Whatever the dollars, the prognosis is for NBA success for both Bird and Johnson. "They're both intelligent," says Fitch. "By that, I don't mean either one could necessarily win a spelling bee, but they are smart about basketball." "If they don't turn out to be great, they will be better than mundane," says Chicago General Manager Rod Thorn. "Neither will be a bust."
The intrigue surrounding Bird's signing made for the highest-rated Boston soap opera in years. There was lots of animosity, especially between Woolf and Red Auerbach, president of the Celtics. In their first meeting, Red groused, "I hope you don't believe those numbers I've been seeing in the papers."
"Of course not, Red," said Woolf. "I'm thinking a lot higher."
Later, cigar ashes drifting onto his blue sweater, Auerbach muttered, "Bird's a cornerman, that's all he is. And that makes him the least important of the three major positions—center, fast guard, then corner."
As it turned out, Auerbach proved to have much more sway with the Boston press than Woolf. The agent still gets angry when he recalls the repeated, albeit wrong, references in the media to his "demands" for $1.2 million a year for Bird. "Look, Red started fooling with me at $250,000," says Woolf. "I told him, 'I'm going to ask for $1 million and you say no. Then you've got to start at $500,000, and I'm going to say no. Come on, Red, you come up and I'll come down. That's the way negotiations work.' " No soap. Or more soap. Whatever. Said Auerbach, "Larry Bird can help, but he's not a franchise. Geez, you got to keep your self-respect. After all, he can't play by himself."
Countered a miffed Woolf, "I feel an athlete is entitled to everything he can get, as long as we don't put anybody out of business." Woolf gets about 5% of the deal and upwards of 15% of endorsements and other dealings. "The money means almost nothing to me," says Woolf. "Larry is a great human being with great character, and I am so proud he picked me." In fact, the choice came down to Woolf and Reuven Katz, who represents Pete Rose, among others. Woolf has asked Bird why he won out. "That other man was too smart for me, Mr. Woolf," says Larry. "That's why I picked you."
No sooner had he picked Woolf than Bird broke his finger playing softball, but he was his usual laconic self in one phone conversation with his new agent early last spring. "If the Celtics want me, they'll call," said Bird. "If they don't want me, they won't call. Get lots of sleep, Mr. Woolf, and take care of yourself. I'm going fishin'. " And the self-described hick from French Lick did just that.
As the weather warmed, recrimination, lies and threats were rampant. Blunders by the Celtics' ownership in recent years had made Bostonians surly, and now it seemed that Bird—clearly the most important rookie to come to town since Auerbach, in a brilliant coup, got the rights to and signed Bill Russell in 1956—might fly away. Once Woolf got lost driving in nearby Worcester, asked for directions and was told, "Not unless you promise to sign Bird." Woolf wouldn't promise; he got no directions.
Then in June, after numerous meetings, Auerbach came to Woolf's 45th-floor office overlooking the Charles River. He sat glumly on a black vinyl couch. Four times he walked out; four times Woolf grabbed him in the outer office and brought him back. "It was very civil," says Woolf. "He'd blow up, then we'd work some more. Red goes through life like hot lava." After 3½ hours the deal was struck.
Still, to the dismay of Boston fans yearning for an instant return to glory, Dave Cowens, who as player-coach led the Celtics to a last-place finish in the Atlantic Division last season, says, "This team needs a lot more than Larry Bird. Whether he has a tremendous impact on us depends on the players he plays with." To that, Cousy adds hope: "Bird will make everyone else play better."
The amount of money Bird got is too much, even though it's the going rate. Woolf agrees and says it would be especially awful "if Larry doesn't put out 100%." Bird grins as he says, "I will, Mr. Woolf, I will. I know I ain't gonna be great right off, but I ain't afraid to get out there and try. You never know which point will be the most important one." For the Celtics, the most important point was getting him signed, for they know Bird can do a ton for them in many areas. Ticket sales in Boston Garden, for example, have skyrocketed almost 25%.
Only injury is cited by basketball experts as an eventuality that could keep stardom from his door. Most feel that, at the worst, he will start out as merely good and then get great. In his first exhibition game Bird scored 18 points against Philadelphia, followed that with 13 against Washington and then he erupted for 36 in a loss to the Knicks in which he made half of his 24 shots, added 15 rebounds and left a vivid impression. Former Marquette Coach Al McGuire thinks the money may be a weight around his neck, that black players will be particularly anxious to handcuff him and that he is a bit slow afoot. "I make up for it by being smart," says Bird. While it may be only speed that Bird lacks, Cousy contends that when it comes to superstars, "Speed definitely separates the men from the boys."
Pro basketball is and always has been littered with college stars who failed to fulfill their promise in the pros. Even Tom Gola and Bill Bradley, two of the best college players ever—and, interestingly, both white guys who were a bit slow afoot—failed to become transcendent pros. They were only solid. Says Bird, "If I fail, I fail. I've failed classes before. I know the feeling."
It is unlikely that Bird will fail, what with his unerring accuracy from the outside (the new three-point rule helps him), but his preference is to pass. "If the other guys score," says Bird, "you start seeing a gleam in their eyes. Besides, passing is more of an art than scoring." At a recent dinner on Cape Cod, Ethel Kennedy asked him what he liked most about basketball. "Passing," said Bird. Woolf heard that, laughed and said, "See what a great guy he is?" Al McGuire thinks it will take Bird one season before he'll be an all-star. "I know what I can do and what I can't," says Bird. But when pressed, he can't think of much he can't do. Nor can anyone else.
The doubt most frequently heard is: can Bird handle stardom? He's not a flash and dash kind of guy. Like a Boston hero of another era, Ted Williams, he doesn't wear ties. He quit Indiana University after a couple of weeks because it was too big. He asked Woolf just to mail him his contract so he wouldn't have to bother to come to Boston and sign it in the limelight. When he bought a home, he got a $100,000 ranch house on a site adjoining Woolf's property in Brookline. When showing Bird another house, Woolf told him, "This is a nice neighborhood, a lot of doctors and lawyers." "I don't want to live here," said Bird. "Who am I going to talk to?"
Woolf tries to promote Bird as a man with Will Rogers' humor, and Bird often measures up. For example, after knocking himself out to show his client around the Metropolitan Boston area, Woolf asked Bird, "Is Boston better or worse than you thought it would be?" Answered Bird, "About the same."
However, he has often hidden his humor—and himself—from the press. But there is suspicion that he was encouraged in this by his Indiana State coach, Bill Hodges, in an ill-advised attempt to show the press the error of its ways. Still, in Boston, where reporters have been known to get on an athlete now and again, Bird could have his moments. Asked about this potential trouble area, he says, "I'm nice to people I like." And people sure seem to like Bird. Converse, Spalding, 7-Up and Ford have opened their checkbooks to him. "There's a mystique about Larry," says Woolf, forever the agent.
The other day as Woolf was professing his love for a partridge that has lived on his property for years, and Bird was professing his love for hunting wildfowl, there was a break in the laughter, during which Bird was asked to describe Bird.
"Slow and big," he said.
And had Woolf given him any advice worth taking? "Yeah," he said, " 'Don't pick up any checks at restaurants.' "
TWO PHOTOS
Woolf matched up much better against Auerbach than Bird. Now Larry's matching the 76ers' Caldwell Jones and Dr. J.
PHOTO
Magic now does his tricks—such as looking one way and passing the other—for L.A.