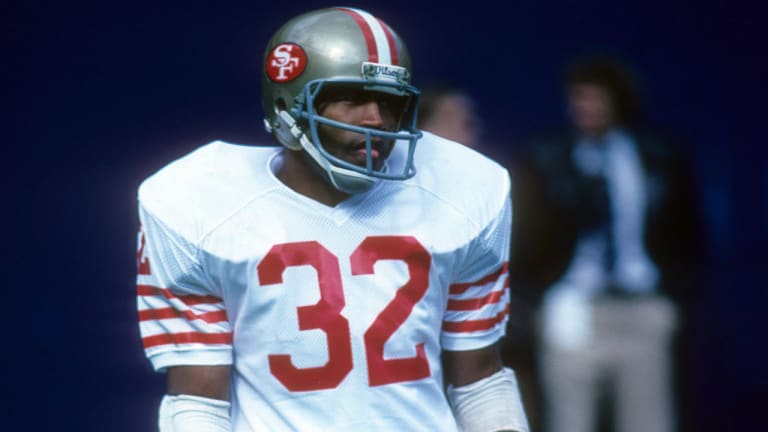 All Dressed Up, Nowhere To Go
Time and injuries have taken their toll on O.J. Simpson, but he's bowing out with class
A red rose is taped on O.J. Simpson's locker and clipped to the rose is a letter, and on the back of the letter is a picture of a girl in a high school cheerleader's costume. The rose was the idea of a few of O.J.'s teammates on the San Francisco 49ers. He studies the package for a moment, and then carefully removes it from his locker and carries it to the desk of Jeri Dixon, the receptionist and official custodian of the O.J. Simpson letter file.
"An I-Love-You," she says, popping the rose into a glass of water. "He gets about 10 letters a day, and about half of them are Thanksgiving invitations, and one or two are I-Love-Yous."
"What do you do with them?"
"We have a packet we send out," she says. "Team picture, 49er sticker and schedule."
"That's great. A girl writes, 'I love you,' and she gets a schedule."
"No, no," Jeri says, "the I-Love-Yous get special attention. An autographed picture of O.J."
"Who autographs it?"
"He does. Every one."
Outside in the parking lot of the 49ers' practice field in Redwood City, a cheer goes up as O.J. emerges to greet 30 Pacifica Stingrays, the Peninsula Pop Warner League champions, who have come to the 49er camp to meet him. He checks his watch. He is due at the airport in 30 minutes.
"You want to play pro football, right?" O.J. says.
"Right!" they yell.
"What do you have to do first?"
"School!" they yell.
"And how do you stay in school?"
"Good grades," a few mumble.
The hipper kids have seen O.J. check his watch, and they're jockeying for field position for autographs. He signs a couple of dozen. He checks his watch again. More kids have arrived.
"I'm supposed to go to the airport now," O.J. says, "so for the rest of you, in lieu of autographs, I'm going to give you pictures."
"Can you sign 'em?" a kid yells. O.J. signs. No one gets stiffed. Finally, he is on his way to the airport, 15 minutes late.
It is Saturday, the day before the 49ers are to face the Denver Broncos in Candlestick Park. The 49ers are 1-10, and Simpson's place in the starting lineup has been taken by Paul Hofer, a compact, baby-faced 195-pounder out of Mississippi, a fourth-year pro who was drafted in the 11th round in 1976 and was almost cut two years later. O.J. is 32, and he is playing on a tired left leg that has felt the surgeon's knife three times in the last two years. Hofer's elevation to No. 1 came following the Oakland game on Nov. 4, when O.J. left in the first quarter after gaining eight yards on three carries. Hofer picked up 106. The following week Coach Bill Walsh kept O.J. out of the New Orleans game, played on the rock-hard Superdome Astro Turf, and Hofer picked up 147 yards.
On Sunday O.J. did not play in the 49ers' 38-28 loss to Denver. Hofer was banged up and had to leave the game twice, but both times he was replaced by Lenvil Elliott, not Simpson. "Sure, I'd like to play O.J.," said Walsh, "but not in a game like this. You don't showcase a guy by sending him smack into the middle of the line, one foot sticking out here, another one there. It's like going out with a knockout."
Hofer admits that when he was told he would be replacing O.J., he didn't know how to act. "I felt a little awkward, to tell you the truth," Hofer says. "I mean, how would you feel, replacing one of the greatest runners ever to play the game? O.J. made me feel very comfortable in the situation, though."
There was no bitterness. No harsh words. Any resentment that might have been felt was kept on a very low cooker. Class and style have been O.J.'s trademark for 13 years, ever since he burst onto the national scene as a junior tailback at USC in 1967. Class and style were part of the package the 49ers got when they acquired O.J. from Buffalo in 1978 in exchange for five draft choices.
When Edward DeBartolo Jr., the 49ers' 33-year-old owner, is reminded that he's paying $733,358 a year for a player who can no longer go the distance, he bristles. "I'd do it again in a minute," DeBartolo says. "I have the utmost and highest respect for him, more than for anyone I've ever met. He's giving us everything he has—his guidance, his leadership. He's going out like a man."
His voice softens. "I just wish I could have been his owner when he was 22."
O.J. at 22 was a confused rookie in a Buffalo system he could never understand, a decoy while Coach Johnny Rauch, one year removed from the fling-it-up offense at Oakland, chose to build his attack around Jack Kemp's 34-year-old arm instead of O.J.'s legs. Rauch had O.J. bulk up to 217 pounds and told him to crack in there tough when he was running inside the tackles, and never mind all that stutter-stepping and looking for daylight.
University of Minnesota Coach Murray Warmath, who remembered the way O.J. had dazzled his Golden Gophers for 236 yards and four touchdowns the year before, shook his head and said, "If they try to make a power runner out of him, it's like putting plumber's tools in the hands of a violinist."
Simpson had set 13 records at Southern Cal. In his senior year he had averaged almost 35 carries and 171 yards a game. Years later, when O.J.'s USC coach, John McKay, was going through the expansion miseries at Tampa Bay, he'd say, "I keep a picture of O.J. Simpson at my side at all times to remind me of the days when I knew how to coach."
UCLA game, 1967, O.J.'s junior year, the winner goes to the Rose Bowl. Fourth quarter, and O.J. was having a case of the fumbles, and the assistant coaches were screaming to get him out of there. "Be patient," McKay said. "He'll do it." And then, bam! Blast-23 off right tackle.
"Third-and-nine, and the quarterback audibled into it," says Craig Fertig, one of the USC assistants who were doing the hollering. "The guard and tackle both missed the audible. There was no blocking. O.J. just picked his way through the whole mess, 64 yards for the TD that put us in the Rose Bowl."
The 1969 season O.J. was playing decoy in the NFL for a 34-year-old quarterback. He opened his pro career with an inauspicious 35-yard day against the Jets, but in the locker room the Jets were talking about one play: O.J.'s eight-yard touchdown run. He was pinned, made a 180-degree cut in full stride, shot between two Jets and was into the end zone before they knew where he was.
"Look at this, the kid gave me a black eye on the play," said Jim Hudson, the Jets' safety, revealing a right eye that was indeed puffed and discolored. "I can't believe it. He dropped me with a stiff-arm. It's never happened to me before."
Three years later Lou Saban arrived to coach Buffalo. The architect of 1,000-yard runners—Cookie Gilchrist on the old AFL Bills, Floyd Little at Denver—Saban would build an offense for O.J. "One day Lou came into a meeting," says Left Guard Reggie McKenzie, one of the five big linemen Saban put up front for O.J., "and he went around to the wide receivers—Haven Moses and J. D. Hill and Bobby Chandler—and said, 'Haven, if you don't block, I can't use you.... Bobby, if you don't block, I can't use you....' like that. They were wearing those old one-bar helmets, but after practice they all went in to see Tony Marchitte, the equipment man, to get two bars, loops and everything else put on their helmets."
There was the record 2,003-yard season in '73, with the 250-yard opening game against New England. "That's probably my alltime No. 1 game," O.J. says. "I came in with a bad rib; we'd lost all our preseason games; they were cocky. It was my first NFL record game. It got us off winging."
By the fourth game the yardage record was beginning to take shape. O.J. hit the Eagles for 171. "At halftime I wrote the word TACKLE in three-foot-high letters on the blackboard," says Philadelphia Coach Mike McCormack. "We keyed on him wherever he lined up. We just couldn't tackle him." On Dec. 16, O.J. needed 61 yards in the snow and sleet of New York's Shea Stadium to break Jim Brown's single-season record. He got the record in the first quarter. He needed 197 yards to hit 2,000 for the season; he got 200.
"I remember one meeting after a Thursday afternoon practice before that game," McKenzie says. "All the offensive linemen got together on our own and took in an extra can of film to look at. Afterward—I'll never forget looking into each other's faces—we started chanting, 'We're not gonna be denied.' "
For O.J. it ended in Buffalo in 1977 with a knee operation after the seventh game. He said goodby to his teammates in the locker room. "Lemme have your jersey, man," said Jim Braxton, O.J.'s 240-pound blocking back. "Only if I can have yours," O.J. said, and pretty soon they were coming over, one by one, handing him their jerseys and shaking his hand. He had a feeling he wouldn't be back. Lou Saban had quit the year before, and O.J. had come on strong about a series of moves that shipped out some of the Bills' prime talent—Ahmad Rashad, Mike Montler, J. D. Hill, the Crack-back Hill whose wipeout blocks from the outside had helped O.J. pile up so many yards. On March 24, 1978 he was traded to San Francisco, his hometown.
"Home at last, great God Almighty, I'm home at last," O.J. said.
Home. Potrero Hill, where he had grown up in a series of World War II temporary homes built for the shipyard workers, a row of barracks-like structures called The Projects. One day last week O.J. took a slow cruise through the old neighborhood with Al Cowlings, the 49er defensive end who had grown up in the same place.
"There's the corner where I got busted for the first time," O.J. said. "Connecticut and 20th, Sam's Superette, that wall right there. We were getting things together for a party, picking up a little food at one store, a little wine at another, and there's where the police caught up to us."
"You wanted to run for it, remember?" Cowlings said. "I said, 'Uh, uh, no way.' You just figured you had the best chance 'cause you were faster than anybody else."
"Remember that house," O.J. said, pointing out a gray cement job at the corner of DeHero and Southern Heights. "It's got high windows now. There used to be a kid who lived here...this was his bedroom...and he had every toy soldier and every gimmick kind of toy you could name in there. I used to stop every day and look in the window. Then they raised it. Big, fat kid. Had the best lunches, too."
Arkansas and 23rd, three steel poles driven into the sidewalk in front of the door to the Four-Way Market, Four-Way standing for the four ways to break in—pipe, crowbar, bare hands and automobile. "They used to have windows, and those got broken," O.J. said. "So they put up metal blinds and they got forced. So they cemented the whole thing over, and one night some cat just drove a car right through the door. Must have been 200 kids in there the night that happened. Then they drove those three steel poles in the ground, and that stumped everybody."
For Simpson, coming home had also meant joining a team that was on its third coach in 12 months, a guy who was to be ousted by midseason—a rebuilding team coming off a 5-9 season. During the 10th game of 1978, O.J. went down with a separated shoulder. He suggested they take a look at his postoperative left knee, which never had seemed right. They found six pieces of floating cartilage and a tumor, and when they opened up the back of the knee they found a cyst the size of a lime.
"One thing you lose when you get older, or if you get hurt, is the straightaway speed, the burst coming into the hole," says Hugh McElhenny, the famous old 49er halfback, whose stutter-stepping, freewheeling style was much like O.J.'s. "You don't lose the finesse, the knack of knowing where trouble is coming from, but without the speed to back it up, it isn't the same." O.J. would never be quite the same again on a football field. But in one respect he hadn't lost a step.
"Fame," O.J. said, walking along, "is a vapor, popularity is an accident, and money takes wings. The only thing that endures is character."
"Where'd you gel that from?" Cowlings asked.
"Heard it one night on TV in Buffalo," O.J. said. "I was watching a late hockey game on Canadian TV, and all of a sudden a guy just said it. Brought me right up out of my chair. I never forgot it."
The character of O.J. Simpson will endure. It will be his legacy.
PHOTO
PHOTO
O.J. gets a ball—and had one—in 1973 when he broke Jim Brown's single-season rushing record.
PHOTO
Hofer replaced O.J., but who can fill his shoes?