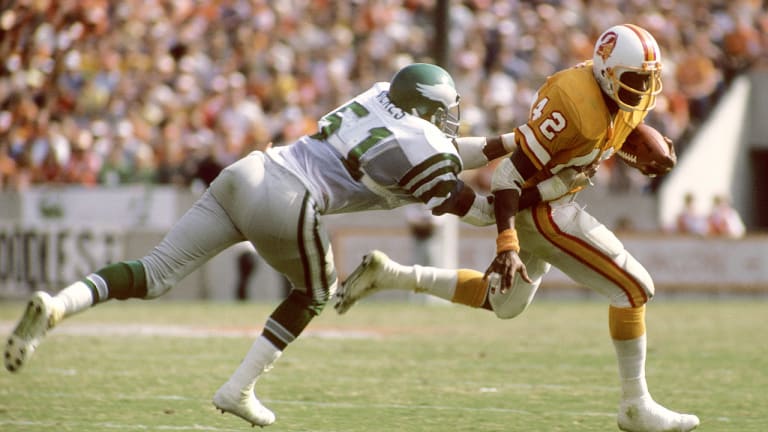 Publish date:
Turnover in Tampa Bay
Recovering this fumble helped the once humble Bucs beat the Eagles as underdogs prevailed in three of the four playoffs
Don't look now, America, but the Tampa Bay Buccaneers, age 4, are one win away from the Super Bowl. That's right, the Buccaneers, the team that spent most of its first two years one win shy of one win. The Bucs' 24-17 victory over Philadelphia Saturday in Tampa was sweet vindication for Coach John McKay, who must be admired for not sticking his tongue out at the world and shouting, "I told you so."
McKay had suffered the slings and arrows of outraged fans, not to mention jealous peers, ever since he arrived in Tampa from the campus of Southern California four years ago with a contract reportedly worth $1.5 million and a disdain for the "complexities" of the pro game. Of course, McKay didn't help his cause by losing his first 26 games. Or by arrogantly insisting, even at 0-26, that five years was all it would take to build a contender. Everyone was laughing at McKay. Now McKay is laughing at everybody. The Bucs are not only in the NFC championship game, but they are also there one year ahead of schedule.
Against the Eagles, Tampa Bay took the opening kickoff and, running a lot of that old USC Student Body Right, used up more than 9½ minutes in driving 80 yards in 18 plays for a touchdown. Ricky Bell, who played for McKay at USC, carried 10 times for 44 yards in the drive, going four yards around right end for the score. "It's very important in any game if you can start like that," McKay said. "It's what you've worked on in practice, and when you're successful, the players have a little bit more faith in your plan." The Bucs needed that faith; in their last three regular-season games they had scored just 10 points.
Philadelphia Coach Dick Vermeil expected that his team would have trouble moving the ball against the Bucs, who had yielded the fewest points and fewest yards in the league. But Vermeil never dreamed that the Bucs would manhandle the Eagles at will. On Philadelphia's second offensive play, Ron Jaworski flipped a short pass into the left flat to Fullback Leroy Harris, who was immediately gang-tackled. Unnecessary roughing was called—not on an individual but on the Buc defense. The Eagles got the message. Before the day was over, Philadelphia receivers had dropped 10 passes.
The Bucs' defensive strategy was keyed to two Eagles, Running Back Wilbert Montgomery and 6'8" Wide Receiver Harold Carmichael. Whenever Montgomery got the ball, he found himself surrounded by Bucs. "We gambled a little on the running plays," said Defensive End Lee Roy Selmon, "because we knew Montgomery would get the ball most of the time." In the first half Montgomery gained just four yards on six carries, and Carmichael did not catch a pass.
In the meantime, Tampa Bay's Neil O'Donoghue kicked a 40-yard field goal, and Bell—who was to gain 142 yards while carrying a playoff-record 38 times, 20 more than all the Eagles combined—scored another touchdown over the right side, and Tampa Bay seemed set to take a 17-0 lead to the locker room. But with less than two minutes to play, McKay unpardonably called for a pass. Not content with accomplishing a five-year plan in four, McKay apparently wanted to end an hour-long game in 30 minutes. Quarterback Doug Williams threw high to Jerry Eckwood, who tipped the ball to Eagle Linebacker Jerry Robinson. Robinson returned the interception 37 yards to the Tampa Bay 11, and Jaworski passed to Charlie Smith for a touchdown to cut the Bucs' lead to 17-7. When Philadelphia took the second-half kick-off and came away with three points on a 42-yard Tony Franklin field goal, the Eagles trailed by just a touchdown.
Williams threw a bullet into the end zone to Jimmie Giles for a 24-10 Buc lead 7:52 into the fourth quarter, and after that Tampa Bay, though burned by a 37-yard Jaworski-to-Carmichael touchdown, was essentially in charge.
Following the game McKay was typically impassive, as unflappable in success as he had been in failure. He refused to gloat. Not that he needed to. The Bucs had proved what he had insisted all along—that he knows how to build a winning team. McKay had succeeded by doing it his way, which meant making gutsy, if frequently unpopular, personnel decisions. The move that created the biggest furor was McKay's decision to draft Bell instead of Heisman Trophy winner Tony Dorsett in 1977. While Dorsett was rattling off back-to-back 1,000-yard seasons and helping lead the Cowboys to consecutive Super Bowls, Bell was struggling with a series of injuries. Snorts McKay, "That first year the linemen should have carried the ball and Ricky should have blocked, because he always got to the hole first."
This year Bell averaged just 58 yards for his first six games, but in the last 10 he gained 915 yards and had five 100-yard games. For the season he finished with 1,263 yards, 156 more than Dorsett. What's more, he's the kind of quiet, positive force that Dallas Coach Tom Landry wishes Dorsett would be.
When Bell arrived in Tampa, he noticed that the losing was getting to McKay, even if McKay tried not to show it. "He was always so calm at USC," says Bell, who was shocked one day when McKay angrily slammed his fist into a blackboard and broke a bone in his hand. McKay, of course, never admitted that he had hurt the hand. "The pressure I was under wasn't anything compared to what the coach was going through," says Bell, who was regularly booed in his first two years in Tampa. "How could I feel sorry for myself? I figured if he could get through it, I sure could."
Bell's poor showing in 1977 put pressure on McKay to draft another Heisman winner, Earl Campbell, in 1978. Instead, McKay traded the No. 1 pick in the draft to Houston for an unknown tight end (Giles) and four draft choices, one of which he used to select Williams. McKay made Williams a starter in the first game of his first year and has stuck with him ever since. Williams has such a powerful arm that he forgets to follow through with his body and constantly overthrows his receivers, which helps explain his 41.8% pass-completion average. Around Tampa Bay the joke is that Williams is the only person capable of overthrowing the Ayatollah.
Late this season, when Williams threw nine interceptions in two consecutive losses, McKay was under media and fan pressure to bench him for the final game, which the Bucs had to win to be champions of the NFC Central and gain the playoffs. McKay did not succumb, and Williams led the Bucs to victory. "If we don't win with Doug Williams, we'll have to start all over," said McKay. "I don't intend to start all over. I'm already the oldest coach in the league."
McKay has a reputation for being distant with his players, but Williams feels very close to him. "There are not too many people who would have let me play that last game against Kansas City," he says. "That's why Coach McKay has been a winner all his life. He sticks with what he believes in."
PHOTOPHOTOQuarterback Doug Williams, pitching to Jerry Eckwood, justified Coach John McKay's faith in him and silenced his critics by leading Tampa Bay to victory.PHOTOLee Roy Selmon came at the beleaguered Ron Jaworski from every which way, even from above.