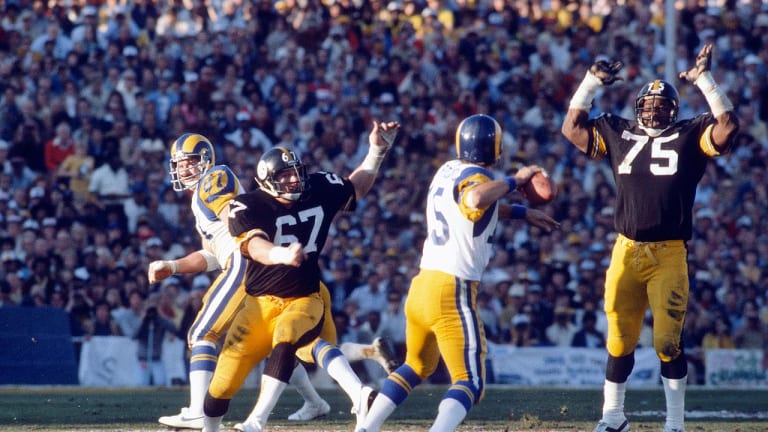 Hitting a Wall of Steel
Earl Campbell & Co. tried and failed to dent the Pittsburgh defense. The Rams get a shot in Super Bowl XIV
Joe Greene speaks: "I feel like we've been cheated. You saw a great game out there today, but it turned into a 'yes, but' game. That's the sad thing about it. People will be saying, 'Yes, the Pittsburgh Steelers won, but...' "
What's this, a losers' dressing room? You played a great game, man. You beat the Houston Oilers 27-13 for the AFC championship, and you held Earl Campbell to 15 yards on 17 carries, and now you're in Super Bowl XIV. Stop sulking. Hey, kid, get that man a Coke!
Eyes downcast, a slow sad smile on his face, Joe Greene peels off his soaking jersey.
"Why are you so sad?"
"I'll get happy later," Greene says. "I don't want to dwell on it, but it's the mood I'm in. I spoke to Pastorini after the game.... He wished us well."
"It's that call that's got you down, right?"
Greene nods. "A tough call, a tough, tough call," he says. "I felt bad for Houston. I didn't see the play, but I was hoping it was a correct call. I can't take any satisfaction in that call. You have 22 players out there waiting for a decision to be made, and you don't get it. That's all you need, a decision, but where was it?"
Where indeed? One play cast a shadow on a very professional Steeler victory. As Lynn Swann said, "It's unfortunate when something happens to mar a game like this."
What happened was that an official froze on a play that could have given the Oilers a touchdown and tied the score at 17-17 in the dying moments of the third quarter. After 38½ minutes the Steelers were up 17-10, and Pittsburgh's Craig Colquitt had just gotten off the longest punt of his pro career—66 yards. The Oilers' kick returner, Richard Ellender, torn by indecision, had slapped the ball out of bounds on his own 14, and all those Steeler fans in Three Rivers Stadium waved their Terrible Towels and smiled at each other because they knew what was coming. This is where the Steelers crush the life out of people and put the game away. How many times had they seen it?
But the Oilers are a strange kind of team. You can't chart them. They play with the emotional throttle to the floor, from a high pain threshold. They had gained only 116 yards, total, all day, but now they put together an 80-yard drive and had a first-and-goal at the six.
Quarterback Dan Pastorini smelled a blitz, and he audibled into the 99 play, a two-step pattern. He takes two steps back and lofts the ball to Mike Renfro, the flanker on the right side, who has to run under it. Ron Johnson covers him.
Renfro caught the ball in the far right corner of the end zone, planting his right foot inbounds, dragging his left toe barely inside the stripe. From the ground, Renfro looked to Don Orr, the side judge who was on the play, for a call. Nothing. The deep freeze. Donald Orr, a ninth-year official, is executive vice-president of a Nashville machine company.
"What's the call?" Renfro yelled.
Nothing.
"What the hell is it?" Renfro yelled. Orr very tentatively crossed his hands in front of him one time, the no-touchdown sign. He was looking over to Bill O'Brien, the field judge, for help. Sorry, Don, no help coming. Your call, buddy.
"I was in dismay," Renfro said. "I couldn't believe he wouldn't call the play. I thought maybe the play had been whistled dead, that everybody else had stopped playing and they were just watching me and Ron Johnson out there. It made me sick. It confounded me. I said to the official, 'You're paid pretty good money to make a call. You shouldn't be out here today.' He had that starry-eyed look. He was looking right through me, over to the other official. He said something about wanting help. He said, 'We're gonna have to talk about it.' "
The officials huddled. "Right then I knew we were dead," said Oiler Coach Bum Phillips. "No way we're gonna come out on top in one of those huddle deals. Not in Pittsburgh. In Houston, maybe we'd win it."
"Another officials' huddle," one Oiler said. "Seems like they were huddling all day today. I expected them to break one of those huddles and run a play—Umpire Right or something."
In his box, Steeler owner Art Rooney shook his head. "When in doubt, call a meeting," he said. "Just like the U.N."
Finally a ruling. No touchdown. The receiver did not have possession of the ball. No possession. The cop-out call.
"Hell, I had it all the way," Renfro said. "I wasn't juggling it. There was no argument on that, none at all."
When in doubt call "no possession." A week earlier a no-possession call had robbed Tampa Bay Tight End Jimmie Giles of a touchdown in the Bucs' win over Philadelphia, the single worst call of the playoffs until...Now it cost Houston the tying score.
"Gutless, the call was just gutless," said Houston Assistant General Manager Pat Peppier. "I can figure bad calls, but this was just gutless. The guy just stood around looking for help."
Orr could not be reached for comment. The NFL does not allow its officials to be interviewed by the press en masse. Presidents and popes can face press conferences, but never an NFL official. Instead, a pool reporter, Vito Stellino of the Pittsburgh Post-Gazette, was dispatched to the officials' room for the official verdict. Jim Tunney, the referee in charge, took him into the washroom off the officials' dressing room and told him the receiver did not have possession. He talked into a tape recorder—for the record.
Tunney was asked whether Renfro had juggled the ball. A juggling ruling would have resulted in a sign from an official—two hands up and down, quick time. Nobody had signaled that, neither Orr nor O'Brien, the only officials in position to see the ball. "The ruling was no possession," Tunney repeated. End of interview. A corporate decision, arrived at by huddle method.
"I couldn't see whether he was in-bounds or not," Phillips said. "I couldn't tell whether he juggled the ball or not. That's not important. The big problem is that the officials who work the playoffs have no experience working together as a crew. I've been telling them all year that one complete team should be chosen to work a playoff game, then one guy'll be used to covering for another, and they won't have problems like this. But instead, individual officials are picked, and each one feels, 'Well, if I keep my nose clean and don't make a mistake, then I'm still a good official.' No one helps the other guy.
"It would be like a team making the playoffs, and then when they get there, an all-star team goes out on the field."
Fifty-six different officials worked the eight playoff games the past three weeks. No official worked more than one. An all-star cast will be assembled for the Super Bowl, a team of people with no experience working together. "If you sent complete officiating teams into the playoffs, then some good officials might not make it," says Art McNally, the NFL's Supervisor of Officials. "This system rewards our better officials."
But not the fans. And not the teams on the field. So Houston settled for a field goal on the series—and the short end of a 17-13 score, not a 17-17 tie—and Pittsburgh came back to score 10 points on its two fourth-quarter possessions to wrap up the game.
"You have to ask the rhetorical question," Swann said, "just like in the last Super Bowl when we got the benefit of an official's call against Dallas. Wouldn't we have come back and played well enough to score again and win it? I think we would have."
Well, maybe, but a 17-17 score might have changed the complexion of the game. There was no reason for Houston still to have been in the hunt after three quarters. The Oilers' big weapon, Campbell, had been totally nullified. At the half his total output was two yards, and his 11 carries represented the entire Oiler rushing attack. He said the groin pull that had kept him out of the previous week's game at San Diego didn't bother him against Pittsburgh. "I never felt faster," he said. "The traction was good—the ground crew did a good job getting the field in shape. The problem was the Steelers. They never let me get started."
The Steeler linemen shot the gaps and committed themselves to Campbell early, and the Steeler linebackers came across quickly and cut off his escape routes. No one will ever know for sure whether or not Campbell's groin pull was bothering him, because he had Steelers in his face before he could get the motor revved up. Pittsburgh figured if anyone was going to beat them, it would have to be Pastorini, who also had missed the San Diego game because of a groin pull.
Pastorini kept things lively. A pulled muscle deprived him of his best long-ball threat, Ken Burrough, late in the first quarter. "I stayed in for a few plays and tried to be a decoy," Burrough said, "but you don't fool the Steelers like that." So Pastorini worked the ball to his backs and to Renfro, and he hung in the pocket and took some ferocious shots.
The Oilers were outmanned in every phase of the game. Punting. Punt returns—Ellender had been ruled a "definite out" with a chipped hipbone, but somehow he managed to play, though he shouldn't have. The Oilers had no running attack, a sore quarterback, no Ken Burrough. But it was still a four-point game in the fourth quarter.
It was a courageous performance by Houston—the whole Oiler operation is built on courage—but in the end it was the professionalism of the Steelers that won it. They shrugged off a 75-yard interception return TD by Houston Safety Vernon Perry, who had cut in front of Tight End Bennie Cunningham on a curl pattern, on their first series. They never lost their poise, and in the fourth quarter they made those two scoring drives.
The Steeler game plan was to throw on the first down off play-action stuff and run the ball in passing situations when the Oilers lifted two of their four linebackers. Terry Bradshaw picked up 78 of his 219 yards passing on first downs, including a 20-yard touchdown to John Stallworth that put the Steelers ahead 17-10. The play that set up the Stallworth TD was a 12-yard run by Franco Harris on third-and-five.
The Steelers kept the Oilers' defense on the field too long; when the score was 7-3 for Houston, the Steelers had run off 20 plays to the Oilers' three. At halftime the margin was 43-20. But the Oilers never cracked. They made Pittsburgh come up with big plays to win it—a 21-yard pass to Swann on third-and-21 in the fourth quarter, a 20-yard diving catch by Bleier on third-and-two on the next series.
Afterward, in the Pittsburgh trainer's room, Steve Courson, the massive right guard, sat on a table and got a sore ankle taped as he listened to the Rams-Bucs game on the radio.
"Referee Pat Haggerty's going to have a huddle," Jack Buck was announcing. "What's this all about? Ray Malavasi's going whacky on the sideline. He is whacky-doo!"
"Another huddle," Courson said, shaking his head. "I thought we saw enough of 'em today."
The best huddles may be yet to come.
PHOTOPHOTOSide Judge Orr watched as Renfro went up over Johnson for the pass...PHOTO...but he gave no signal as Renfro came down with his feet inbounds.PHOTOThe officials huddled to talk over the catch...PHOTO...before Referee Tunney signaled an incomplete pass. He later said Renfro never had possession.