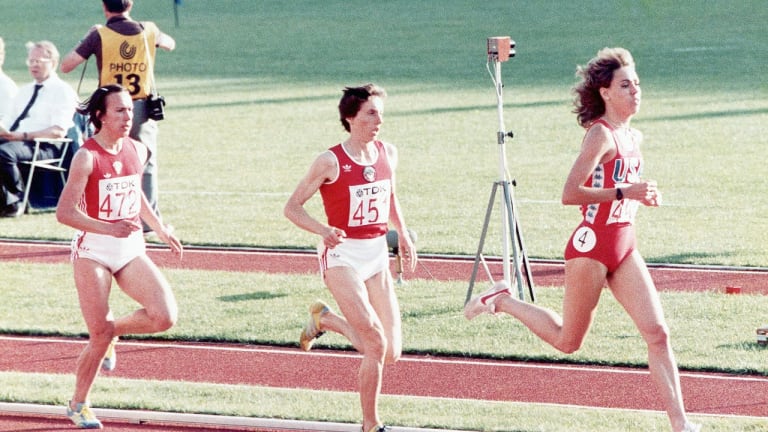 Hail, the Conquering Heroine!
To the plaudits of the Millrose Games crowd that had cheered her to a world mark in the 1,500, Mary Decker triumphantly tours the Garden
From the start Mary Decker was running all alone. After just two of the 10¼ laps in the 1,500-meter run at last Friday's Wanamaker Millrose Games, she had opened a 15-yard lead over the six other runners in the event. All too obviously, the field offered no competition, but at the quarter-mile mark the jammed-to-the-rafters crowd in Madison Square Garden suddenly became aware that Mary Decker was in a race—a race with track history.
"Unofficially, at the quarter, 60.8," the meet announcer called out in a tone suggesting he would be taking his stopwatch in for adjustment the next morning. Then, a second later, a sense of real urgency boomed out over the P.A. system as he announced, "Officially, 60.3. Not even Eamonn Coghlan ran that fast."
That information sent an electric shock through the capacity crowd of 18,310, a world record for an indoor meet. Many spectators were heading for the exits in the wake of a lackluster Wanamaker Mile. Coghlan had won that event for the second year in a row, holding off a furious finishing kick by Villanova's Don Paige, but his time of 3:58.2 had disappointed fans who had hoped to see him break the 3:52.6 indoor record he set last year in San Diego. The 63.2 quarter-mile and 2:04.3 half-mile splits in the featured men's race had been followed by emphatic booing.
Now, as Decker sailed into her second quarter, her thick halo of curly hair bouncing in jaunty counterpoint to her effort, Coghlan stood underneath the stands, talking to some reporters about his victory. Suddenly, Craig Masback, who had finished third in the mile (3:59.8), interrupted. "Get this," he said to Coghlan. "Mary Decker just turned the quarter in 60. I think she's going for your San Diego record." That essentially ended Coghlan's conference as everyone broke to watch, and cheer, Decker.
On the high-banked yellow-and-orange track, the 21-year-old Decker raced alone toward the half-mile mark. When she had first burst to the front, the meet announcer had routinely pointed out that the American indoor record was 4:09.8 (Francie Larrieu, 1975). Now he blurted, "This is nothing short of incredible. The world indoor record is 4:03. That's a good chance, too." He didn't add that Romania's Natalia Maracescu had set that mark on an 8.9-lap track or that no other American woman had ever challenged the world standard at 1,500 meters, but then he might not have been heard had he tried. His pronouncements had transformed the crowd into Decker's pacesetter. As she circled the track, an ever-increasing roar circled with her, pulling her through the turns and down the straightaways.
Decker would later say that when she heard her quarter split, "I panicked a little. I thought, 'Oh, gosh, I've gone out too fast.' " She had reason to feel uneasy. On Jan. 26 in Auckland, New Zealand, she had set a world outdoor mile record of 4:21.7, .4 faster than the mark which Maracescu also held. That day Decker had run the first quarter in 62 flat and the half mile in 2:09, a pace that almost proved too demanding and made her struggle, fading all the time, through the second half. Accordingly, Decker had hoped to run a succession of 65-second quarters at the Millrose. Instead she went through the half mile in 2:05.9.
Her planning in ruins, Decker concentrated on maintaining her upright, elongated stride, which was gobbling up great sections of track as the din in the Garden swelled around her. She had no idea how far her body could take her. Only three days before, she had been in Australia. To get to the Millrose Games she had flown first to Auckland and on to Honolulu, Los Angeles and, briefly, to her home in Eugene, Ore. Then, after a three-hour fog delay, she traveled from Eugene to San Francisco, where she was too late to make her planned connection. Decker finally arrived in New York on Thursday night, less than 24 hours before the meet. She slept 12 of those hours and spent Friday afternoon wondering how all that travel might affect her.
Outwardly she seemed confident. Sitting in a coffee shop across the street from the Garden, she said boldly, "I would be pleased tonight with anything under the American record. I can't see 4:09 being that difficult. But a 4:02 world record would be really tough." Her confidence was based on her good condition, which is a state Decker has rarely been in during her track career. She had been a child prodigy, winning the AAU 880-yard title in 1974 at 15, but by the '76 Olympics a leg ailment had forced her off the track. The sheaths surrounding her calf muscles were too small and stiff to allow the muscles to expand, causing her sharp pain whenever she ran. Surgery corrected the condition in 1977, but then last year Decker injured her sciatic nerve and was able to race only six times. Her final '79 appearance was a winning 1,500 meters—in 4:05.7—at at the Pan American Games in July.
Recognizing that fatigue had led to her past injuries, Decker limited her training this fall to 70-80 miles a week, and whenever she felt sick or tired, she took a day off instead of pushing herself. She stayed healthy and has now built a base of strength she never had before. As she went through the three-quarter-mile mark in 3:13.0 last Friday, she called on that strength for her race against the clock to the finish line.
The Garden crowd was now standing, the spectators stamping their feet and screaming, the athletes, the officials, even the gaudily uniformed specials in the infield applauding and cheering her on as she pounded down the backstretch, leaned into the final turn and headed for home, the strain of her lonely effort now showing in her face. When she flashed across the finish line, the clocks high above the arena froze at 4:00.82. Decker, her head hanging in exhaustion, didn't see the time. A meet official grabbed her, thrusting a stopwatch in front of her face. "I thought I'd run 4:05," she said later. "I couldn't believe it when I saw that double zero." She looked up, dazed, and then threw her arms up and hugged her head as she was engulfed by a mob of media people, meet officials and athletes. Her official time of 4:00.8 had broken the world record by 2.2 seconds, the American record by a staggering nine.
Decker was just one of several women who totally stole the show from the men at these 73rd Millrose Games. That pattern even held true for 32-year-old Madeline Manning, a three-time Olympian and winner of a gold medal at Mexico City in 1968, who had run 800 meters at the Garden three weeks earlier. That race was named in her honor, but after taking an early lead she had finished next to last. On Friday she again took the lead and again lost it, but this time she charged back and beat Robin Campbell at the tape, setting a Garden record of 2:05.6 and emphasizing that she wants to make another Olympic squad.
The women had grabbed the limelight right at the start of the evening, with a world indoor record in the first individual final, the 60-yard hurdles. That mark went to Ohio State's Stephanie Hightower, who upset high school senior Candy Young of Beaver Falls, Pa. by .01 of a second, in 7.47. Both finished under Young's old world record of 7.50. The difference between them was Hightower's acrobatic lean at the tape, a delicately balanced maneuver, made more difficult, no doubt, by the three earrings in her left ear and the two in her right.
Hightower, 21, ranked third in the U.S. in the hurdles last year but had been overshadowed by the rivalry between AAU indoor champion Young and the AAU outdoor champ, Deby LaPlante. Yet Hightower upset LaPlante at the collegiate championships last spring and has now beaten Young three out of four times this indoor season. Hightower attributes her success to a new, more tightly coiled start. "I know I have to beat Candy to the first hurdle because she's longer than I am," says the 5'4½ senior, who majors in public relations. "Young beats me over the hurdles, but if I can beat her in between, then I can win."
For three years Hightower has been among the nation's top hurdlers but never quite good enough, as she puts it, "to have people ask me why I have three holes in my left ear and things like that." All right, Stephanie, why? "I like to be different. One day I didn't have anything else to do, so I punched another hole in my ear."
In between the world records by Hightower and Decker, Joni Huntley cleared 6'4¼" to break her own American women's indoor high jump record by ¼". Like Decker, Huntley's career had been almost ended by injury. The Millrose was just her fourth meet after a layoff of 18 months and two operations on her takeoff foot, the left.
Huntley first started aching the week before the 1977 World Cup in Düsseldorf. She pulled out of that meet, thinking she had a bad heel bruise. Actually she had ripped the principal muscle maintaining the arch in her foot. Gradually the pain increased. She still managed to set her mark of 6'4" at the start of the 1978 indoor season, but slowly she became less and less effective. "I did everything I could before I went to the knife," she says, but after being unable to jump in the summer of '78, she finally agreed to surgery.
Huntley now feels the layoff improved her jumping. "I used the time off to lift weights, do bounding drills, run up hills, anything I could do to increase my strength," she said after her record jump. "In the past I had jumped at every opportunity instead of really training. I had never built my strength the way I wanted." As with Decker, her newfound strength is paying dividends.
Decker was named the outstanding performer of the meet and awarded a Waterford crystal decanter. She said she would fill it with port, if she could get it back to Eugene in one piece. She was cradling her delicate trophy protectively when she finally emerged from the Garden and headed across Seventh Avenue for her hotel. Up the street a traffic light changed, and six lanes' worth of New York taxis charged toward her. Decker had plenty of time to scamper across the street, but instead retreated to the curb. "I'm not fast enough," she murmured apologetically as the yellow horde careened past. It was the second time that night Decker had underrated her speed, but then who could blame her? After all, a board track is a lot more forgiving than a New York taxicab driver.
PHOTOPHOTOHightower (in white) beat Young for the third time this season, and broke Candy's world record.PHOTOHuntley gets a kiss for a record that's smack on.