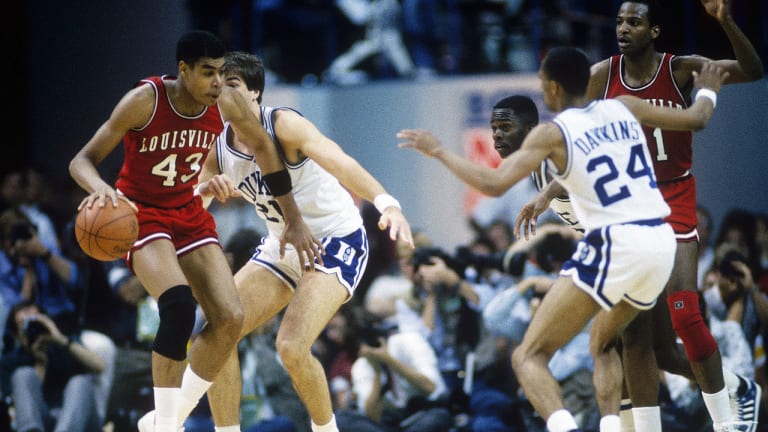 Publish date:
A Big Hand for the Cards
Capping a whacky NCAA tournament, the Cardinals of Louisville came from behind to defeat UCLA and win their first national championship
After all that had happened in Indianapolis Monday night, the only real surprise was that Darrell Griffith didn't grab the national championship trophy, take another stutter step and make one last glorious leap straight through the rafters of Market Square Arena, not to touch down until he was over Louisville. No other encore would have been as fitting following Griffith's wondrous performance, which finally turned the crazy NCAA tournament right side up and gave Louisville a 59-54 defeat of UCLA.
Oh, there were other heroes for the Cardinals. Rodney McCray, who had a game-high 11 rebounds; Wiley Brown, who left his famous artificial thumb on the breakfast table and had to have it retrieved from a hotel dumpster; Roger Burkman, whose lip was Sliced open by a team manager's clipboard late in the game; and Jerry Eaves, the overlooked second guard who played with two good thumbs, two good lips and consummate poise. Brown and Burkman took down the key late rebounds, and Eaves made two clutch baskets to tie the game at 54-all with 2:54 remaining.
But it was Griffith who came through when all the freshmen and sophomores on both sides weren't up to the task. "Just his presence out there was the big factor," said UCLA Coach Larry Brown. "We were trying to guard the greatest player in the country."
After Louisville Coach Denny Crum had given his team a halftime tongue lashing—"You're choking," he said; after seven lead changes in the second half; after Rocket Rod Foster and Slew Sanders had forged the Bruins' biggest lead, 50-45, with 6:28 remaining; and after Griffith had been held without a basket for almost 10 minutes by the skin-tight checking of three different Bruins; the Louisville star went to work. In a little more than four minutes he was responsible for 11 points with a three-point play off an alley-oop pass, a jumper from deep in the corner, two assists to Eaves (for an open 16-footer and a drive) when every defender in the vicinity was converging on Griffith; and, ultimately, the capper, one last up-up-and-away shot from the top of the circle that grazed nothing but cord and gave Louisville a lead (56-54) it would keep forever.
It was Griffith's ninth and last basket—he had a game-high 23 points—and, as it turned out, the Cards didn't need any more, because the Bruins finally began to show the effects of the tenacious Louisville press and of the tension in what Larry Brown called "the toughest NCAA final ever." UCLA threw the ball away and then lost what should have been an easy jump ball. The Cardinals were in a freeze now, and Derek Smith nailed two free throws with 52 seconds left to make the score 58-54.
UCLA had one last chance when senior Kiki Vandeweghe raced into the left corner for a jumper with 29 seconds remaining. Vandeweghe had attempted an ill-timed, off-balance, swooping, juking layup way back around the four-minute mark, which would have given the Bruins a six point lead (56-50), perhaps an insurmountable margin. But he missed that shot when the alert Eaves crossed underneath and forced him to change direction, and he missed this one, too. The Cardinals were home free. Reserve Poncho Wright shouted, "We're the baddest!" while Griffith himself put the evening in broader perspective.
"When I enrolled at Louisville I promised I'd bring home the championship," he said. "But tonight they sagged a lot and I capitalized on the others getting off. This was never just the Darrell Griffith Show. This was the Louisville Show."
As if winning the championship for his school wasn't enough, Griffith also rescued the final four from second-rate-itis. This was no small achievement considering that UCLA, Iowa and Purdue, the other three finalists, had finished fourth, tied for fourth and third in their respective conferences and had suffered 26 of the survivors' 29 defeats.
Though those 29 losses didn't break the record of the 1954 final four—La-Salle, Bradley, Penn State and USC had 33 among them—it wasn't exactly an upper. Among others on finals night, coaches George Raveling of Washington State and Jim Valvano of Iona must have been taking bows all around. During the regular season the Cougars whipped UCLA by 16 points and the Gaels embarrassed Louisville by 17.
If there was one thread connecting the improbabilities of the event, it was the legacy of John Wooden. The Wizard of Westwood's imprimatur was on every team: Wooden had been three times an All-America as a player at Purdue. He was an instructor at the naval pre-flight training school at Iowa during World War II. He had spent a legendary coaching career (10 national champions) at UCLA. Finally, he had tutored Crum, both as a UCLA player and as an assistant coach. As Wooden's wife Nell said one day, "John has about a 95% interest in this thing."
On Friday there were upwards of 6,000 basketball-crazed fans in Market Square for the practices—they wouldn't have cared if a ninth-place finisher from the Mojave Desert Fix-A-Transcript Conference had qualified. Wiley Brown saw the mob and vowed, "They're going to see some of it today."
Brown meant dunks. As in Doctors of Dunk. As in Dunkenstein, or simply Stein (which is what Griffith's teammates call him). And the Cardinals did throw down some outrageous, screaming whammers in their warmup session. But Crum's major accomplishment this year has been to instill the lesson that you dunk for show, you stay disciplined for dough, and Louisville did just that to defeat Iowa in the semifinals, 80-72.
The game moved to 22-17 in favor of Louisville almost before anyone realized that Griffith and the Hawkeyes' marvelous Ronnie Lester were not just dueling one-on-one. Playing on his surgery-repaired knee, Lester scored Iowa's first 10 points while Griffith had 10 of Louisville's first 12. After the Card guard got eight more (now he led the Hawks by himself, 18-17), Lester made a steal and broke for the Iowa basket.
As he rose through the air, Lester was bumped hard by Burkman, and he crumpled to the floor, trying to protect his right knee as he landed. The fall was nothing; it was the bump that did the damage. The knee was bruised so badly that Lester was unable to continue. As he limped slowly off the court, the entire Louisville team approached and made apologies. "Sorry, man. I hope you get back," Smith said.
But Lester would not. As Iowa's best shooters, Kevin Boyle and Vince Brookins, continued to miss (20 of 26 shots for the game), Louisville expanded its lead. Pounding Iowa on the offensive boards, the Cardinals went ahead 34-29 at the half and 66-55 with 7:03 to go.
By this time an anguished Lester had left the Iowa locker room to watch a TV monitor in a janitor's closet. Griffith, meanwhile, had scored 32 points from so many implausible angles that Wiley Brown said, "I didn't know where they were coming from."
One came on a post-up, float-to-the-corner fallaway jumper with Boyle draped all over Griffith. Another was initiated at the top of the circle—at least that's where Boyle and Steve Krafcisin thought Griffith was. He faked both men up in the air to the right, whirled back left and lifted off free to drill another one-hander from, Krafcisin said, "the moon." Earlier in the week Griffith had been asked how he would guard himself. "I'd keep me away from the ball," he said, "because when I get it...." Unfortunately, because Griffith often brings the ball upcourt, keeping it from him would be a good trick.
Griffith finished with 34 points (14 of 21 from the field; the team shot 59.6%), six assists and five rebounds. Oh yes, he made three steals and blocked two shots and, upon leaving the game, ran the length of the court to slap hands with everyone on the Iowa bench.
"The man was flying over us all day. We tried four different guys on him and there was nothing any of them could do," said Iowa Coach Lute Olson.
UCLA's Brown was faced with a similar task in the other semifinal, in which the Bruins locked initials with Joe Barry Carroll of Purdue. As UCLA's 67-62 victory over JBC unfolded, however, Carroll was hardly in evidence.
Not when Vandeweghe, he of the sword-swift first step, drove for dunks three times and made two other inside baskets on the way to 16 first-half points. Not when the Bruins' multi-wave pivot defense—Sanders, James Wilkes and Company—roughed up the placid Joe Barry and denied him space as well as the ball. And not when Carroll's teammates needed him the most; i.e., when forwards Arnette Hallman and Drake Morris were hurling up enough bricks to rebuild Indy's Monument Circle.
Only Purdue's defense—and 23 points from Keith Edmondson—kept Coach Lee Rose's team in the game. Carroll, who has yet to guard anything but his own privacy, hardly was a factor there, either. "He seemed tired," said Sanders. "He didn't even protect the basket," said Wilkes. "What's the big deal? Alton Lister [of Arizona State] is tougher."
To be fair, Purdue came back from a 10-point deficit, and Carroll (17 points, eight rebounds, six turnovers) did make two vital baskets over the 6'6" Sanders late in the game to pare the UCLA margin to 59-58 and to 61-60. But in between he missed a jump hook that would have given Purdue the lead. Then the Bruins kept making free throws (21 of 25 for the game, 136 of 166 for the tournament), Morris cast off another rock from the corner that landed somewhere near Ohio, and that was that. The fairly gorgeous actress-starlet-model-cheer-leaders of UCLA began celebrating the team's return to the championship game for the first time in five years.
All weekend Larry Brown had referred to himself as "the little Jewish boy from Brooklyn who screwed up this team." He had referred to his helter-skelter Bruins as "wackos." And he had referred to Griffith as "Griffin, or whatever."
After Monday night, Brown may have figured out how to pronounce his executioner's name. At the end, even Vandeweghe was trying to guard Griffith, making it four Bruin defenders to go along with the four Iowans who had tried and failed on Saturday.
One of those Hawkeyes, Bob Hansen, may have said it best. Asked just how good was the wildest-jumping player in the wildest NCAA tournament ever, he said, "I've guarded other guys who could leap high before. But all of them came down."
PHOTO
RICH CLARKSON; MANNY
MILLAN
If Griffith was the ace, then McCray was the king, scoring, blocking shots and ruling the boards.
PHOTO
RICH CLARKSON; MANNY
MILLANPHOTORICH CLARKSON; MANNY MILLANIowa's Kevin Boyle failed to score against Louisville and airborne Derek Smith offers one reason why.PHOTORICH CLARKSON; MANNY MILLANUpcourt against Purdue heads Sanders, whose switch from forward to center made the Bruins click.