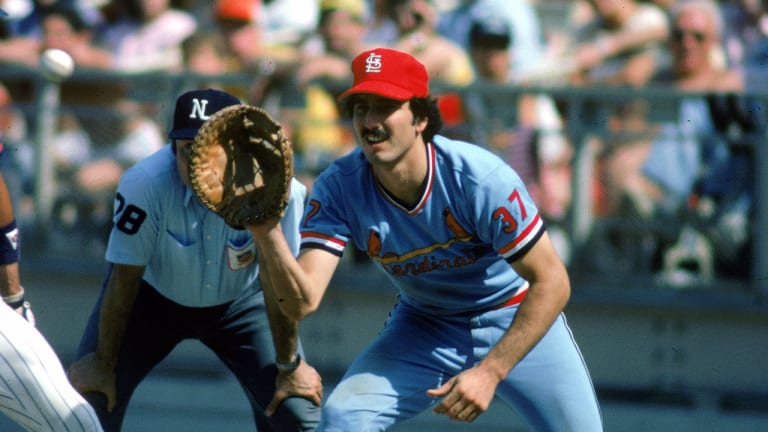 CALLED STRIKE TWO?
As we went to press, player representatives from the 26 major league clubs were about to meet in Dallas to vote on whether to call a strike and, if so, when. On the assumption that regardless of the decision there will eventually be some sort of baseball season, even a shortened one as there was in 1972, we proceed undaunted with our special issue.
He hit a commendable .292 as a rookie in 1967 but slumped to .273 the next season. Then, as a youngster of 23 in the last year of the turbulent 1960s, he led the American League with a .332 average. It was a portentous season, for in the 1970s he would lead his league in hitting six more times. His name? Right. Rod Carew.
He won only six games in each of the final two years of the '60s and was so wild with his fastball that his team, the New York Mets, would soon trade him all the way out of the National League. In the 1970s he would set a major league single-season strikeout record (383), lead the American League in strikeouts six times, pitch four no-hitters and become the highest-paid player in the history of the game. His name? Right. Nolan Ryan.
Sometimes it happens that way in baseball. A player will muddle dimly through his first few seasons, then, as the decade turns, ignite and become a star who will shine for the next 10 years.
There are many young players from the '70s who already have become national figures—most notably, Jim Rice, Fred Lynn, Dave Winfield, George Brett, Dave Parker. But there are others just now approaching their considerable potential, players barely recognized in the seasons just past, who can flare into prominence in the '80s.
The Cardinals are twice blessed, with Keith Hernandez (left), 26, and Garry Templeton, 24. Hernandez' resolute progress through the declining years of the '70s—he hit .289 in '76 and .291 in '77—was arrested by a .255 season in 1978. Were those who predicted he would become one of the game's finest batters caught off base or was that mediocre season merely an aberration? The answer came with stunning clarity last year when Hernandez led the league with a .344 average, 48 doubles and 116 runs scored. He had 210 hits and 105 runs batted in, and he won his second straight Gold Glove award for fielding excellence, becoming the first infielder to win a batting title and a Gold Glove in the same year. He shared the National League's Most Valuable Player award with the Pirates' Willie Stargell.
"I've seen first basemen who can do things as well as Hernandez," says the Astros' Joe Morgan, "but no one who can do everything as well as he does."
Hernandez has a ready explanation for his emergence as the major leagues' leading batter. "There is no better feeling than hitting a home run," he says. "But you have to keep everything in perspective and realize your limitations. In 1978 I tried to pull the ball. I had hit 15 homers in 1977, and I was trying to hit 20. Instead, I slumped from .291 and 15 homers to .255 and 11. I stopped trying to hit homers last year. The result was that I hit 11 again but had my most productive year."
He made other adjustments, one of them unusual for a lefthanded batter. "A lot of things happened to me last year, both physical and psychological," he says. "I had always hit lefthanders well. Both my father [a retired San Francisco fireman and former minor league player] and my brother were lefties, and they pitched to me when I was young. The righthanders gave me trouble. Ken Boyer [the Cardinals' manager] suggested late in the 1978 season that I move away from the plate because I was getting jammed by righties. I didn't want to change during the season because if I move even a little off the plate my strike zone changes. So I waited until the spring of 1979 to make the move, and I hit .351 against righthanders. That's what did it."
Hernandez, who is of Spanish and English-Scottish heritage, gets along with virtually everyone, but he sometimes finds his recent eminence a mixed blessing. "The same day in February I signed my contract [five years, for $3.8 million], I had to fly to Chicago for a dinner," he says. "I never had a chance to celebrate with my family."
Home for Hernandez is on three acres of land in a semi-rural area of Missouri about 40 minutes' drive from the ball park. "Our house is on the side of a hill," he says, "and there's a lot of woods around it. I'm happy taking my golden retriever for a walk or going on drives with my wife [Sue] and daughter [Jessica]." At other times he will spend hours piecing together large, detailed models of clipper ships.
Attention to detail was built into him. "When my father was teaching me baseball, we would go over all kinds of situations. 'You're playing first,' he'd say. 'There are runners on first and second. There's a base hit to right-center. Where do you position yourself?' "
Hernandez still relies on his father for advice. "Sometimes if I'm in a slump, I'll call him up and tell him, 'I don't know what I'm doing wrong. I'll fly you out.' He'll always make the correction."
Hernandez' teammate, Templeton, has yet to experience a bad year at the plate, having had a rousing .304 average over his 3½ seasons in the major leagues. Last year he hit .314 and became the first player ever to get 100 hits righthanded and 100 lefthanded in a season. His 211 hits led the league, as did his 19 triples. It was the third year in succession that he led the league in triples, but also the second in succession—and this is the rub—that he led the league in errors, a dubious distinction he feels befell him mainly because he has greater range than any shortstop in the game. This is a view shared by the Cardinals' chief executive officer, John Claiborne, who recently signed Templeton to a six-year, $4 million contract.
"No one can match Garry in terms of the total picture—offense, defense and speed," says Claiborne. "He's the best there is in baseball. Sure, he's made some lackadaisical throws and he isn't the best defensively at present, but he's going to be. And when you add the fact that he can switch-hit and run, it's just plus, plus, plus."
The minuses are represented by those errors—34 last year, 40 in '78, 32 in '77—but Templeton is working to improve his fielding, although he will always make errors because of his vast range. "I'm using two hands now and trying to be more fluid in my move to first base," he says. "I'm staying in front of the ball."
A player who almost never errs is Carney Lansford, the Angels' brilliant 23-year-old third baseman. He made only seven errors last year in 405 chances to lead American League third basemen with a .983 fielding percentage. But Lansford is much more than a defensive whiz. Last season, his second in the majors, he hit .287 with 19 homers, 114 runs, 79 RBIs and 20 stolen bases.
"Carney's an outstanding player right now," says his manager, Jim Fregosi, "and I don't think he's come close to the potential he has. Basically, he's a throwback. He plays so damned hard all the time. And he wants to learn. I think he's capable of stealing 35 bases and hitting 25 home runs a season."
Lansford is a rangy, strong-armed 6'2" 195-pounder whose baby face seems fixed in an attitude of apology. His shyness may have been the biggest obstacle he had to overcome as a major-leaguer. "I feel more comfortable now after two years," he says. "It's hard for any rookie. You're in awe of guys like Joe Rudi, Don Baylor, Bobby Grich." Lansford, like Hernandez, was raised on "the Peninsula" south of San Francisco. He was a fan, however, of the A's, based across the bay in Oakland. "I'd be driving down the road listening to my car radio, and it seemed like they were always behind 4-3. But they'd always pull it out. I admired the players on that Oakland team. Now I'm playing with them—Joe, Campy [Campaneris], Don. I patterned myself after Rudi. When he's not hitting, he doesn't show a lot of emotion. I try to do that, but I have a big ego when it comes to playing this game. I don't like to make a fool of myself in anything. That's immaturity, I guess. Maturity comes hard."
It hasn't for Paul Molitor, the Brewers' second baseman and leadoff man, who, in the opinion of many experts, is already the best all-round player in the game. An all-Big Ten shortstop at the University of Minnesota, he had rarely played second until he reached the major leagues in 1978 after only 64 games in the minors. He was ticketed for the Brewers' Triple A farm until Shortstop Robin Yount walked out of spring training camp, threatening to pursue a career as a professional golfer. When Yount returned, he injured a foot and was sidelined for the first weeks of the season. Molitor, one year off the Minnesota campus, started at short opening day and handled 10 chances flawlessly while getting a hit and driving in a run in his second big league at bat. Yount soon recovered, but Molitor was playng so well the Brewers decided to move him to second and keep him in the lineup. He hit .273 as a rookie, scored 73 runs and stole 30 bases. Last season he hit .322, scored 88 runs and stole 33 bases. He also improved dramatically as a second baseman, particularly in executing the double play, and when Yount required rest Molitor filled in for him brilliantly. This spring Molitor worked out in centerfield and, not surprisingly, mastered that position, too.
"In my opinion, he could be an All-Star at three positions-short, second or center," says Milwaukee Player-Coach Sal Bando. "His physical abilities are obvious. What makes him outstanding is his mental makeup and his maturity. After meeting him in that first camp, I could see he had it together. Here is a kid who can dominate a game."
Molitor accepts the fact that as long as Yount is around—and Yount's only 24—second base will be his destiny, but he prefers shortstop because "it is a position of leadership. It's the control position." The Brewers are indeed fortunate that Molitor, at 23, is such an agreeable and mature young man, because they have asked him to do two things he had never done before-play second and hit at the top of the order. In college he was a pull hitter with power. Now, because of the priorities of the leadoff man, he has become a spray hitter expert at getting on base. He sprays with power, though, as witness his 27 doubles, 16 triples and nine homers in 1979.
With all of his new responsibility, Molitor has retained a beguiling humbleness. "I was hoping to be a .300 hitter in the majors," he says, "but last season was beyond my highest expectations."
There is every expectation that Bob Horner, the Braves' 22-year-old third baseman, will be the power hitter of the '80s. Horner has already hit 56 homers in only 210 major league games, and he has yet to play a complete season. He joined the Braves on June 16, 1978, fresh from Arizona State, where he had been College Player of the Year, and hit a homer in his first game. He finished the year with 23 in 89 games, while batting .266, driving in 63 runs and winning the National League Rookie of the Year award. Powerfully built and personable, Horner appeared to Atlanta fans and the Braves' management as the young demigod who would lead their benighted baseball team out of the basement. Then the trouble started, and, as Horner was to lament, "They took all the fun out of everything."
Under terms of the Basic Agreement between owners and players, the Braves were obligated to pay their new star no less than 80% of his previous year's salary. No problem, said management. Horner earned only the minimum wage of $21,000 in 1978, and the Braves were prepared to pay him 100 grand. No, no, protested Horner and his agent, Bucky Woy. According to their way of figuring it, Horner's wages for '78 included the $162,000 bonus he received for signing. Thus, they contended, under the 80% rule the Braves had to pay Horner at least $146,400 in 1979. An arbitrator eventually sided with Horner, but not until the once-beloved player had missed all but a week of spring training and had been accused by team owner Ted Turner of being a fuzzy-cheeked ingrate.
When Horner took the field on opening day last year he was booed. "People couldn't understand why I would be asking for more money when I was so new," Horner says. And with the catcalls resounding in his ears, he injured an ankle in that first game and missed the next six weeks. When he finally returned he silenced his hecklers with some remarkable slugging. In 121 games he batted .314, hit 33 homers and drove in 98 runs. And after the season he and Turner shook hands and agreed on a three-year, million-dollar contract.
Atlanta fans may have had to fall back in love with Horner, but his manager, Bobby Cox, never fell out. "Bob's makeup is so good, it's unreal," says Cox. "He's tremendously strong. I believe he's probably the best young ballplayer that's going to come through the '80s."
Horner, the first draft choice of a weak team, was virtually assured a chance to play in the big leagues from the moment he was selected. Rick Sutcliffe, picked first by the Dodgers in 1974, had no such rosy prospect. Sutcliffe was just another pitcher in the system of a team with the best staff in the National League. He was not exactly lost in the shuffle, but it was apparent that, in the parlance of sport, he would be obliged to "pay his dues." He paid them in such way places as Bellingham, Bakersfield, Waterbury and Albuquerque, suffering-inevitably, it seems-a sore arm along the way. By last spring his prospects didn't seem to have improved much, because the Dodgers had a surfeit of starting pitchers with Burt Hooton, Don Sutton, Rick Rhoden, Doug Rau, Andy Messersmith and Bob Welch. "Consequently," said Manager Tommy Lasorda, "we felt that, rather than keep this youngster [Sutcliffe is 23] around, it would probably be better for him if we sent him out where he would pitch on a regular basis."
Ah, but luck, as it will, intervened, in the form of arm ailments, slow starts and general disorder in a Dodger camp that ordinarily functions with military precision. On the day before the season opened, the Dodgers released righthander Pete Broberg and moved Sutcliffe onto the major league roster. "I was surprised," Sutcliffe' says. "Anybody who knew anything about the Dodgers knew that it'd be impossible to make the club last year. In fact, during the last couple of weeks in spring training, the team had a cartoonist draw a picture of the 25 guys who'd be on the team and the five extras who had a shot at making the team. I wasn't even in the cartoon."
But he was in the picture from then on. Pitching at first in relief-he made nine such appearances—he gradually moved into the starting rotation as arm miseries afflicted Welch and Rau. He responded by leading the Dodgers' staff in wins (17) and innings pitched (242), and he was named the National League Rookie of the Year, an accomplishment he ranks second to just having made the team. Lasorda, among others, is convinced Sutcliffe can become the Pitcher of the '80s. "He put on a tremendous exhibition of determination and desire," Lasorda says. "He's a knowledgeable young man. He's a good student, a competitor. He loves to win. I think he'll be around for many, many years."
So should they all, these young men of the future, these players of the decade ahead. Their good fortune will be ours, for we will have a good 10 years, fate willing, to share in their brilliance.
PHOTO
TWO
PHOTOS
Molitor, 23, came charging out of the Big Ten and into the Big Time, hitting .273 and .322 for Milwaukee. The hairy Horner, 22, had 33 homers, 98 RBIs in 79.
TWO PHOTOS
Templeton, 24, may be wild at short, but he has got his bat under control, averaging 197 hits the last three years. Lansford, 23, hit .287 and drove in 79 runs in 1979.
PHOTO
Sutcliffe, 23, was a 17-game winner last year.