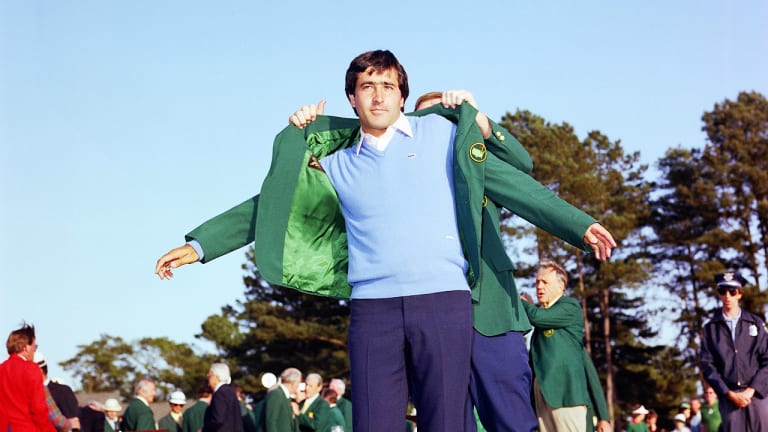 The Reign of Spain
Except for one jittery hour, 23-year-old Severiano Ballesteros ruled the Masters with an iron hand, humbling our finest
All week long Severiano Ballesteros seemed to be playing a different Masters Tournament from anyone else, including most of the recognizable Americans—unless, of course, you happen to be a close follower of such golfing legends as Jeff Mitchell, Rex Caldwell, Ed Fiori and Gibby Gilbert. These were the competitors we sent out to chase the handsome 23-year-old Spaniard as he went about suggesting that he may be the real Tom Watson. In the end, after the expectable traumas on the back nine holes of the Augusta National course, all they determined was that Gilbert was low American.
Ballesteros started becoming the youngest winner of the Masters on Thursday, when he attacked the premises with a six-under-par 66. That gave him a share of the lead with Australia's David Graham and Jeff Mitchell of the U.S. of A. The young star of global golf continued on Friday when he shot a three-under-par 69 and moved four strokes ahead of the field, his closest pursuers being Graham and Rex Caldwell of the U.S. of A. The next thing Ballesteros did was fire a four-under-par 68 on Saturday, which left him with a seven-stroke lead over Ed Fiori of the U.S. of A.
At this point it was fascinating—or appalling—to contemplate that our own heroes who had been nearest Ballesteros on the scoreboard—Mitchell, Caldwell and Fiori—were all appearing in the Masters for the first time and that among them they held two victories on the PGA tour, a Phoenix Open for Mitchell and a Southern Open for Fiori. It was thus not all that surprising that Gilbert would make the boldest run on Sunday afternoon with a final-round 67, which got him a tie for second place with still another foreigner, Australia's Jack Newton. After all, Gilbert had won the Memphis Classic back in 1976.
Ballesteros had his delicate moments in good old Amen Corner in the heat and shadows of Sunday afternoon when he saw seven strokes of his lead go fluttering away. A lesser golfer might have been stricken. But Ballesteros went back to hitting the wonderful golf shots that had put him where he was in the first place. He steadied himself as suddenly as he had lost his tempo and composure from the 10th green through the 13th hole. He slowed down, got comfortable and nailed a beauty of a tee shot on the 15th. It went more than 300 yards, into the perfect spot to get him easily home in two for a two-putt birdie. It was this steadying birdie that more or less ended the tournament and allowed Ballesteros to come in with an even-par 72 in the final round and a total of 275.
The Masters was Ballesteros' second major championship; he won the British Open last July. Never did he deserve to lose it, for he had simply lapped the field. When he went to the last nine holes on Sunday with a 10-shot lead on everybody, it raised the question of whether the American pros are spending too much time getting rich off their eighth-place finishes. Ballesteros is not only immensely talented, having both length and style, but he is also obviously hungry. Anyone can stumble into one major championship. It takes a rare ability of one kind or another to win two of them.
Ballesteros seems destined to take many more majors. Consider what his game combines: the length of a younger Jack Nicklaus, the boldness of a 1960s Arnold Palmer and the putting touch of a Ben Crenshaw.
There can be no question that Ballesteros has profited from playing golf in places besides Florida and California. In winning such titles as the Dutch, French, Swiss, Japanese, German, Kenya and Scandinavian opens, and proving he can take the big ones against the best the U.S. has to offer, he is a strong argument for the case that international travel not only broadens the mind but improves the grip and the swing.
Ballesteros has a beautiful swing from the setup to beyond the follow-through, and he is so strong that on those occasions when the swing leaves him and his ball winds up in utterly crazy places, he has both the muscle and the instinct to rescue himself.
The swing leaves him less frequently now than it did last summer when he kept trying to drive the ball off the grounds of Royal Lytham and St. Annes but kept finding it and hitting it on the green. He has pulled back some of his length and refuses to take the wild slash every single time, as he once did. But he does still come out of his shoes now and then.
When Ballesteros did so at Augusta, all the more incredible things happened. Which gave him the opportunity to say, "Drive fairway all the time, no fun. Make big hook, cause excitement."
One of the more exciting moments occurred long before Ballesteros' escapades on Amen Corner. On Friday he hit the biggest hook in the history of leftward trajectories at the 17th hole, and his ball wound up on the 7th green—roughly the equivalent of aiming at Kansas from New York and hitting Mississippi.
The result, however, was only another birdie for Seve. He took his free drop off the putting surface at the 7th hole and hit a towering blind iron shot that landed about 15 feet from the flag at the 17th, and then he rammed home the putt and threw his cap into the air the way Palmer used to.
If that is one example of the type of golf Ballesteros is capable of playing, here is another and more important one. On Saturday, at the long, uphill, par-5 8th hole, Ballesteros leaned on a three-iron shot from exactly 245 yards away and put the ball within five feet of the pin. He made that putt for his eagle on the way to the prodigious lead he was building.
The fact is that 245 yards with a three-iron is not only against the law, it is inhuman, even if the ball doesn't go straight. But a straight 245 yards with a three-iron is Severiano Ballesteros. Watson, who has ruled the game for the past three years, should consider the fact that only three other golfers in history have won two or more major championships by the tender age of 23. Their names happen to be Francis Ouimet, Bobby Jones and Jack Nicklaus. Jack was the previous youngest Masters champion, having been three months older than Ballesteros.
There are different explanations for what happened to all of the American stars last week. As a group they would no doubt like to think that the rain-softened course played too easy and this disarmed them of their talents and permitted the Mitchells, Caldwells, Fioris and Gilberts to sail past them. It is true there was never any real wind, and the greens did hold iron shots and did not putt with the lightning speed of other years. But why didn't they take advantage of the course the way Ballesteros did?
In some cases they may have been "overprepared," and in other cases they may have "outthought" themselves. They tend to come into Augusta each spring with a game plan and a parcel of theories about the correct way to play every hole. What Ballesteros appears to do when his game plan goes wrong on a particular hole is birdie the next one by not worrying about whether to be below or above the cup. He takes out some kind of an iron and aims at the pin, and then he hits the ball there.
Two of America's fondest hopes for this Masters were Watson and Crenshaw, who came primed for victory and looked as if they were playing superbly. Watson left his chances at the deadly little 12th hole on Saturday when he "blocked out" a seven-iron and went into the water and wound up with a triple bogey. Granted, he was something like five shots behind Ballesteros at the time. But there were many, many holes left to play, and a fierce "name" was badly needed to put some pressure on the leader.
Crenshaw wound up in a decent tie for sixth place with three consecutive sub-par rounds of 70, 68 and 69, but he had done himself in on opening day with a horrible 76. He blamed it on nerves. He was too "up" for the event. He woke up at 3:30 a.m. on Thursday and couldn't go back to sleep for thinking about the Masters, for which he knew he was so ready. Then he went out and putted like his wife, Polly, instead of himself.
Nicklaus, meanwhile, played his poorest Masters since 1967, when he missed the cut. Even a 50-year-old gentleman named Arnold Palmer beat Jack by three shots, as Nicklaus finished in a tie for 33rd. Nicklaus, whose game has still not returned to him by way of Phil Rodgers or anyone else, began by making routine bogeys and never stopped.
Many other glamorous Americans missed the 36-hole cut on a course that was more of a slice of cake than it normally is. The one who did it the most spectacularly was Tom Weiskopf. His two-day experience at the 12th hole will live in the annals of sport for as long as men pay $1.25 for a golf ball. At this one hole on Thursday and Friday, Weiskopf hit $8.75 worth of balls into Rae's Creek as he made a 13 on the first day and a seven the second.
Weiskopf at the 12th was a splendid sight for any recreational player who has trouble with his short irons or wedges. On Thursday, he kept trying to nip a wedge over the creek, and the ball kept going into the water. He would hit a shot, then hold out his hand for the caddie to hand him another ball to drop. Five balls went in on Thursday. On Friday he put two more in the drink.
On Sunday afternoon as Ballesteros went to the last nine holes, he was 16 under for the tournament, having toured the front side in three under. This had put him within one stroke of tying the 72-hole record held by Nicklaus and Raymond Floyd, and more important, it put him 10 strokes ahead of the field.
Quite clearly, Seve was playing in his own golf tournament, and it might as well have been one of those Scandinavian or Kenyan things, considering how difficult it was to find any American you could identify without a phone call to PGA Tour Commissioner Deane Beman.
But then over the next four holes those peculiar things began to happen the way they forever do on Masters Sunday. On those thrilling and decisive holes down in the pines and ponds of Amen Corner, Ballesteros lost seven shots to his playing companion and friend, Jack Newton. Suddenly, there was a ball game that even Gilbert, up ahead, would enter until Ballesteros regained his form.
It did not seem to matter at all when Seve three-putted the 10th green for a bogey. It did not seem to matter much when Newton birdied the 11th. Ballesteros still had an eight-stroke lead. The only question was whether he could birdie 13 and 15 and tie the record.
Ah, but here Ballesteros was at the evil 12th—Weiskopf's hole and Watson's hole and everybody's hole at Augusta at one time or another. He hit short and into the creek as Newton put a fine shot on the green. And then he struggled to a double bogey as Newton holed the birdie putt. The Spaniard's lead was now down to five.
On the 13th, the gambling par-5 that has contributed so much to the lore of golf and the Masters, Ballesteros went for the green and wound up in the creek again as Newton reached the green, then putted for an eagle. The result was another two-stroke swing as Seve bogeyed and Newton birdied. Now the lead was down to three strokes, and Ballesteros was both frustrated and obviously flustered. Later, when he was asked what he had felt at this point and what he might have been saying to himself, he said, "The fight was on the inside for me. What I say was 'son of beech!' "
He was wild off the 14th tee, but that was nothing new, and he played his usual iron shot over the trees to get his par 4. And then came the 15th when he pounded that drive into the heart of the fairway and put that four-iron over the water and onto the green for the birdie that would mean a green jacket winding up in a European country.
Ballesteros played solidly and without incident over the last three holes for his pars and the victory he so richly deserved. The record book will say it was a four-stroke win over Jack Newton and Gibby Gilbert. Only the future will determine whether it was really a victory over Tom Watson.
PHOTOPHOTOAussie Newton applies a bit of body English.PHOTOIn mid-charge on Sunday, Gilbert lines up a putt.