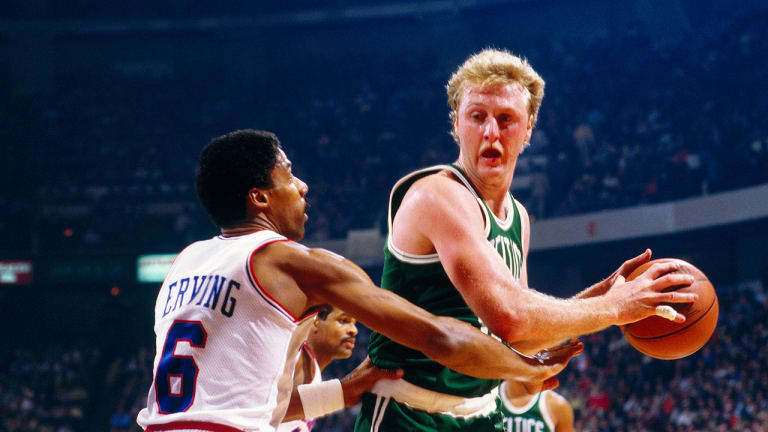 So the Red Sox were getting their flannels peeled off over at Fenway, the Bruins were going facedown in the Stanley Cup playoffs and a whole lot of marathoners were milling around town. Nothing unusual about any of that. But Boston was buzzing last week as it hasn't buzzed in many a springtime because those men in the funny green sneakers were back in the hunt for another NBA title.
Inside ancient Boston Garden, the energy emanating from the sold-out crowd last Friday was enough to set the 13 championship banners to fluttering, for the Celtics had brought off one of the wondrous turnarounds in the history of sport. By winning 61 regular-season games against 21 losses—the best record in a very good year for the NBA—the Celtics had equaled their entire victory total for the two previous miserable seasons combined.
Moreover, the team had already taken a giant step toward banner No. 14 by demolishing the Houston Rockets in the Eastern Conference semifinals in four straight games. The average winning margin of 18.5 points moved Houston Coach Del Harris to call Boston "the best team I've ever seen." Some observers of that series thought Houston might have been the worst, but no matter. Rick Barry of CBS, who moonlights as a Houston forward, said, "If you're going to lose, it's nice to lose to a great team, rather than a bunch of circus clowns."
The Celtics had heard all about how great they were, so last Friday Coach Bill Fitch had to keep reminding them that the 76ers, their opponent in the conference finals, weren't the circus clowns they once might have been, that the Sixers were just two games worse than Boston overall, and that the teams had split six regular-season games.
In the stands, the fans were ready to go. Remembered were the epic battles between a hero named Russell and a villain named Chamberlain. Anticipated was an epic battle between a hero named Bird and a villain named Erving.
In the Boston locker room, each contributor to this semi-miraculous season—every one of whom, except the big rookie, has had a steady diet of losing the last few years—prepared for the showdown in his own way. Guard Chris Ford and M. L. Carr, the sixth man, both veterans of a circus known as the Detroit Pistons, read their mail. Forward Cedric (Cornbread) Maxwell worked 20 minutes on getting his shoelaces just right. Dave Cowens, twice a championship center, once an MVP, once a runaway Christmas tree farmer, last year the coach of the worst Celtic team in 29 years, serenaded—yes, serenaded, in a voice that could shatter tin—his neighbor Nate (Tiny) Archibald, who wasn't one of Coach Cowens' favorite guys but now is the guard who makes the Celtics go. Cowens sang, "Tiiiiiiny bubbles..." and laughed when Archibald looked at him as if he were crazy.
Other Celtics—like Pistol Pete Maravich, who took a pay cut of approximately $525,000, frizzed his hair and painted his sneakers green just to be a part of all this—watched a videotape of Boston's last regular-season game with Philadelphia. Fitch desperately wanted his team to be ready for anything the Sixers might pull. So there was the tape showing Erving scoring about 10 baskets that the 101st Airborne couldn't have stopped. Sudden sharp yells disrupted the calm: "Help! Help! Help!" They sounded more like yelps.
Anxious eyes focused on Larry Bird, slumped in a corner, looking, as he always does, emotionless.
"Larry, what's wrong?" asked Rick Robey, the backup center.
"Nothin'," said Bird in his Hoosier drawl. "I'm just practicin' up my defense for Dr. J."
The Celtics had gotten to where they were by helping each other, by playing classic team basketball, but it was the brilliant play of Bird that helped most.
"He's just done everything the buildup said he'd do," says Fitch. Red Auerbach, the Celtics' president and general manager, concurs. Says Auerbach, "He's the best passing forward I've ever seen. Better than Bill Bradley, Rick Barry, John Havlicek, all of them. From an unbiased point of view I think he should be the MVP. Everybody says Abdul-Jabbar or Erving, but people don't realize that these guys are with organized teams that they've been with for years. Bird's playing with new people, not only new to him, but new to each other. And he has made the difference."
But so, too, has Cowens, who was unburdened from the coaching job he inherited in the shambles of last season. He worked himself into magnificent physical and mental shape for this year. So did Ford. The best thing anyone ever said about his game when he played in Detroit was that he was "smart" and "hardworking." And then there was Archibald. In 1972-73, at Kansas City, he led the league in scoring with 34 points per game and in assists with 11. He broke his left foot 34 games into the 1976-77 season, when he was with the Nets. A year later, traded to Buffalo, he tore an Achilles tendon in an exhibition game, and that cost him another season. He spent much of last year on the Boston bench, musing as players like JoJo White, Earl Tatum, Marvin Barnes, Curtis Rowe and Earl Williams were shipped out by Coach Cowens. In his lowest moments, Archibald sought solace from his old Kansas City coach, the man who taught him much of what he knows about playing guard—Bob Cousy. "Cooz would tell me, 'Don't get down, Tiny. These are the Celtics. Things will get better.' Well, the man was right."
The one missing ingredient this season was a shooting guard to come off the bench. So the call went out to Maravich, who had already settled his contract with the Utah Jazz, cleared league waivers and was a free agent. "I always wanted Pete," says Auerbach. "I wanted to see what he could do playing with a good team."
So did Maravich. He was packed and ready to sign with Philadelphia—the 76ers had a uniform all ready for him—when Auerbach called. It didn't take much to convince the Pistol, and on Jan. 22 he chose Boston. "It wasn't money," says Maravich. "People don't believe me, but I've always said I never played this game for money. The money was just always there." Now he signed for a mere $80,000.
Maravich hadn't come off the bench for Utah in 28 straight games. When he arrived in Boston, he says, "I was in no shape at all. I was trying to catch a 60-mile-per-hour locomotive and I was standing still. I didn't look at it like the press did—'Here's Maravich's last shot. Let's get Pete a championship before he goes out.' No thanks, I can live without that. I thought that just one time I wanted to experience the other side, the fun. I wanted to contribute, not be the main donor. When you've been on the negative side for a decade you want a different perspective.
"My game is still as good as ever. I'm in shape now, my knees are fine. Hell, I averaged 23 points a game in this league with a three-pound brace on my knee."
Maravich worked himself into shape, and averaged 17 points in 25 minutes over the last nine games of the season. In a key game at Washington on March 25 he scored 17 points in the fourth period, including a three-pointer to win it at the buzzer.
"A championship would culminate my whole basketball life," Pistol says. "It's the only reason I ever started playing in the first place, to get a ring. The other stuff—the trophies, plaques, scoring championship—you can throw it in the Mississippi River for all I care. It doesn't mean a thing to me. This team is what basketball is about."
But as important as Cowens, Archibald and Maravich have been, Bird has been more so. In Boston, they speak of the Russell era, the Cowens era. This is the dawning of the Bird era. Maravich, once dubbed "the guard of the '70s," hails Bird as "the forward of the '80s."
But as the series with the Sixers began, Bird's defense was causing concern. Maxwell would be busy trying to keep Caldwell Jones off the backboards. Cowens had to worry about Darryl Dawkins, who was coming off a 30-point, 11-rebound performance in the final game of Philly's 4-1 triumph over Atlanta, and Dawkins was bound to unleash some of his chocolate thunder on Boston Garden's parquet floor sooner or later. Ford would have his hands full with Lionel Hollins, a superb shooter, and Archibald would have to be the Tiny of old to chase Maurice Cheeks around all night.
That didn't leave a lot of help for Bird on Erving. Not that anything short of divine intervention would do the job anyway, for the Doctor has been playing his best basketball since joining the 76ers four years ago.
"Larry's defense has improved tremendously for a guy who can barely outrun Red," said Fitch. "But J. I don't know who in this league can stop J."
Boston's intention was to stop Philadelphia's brutal fast break, on the theory that an Erving standing still is better than an Erving in full flight. But when the Doctor shoots the way he did in Friday night's opener—12 for 22, 29 points—Erving on ice skates would have been formidable. Boston slowed Philadelphia down all right, but the Celtics' own spectacular fast break was shut down as well, and they lost the game 96-93.
Even though Cowens and Bird controlled the backboards in the first half, the Sixers would scramble back in a defense they could only have dreamed about playing in past years. Archibald was slowed to a halt. Dawkins would spread his bulk across the lane to keep Tiny from penetrating, while Caldwell Jones and Hollins would block the passing lanes, which the Celtics normally own. Nevertheless, the Celtics rammed in enough perimeter shots and drew enough fouls to lead for all but 1:28 of the first half and held a 52-44 lead at halftime. But Erving had turned Bird into a penguin. The Sixers would get the Doctor the ball and get out of his way. Result: Erving burned Bird for 14 points in the first half and then simply took over the game for 2½ minutes in the third period. The Celtics led comfortably, 58-50, when, inexplicably, they decided it was three-pointer time. First Bird missed, then Ford, and Erving turned both plays into baskets. The Sixers cleared out for him and he drove for another; he flipped in one more at the end of a break; and then he tossed in a 20-foot bank shot from the left wing. Five in a row. After a 14-4 surge, Philly was ahead 64-62.
Boston never led again, although it tied the score twice in the final period on Bird bombs. But when Erving tired down the stretch, Guard Henry Bibby came off the bench with some clutch shooting, and Dawkins took charge in the middle. Sir Slam sent one dunk shot down the shirt of Robey, who was playing because Cowens had five fouls, and hit two nimble jumpers from the lane to make it 94-90. With two minutes left, Maxwell came screaming in for a jam, and Dawkins blocked it—cleanly. Maxwell said, "I threw down a power dunk. Dawkins made a power block. He was awesome."
Bird had scored 27 points, but that wasn't enough. Dawkins finished with 23 points and 10 rebounds, a power performance, his best ever in Boston.
The win threw the home-court advantage to Philly and someone said to Fitch, "You almost have to win Sunday."
"There's no almost about it," the coach replied.
Fitch had been driving that imperative home—so forcefully that for a while on Sunday it looked as if he had unnerved the Celtics, particularly Bird. Erving burned him three times in the early going, while Bird missed three of four shots and threw away two passes. Fitch threw his hands heavenward and called for a time-out.
"Larry knew I was going to holler at him," he said, "so I didn't." The silent treatment worked. All Bird did was score 15 of the next 21 Celtic points on four rainbows and three fake-and-go moves that left Erving stroking his chin. While Bird was collecting 21 first-half points on 10-for-16 shooting and working hard to deny the ball to Erving, Maravich came in to hit four of five shots as Boston cruised to a 53-38 lead. But from there, Philadelphia subs Steve Mix and Bobby Jones led a 12-1 Sixer run that brought it to 54-50 at halftime.
Bird hit his first three shots of the second half against Erving, twice using moves right out of the Doctor's bag. "He had been making his outside shots," said Erving, "so when he would pull up, I went for the shot, figuring that if he drove I would get help. He kind of set me up."
"I didn't set up nothing," said Bird. "I just took what was available."
Dawkins hit three straight baskets to tie the game at 62 in the third quarter, but Cowens demonstrated that, even at 31, he may still be the best pure defensive center around. He put the heavy muscle to Dawkins and Sir Slam didn't score again. "All I want to say is that hand-checking is illegal," commented Dawkins, "and I swear Cowens has six hands."
The final period was a defensive clinic by the Celtics, pressing and double-teaming the ball, clogging the middle and controlling the board. Even Bird's eight straight misses—"I ain't never seen nobody hit every shot he took," he said—hardly mattered, with Maxwell fighting for offensive rebounds, going to the foul line six times in the last five minutes and finishing with 17 points. And anyway, Bird wasn't finished yet.
"He missed eight in a row," said Fitch, "but I knew damn well if we got him a good shot on nine it was going to go." It did. Bird ended up with 31 points, Erving with a sloppy 24 and his knees packed in ice, and the Celtics with a much-needed 96-90 win.
"I just went out and done the things I done in the first game," said Bird. "I just had my hands on the ball a little more. I did hit some shots I thought I'd missed." And so the series went to Philadelphia. "Right now the impossible dream for us is beating Philadelphia in Philly," said Archibald.
"It ain't so impossible," said Bird. "We've got to go out of here like they came in here."
PHOTO
Cowens not only jump-hooked over Dawkins, but also put the heavy muscle to Sir Slam on defense.
PHOTO
Maxwell's power dunk met Dawkins' power block, and the Boston Garden rafters are still vibrating.