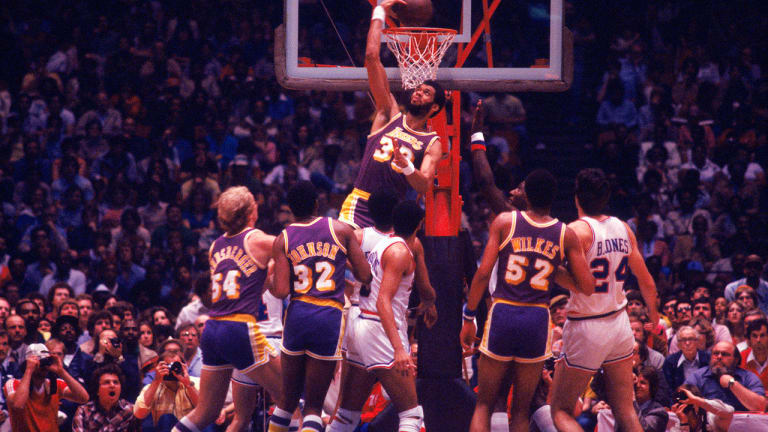 Up against the Wall Once More
For 11 seasons he has stood at the center of his own remarkable universe, unwavering in his consistency. The only time Kareem Abdul-Jabbar ever seemed to change was when he got better. And there was no mistaking it when he shifted into high in a game. "Kareem has a very specific body language," says Paul Westhead, the interim head coach of the Lakers. "When he wants to get something going, the other players know."
Last Sunday in Seattle, Los Angeles had fallen behind the SuperSonics by 21 points with 6:36 left in the third quarter when Abdul-Jabbar's body began talking tough. With Kareem dominating the boards and scoring four of his game-high 25 points, the Lakers went on a 24-2 tear to pull ahead 72-71 just before the end of the period. When the game had ended and the Lakers had defeated the Sonics 98-93 to take a three-to-one lead in the finals of the Western Conference playoff series, Westhead found himself trying to explain Abdul-Jabbar's influence on the Lakers' surge in artistic terms. "When you paint a picture," he said, "the sunshine goes in first, then you fill in the trees and the flowers."
Kareem had been the sunshine in the Lakers' picture since the playoffs began, and his performance against the Sonics indicates he is now more incandescent than ever. Abdul-Jabbar had spent the entire week breaking Seattle's backs with his graceful spin moves across the lane and breaking Sonic hearts with his devastating sky hook. In the four games he averaged 28.8 points and 11.8 rebounds, hit 58% of his shots and blocked 14. And with Kareem operating at peak efficiency. Forward Jamaal Wilkes was deadly from outside. He scored 12 of his team's points in the fourth quarter when the Lakers were putting together an 11-point run to go from four down to a seven-point lead. "What they did to us early in the game," said L.A.'s Magic Johnson after his 15-point, 13-rebound performance, "we did to them in the second half."
And what the Lakers did mostly in the second half was play superb defense, swarming over the Sonics' guards and forcing Dennis Johnson to shoot 8-for-21 and Out-of-Town Fred Brown to fire up 11 consecutive rocks. "We started playing like we were down by 20 points, not ahead by 20," said Seattle Forward John Johnson.
The Lakers had dug their own hole in a variety of ways in the first half, particularly by being unable to run. Los Angeles didn't score a point from its fast break until Magic got a layup with 3:39 left in the first period. In the second quarter the Lakers blew four fast-break opportunities, and it wasn't until after the intermission that Magic and Norm Nixon began devouring the Seattle guards and squeezed 15 points from their running game.
L.A.'s early problems were evident in the play of their starting power forward, Jim Chones, who had a three-chances-to-make-two free-throw opportunity at the end of the first quarter and then shot as if he had just swallowed a golf ball. Next Chones was assessed a technical foul for throwing the ball over one of the backboards, which was where most of his shots had been going, anyway.
With Chones and his two backups, Spencer Haywood and Mark Landsberger, stumbling around trying to handle Sonic Lonnie Shelton, Westhead frequently moved Magic from point guard to power forward, wildly disparate assignments that the rookie handled with authority. With Magic down low, where he may well be the Lakers' best rebounder, L.A. was able to come at the Sonics with Nixon and Michael Cooper in the backcourt. "Ultimately," said Westhead, "that's our best lineup."
Magic, who has never gotten much credit for defense, did outstanding work on DJ, Shelton and even the muscular Paul Silas. When Game 4 was over and the teams headed back to L.A., Magic was happy but cautious. "I can be joyed," he said, "but I can't be overjoyed."
The series had not started out so one-sidedly. Seattle opened with a 108-107 victory in Los Angeles that was built largely on Brown's droopy old shoulders. The Lakers had tried to defend against Brown's rockets in the conventional manner, by letting forwards and at times even Abdul-Jabbar switch off on him when the Sonics ran him through an intricate maze of picks. Those openings were all that Brown needed Tuesday night as he shot down Los Angeles with 11-of-14 mostly long-range two-pointers and four-of-seven from behind the three-point line for a total of 34 points. Brown's final three-pointer came with 53 seconds to play, and it tied the score at 107-107. Jack Sikma, who had been fouled by Nixon as he hauled in an errant Wilkes shot with two seconds left, hit a free throw to give Seattle the win.
The Lakers had scored 22 points on fast breaks in the first half of that game, most of them in the first quarter, but then never seemed able to get their running game going again. "I don't think it was so much Fred Brown's great shooting that beat us," said Westhead, "although that was part of it. We got into a slower pace than we're used to playing, and I think it might have been because our players were caught by surprise by Fred's shots. It's not unusual for someone to score that many points against you, but when they're falling in from 25 feet, there's a momentary lapse while you try to recover from what you've just seen."
The Lakers weren't able to shut Brown off completely the next night in Game 2, also in L.A., but by applying Cooper to him like a layer of epoxy they were at least able to hold him to 14 points. Meanwhile, Magic was holding DJ to 8-of-20 shooting and Nixon allowed Gus Williams only four points in the second half after letting him gallop around for 20 in the first two periods. It was during the second game, a 108-99 Laker victory, that it became apparent Los Angeles could hurry Seattle's guards into mistakes. DJ, for instance, shot a puny 34% and got only seven assists during the first three games. Said Westhead, "We've found that the way to play the Sonics is to trap their guards, who are the most impressive part of their offense, and force them to pass off to their less impressive forwards."
Early on it appeared that Westhead was going to have trouble with less impressive forwards of his own. Wilkes was hitting only 36% of his shots after the first half of Game 3, and neither Chones, Haywood nor Landsberger had done anything to make anyone forget about Elgin Baylor.
Wilkes finally broke out of his slump, sinking eight of his 10 jumpers in the second half of the third game to keep Los Angeles in the lead, and with the Sonics no longer able to collapse around the middle, Abdul-Jabbar applied the crusher, connecting on six of seven shots in the final period. "They couldn't put everybody on me the whole game," said Kareem, who had 33 points in L.A.'s 104-100 win. "When Jamaal gets going, they have to stop doubling me and go after him. If they double up on both of us, pretty soon they run out of people."
By Sunday it seemed that the Sonics had not only run out of people but also were about to run out of time. "We couldn't have asked for a better shot than we had," said JJ disgustedly. "We just let 'em off the hook."
Said Abdul-Jabbar, "They claim they like to play with their backs against the walls. At this point they're about to go over the wall."
PHOTO
Shelton won this skirmish with Abdul-Jabbar, but the majestic L.A. center was winning the war.
PHOTO
Wilkes got the hot hand in the nick of time.