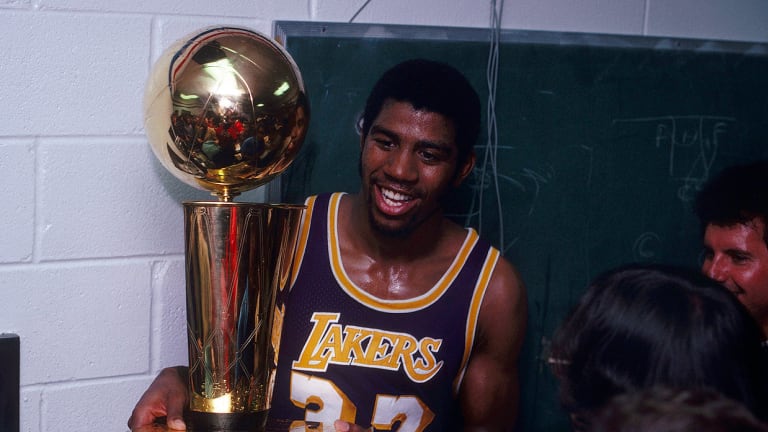 Arms and the Man
With the Big Fella out, Magic Johnson was the Man. He came through transcendently as L.A. won the NBA title
Earvin (Magic) Johnson sort of waddled onto the court at Philadelphia's Spectrum and set himself in the center jump circle, fidgeting there for nearly a minute before anyone else was in position, trying to decide how to jump. "I didn't know whether to stand with my right foot forward or my left," he would say later. "Didn't know when I should jump or where I should tap it if I got to it." All the thinking and foot shuffling, the very idea of playing center for the first time since high school, made Magic Johnson giggle.
Caldwell Jones, the 7'1" forward who jumps center for the 76ers, watched as Johnson got ready for the start of the sixth game of the NBA championship series and said to himself, "Hey. Wow! Really')" Magic grinned as they shook hands.
The 76ers knew, of course, that Kareem Abdul-Jabbar, the Lakers' indomitable center, was home in Los Angeles nursing the left ankle he had sprained two nights earlier during the 108-103 Game 5 victory that put L.A. ahead in the series three games to two. But the Sixers never expected to see a 20-year-old, 6'9" rookie point guard lining up to jump center. Giggling.
In fact, it was hard to convince the 76ers that Abdul-Jabbar wouldn't suddenly materialize like some kind of genie. Just that afternoon their coach, Billy Cunningham, had said, "I'll believe he's not coming when the game ends and I haven't seen him. They could fly him in at any time by private jet or something." Indeed, all day, Philadelphia basketball fans had watched their highways and skyways in panic, and several Abdul-Jabbar sightings were reported, including one from a cabbie who called a radio station to say he had picked up Kareem at the airport and driven him to the Spectrum. At least one fan was heard to say before the game, "I know he's here. I don't know where, but I know he's here somewhere."
But at that moment, Abdul-Jabbar was home in bed some 3,000 miles away in Bel-Air, his sore ankle propped up on pillows, his companion Cheryl Pistono beside him and Magic Johnson fidgeting on television before him. Kareem had received whirlpool and ultrasound treatment that day and felt he would be ready for Game 7 if necessary. He knew that the Lakers would be hard pressed to come up with anything like the 33.4 points, 13.6 rebounds, 4.6 blocked shots and explosive defense he had been providing in the series. And he also knew that without Spencer Haywood, the power forward who had been suspended for disciplinary reasons after Game 2, the Lakers would have but seven regulars available, only two of whom—Jim Chones and Mark Landsberger—had the kind of muscle needed to combat the 76ers' strong and deep front line of Caldwell Jones, Darryl Dawkins, Julius Erving, Bobby Jones and Steve Mix. Still, Abdul-Jabbar had a premonition.
"It takes time for a team to learn about an opponent," he said. "After five games Philly has done that. Now, all of a sudden I'm not there. Tonight they will see something completely different."
That they did, and so did everyone else who cared to watch.
As Referee Jack Madden threw up the ball for the opening tip, Magic had decided on his course of action. "I looked at Caldwell and realized he's 7'1" and he's got arms that make him around 9'5"," he said. "So I just decided to jump up and down quick, then work on the rest of my game."
Good thing. Caldwell Jones won the tip, but with the score 7-4 Lakers, Magic went to work. Like Bill Walton, Magic threw a scoring pass from the high post to Michael Cooper. Then, like Dave Cowens, he used position to get a rebound, dribbled upcourt and hit a jumper from the foul line. Next, like Moses Malone, he drove by Erving for a bank shot. And then he drove to the hoop again. "That time I wanted to dunk it, like Kareem," he said. "But I saw Dawkins coming and I thought, well, I better change to something a little more..."—he bobbed his head, stroked his fuzzy little goatee, flashed his elfin smile—"...magical." So he did. He hung in the air, double-pumped, made the layup and drew the foul. Magical.
The Lakers won the game 123-107, and thus the NBA championship without the most dominant player in basketball. Magic Johnson played 47 minutes, scored 42 points, hitting seven of 12 shots from the field in the first half, seven of 11 in the second, and 14 of 14 from the foul line. He had 15 rebounds, seven assists, three steals and a blocked shot. He was everywhere. He did everything.
"What position did I play?" he said. "Well, I played center, a little forward, some guard. I tried to think up a name for it, but the best I came up with was C-F-G Rover." Which means that a rookie three years out of high school played one of the greatest games in NBA playoff history at all five positions—center, point guard, shooting guard, small forward and power forward.
So stunning was Magic's performance that it somewhat eclipsed a brilliant team effort, just as Abdul-Jabbar has eclipsed so many of his teammates—Magic being the latest—over the years. Jamaal Wilkes happened to play his best game ever—including any in his championship season at Golden State in 1975—with 37 points and 10 rebounds. Chones had 11 points, added 10 rebounds and held Dawkins to 14 and four. Landsberger picked off 10 rebounds in 19 minutes, Cooper scored 16 points, and Brad Holland, usually a mop-up guy, scored eight very big ones. The Lakers ran Philadelphia near to death and outrebounded the 76ers 52-36—without Kareem, mind you—to finish the series with a devastating rebound advantage of 308-223.
"Before the game," said Wilkes, "I thought our chances of winning were 10% to 15%. But it's gratifying to be able to show the country that this is a great team, even without Kareem."
"It was amazing, just amazing," said Erving, with 27 points the only 76er to play anything approaching a decent game. "We went over everything they do when Kareem's not there, and still we couldn't do anything about it. They wanted to show us they were not a one-man team and got maximum effort. Magic was outstanding. Unreal." Doug Collins, the 76ers' former All-Pro guard, who missed the playoffs with a knee injury, couldn't get over Magic. "I knew he was good but I never realized he was great," said Collins. "You don't realize it because he gives up so much of himself for Kareem."
In 1977, the year most of these same 76ers lost the NBA championship to Portland, Johnson was leading Lansing's Everett High School to the Michigan Class A championship. A year later he turned Michigan State from a 10-17 doormat to an NCAA regional finalist. And in 1979 as a-sophomore he took the Spartans to the national championship and was the tournament MVP. Now, one year after that, he single-handedly wins the final game of the NBA championship and is voted the Most Valuable Player of the playoffs.
"Magic thinks every season goes like that," said interim Laker Coach Paul Westhead. "You play some games, win the title and get named MVP."
The issue of MVP—decided by seven writers and broadcasters—was a touchy one among the Lakers. Virtually everyone agreed that the rightful recipient should have been Abdul-Jabbar, that the MVP was a bone thrown to Johnson because he will finish second to Boston's Larry Bird as Rookie of the Year—which, in the light of Magic's playoff performance, will forever seem ridiculous—while Abdul-Jabbar will win his sixth regular-season MVP award.
One thing certain is that Johnson wouldn't have had the chance to do what he did in Game 6 were it not for Abdul-Jabbar's performance—and injury—in Game 5. The Lakers led by two when Kareem wrenched his left ankle with four minutes left in the third quarter and hobbled to the dressing room. Johnson, who had had a desultory game at that point, ignited a Laker blitz, scoring six and assisting for two of the next 12 points to expand the lead to eight. He would finish with 14 points, 15 rebounds and 10 assists. But it was Abdul-Jabbar, hobbling back to a thunderous ovation in the fourth quarter, who won the game, scoring 14 of his 40 points on the bad ankle, including a three-point play with 33 seconds left to break a 103-103 tie.
Despite the victory, the atmosphere in the Forum was grim. Kareem was rushed out for X rays—a fracture was feared. His last words to the team were, "We got three. We only need one more now."
The next morning the newspapers reported that the X rays were negative, so the Lakers were shocked when they arrived at the airport for the flight to Philadelphia and learned that Abdul-Jabbar wouldn't be going with them.
Westhead tried to keep things positive. "It should be interesting," he said, perhaps whistling in the dark. "Pure democracy. The king's on leave. We'll go with the slim line." The slim line meant Magic up front with Wilkes and Chones, with Cooper and Norm Nixon in the backcourt.
Magic, the Lakers' own merry prankster, took it from there. Boarding the first-class section of the plane, he plopped himself down in the first seat in the first row on the left-hand side, the seat everyone on the team knows as Kareem's seat—always. Magic turned around and grinned. He was asked if he was going to shoot Kareem's sky hook, too. "No," he said. "I shoot the magic hook." He said, "Jim Chones, don't you worry if your man gets by you, No. 33 [Kareem's number] will be there to help." Magic was like a kid all dressed up in his daddy's clothes.
The Lakers needed Magic's laughter, for it had been a difficult week, starting with owner Jerry Buss' surprise announcement that Laker Coach Jack McKinney—injured in a bicycle accident last November and off the bench since—wouldn't be returning next season. So the team headed East without Kareem and wondering if Westhead, suddenly a prime candidate for any NBA coaching vacancy, would be returning next fall.
Magic nevertheless prepared for the game in his usual way: "Hopped in my bed, told the operator to hold the calls, took my box, turned on my tunes and jammed. And dreamed up a little bit of the game.
"In the dream I had the ball. I made the shots. I got the boards. I did what I came here to do."
In his dream he was Kareem for a day.
"Before the game," said Westhead, "I told the team, 'Everybody expects us to be courageous tonight. We're not here to be courageous. We're here to win.' They all looked at each other as if to say, 'That's a good idea.' "
The Lakers jumped out to a 7-0 lead and then to 11-4 before the Sixers got a single point from their front court. Few in the Spectrum thought this would go on for long. In the Sixer victories in Games 2 and 4, Dawkins had gotten 51 points. Without Abdul-Jabbar to menace him, there was no telling what he might do. What he did was choke. He took only nine shots, and scored a measly 14 points. Still, the score was close until midway through the second quarter, when Erving and Mix finally attacked inside for 16 points and the 76ers went ahead 52-44. Westhead called time-out. He wanted more collapsing in the middle on defense, more rebounds and more running.
Two lightning fast breaks and two baskets and two free throws by Holland pumped L.A. back up and the Lakers left the floor at halftime tied at 60.
"By the second half it really got hard for me," said Abdul-Jabbar. "It was real nervous time. I was sweating badly. Not your classic fan reaction. I had to turn off the sound. I couldn't believe what I was hearing. 'Darryl Dawkins with eight points and two rebounds.' I said, 'What?' I wanted the Lakers to win but the way they were doing it was so strange. I mean, they were running all over the place. The 76ers were so slow. It didn't make any sense. I couldn't listen to the explanations. I just had to watch."
The Lakers scored the first 14 points of the second half—Magic, Cooper, Wilkes, Cooper, Wilkes, Magic, Wilkes. Wilkes got 16 in the third quarter. The Sixers were nowhere.
But by the fourth quarter the Sixers, and reality, came creeping back. Erving hit two quick jumpers. Caldwell Jones dunked. Bobby Jones hit a 14-footer, and the Laker lead was 103-101 with 5:12 left. Westhead called another well-placed time-out. He gave a pep talk to Magic and Wilkes, the only Laker who had been in a championship game before. "I was tired," said Magic. "Really tired. But I ran through it." He tapped in a fast-break miss by Cooper, and then Wilkes drove the lane, drew a foul and made a three-point play. The Lakers were up by seven only 1:16 after the time-out.
"After Jamaal's three-point play," said Kareem, "I ran out into my yard and screamed. Then I came back and chewed on a pillow."
From seven points, it went back to five, but then the Lakers won running away, Magic scoring nine points in the last 2:22. The next thing Abdul-Jabbar knew, Magic was talking to him on the television screen. Kareem turned up the volume. "We know you're hurtin', Big Fella, but we want you to get up and do a little dancin' tonight," Magic said.
In Bel-Air, Abdul-Jabbar got up and did "a little hippity-hop step," he said. Was there not even a tinge of regret that the championship he had worked so hard for was won while he was absent?
"Not at all," said Kareem. "In the Islamic culture we call that Kismet. Something that is fate. I was meant to be here, and Earvin was meant to have that game. It reminded me of the kind of game Oscar Robertson used to play in college, when he would score 56, get 18 assists, 15 rebounds, when he used to do it all. Just one man playing against boys. Except that Earvin was just one boy playing against men."
The Laker victory party started in the Spectrum, continued at the hotel and on the plane back to Los Angeles on Saturday morning. Magic, as usual, was the music master. "From center to point guard to E.J. the deejay," said Westhead.
"E.J. the deejay," said Magic in his deep deejay voice. "Goin' to Noo Yawk for the MVP thing, then back home to do some partyin' and play third base for the No. 1 softball team in Lansing—the Magic Johnsons! To be me, just plain Earvin Johnson again. Oh, maybe they'll congratulate me, you know, for one or two days, but then it'll be over. We'll be singing on the street corners again. This season—wow!—97 games. Exciting, crazy and fun. A lot of love for each other. A great experience. I learned a lot and—we're the world champs. Wow!"
The long flight went quickly. No one slept. At the L.A. airport a crowd was gathered on the tarmac. The airplane door opened but before anyone could get off a big man in cowboy duds—denims, a cowboy hat, red bandanna—came aboard. Abdul-Jabbar. Norm Nixon yelled, "It's Billy Jack!"
Kareem silently hugged each one of his happy teammates, then stood straight up in the cabin and yelled at them in mock anger, "You didn't even wait for your boy!"
PHOTO
Magic deep-sixed the Sixers and won the MVP award with a memorable 42-point, 15-rebound performance.
PHOTO
Kareem got help from Trainer Jack Curran as he hobbled off with a sprained ankle in Game 5...
PHOTO
...but he hobbled back and made this winning jam with :33 left—and added the free throw.
PHOTO
Landsberger went muscle-to-muscle with Dawkins in Game 6, holding his own against Sir Slam.
PHOTO
Westhead got a whale of a game from Wilkes.
PHOTO
At the end, hugs all around from the Magic man.