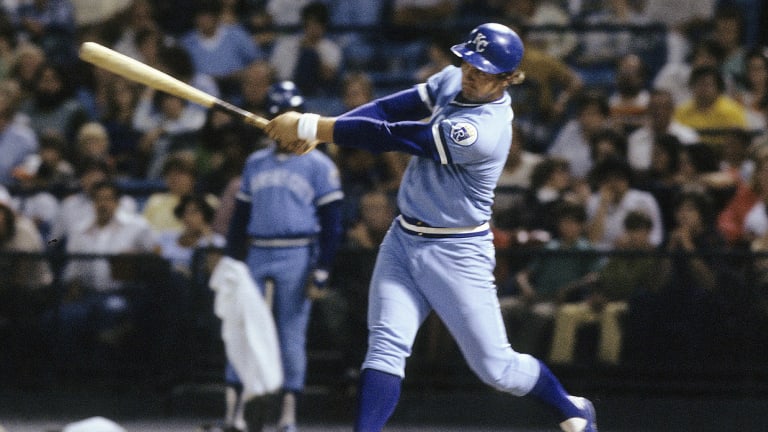 The Royals are Flush
Weathering maladies to such stars as George Brett (above), Kansas City is now back in the chips
Any day now, the Kansas City Royals as we have come to know them will open their 1980 season. Oh sure, a team by that name has been playing this year and, against considerable odds, has been doing splendidly. In fact, at the end of last week, these facsimile Royals were in first place, 2½ games ahead of runner-up Oakland, in the American League West, even though K.C. had suffered a bad case of the blind staggers early in the week against Billy Martin's outrageous A's, who among other things stole home twice in one inning, before winning two of three games from the White Sox. But these are not the same Royals who, until last season, routinely won division championships with crisp hitting, imaginative base running and brilliant defense. Not once, for example, has new Manager Jim Frey been able to field a lineup that included four of his five top offensive players: George Brett, Darrell Porter, Amos Otis and Hal McRae. Much of the time Frey has been lucky to put as many as two of these worthies in action at the same time. Brett, Porter and McRae have appeared together only three times since Opening Day, and Otis and McRae have yet to be in the same lineup.
What has held this injury-and-illness-plagued team together in the trying first two months of the season is, fundamentally, character. The Royals do not exactly welcome adversity, but they regally rise above it. With the stars mostly hors de combat, the battle has been joined by players who previously had been about as renowned as the fifth Marx Brother or the other two Rhythm Boys. Let's hear it, then, for John Wathan, Renie Martin and Dan Quisenberry. Wathan has been catching in Porter's stead and hitting a cool .342. Martin emerged from bullpen obscurity to fill in for the injured Paul Splittorff in the pitching rotation and promptly won his first four starts. Quisenberry, a member of the Kent Tekulve School of Sidewinding, has had eight saves as the Royals' new ace reliever. Martin and Quisenberry are playing their first full major league seasons; Wathan had never been in the lineup longer than four successive days before this year, his fifth in the big leagues.
Willie Wilson and U.L. Washington, both of whom came out of hiding a year ago, have also helped carry the load, often from opposite ends of the batting order. Wilson, the whippet leadoff man, is hitting .292, has scored 37 runs and has stolen 19 bases in 21 attempts. It nevertheless galls him that he is better known as a runner than a hitter, a reputation attributable to his 83 stolen bases in 1979. "People just don't seem to realize I hit .315 last year and I'm hitting around .300 now," he laments. Washington, assured at last of fulltime work at shortstop now that Fred Patek has departed for California, has been fielding solidly and hitting .281 while batting second and ninth. When Wilson and Washington are on the bases at the same time, which they frequently are, the Royals have half of a world-class relay team running for them.
The Royals had not yet completed their abbreviated spring training before the trouble started. Porter, who had his finest major league season in 1979—.291 with 20 homers, 112 RBIs—left camp after only a week, pleading personal problems, which, he later disclosed, were alcohol and drug addiction. He underwent six weeks of treatment at The Meadows rehabilitation center in Wickenburg, Ariz. and rejoined the team on April 25. He pinch-hit on May 2 and began playing regularly as a designated hitter on May 4. Then a couple of weeks ago, Porter, who has high blood pressure, complained of chest pains and was briefly hospitalized for tests, which disclosed that he was suffering from nothing more serious than muscle spasms. Since his return from Arizona, Porter has hit .326 and driven in 27 runs in only 23 games, but his throwing arm has not been in "catching shape" and it may be another week before he can work regularly behind the plate.
Otis, the veteran centerfielder who through 1979 had hit 159 homers and stolen 294 bases in 10 years as a Royal, was the next to fall—and in a most unusual manner. When the Players Association staged its ministrike during the last week of spring training, Otis decided to keep his eye sharp by practicing with a pitching machine. The machine, it develops, must have been designed by Sal Maglie. It fired a high hard one at Otis' head, and when he turned to avoid the mechanized duster, the ball struck the little finger of his right hand, rupturing a tendon. Otis wasn't able to swing a bat again in a game until May 25.
Unlike Otis and Porter, Brett was at least able to open the season, but he didn't last long. In an April 25 home game against Baltimore, he was on first base when Willie Aikens hit a one-hop ground ball to second. Brett had no chance of beating the force play and he was undecided about sliding. Finally, he executed what he describes as a "courtesy slide," which landed him rudely on his right heel, severely bruising it. For the next three weeks he was in and out of the lineup, finally returning fulltime on May 16. The heel is healthy again, and Brett's average, .301 as of last Sunday, is almost up where it should be, much to his satisfaction. "I was hitting about .240 this time last year," he cheerfully points out, "then I caught fire and they never put me out." Indeed, he finished with a .329 average, 119 runs, 107 RBIs, 23 homers and a league-leading 212 hits and 20 triples.
McRae, who had hit .294 in his seven previous years as a Royal, went down on May 12 with a torn left calf muscle, suffered while dodging a line drive hit by Porter. He is expected to return by this weekend or early next week. Splittorff, who won 15 games last year and has won as many as 20 in other seasons, was warming up in the bullpen before a start on May 13 when he crumpled in pain from back spasms. He didn't pitch again until May 26, working two scoreless innings in relief against the A's.
The sick, sore and lame are slowly returning to the fold, which is cheering news for Frey, who hasn't been managing the team he thought he would be when he accepted the K.C. job. "In about 10 days we'll have the ball club we were going to open with," Frey said last week. In the meantime, he hasn't done badly with the one fate willed him, a tribute to his own capacity for grace under pressure. As with most of the players who have come through for him so pluckily this year, Frey had a long wait before getting his chance at a big job in the big time. He never played a day in the major leagues, a putative shortcoming that such celebrated bushers as Earl Weaver and John McNamara have converted into virtually a prerequisite for managerial success. In spring training, Frey, formerly a member of Weavers' coaching staff in Baltimore, prophetically advised his players that every one of them would have an opportunity to play, that the Royals would win or lose as a team.
Wathan, the Porter fill-in, took Frey at his word. "I think it helped me to have a new manager who wouldn't stereotype me," says Wathan, who, in his checkered past, has been a first baseman and outfielder as well as a catcher. He is a thoughtful, pleasant man who had bristled inwardly at past slights. "A lot of people told me I'd never play in the big leagues," he says. "Then I was tabbed as someone who couldn't play every day. It was said I couldn't hit righthand pitching. I had a reputation that could've lasted my whole career. But we had such a good team, how could I complain?" Wathan began the year starting only against lefthand pitching, but when he got six hits in two early games—four off a lefthander, two off a righthander—Frey decided to go with him all the time. He quickly became the Royals' leading hitter, and one of his most ardent supporters is Porter.
"It would be kind of ridiculous to stick me in there too soon with Wathan doing such a great job," Porter said last week. "He's not only hit well, he's done all the other things. I don't mind being a DH. When my arm isn't strong, catching is the last thing I want to do."
When Porter returned from The Meadows, he delivered a prepared speech in the clubhouse to his teammates and the press, hoping that by making a clean breast of his past troubles he might stave off a media blitz. Fat chance. He is now the most interviewed man on the Royals, despite the futile efforts of some teammates, particularly First Baseman Pete LaCock, to shield him from public scrutiny. "He has good days and bad days," LaCock says of the aftereffects of his friend's ordeal. But Porter insists that talking publicly about his problems has been good for him. "All the attention has helped me a lot," he says. "The fact that I can talk about what happened is very important in my therapy. There is a magic in words. I was a very dishonest person before—with my feelings and my attitudes. I was a phony. I was trying to be what people expected a ballplayer to be. I was not being Darrell Porter. I ran away from reality and hid in drugs and alcohol. I was incapable of handling emotional pain. It started when I first began playing professionally. I was lonely, and for the first time in my life, I was failing in athletics. I found a way to escape. I went out and got drunk. It's such a subtle disease...."
When Porter returns to catching full-time (at which point Wathan will stay in the lineup, as a first baseman, rightfielder or DH), he'll have the advantage of working with Quisenberry, who will save him the mental stress of calling pitches, because, basically, Quisenberry throws only one, a "sub-sidearm sinker." "Wathan and I have a little joke," says Quisenberry, a pleasant 26-year-old with a strawberry-blond mustache. "He tells me after a game, 'Way to mix 'em up,' and I tell him, 'Way to call 'em.' " Quisenberry was introduced to his role model, Pittsburgh's Tekulve, during spring training, and the two sidearmers discussed their exotic pitch as if it were a scientific instrument. "He showed me the mechanics of throwing his sinker and convinced me it was better than mine," Quisenberry says. As a result, Quisenberry began bending even closer to the ground before releasing the ball. "The lower one gets," he explains, "the more pronation [the act of turning the palm downward] occurs and the more the ball sinks." Whatever, it works.
In fact, that might be said of the whole club. Just about whatever Kansas City has done this season has worked.
PHOTO
Manager Frey is a Weaver disciple—obviously.
PHOTO
Wathan has risen to the heights as a backup catcher, but here he can't block the A's Mitchell Page.
PHOTO