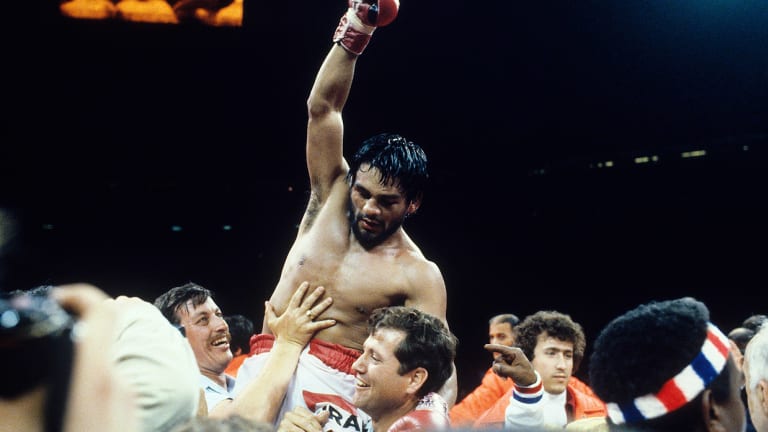 From Hard Punches, a Life of Ease
The hands that cradle Pedro the bunny on a patio in Panama will rock welterweight champ Sugar Ray Leonard in Montreal—says Roberto Duran
Early of a morning five years ago, while training for a fight in New York, Roberto Duran put on his sweat suit, joined his perpetual shadow, Trainer Freddie Brown, and started out of the Hotel Mayflower to do his roadwork in Central Park. But it was raining when they hit the street. Not wanting to expose his fighter to the chill of the elements, certainly not on the eve of a fight, Brown waved Duran back inside.
"If it stops raining," Freddie said, "I'll call you."
Duran returned to his room, Brown to his. Half an hour later Brown peeked out the window and saw that the rain had stopped. He went to Duran's room.
"No rain," said Freddie. "We go."
Duran waved the trainer away. "No," the fighter said. Duran was overweight, as usual, and needed the work to trim down to 135 pounds, the ceiling for the lightweight division. Over the last few years—ever since Duran had pounded Ken Buchanan loose from his lightweight title in 1972—Brown had served not only as Duran's chief cut man, counselor and chaperon, but also as his conscience, a stern reminder that Roberto must work to win.
"Come on," said Freddie, "ya gotta go, ya gotta run."
Duran was standing at the door of the room, facing it, when he exploded in a rage. He suddenly threw his awesome straight right hand into the door. The thwack resounded like a thunderclap. On the adjacent wall a framed picture fell to the floor, its pane of glass shattering. Saying nothing, Brown left the room and headed for the lobby. Duran soon joined him and set out on his run.
"Duran's a funny guy," says Brown. "Hard to work with. He's definitely got a mind of his own. But he listens. He does. He listens."
Now it is May 1980, and Duran is still listening. It is midafternoon at Grossinger's in New York's Catskill Mountains. The fighter is moving around a ring in the middle of a circular wooden structure that serves as the resort's ski lodge in winter. There are flowers in the fields now, and on this drowsily warm spring day sweat beads the fighter's impassive face. Duran is preparing for the night of June 20, when he will climb into the ring in Montreal's Olympic Stadium to fight the World Boxing Council's welterweight champion, Sugar Ray Leonard, for the title. Duran is sparring, after a fashion, with one Simon Smith, who is throwing feather duster punches and running from Duran. Brown stands on the ring apron, his arms resting on the top rope, watching with mounting dismay.
Duran has already gone four rounds with Teddy White, a Leonard look-alike, pursuing him from one corner of the ring to another and howling like a hoot owl as he throws his punches—"Hoooo! Hoooo!"—but now he is slowing; the owl in him is asleep. He turns his back on Smith and walks away. Facing him again, he jams his thumbs into his trunks. He leans back, bends side to side, ducking and slipping whatever Smith throws. He shrugs. He dances a step or two. He raises his hands palms out, and parries. Brown snorts and stalks away from the ring as the round ends. Had someone offered him a pan of water, he surely would have washed his hands of this.
"Another round?" inquires Luis Henriquez, Duran's longtime friend and his interpreter.
"No," says Brown, waving the thought away. "The hell with it. He's not doing anything anyway."
Brown finds a wooden post 10 feet from the ring and leans against it, scowling at Duran as the fighter spars desultorily through another round. "He says he wants to measure the guy," Henriquez tells Brown.
"That's not the right way to do it," says Brown. "He leaves himself open that way. Do you think the guy he's fighting next month will let him do that?"
None of this is lost on Duran. He leans across the ropes and hollers at the audience in Spanish, "What a trainer I have! He wants me to throw everything without thinking. To hit me, Leonard has to throw punches. Leonard isn't going to fight me the way this guy fights. He's not going to run away from me."
"That's his way of resting," Henriquez says to Brown.
"I'd rather have him go two rounds on the heavy bag than do that," Brown says. "That's just wasting time...."
And the time was coming when there would be no time to waste. Brown is from the old school, and what annoyed him most was the failure of discipline, the fighter's casual manner. There was no doubt in the trainer's mind that in Sugar Ray Leonard, Duran would be meeting the toughest opponent of his life—a fast, crafty, intelligent and ambitious fighter. "The toughest without question," Brown says. And here, with the days dwindling down, Duran was sparring as if preparing to fight on an undercard.
Brown had been through these afternoons with Roberto Duran before. He had suffered the Panamanian's temperament, off and on, for nearly eight years—the arguments, the recriminations, the work stoppages and slowdowns, the broken training rules. On a number of occasions in Duran's years as a lightweight, Brown had to bring the fighter's weight from 165 to 135 pounds. "In the beginning it was harder than it is now," Brown says. "I had to watch him all the time. He did things he shouldn't do before a fight, like, you know, eating something he shouldn't."
Brown is sitting in his room in Duran's cottage at Grossinger's, about an hour after the training session with Simon Smith, and he is still nettled, but more subdued. "I'm not too worried, though," he says. "The fight's too far away. But he can do so much better. It's not a game. I don't play games. When he boxes good, I tell him. When he boxes bad, I tell him. We get into fights all the time. There were times when I was about to give it up. You try to help him, try to help him throw punches right, to do things right, and sometimes he says, 'Let me alone.' So you walk out. One day he's one way, one day he's another. Some days you can get everything out of him, some days you can't get nothing. You never know. You just have to leave him alone and go along. He listens, but he wants it his way."
There is a sharp rap on Brown's door. "Come on, Freddie," says the voice of Roberto Duran. "Let's go eat."
Brown rises from his chair and smiles. "He knows he did wrong," Brown says as he goes to the door. "He apologized. Like I was saying: sometimes you love him; sometimes you want to kill him."
Roberto Duran has been doing it his way, for the most part, since the street-urchin days when he surfaced as the resident roughneck of Panama City. Duran grew up in Chorrillo, a windblown slum of narrow streets and tumbledown two-story houses that lies on the east side of the mouth of the Panama Canal, across from Fort Amador. He is one of eight children. Roberto's father deserted his mother before he was born. As a youngster, with a sack slung over his shoulder, Duran used to swim the two miles to Fort Amador for daily raids on its bounteous mango trees. He would climb the trees, load the sack with the fruit and swim the two miles back. One day he almost drowned. Three hundred yards from the shore, encumbered by a particularly splendid harvest, he started to sink. "About three of us grabbed him and dragged him to shore," says Ruben Wallace, a friend of Roberto's. "He wouldn't let go of that damn sack."
Roberto sold the mangoes to help his mother raise the family. He shined shoes, too, and painted rooms and peddled newspapers. A natural entertainer, he danced and sang in the streets for passers-by. "I could dance and sing good," Duran says, "and I was great on the drums. I got pretty good tips."
He was less accomplished as a student. Practicing the overhand right was not part of the curriculum in his elementary school. "I remember in school one day, a kid came over to hit me and I moved. We exchanged positions, so his back was toward the steps. I hit him and he fell backward down the steps. And they threw me out." That was in third grade; he was 13. Duran never went back.
By then he had already met the two men who would develop him as a fighter. Duran first encountered Carlos Eleta when he was 10, at the foot of one of Eleta's coconut trees, whose fruit Duran was poaching. Eleta was a millionaire sportsman—a former tennis champion of Panama, the owner of a large stable of thoroughbred horses and an entrepreneur with holdings, at various times, in Latin American baseball, basketball and soccer teams. Eleta invited him into his elegant house, gave the youngster some money and sent him home. "He was such a cute little boy when he was young," Eleta says. Like Sugar Ray Leonard, whose interest in boxing was inspired by an older brother, Roberto first found his way into a gym by tracking his older brother Domingo. When Domingo quit, tiring of the routine, his trainer, Nestor Qui'Äö√†√∂¬¨¬±ones, urged Roberto to stay on. And he did. He turned pro at 16.
Duran brought to the ring everything he had learned in the schoolyards and streets. When Eleta bought his contract in 1971 for $300 from Panamanian Jockey Alfredo Vasquez, the young man's boxing experience had taught him a law that seemed as universal and immutable as that which grew hair on the coconut: when he let fly with his right, somebody went down. In school it was children sailing down staircases; in the prize ring, it was the other fighter. What applied in the streets, Roberto perceived, applied in the ring. He had few defensive skills and he used his left sparingly. He fought his way through the ranks, going undefeated in his early days as a professional on the strength of his raw talent. He doubtless would have continued to be more brawler than fighter had not Eleta, in 1971, persuaded 72-year-old Ray Arcel to come out of retirement and offer a hand in shaping Roberto.
Arcel had been one of the most respected conditioners and ring tacticians in American boxing. In more than 40 years in the fight game—until he grew tired and disillusioned with the direction the sport was taking and quit the ring in 1956—Arcel had handled 16 world champions, from Barney Ross to Tony Zale to Ezzard Charles. To these men, and to Duran, he preached the virtues of learning dexterity with both hands, and taught how the left sets up the right, how the two work in combination. Arcel had seen Duran fight and had liked what he saw. He agreed to help him, though only on a part-time basis. He didn't want to leave his job as a purchasing agent for an alloy company in New York City. Arcel suggested to Eleta that he hire his old friend Freddie Brown to assume the day-to-day job of preparing Duran for his fights; Arcel would join them near fight time to offer assistance.
All hands agreed. Brown, eight years younger than Arcel, had worked the corners of hundreds of fighters in a long and distinguished career; he was the cut man for Rocky Marciano in all his title fights. His four-point credo for Duran was: 1) The left is as valuable as the right if used correctly; 2) Boxing is the art of hitting and not getting hit; 3) It is not how hard you hit a man but where you hit him that matters; and 4) The speed at which you cut up an opponent is related to how efficiently you cut off the ring.
Roberto resisted taking advice, of course, and on the point of ambidexterity the trainers and the fighter argued vigorously. But he acceded to Brown's counsel, point by point, over the years. By the time he fought Buchanan for the lightweight title, Duran had learned the mechanics of cutting off the ring and the art of the jab. He was no longer a mere clubber. His only loss came soon after the Buchanan bout, by a decision to Esteban DeJesus in a non-title fight, but he was sick at the time. He met DeJesus twice after that and battered him senseless both times. In each of his first two fights against DeJesus, the Puerto Rican had dropped him with a left hook in the first round. Approaching the third fight in January of 1978, Arcel and Brown exhorted Duran to do what DeJesus least expected: to box the first few rounds. "We tried to explain to him," Arcel recalls, "that if he ripped and tore into DeJesus, Esteban would be waiting to nail him with the left hook." So Duran boxed, bewildering DeJesus, and worked inside, battering him with shots to the body. He knocked him out in the 12th.
That fight was Duran's last as a lightweight. In his championship years he had achieved a celebrity in Panama usually accorded diplomats and generals. On his return to Panama after winning the title, a crowd of 5,000 greeted him at the airport, including high officials of state. To the throng, he said, "El campeonato mundial pertenece al pueblo panameño." "The world championship belongs to the people of Panama." Thousands more lined the streets as Duran, waving from an open car, headed a parade that bore him to Chorrillo's slums.
The fame and money that began flowing to him in time elevated Duran and his family from poverty to relative splendor. Five years ago he bought a sprawling $150,000 home, with a stream flowing through his backyard, in the poshest and one of the most expensive communities in Panama, Nuevo Reparto El Carmen. He lives there with his wife, Felicidad, and their four kids. One of his neighbors is Arístides Royo, the president of Panama, who stops by once a week to visit Roberto and his 3-year-old, 680-pound pet lion, Walla, which he received as a gift from Rigoberto Paredes, the former head of the Panama racetrack. Duran was once observed leading the beast around the neighborhood like a dog at the end of a leash.
Duran owns two Pontiac Trans Ams, a Lincoln Continental and a Fiat; Felicidad has an Alfa Romeo. Duran also has a $25,000 van equipped with a stereo, television and telephone, which he uses to shuttle his entourage to and from the training gym. General Omar Torrijos, the Panamanian chief of the national guard, gave him the van after he knocked out DeJesus in their third fight. Duran is exempt from paying taxes in Panama, one of his rewards for being a champion, so what he takes in he takes home. He has money in the bank and has invested in real estate, his chief holding being a $250,000 apartment complex in Panama. His mother lives in a three-bedroom house he bought for her.
Duran has never lost touch with his roots. Though he moved from Chorrillo to Nuevo Reparto El Carmen, he didn't forsake the old neighborhood, which he visits frequently. His cook, a Frenchman, is from Chorrillo, and so are his three maids and the man who keeps the cars clean. "When he is home, Roberto goes to Chorrillo every day and hangs out with the guys," says Henriquez. And every Sunday he goes to Farfan beach, near Chorrillo. Duran "owned" that beach as a kid, in the way that ruffians own city blocks, and he owns it yet. Early on Sunday afternoon, after attending Mass, he packs his van with food and drink and drives to the beach, where whoever comes along may join the picnic. "Rice and peas, salad and wine and beer, but no liquor," says Henriquez. "And plenty of fruit juices and fried fish. He sets it on tables. He and his wife cook. When he gets there, the party starts." Duran plays dominoes, listens to salsa music and presides over the further greening of the legend he has created for himself.
He has come to be regarded, pounding for pounding, as perhaps the most dangerous fighter in the game, a ferocious and relentless master of attack. He dominated the lightweight division by means of paradoxical qualities: fury and finesse. This surely accounts for much of his mystique—that and his fearsome physical aspect. Duran is a cholo, a man of Indian and Spanish descent, and it is the Indian heritage that has shaped his countenance. His eyes are a lambent brown and his hair as black as the plumage of a crow. When he perspires in the ring, the hair mats, and as he lunges and bounces, it flaps like wings. Duran is built like a linebacker, with squat, powerful legs which are slightly bowed and seem too short for a disproportionately long torso, and broad shoulders riveted together by the bolt of a powerful neck.
It wasn't Duran's battle with weight that drove him to give up his lightweight title and become a welterweight, Eleta says, but rather the lack of opportunity to make as much money in the lighter division as in the 147-pound class. He had, quite simply, pounded the division into his own Tortilla Flat. So on Feb. 1, 1978 he abdicated his crown and joined the welters. Duran had a 62-1 record, with a remarkable 51 knockouts, but since he became a welterweight he has had but four KOs in eight fights. That fact raises one of several questions about Roberto Duran on the eve of the Leonard fight—to wit, is he as hard a hitter against bigger men? "I think a few boxers lost respect for me," says Duran. "Some said I lost my ability to punch with power. But let me tell you something: if a man is born with a good punch, a change in weight makes no difference."
Perhaps so; perhaps not. He dropped the former welterweight champion, Carlos Palomino, in their fight last June, but couldn't keep him down in what became a war. Duran takes a magnificent punch, but so does Palomino. "In the lightweight division it seemed like he was a tremendous puncher," Palomino says now. "But I didn't find him to be that kind of puncher as a welterweight. He's a good puncher, a strong puncher, but not a devastating puncher. He's good inside, very good, strong physically. The one thing that surprised me most about him was his quickness. And his defensive ability. He moves his head a lot, feints a lot. He's not an easy man to hit."
In the last eight years, Arcel and Brown both say, the sharpening of Duran's skills has been dramatic. "He's learned a lot," Arcel says. "He has developed tremendous ring sense; that's what makes him what he is. He's not just in there to throw punches. He knows what to do and when to do it. If he has to jab, he can jab. If he has to move, he can. If he has to take a punch, he can. When he's really in top, top shape, he's a devastating puncher. From the long layoff before the Palomino fight he might have lost a sharpness, the perfect coordination that he usually has, in his punches. And who knocks Palomino out? Duran might come close to knocking Leonard out.
"Look," says Arcel. "Leonard is an excellent boxer. He's a master craftsman. He can do almost anything, but we don't know one thing. Can he stand up under the body-battering that he's going to get from Duran in the early rounds? If Duran hurts you and you're backing up and on the ropes, I'm telling you, he don't let you alone. He sticks to you like a plaster. He's that vicious. And he has the unique ability to get stronger as the fight goes on. When he's in top shape, after the seventh round you got to watch yourself. He gets his second wind and he can go like hell. You can't avoid punches when you're in there.
"It's the highest form of individualism there is. You're in there all alone. When you take a punch to the belly, you can't say, 'Time out!' You've got to be able to weather the storm. Can Leonard stand up? Can he take what Duran has to offer? That's the question."
The question of Duran's condition comes up endlessly. Generally, his fights fall into two categories: a) those Duran cares about, and b) those he doesn't care about. He got up for the biggest fights in his life: Buchanan, the second DeJesus fight, Palomino. Those for which he wasn't in shape have been deceptive, inspiring premature speculation that the fighter in the man was gone. But Duran would come roaring back. "I had seen Duran fight before he fought me and he looked slow and sluggish," recalls Palomino. "I figured there was no way he could go 10 rounds with me. But he was in shape, and for 10 rounds it was a war."
Roberto Duran is lounging in a lawn chair in front of his cottage at Grossinger's. Freddie Brown has just escorted him back from dinner. The 29-year-old former lightweight champion of the world, whose weight is 153 pounds after four weeks of training here, dismisses with a shrug his listless sparring session against Simon Smith. "Gloves, gloves, gloves," Duran says quietly. "You just get bored. Imagine going a month without rest—Monday, Tuesday, Wednesday, Thursday, Friday, Saturday, Sunday, Monday, Tuesday—damn, you don't have the desire to throw punches anymore. They never give me a day off. I'm taking everything with calmness—at my pace. Everything is being saved for the day of the fight. If I do do things with ferociousness now, I won't have any sparring partners. What then? I do what my trainers tell me, but I also put in something of my own. It's not what they say only, but what I see in myself. Sometimes you don't want to fight. Understand? Sometimes the body wants to work and sometimes it doesn't. I have not yet started to throw hard. I should be in much better condition the day of the fight—not now. On June 20th I should be double what I am now—double!"
Duran clearly understands what is at stake. He has won important victories before, he says, but for this the world will be watching him for the first time in his life. Ken Buchanan was one thing. Sugar Ray Leonard, the American Olympic gold-medal winner and welterweight champion, is another. Duran could make $2 million from the fight—it will be shown on closed-circuit movie screens—to Leonard's $10 million. But the disparity, he says, doesn't bother him. "I'm not bitter over his good fortune," Duran says. "Why should I be?" If Duran wins, a return match would set him up financially for life. He knows this, too. But just as much at stake are pride and honor for their own sake. "I got into boxing to learn it," Duran says. "I'm not here to, to, to...climb up! No, no, no. I didn't enter the ring to get out of the gutter. Those are stories. I got into it because I liked it. I'm better than he is. I want to see him demonstrate, to show me, that he's world champion. For me he is not a world champion."
Leonard got where he is today, Duran says, without having really been in a fight. Leonard is living in a fantasy, Duran says, in a world in which he has yet to be tested. Wilfredo Benitez, who had been idle eight months before he fought Leonard, was no test, says Duran. Nor anyone before Benitez. "But he won't be living in a fantasy with me. Tell him, 'I never live in a fantasy. I live in reality.' To be where I am today, I've thrown many hard punches. Everybody has thrown some good blows at me. That is why I'm so strong. When someone throws a good punch, you feel it, but you try to shake it off—to assimilate it. You have to assimilate the blows. I've been hit by DeJesus, Hector Thompson, by Ray Lampkin, by Palomino, by a lot of fighters—but I'm still here. I assimilate. As the rounds go by I get stronger."
Duran's eyes are flashing now. "There is something in me. I'm Roberto Duran between the ropes! No one else! What I feel in the ring is to win." He laughs now. "Le quiero arrancar la cabeza!" Which is to say, "I want to tear off his head."
For Leonard he has no respect, Duran says, at least not as a fighter. "What is important to me is that he is going to have to fight with me," Duran says. "They say that he imitates Ali. They say he is the best in the world. I don't copy anyone. My ability is natural. I have always said that the person who copies another will always fall in the end. People are only going to see your copy. People will say, 'Look, he's a clown, he's nothing. He's doing the same as the other ones.' Forget it. But with an original, they will say, 'He's a natural, he created it.' Leonard's a braggart, a big mouth, a clown. I think this is going to be the first time in his life that he's going to really have a fight. Why should I respect him? What is he going to teach me? I've been fighting since I was eight. What is a kid born yesterday going to teach me? I was world champion for 6½ years. I've fought brawlers, speedsters, hitters and boxers. I know he's going to come to me and I'm going to take care of him. He thinks I am going to come out like I always do, but I have a few surprises for him; for me he doesn't have any surprises."
It has been said, Duran is reminded now, that he is vulnerable to three things: speed, the left hand and the man who fights a calculated fight. Duran sits up abruptly. "That is to say that nothing bothers Leonard?" he asks. He clasps his hands, as if in prayer, and looks skyward. "That is to say that Leonard is a god? We all have difficulties. Leonard has his, and I know what they are. The man who fights with one hand is dead. He does not have one hand, but he depends on one. His left. When he can't do what he wants, the fight is out of his control. Leonard has problems—in fact, many problems. But I don't intend to divulge them right now. I'm thinking about them and planning to take advantage of them. Arid I have not lost any of my spirit. I have not lost anything yet."
They call him Manos de Piedra, Stonehands, and for many he has been that. But this is in another city, in another arena, in another year against another man. They say this could be the prizefight of the decade and the decade has just begun. Once again, Roberto Duran will climb the steps to his corner of the ring. Behind him, draped in towels and carrying Q-tips and buckets, will come those two old men, fight trainers from another age—Freddie Brown, his thinning gray hair climbing in waves on his head, and Ray Arcel, slender and dignified. It will be out of their hands by then, all the plotting, all the calculating and the worrying, and in the hands of stone. "I have nothing to worry about," says Roberto Duran. "I am a man with two hands."
PHOTOTHREEPHOTOSIn Panama, Duran's diversions include dominoes at Farfan beach, lunch alfresco at home with his wife Felicidad and visits to the estate of the man whose coconuts he once stole, manager Eleta.PHOTOThe challenger is obviously in swell shape, his expanded chest measuring 38"THREE PHOTOSDuran makes quick work of the speed bag as trainer Brown, 73, and interpreter Henriquez look on. Assistant trainer Qui'Äö√†√∂¬¨¬±ones, who's been with Roberto since he was eight, applies Vaseline, and Duran applies himself to the heavy bag.PHOTODuran bundled up for Catskill "roadwork" with his brother Armando (right).PHOTOIs that a rock beat the "Manos de Piedra" are knocking out on the congas?PHOTOArcel, Duran's strategist, is an old—80—shrewdy.