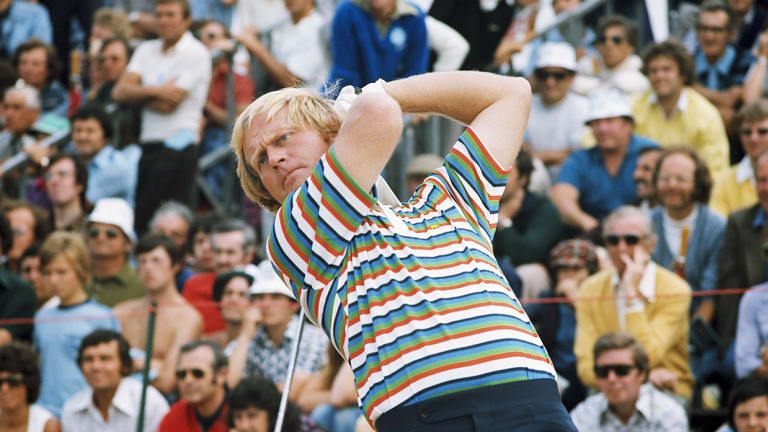 Publish date:
The Owner of the Open
With his club on high. Jack Nicklaus celebrates the long birdie putt at 17 that certified his magnificent return to form at Baltusrol
The vast, old, gabled clubhouse rose out of the New Jersey countryside, looking as if it belonged on the jacket of a gothic novel, and Jack Nicklaus, walking toward it through the great roaring crowd, was toting so many records he could have used an extra caddie. It was a wondrous moment in golf. Harry Vardon was inventing the grip again, Arnold Palmer was hitching up his trousers, Bobby Jones was winning the Grand Slam at Merion, and Ben Hogan was smoking another cigarette and staring icily at the narrow corridors of Oakland Hills. But this was Jack Nicklaus, in effect doing all that and maybe more, and doing it in such a way that the Baltusrol golf course lay in total destruction behind him and the U.S. Open—the grandest of the major championships—now belonged so much to him that only an eternity could take it away.
Nicklaus' golf game not only returned to him last week after an absence of almost two years, but the old gestures came back, too: Jack joyously raising his putter high in the air as a crucial birdie falls; Jack grinning and waving to the delirious throngs as he marches triumphantly up the 72nd fairway like a king of old.
It was Nicklaus' Open all the way, and there were Nicklaus records set in every round, but he wouldn't have his fourth Open championship and his 18th major title—five more than anyone else—until the final hole had been played and he had nursed a two-stroke lead through the oaks, elms and spruce of Baltusrol and outlasted the heroic bid and the uncanny putter of Isao Aoki of Japan.
It seemed unbelievable that although Nicklaus' earlier rounds of 63, 71 and 70 had left the Open record book looking like so much confetti, he was still unable to shake Aoki, who, curiously, putts with the toe of his putter sticking up and strikes the ball far back on the heel of the club. Not until Nicklaus had birdied the last two holes and fired a 68 and shattered another record would he finally dispose of Aoki. Maybe that's what made it so very sweet for Jack in the end, the fact that he had to work for his victory instead of taking a convivial stroll among the armbands and striped ties of the USGA officials.
When Nicklaus rammed home a 20-foot birdie putt at the 17th hole—the 71st of the tournament—around dinnertime last Sunday, the cheers could be heard as far away as the Lincoln Tunnel. Up went the gloved hand with the putter attached to it, as it had so many other times in places like Augusta and by the firths of Scotland. And when he dropped a 12-foot birdie putt on the last hole to ensure his victory, the gallery suddenly broke away from the marshals, creating a disorderly scene reminiscent of the old days before someone thought up restraining ropes. Amid the tumult Jack broke into a familiar grin and then politely—and nearly singlehandedly—restrained the onrushing throng, so that Aoki could sink the putt that clinched second place for him.
Out on the course that had taken away the excellent chances of other serious contenders like Tom Watson, Keith Fergus and Lon Hinkle, a message went up on the scoreboard: JACK is BACK. But in the Baltusrol locker room, Lee Trevino said it better as he watched the last few holes on television.
"Get away and let the big dog eat!" shouted Trevino.
When the laughter subsided, Lee smiled at the TV set and said, "In my dreams, you always win, Jack."
Nicklaus didn't even have to par those last two holes on Sunday; he could have bogeyed one of them, and his 72-hole total of 275 would have been good enough to edge out the 276 that had been posted by Watson, Fergus and Hinkle, each of whom got that total in his own way—Watson primarily by making a hole-in-one on Thursday and chipping in for an eagle on Friday, and, otherwise, not making very many putts. If Nicklaus had gotten that measly 275, he would have matched the score he shot back in 1967 when he won the Open on a slightly different Baltusrol. But it wouldn't have been good enough to defeat the unyielding Aoki, a highly regarded player in other parts of the world, but not exactly noted for his American Express commercials in the U.S.
No. All week long Aoki had been in the profoundest putting mood since Billy Casper at Winged Foot in 1959. And Nicklaus had been privileged to watch every unorthodox stroke, because the two were paired for all four rounds of the Open. On Thursday, Aoki required only 23 putts for the first of his three consecutive 68s. On Friday he needed but 27. He fell off a little on Saturday, with 31 putts, and despite a chip-in on the 10th, he had the same number on Sunday, when he shot a 70. His four-day performance on the greens added up to 112 putts, and this with as bizarre a style as you're likely to find without watching a foursome trying to break 90.
There was no doubt in Nicklaus' mind that Aoki would sink both of the short birdie putts he had given himself on the last two holes. So despite being two shots up on Aoki, Nicklaus not only had to hang in there and avoid a bogey, but he also very possibly would need to drop a birdie himself if his romance with immortality were to continue. The birdie at the 17th was, therefore, the larger of the two he closed with, because it meant that he could play the last hole with three wedges if he wanted to. "The putt on 17 was the kind I had been making for 15 years when I needed it," Nicklaus said later. "But it was the kind I hadn't made for nearly two years."
Nicklaus then played the 18th hole with a three-wood off the tee and a three-iron into perfect position for a 60-yard pitch shot. The pitch left him with the 12-footer that he would have had to three-putt if Aoki were to have any chance to tie him. That might not have been out of the question, considering what Nicklaus had done on the 18th green in a couple of his previous rounds. Back on Thursday, when he and Tom Weiskopf had come home with identical 63s, equaling the tournament record set by Johnny Miller on rain-softened Oakmont in 1973, Jack had blown a dinky three-foot birdie putt that would have given him a 62. And on Saturday he had three-putted from 30 feet for a par, when a routine two-putt birdie would have started him off on Sunday with a one-stroke lead over Aoki instead of in a deadlock.
When the two of them went out for the last round, Aoki quickly got two bogeys in the first four holes, and Nicklaus had a two-stroke lead. On the front nine Jack hit three poor tee shots and struggled to a one-over-par 35. It didn't matter only because no one up ahead of him was making anything happen either.
"All week I had sort of been wondering when the wheels were going to come off," Nicklaus said later, "because that's what had been happening to me for a year and a half or so."
This was a reference to the fact that he hadn't won a tournament since July of 1978, that he hadn't won during all of 1979, the first calendar year since 1962 in which this had happened.
"I was still thinking about it when my driver left me on three holes on the front nine," he went on. "But I realized I was getting my head forward on my swing, and I corrected it. The back nine was about as good as I can play, and it made me realize this old body has a few more wins in it."
As for the last birdie putt, the one he didn't really need to settle matters on 18, Nicklaus confessed he wasn't really trying to make it. He was only trying to get it close. In other words, the big dog had eaten back on 17.
Part of the reason last week's victory was so special to Nicklaus, aside from it being a "comeback" at the age of 40, is that he knew he had missed his chances to turn the 1980 Open into a dull tournament despite his low scoring. For an Open course, Baltusrol was playing so easy that Nicklaus' record 63, his record 134 after 36 holes and his record 204 through three rounds had left nobody in the distance.
On Sunday morning he was still only tied with Aoki and a mere two strokes ahead of Watson, and there were those Hinkles and Ferguses and Mark Hayeses loitering about. And on each of his previous rounds, Nicklaus had faltered just slightly as he neared the clubhouse. Faltering had become a part of his game in the 23 months that preceded the Open, and there had been many irritating questions about his old desire eroding and his nerves finally going the way of all old golfers' nerves.
In a way, Baltusrol was the ideal place for Nicklaus to rediscover his talent. Compared to some of the Open monsters, Baltusrol has always been a pushover. It has never had, nor does it have, that dramatic stretch of holes that invariably produces agony and ecstasy. It is more or less a dull golf course, with 12 par 4s that all look the same. Baltusro's greens are large and basically flat, and last week its fairways were wider than any Open fairways in recent memory. Baltusrol does have its fourth hole, the beautiful par-3 over the water, with the green supported by a charming rock wall, but this hole looks nothing like the rest of the golf course. And it didn't even look very difficult on Thursday when Watson's eight-iron hit two inches from the cup, hopped a foot forward and then spun back into the darkness for a hole-in-one. Baltusrol also has those two concluding par 5s, one unreachable and the other a lush birdie opportunity, and these don't look like the rest of the course, either. Nevertheless, Baltusrol is a fine place to have U.S. Opens because it can hold people and parked cars, and the venerable clubhouse gives it an "Open look." U.S. Open clubhouses are supposed to look substantial, as if they were survivors of a more opulent age.
The playing quality of the course was wholly responsible for the low scoring in this Open. It had nothing to do with the golfers improving or being up for this tournament, or pushing each other to remarkable deeds. The greens were soft from rains earlier in the week—soft underneath—and this made the iron shots hold on the putting surfaces. Never in the four days did the greens putt with the speed and quickness one expects at a U.S. Open. The fairways were not only wide, but they were also perfect, a blend of Astoria and Seaside bent.
Baltusrol yielded more subpar rounds than any Open course ever had, and five men broke the par of 280, as if this were some regular event on the PGA Tour. "I just shot the fourth lowest score in the history of the U.S. Open," said Watson of his 276, "and I lost by four shots." Indeed, Nicklaus' winning total of 272 encourages one to think of the Baltusrol tournament as the Greater Hartford Sammy Davis, Jr. U.S. Open, which is how it might have been remembered if, let's say, Fergus had made a few more putts.
But it was Nicklaus who did the putting and joined Willie Anderson, Bobby Jones and Ben Hogan as the only men ever to win four Opens, and matched Anderson as the only man to have won the Open twice on the same course, Anderson having done it at the Myopia Hunt Club in 1901 and '05. It is Nicklaus—18 years after his first Open victory—who holds or is tied for all the Open records now.
That was the longest walk Jack had ever taken out there last Sunday, up that final hill at Baltusrol. He knew how far he had come—all the way back from the land of fallen idols. Golf may not see such a thing again for a long while.
PHOTOPHOTOAoki had his own angle when it came to putting.PHOTOEven Aoki, the runner-up who set an unofficial Open record by needing only 112 putts over four rounds, was occasionally left grimacing on the greens.PHOTOAoki's play over the first three days gave him something worth smiling about—a tie for the lead.PHOTOLong-driving Fergus was done in by his short game.PHOTOHinkle started off with a 66 and stayed close.PHOTOWeiskopf's 63 was followed by 75, 76 and 75.PHOTOA hole-in-one and an eagle kept Watson close, but poor putting got him no better than a tie for third.