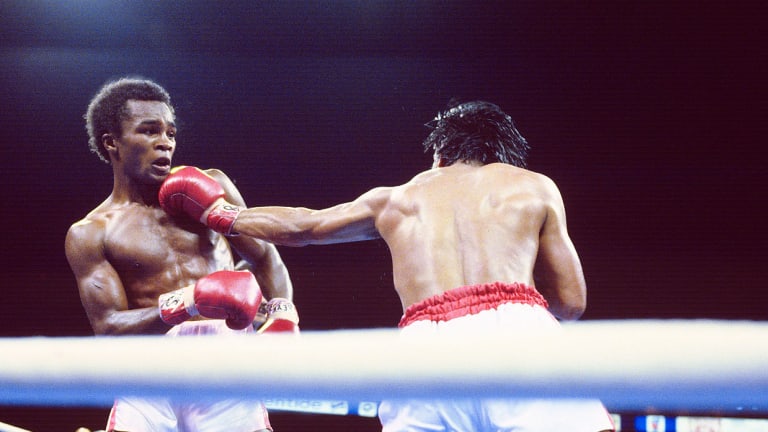 Right on for Roberto
Implacable and totally relentless in pursuit of Sugar Ray Leonard, Duran bludgeoned and bruised his way to the welterweight title
Roberto Duran had finished his steak and potato, polished off a helping of sausages and now was working on his second soft drink of the afternoon. It had been weeks since Duran had been able to indulge his prodigious appetite, to yield to his weakness for Coca-Cola and 7-Up, but he was getting his fill now as he held court in a restaurant of the Hotel Bonaventure in Montreal. Just 13 hours earlier, in a ring set above second base at the Olympic Stadium, Duran had taken the World Boxing Council's version of the welterweight championship of the world from Ray Leonard.
Duran's child, 6-year-old Robertito, slipped away from the table and wrapped himself in the green belt with the huge gold medallion signifying that his father was now the champion. Duran spotted him and laughed. "Show them how you box," Roberto said. The boy threw a straight right through the air and grimaced dutifully. "Hey hey!" Duran cried. For the first time in days, he was relaxed. He signed autographs. He posed for photographs. And he showed off his two new diamond rings, one for each hand, that his wife, Felicidad, had given him for his 29th birthday on June 16. There were only two visible signs of Duran's whereabouts the night before—manifestations that he took as well as gave. A mouse, violet and red, swelled below his left eye—the work of Leonard's right hand. And there was his own right hand, swathed in an Ace bandage that covered the bruises sustained when he pounded Leonard's head and ribs.
Duran leaned back in his chair, reflective at last. "I'm very content," he said. "Many people did not believe I could make it, but I did. Many people believed I was too old to win, but I was not. Many said I could not beat Sugar Ray Leonard. Before the fight I asked myself, 'Why can't I beat him?' I wondered, 'Maybe he's a phantom and you can't beat him.' Maybe they thought I was going to stand in the ring and let him beat on me, like I had my hands tied." He paused. "That's the only way he can beat me. I would have to be tied to a tree, with my hands behind my back...he would have to break me down a thousand times. He was strong, but he did not hurt me. My rage was very big. When I get into the ring to fight, I always give the best."
That simple fact could have been offered of Leonard as well. Last Friday night, in a chilly, rain-soaked stadium in Canada, the two men met and fought with uncommon courage, in a way that honored them both. The French Canadians billed the fight as Le Face-à-Face Historique. A historic face-to-face, that was to match perhaps the two finest fighters in the world today, and over the 15 rounds the bout was every bit of that. It was historic, all right—a magnificent, memorable combat between a boxer, Leonard, and a brawler, Duran. Literally, it was face to face, too, for that is exactly how these two champions stood for almost all of the 45 minutes as they flailed at one another—a four-fisted, toe-to-toe epic that swept like a malevolent wind from corner to corner and along the ropes, drifting only occasionally to the center of the ring. It was a fight that round after round brought the crowd of 46,317 to its feet, roaring. So savage and relentless was Duran's attack that Juanita Leonard, Ray's wife, was in tears by the third round. By the end of the eighth, she had passed out altogether in her seat.
"I did the best I could," Leonard said. "I think I pretty much fought from the heart." But so did Duran, who attacked at almost every turn. Leonard battled and battled back again. Still Duran wrestled and maneuvered, and Leonard had to work just to find room to breathe and swing, at times simply to survive. It was a close fight. There were many blows landed by each man. But when the decision in Duran's favor was rendered—it was unanimous—there were no serious arguments disputing it.
The drama of the fight was intensified by the contrasting styles of the men and the course of events that led up to it—the sense of expectancy, heightened for weeks, at the thought of seeing the flashy and undefeated Leonard (27-0) take on so unyielding a customer as Duran (71-1), the former lightweight champion who had abdicated his 135-pound title in early 1978 to strive for greater fortune and fame among the welters. They are, in manner and personality as well as ring style, as different as the languages they speak. The prospect of seeing them go at each other for 15 rounds stirred memories of the epic battles between Muhammad Ali and Joe Frazier in the early 1970s. In fact, no fight had generated such interest since those Ali-Frazier confrontations, and none in history yielded greater financial returns for the contestants. Duran would earn $1.5 million, by far his biggest payday ever, while Leonard stood to make between $7.5 million and $10 million, more money than any man had ever collected for a fight. Ali's $6.5 million take, when he met Ken Norton in Yankee Stadium in 1976, was the previous record.
Into the final week, even with these massive purses on the line and closed-circuit TV outlets doing brisk business, there was some question whether the fight would take place. In a prefight physical, Duran underwent a routine electrocardiogram that gave off warnings that he could be suffering from a coronary disease associated with hardening of the arteries. He was not, of course, but an initial report requiring further tests had the fight organizers nearly frantic.
But then, the organizing of this bout had hit snags all along the way. It first became a possibility—and, suddenly, the fight that everyone wanted to see—last November, when Leonard won the WBC title from Wilfred Benitez on a TKO in the 15th round in Las Vegas. Duran was the No. 1 contender, and a fight between Leonard and Duran seemed a natural. Mike Trainer, Leonard's counsel, contacted Carlos Eleta, Duran's manager, immediately after the Benitez fight, but the two failed to get together last winter. Trainer eventually did meet with Don King, Duran's promoter, but Trainer sought such a prodigious share of the take, including the entire $3.5 million "site money" (the live gate), that King and Eleta balked.
"You're throwin' him a bone," said King when Trainer offered the Panamanian $500,000 for starters. After Trainer retained Bob Arum, King's archrival in the fight-promoting business, matters hardly got better. After considerable jousting and maneuvering, with Trainer adamant in his insistence that Leonard—as the champion and chief attraction—take home the bulk of the revenues, the negotiations finally got off dead center in April. This occurred after some persuasive and influential Panamanian politicians pressed for the match rather than a proposed Leonard-Pipino Cuevas bout.
The terms, basically, were these: Leonard would receive the $3.5 million paid by the Olympic Installations Board to stage the fight, plus all the money for the delayed home television broadcast rights—between $500,000 and $800,000. Leonard would also get 80% of the $500,000 to $700,000 from the sale of foreign TV rights, with the promoters getting the rest. Finally, Leonard would receive 80% of the closed-circuit TV revenues—with the promoters getting the remaining 20%—after the first $2.5 million of those revenues came off the top. From that $2.5 million, Duran would get his $1.5 million, and the remaining $1 million would go to the promoters to cover expenses. All in all, the package virtually assured Leonard more than $7.5 million.
Arum and King ended up jointly promoting the fight, and the story of how they came together is only slightly more bizarre than King's hairdo. Last April, Trainer and Arum were sitting in the VIP lounge of Braniff Airways at Kennedy International Airport, waiting for a plane to take them to Panama to close the deal with Eleta, when an unexpected guest, King, walked through the door. King laughed, said nothing and sat down on a chair next to Trainer.
For an hour or so King and Arum did not speak. "It was kind of uncomfortable," Trainer recalls. "I was sitting on a couch between them, trying to make conversation." King was there because Eleta still wanted him to promote the fight. For his part, Trainer actually wanted both men to promote it—Arum because he knows the closed-circuit TV business inside out, and King because Trainer didn't want Arum's nemesis undermining the promotion. The two promoters had not exchanged so much as a civility when Trainer urged them to get together. "This is silly," he said. "You guys ought to talk to each other. Act civilized." King did not add to the conviviality of the occasion by suggesting that Arum would be attacked by mobs of angry Panamanians when he arrived there. Arum pooh-poohed that notion. Finally, seeking a break in the deadlock, Trainer phoned Eleta and told him he was prepared to fly down by himself to make the deal without either promoter. Eleta waved him on.
"Either you guys settle this thing or I'm going down there alone," Trainer told them. "This is a great promotion. There's enough in it for both of you."
Trainer and Janks Morton, Leonard's closest friend, who had been sitting silently nearby, then repaired to a bar. Arum and King not only talked but now joined forces to get more money out of Trainer, making a counterproposal that would increase their cuts. Eager for peace at any reasonable price, Trainer agreed to share the closed-circuit revenues with them 50-50—instead of 80-20—once Leonard's income from the fight reached $7.5 million. With that, they all flew to Panama and signed the deal. Trainer now estimates that Arum and King stand to make $1 million each.
Thus the richest prizefight in history was made. And the countdown to June 20 began. Duran trained harder and longer for this bout than he had for any in years, running, putting lumps on sparring partners, working himself into a fury the final weeks. Wrapping up his training in Montreal, he played to the crowds. He hollered at hecklers and jammed his fist in the air.
Meanwhile Leonard was, uncharacteristically, less demonstrative. He conceded that he was "a little afraid" of the challenger: "... his reactions, his style, his character. He's so, what do they call it, ferocious...."
Meanwhile, Duran's health caused concern when, three days before the fight, he was forced to spend two hours having his heart checked. After the EKG had revealed an abnormality in his heartbeat, Dr. Bernard Chaitman, a cardiologist at the Montreal Heart Institute, was called in. "His EKG showed some findings that, in a normal person, might be interpreted as coronary artery disease," Chaitman said. "This is narrowing of the arteries of the heart. However, this type of EKG pattern is often seen in highly trained athletes. In a well-trained athlete, the heart muscle may be slightly thicker than in an average individual, giving rise to an unusual type of EKG pattern. What happened in Duran's case is his pattern was slightly more marked than in the average boxer." So Duran underwent another exam. "Everything was within normal limits," Chaitman said. "He was cleared for the fight."
Indeed he had never been more prepared to fight. "I've studied him more than my shadow," Duran said of Leonard the day before the fight. "I'm ready for any terrain he's prepared to step into. He's a good boxer, but he's going to be boxing a better one. He thinks with his clowning and psyching that he's going to get me angry and get me to lose my head. No, my son. I have what they call in Panama my special reserve. My style is to bob and weave, and tomorrow it could be better than ever. If Leonard is to beat me, he would have to fight me; he would have to apply pressure, too."
Which was precisely what Leonard was intending to do. Angelo Dundee, Leonard's trainer, counseled him to feint left and move right, to move from side to side, not to get caught on the ropes, to box. "A good boxer plays checkers," Dundee said. "Side, side, inside. The key is Ray's left hand. Everything off the jab.... Ray will knock Duran stiff." No, Leonard said, he wouldn't do it that way; he'd fight Duran's way. "Flat-footed," Leonard said. "I will not run." One of the questions about Leonard was his ability to take a punch, and now he seemed intent on answering it once and for all.
It was against this backdrop, with Leonard the favorite and both camps confident of victory, that Duran came charging up the aisle in Olympic Stadium to the beat of drums on the loudspeakers. He raised his arms to thunderous cheers. Immediately, Juanita Leonard and Ray's sister, Sharon, climbed on their chairs near ringside and started dancing in place, singing, "Hey, Sugar Ray!" Soon Leonard arrived, his arms raised. Then came the bell.
It was, from almost the opening salvo, a fight that belonged to Duran. The Panamanian seized the evening and gave it what shape and momentum it had. He took control, attacking and driving Leonard against the ropes, bulling him back, hitting him with lefts and rights to the body as he maneuvered the champion against the ropes from corner to corner. Always moving forward, he mauled and wrestled Leonard, scoring inside with hooks and rights. For three rounds Duran drove at Sugar Ray with a fury, and there were moments when it seemed the fight could not last five. Unable to get away, unable to counter and unable to slide away to open up the ring, Leonard seemed almost helpless under the assault. Now and then he got loose and countered—left-right-left to Duran's bobbing head—but he missed punches and could not work inside, could not jab, could not mount an offense to keep Duran at bay.
Though Duran dominated at the outset, Leonard managed to avoid serious trouble while attempting to fend off his pursuer. In the second round Duran dazed Sugar Ray with a hook and right-hand lead, and Leonard seemed in pain as he covered. But he demonstrated, too, that he could absorb Duran's best blow. "I showed I could take a punch," Leonard would say. "I didn't want to, but I had to. I had no alternative."
He had none, to be sure, because Duran forced the issue and took the fight to him, depriving Leonard of his most valuable tool: his hand and foot speed. Duran cut off the ring and put unbending pressure on Leonard, thereby stifling Sugar Ray's jab, the punch designed to set up all the others. "I knew that was going to happen to him," Duran said after the fight. Staying inside, Duran was hardly molested by Carlos Padilla, the referee. One of Duran's trainers, Freddie Brown, yelled to Padilla, "Let 'em fight!" And let them he did. At the bell concluding each round, Duran would spin and walk quickly to his corner, a sneer playing on his mouth. Ray Arcel, Duran's co-trainer, would ask him, "How do you feel?" Duran would nod and say, "Good! Good!"
"Keep goin'," Arcel would say. "Keep crowdin' him. Don't give him a chance to set. Keep goin'!" And out the fighter would go—feinting with the jab, shooting the overhand right, throwing the hook, bulling inside and pounding the body. "Duran did what he was told," Arcel would say. "He fought the kind of fight he was told to fight. Leonard couldn't jab. We never let him execute. And Roberto set a hell of a pace."
Roberto did. But Leonard hung in. Taking the best that Duran could offer—"Leonard surprised me taking some of the punches he did," Arcel said afterward. Sugar Ray won the sixth round, scoring with jabs and lefts and rights in combination. The two men fought with a fury through the middle rounds—all three judges scored the seventh and ninth rounds even—but it grew clearer as the rounds rolled by that Leonard had no reply to Duran's tactics. At the end of the eighth round, Juanita Leonard was out cold, with Sharon Leonard cradling her head and fanning her face with a program. But Ray Leonard did not notice. He had enough to do to stay conscious himself, what with Duran burrowing and pushing and beating him inside. During the infrequent times when Leonard broke loose, he scored with a quick combination, but then Duran would jab and counter and rush to the body again. He cut off Leonard's ring at every chance, willing to take shots on the way inside, and Leonard could not deal effectively with him.
Dundee urged Sugar Ray not to fight Duran's fight. "You never fight to a guy's strength," Dundee would say. "You try to offset it, and Ray didn't. He tried to outstrong the guy. Duran was being Duran, and Ray was going with him. It was strictly Duran's stuff, elbows and knees, his head to his face. Leonard has lumps all over the place. The guy who had more practice at that won the fight. It was all Duran. He pushes. He comes at you from different angles. He feints and wings. When a guy comes at you, you move. You counter and move. Ray didn't."
Or couldn't, not with the meager seasoning of 27 pro fights against a master at the game as it is played inside. Duran let up the last two rounds, but by then the battle had too long been joined and decided. Judge Raymond Baldeyrou of France scored it 6-4-5 for Duran. Italy's Angelo Poletti had it 3-2-10, a monument to indecision. Englishman Harry Gibbs' tally read 6-5-4. Duran seemed to know he'd be the winner by the end of the furious 13th—the best and most extraordinary round in the fight, when Duran and Leonard went at each other head to head and toe to toe, when lefts and rights came off all points of the compass and the blows raised a constant sweat spray in the air.
Duran hooked the champion into a corner, but Leonard escaped. Duran landed another left hook, and shortly thereafter a hard right. Leonard struck home with a right, snapping Duran's head to the side, and then they came together. Near the end of the round, Leonard threw three lefts to the body, two rights to the head. Not in all his life had Leonard reached more deeply—this was the finest moment in his bravest fight—and not even so tenacious a fighter as Duran could find the bottom to the man. Suddenly the 13th ended, almost with a gasp, as if for three minutes Leonard and Duran had struggled underwater and at the bell broke to the surface and gulped air again. Two of the judges gave the round to Leonard, but it hardly seemed to matter. Duran had won the fight; in the 13th he stood off Leonard's last great charge.
The rest was mere aftermath. At the final bell, Leonard approached Duran to touch gloves, but Duran waved him away and stalked to his corner. He could not cut off his mood of ferocity so abruptly. He mellowed in the locker room enough to say, "Leonard, you're my friend now," but by then the ring was dark and Leonard was in another room and it seemed a bit late for sentiment.
No matter. The fight gave Duran the title, hard-yielded and hard-won, but it left Leonard suspended in a no-man's-land. Trainer says that Leonard, after four years of fighting professionally, is now worth about $5 million. The choice is his. "He accomplished what he set out to do," Trainer said. "I don't enjoy this. I don't enjoy seeing him get hit. As far as I'm concerned, he can pack it in." Leonard was noncommittal. "I wouldn't mind having a rematch," he said. "I want to talk everything over with my wife. See how she feels. It was a difficult strain on her to see me lose. But I felt I gave it my best...."
And then, for all, he said: "Again, I salute Roberto Duran."
PHOTOTWOPHOTOSThe infighting was ferocious (left) as Padilla could attest, but Leonard landed his best shots (right) when he was finally able to get away from Duran.PHOTODuran kept Leonard tied up through most of the fight, bulling to the inside, tiring his opponent.PHOTODuran's toll showed when Dundee had to work on a cut near Leonard's eye after the ninth round.PHOTODuran couldn't resist a taunt near the finish.PHOTOThe champ earned $1.5 million—plus a $2,000 cash bonus from the fight's co-Promoter, Don King.PHOTOJuanita Leonard, who fainted during the fight, shared Sugar Ray's disappointment when it was over.