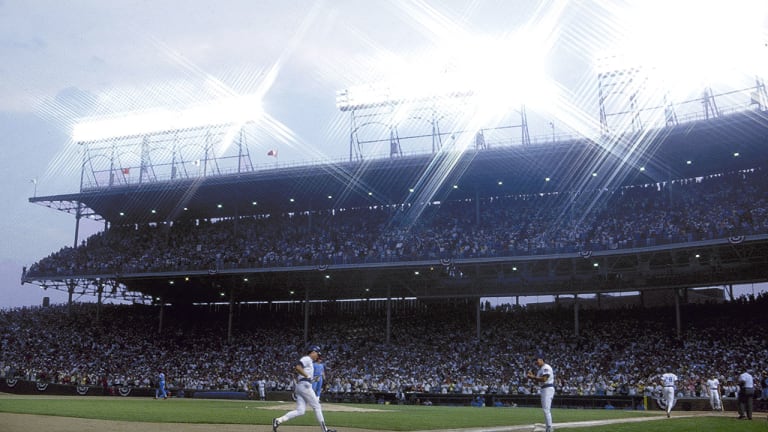 One Place That Hasn't Seen The Light
Chicago's Wrigley Field has grass on the ground and ivy on the walls and is the only park where there are never any night games
Wrigley Field is a ball park. If there was one way to rile Philip K. Wrigley, the retiring gentleman who owned the Chicago Cubs between 1932 and his death in 1977, it was to refer to Wrigley Field as a stadium. It is a park, with spiders and grasshoppers and vines an inch around on the field of play. The vines come into bloom in mid-May. The morning glories open up pale blue and pink and purple and are shut again by noon. The greenish-white flowers of the bittersweet bloom inconspicuously against the ivy. There is Boston ivy with its eight-inch leaves that stick out from the brick a foot and a half and are clipped by the ground crew before every home stand. There is Baltic ivy with its shiny, leathery leaves that stay green all winter, and the high-climbing Virginia creeper, whose five-leaflet clusters turn reddish-orange in the fall. That is when the bunches of grapes hang purple on the grapevines and the bittersweet berries turn red, but in the spring there are flowers where the fruit will be.
It is a park built for baseball. There are older ball parks—Comiskey, right across town, is one—and stadiums both bigger and smaller. But none can match Wrigley for watching a baseball game; the $1.50 seats in the leftfield bleachers are better than most stadiums' upperdeck boxes. People may talk about that "quaint little bandbox" of a ball park in Boston, but there is nothing quaint about the new electronic messageboard the size of centerfield, and anyone who has ever watched a game in the bleacher seats beneath that messageboard would take issue with calling Fenway Park "little." You can sit fully 600 feet from home plate.
Wrigley Field is a classic Midwestern cross between penurious efficiency and charm. Its slightly off-kilter center-field scoreboard is the last in the majors still operated by hand, yet it is the only one that gives inning-by-inning scores of all out-of-town games. The roof is held up by a rusted network of rafters, a maze of horizontals and verticals and diagonals. Wrigley Field is a Peter Pan of a ball park. It has never grown up and it has never grown old. Let the world race on—they'll still be playing day baseball in the friendly confines of Wrigley Field, outfielders will still leap up against the vines, and the Cubs...well, it's the season of hope. This could be the Cubbies' year.
There is a tendency to credit the atmosphere in Wrigley Field to Philip K. Wrigley's traditional approach to the game, but evidence points to other forces at work. Mr. Wrigley was more innovator than traditionalist. In 1968, when synthetic turf was being developed, Wrigley was one of the first owners in baseball to look into digging up his park's natural sod and replacing it with artificial grass. It was only his inherent frugality that prevented him from going ahead with it. "When we have the money we'll probably install synthetic grass," Wrigley said. "There's no doubt it would pay for itself in a few years." One year he instituted a rotating system of head coaches instead of a single manager, an experiment ridiculed by the baseball Establishment. The Cubs were the first—and are now the only—team to televise every home game. Wrigley Field was the first ball park to install an organ, the first to have a Ladies Day.
White Sox owner Bill Veeck writes in his autobiography: "Old men, playing dominoes across the hearth, like to say that Phil Wrigley was the last of the true baseball men because he is the only owner who still holds, in the simple faith of his ancestors, that baseball was meant to be played under God's own sunlight. I know better. Having blown the chance to be first with lights, Mr. Wrigley just wasn't going to do it at all."
In fact, Wrigley Field was all set to be outfitted with-lights in late 1941. The Cincinnati Reds had introduced night baseball in 1935, so it was still a relatively new attraction, and President Roosevelt thought it would be a good way to give factory workers some relaxation at night. The lights had been paid for and were on the verge of being installed when fate intervened in the form of Pearl Harbor. On Monday, Dec. 8, the Cubs offered their towers, lights and cables to the U.S. Government, and they were used in the suddenly booming shipyards.
Right up through the '60s there was talk of installing lights in Wrigley Field so the Chicago Bears could start their football games later in the day and the Cubs could finish games that otherwise would be called on account of darkness. But the Bears moved to Soldier Field, and Wrigley Field remained unchanged.
"We can still draw without night games," says E.R. (Salty) Saltwell, vice-president of park operations. "We're not in this to lose money or break even. We draw heavily from young college, high school and junior high school kids during the summer, mainly because we have all day games."
Last year, with a 80–82 record that left them fifth in their division, the Cubs—with all their home games televised—nevertheless drew 1,648,587 fans. They come back like old lovers, by bus and via the El. They do not drive. There is not enough parking in the vicinity of the park to drive, which is another reason for the day games. They come back, and at worst they have an afternoon in the sunshine in the park, watching men at play and remembering what it was like when their fathers took them. What they were like. At best, the Cubs win. "If you can just play .500 ball for these fans they are happy," ex-Cub Manager Herman Franks said near the end of last season, the day he announced his retirement. "Can you imagine what they'd be like if you ever won a pennant for them?"
They would probably become crabby. Baseball fans spoil easily. The Cubs' last pennant was in 1945 (they have never even won a division title), and that 35-year drought is the driest spell in the major leagues. One of the reasons Cub fans are equable if their team finishes at .500 or better is that in the 20 seasons between 1947 and 1966 it did so only twice. In 1952 the Cubs went 77–77; in 1963, 82–80—rebounding from a 1962 season unnerving to the staunchest of Cub fans, when the record was 59–103, and Chicago finished six games behind the Houston Colts, an expansion team.
Franks added, sounding like God speaking to the Israelites, "I know it's a terrible thing to ask, but you've got to have patience. The team is still two or three years away."
One of the silliest but most widespread fallacies in baseball is that Wrigley Field is somehow responsible for the Cubs' difficulties. That playing baseball games outdoors in the summer sun will, by August, sap a professional athlete of his strength. This theory would be more acceptable if they were the Sahara Cubs and each player was stripped and bound in the sand before his turn at bat, but 2 1/2 hours in the Chicago sun—half of which is spent in the dugout—could not seriously tax a fat albino.
It has also been suggested that the way the ball flies into Waveland Avenue when the wind is blowing out so shatters the confidence of Cubs pitchers that they never recover. (At 368 feet, the power alleys in Wrigley Field are the shortest in baseball, and it was once 38 years between no-hitters there.) This, at least, is possible—Fergie Jenkins is the only Cub starter ever to win the Cy Young Award.
But to those who follow the team with even casual interest the real problem is simple. Talent. The Cubs either lack speed, power, pitching or defense, year after year. Often they lack all of the above. When they get a young Lou Brock, they trade him for an Ernie Broglio. Why blame the ball park for a trade like that? Cabdriver Harold Wolfson speaks for most Chicagoans when he says, "The Wrigleys are cheapos. They're all cheapos. Whenever anybody wanted money they traded him."
Papa Carl Leone was born the last year the Cubs won the World Series, 1908. He has only one tooth left that is visible, and he has only one eye. The other eye, he says, he lost to a line drive during batting practice. The teeth he just lost. Papa Carl has been coming to Wrigley Field since the year the Cubs moved there, 1916. He sits in the rightfield bleachers—the dean of "Bleacher Bums."
Wrigley Field was actually built in 1914 by a man named "Lucky Charlie" Weeghman. He owned the Chicago Whales of the short-lived Federal League, which lasted four seasons, 1912–15. The park, then called Weeghman Park, was completed in time for the 1914 opener at a cost of $250,000, and it seated 14,000 fans. When the American and National Leagues absorbed the Federal League in 1916, part of the deal was that Weeghman could buy the Chicago Cubs, who were then owned by Charles Taft of Cincinnati, brother of the former President. He did so for $500,000, putting together a syndicate of 10 investors, one of whom was the chewing-gum magnate, William Wrigley Jr. By December of 1918, Wrigley had become the majority stockholder, Lucky Charlie had resigned, and Weeghman Park had become Cubs Park. It was renamed Wrigley Field in 1926 when construction was started on the upper deck.
There were no permanent bleachers then. Temporary bleachers had been put into leftfield in 1923 to aid a strongman named Hack Miller, who, during the 1922 season, hit 12 home runs but had many other fly balls caught near the fence. It was said that Miller, who was 5'9", 195, could push a tenpenny nail through a board two inches thick with his bare hands, though if this were true one wonders why the fences had to be pulled in to help him hit home runs. In 1923, with bleachers installed in front of what had been the wall, Miller hit 20 homers, his career high. In 1924 he hit four and in '25 he hit two. The bleachers—and Miller—were removed posthaste, since the Cub pitchers were, in the meantime, getting shellacked.
In the next few years, when Hack Wilson arrived and the Cubs started to win, fans were allowed to watch the game behind a rope in the outfield when there were overflow crowds—Neanderthal versions of what are now the Bleacher Bums. "When the Cubs were up," recalls Papa Carl, "we'd all step forward and pull the rope up. When the other team was up and hit one deep, we'd pull it back and let the guy catch it."
This sort of fan participation became impossible in the 1929 and 1932 World Series, however, when the Cubs erected bleachers on the sidewalks outside the ball park in left-and rightfields. The centerfield bleachers were already permanently in place, of course, and it was in their direction that Babe Ruth "called his shot," his final World Series home run. There has always been some question as to whether Ruth, in fact, did call his shot, and to whom, or for whom, he was pointing. The Bleacher Bum version is that he was pointing to a black man named Amos (Loudmouth) Latimer, traveling secretary for the Chicago Negro League's 47th Street team. The story, which Loudmouth told for years afterward on 47th Street, goes that Latimer had been provoking Ruth from the centerfield bleachers by throwing lemon rinds at him and calling him "brother," a reference Ruth had heard before because of his facial features and the fact that he was an orphan. Ruth finally turned around and, from the field, told Loudmouth he had one coming. The next inning he deposited Charlie Root's delivery a few feet away from Amos. The Yankees, of course, won the Series.
There was an Andy Frain usher at that game named Leo Jonas, who was fresh out of grammar school and working his first Series. Jonas is now the senior Andy Frain at the park, having worked every baseball game in Wrigley Field since 1945. At night he Andy Frains at the harness track, and in the winter he works conventions at McCormick Place and the Shrine Circus and has a two-week "vacation" at Christmastime working crowd control for Marshall Field's Santa Claus. He is 65. "I'll retire when I won't be able to walk around," Jones says. "No Social Security for me. I won't even apply for it; throw the letters right in the trash. I just miss it when I leave here at the end of the season. I can't wait for the spring to roll around. I like being outside in the sun and fresh air. The years went by so fast I don't even feel it."
It is the Peter Pan syndrome. Wrigley Field has kept him young. He still uses public transportation to get to the park—Belmont bus to Clark, Fullerton bus to the El, El to the Addison stop and two blocks to the rightfield-bleachers gate that he works—a route he would not care to take if there were night games. "A little rougher crowd would come in at night," he says. Old Andy Frain himself used to come into the Jonas family's variety store to buy cigars—Perfecto Garcias. They are another of Wrigley Field's charms—the Andy Frain ushers. They are generally accepted as the best in the business, polite, efficient and neat, men who will lead you to your seat and not accept a tip.
"I don't think the fans have changed too much," says Jonas. "The players have. You could watch those old guys play ball forever. They were so interesting. Hack Wilson was a little pudgy guy who looked like one of the kids on the playground. But he sure swung that bat, and away it went. Then he'd run around the bases like a little duck.
"Wilson and Pat Malone used to stay out till two or three partying, then the next day they came to the park early, and the manager, Joe McCarthy, would hit them fly balls to sweat the liquor out of them. It would be 80° in the park, and 90° on the field. But they played. Those writers say they fold up now because they play all day games. Look at all the pennants they won before. Players weren't swooning all over the field saying, Tm too hot, I can't play.' If you're an athlete...." Jonas does not need to complete the thought. Just then the old peanut man walks by. "Irving," Jonas asks, "how long you been here?"
"I just got here," Irving says. The game has not started yet.
"No. How many years?"
"Thirty years. Peanuts!" Irving would have difficulty eating a peanut, because he has no teeth.
"You're not thinking of retiring, are you?" Jonas asks.
"No," Irving says, thinking about it. He takes off his paper cap and wipes his white hair off his forehead. "I might drop dead." There is that option. "Or my wife might kill me." And that one. But retirement? From Wrigley Field? "Peanuts!" And he is gone.
The ball park assumed its present configuration in 1937, when the bleachers were added in leftfield and the centerfield scoreboard was modernized, a step that included the removal of the Doublemint Twins from its crest. Since then there has been no advertising in the park.
It was at that time that Veeck, an employee of Phil Wrigley's in his youth, suggested planting the ivy. "Can't say it was original," says Veeck. "There was ivy on the wall at old Perry Field in Indianapolis." When Wrigley gave him the go-ahead, Veeck had copper wire strung from the brick walls so the ivy and bittersweet, a thousand plants in all, would have something to climb on. That copper wire, tarnished green, has long since been pulled from the brick by the vines it once supported and is suspended in a hopeless tangle among the berries and grapes and spider webs. In the meantime, the ivy has not only thrived on the field, but is one of the hottest concession items the Cubs handle. Last year the 2,500 plants—cuttings of outfield ivy potted up—put on sale for $1.50 each were a complete sellout.
The man who has taken care of those vines for the last 40 years is Roy (Cotton) Bogren, a short, silent Swede who started working in the clubhouse in 1936 and moved to the ground crew four years later. In 1957 he was made assistant and in 1970 was named ground superintendent. The vines are trimmed before every home stand. The Merion bluegrass field is mowed every third day during the spring, every fifth or sixth day after that, to a height that varies between 1 1/2 and two inches. The infield is cut with hand mowers, and the clippings are allowed to fall. It is cut at night. Every third day it is watered, and four or five times a year the grass is fertilized with Scotts Plus Two, which controls weeds. The mound and home plate are clay, and the dirt of the infield is three parts loam to one part bank sand, which is a very fine sand.
The 22-man ground crew is also responsible for cleaning up the stands. Many of the seats in Wrigley Field still have to be raised by hand, and in 1925, when Bogren was a boy growing up two blocks from Wrigley Field—then Cubs Park—he would get out of school at 3:15 and, if it was a game day, head to the ball park, where the ground superintendent let him and his friends raise seats for a free pass to the next game. It is a practice that has continued. Bogren has given out as many as 50 passes to kids when there has been a big crowd, letting them in to race down the aisles, flipping up seats and dreaming about one day playing in that park—half an hour of work for a pass. So it is that Cub fans are made, diehard fans, fans that come back, win or lose. It is a ball park run by people.
Bogren used to work inside the scoreboard, another job for the ground crew, and one that requires three men, one for each level. Every so often an opposing team accuses the Cubs of stealing signs from inside that scoreboard, but if that has ever been the purpose the crew has never been very good at it. There is only one entrance into the scoreboard, and that is by ladder from the top of the bleachers in center. It is a huge, dark, musty structure, with ladders between levels and a ticker tape on which the scores of other games are received. The scoreboard numbers are metal and they are fitted into slats at the completion of an inning. There is a phone to the press box in case the ticker-tape machine breaks, or someone inadvertently puts a number in upside down. Between 1942 and '62 Bogren worked there, and it is not with fondness that he recalls it.
"It often gets so hot in the summertime you can't believe it," he says. "The worst days were when the wind was coming off the lake, from the back. We didn't have any holes in the back. It's probably gotten better now. It's rusted through in places, but that still doesn't count as ventilation."
Bogren rummages through a stack of old football numbers lying around the floor of the scoreboard structure, numbers like 42, which, in Wrigley Field, might someday be used for a baseball game. There is a VENEZUELA from the 1959 Pan Am Games. There is no bathroom. Bogren is asked about this, since no one is allowed in or out during the game.
"Right there," he says. "That old copper funnel." There is a pipe coming up out of the floor that leads heaven knows where, with a copper funnel at the top. "Same one that's been there since 1937," Bogren says. "Shows you how good copper is."
Papa Carl Leone has written the names of his "boys" on the seats of the right-field bleachers so that no one else will accidentally sit in them before the game. His "boys" are not sitting in them before the game because they are waiting outside for batting-practice home runs to rain down on Waveland Avenue. One fellow named Rich has caught 700. Last season Atlanta was the favorite visiting club, hitting 27 balls out before one game. Most of the ball hounds pay their way inside the park after batting practice is over, but three or four diehards wait in the streets all game, playing stickball or throwing a football while listening to the radio broadcast, stopping completely only when Dave Kingman comes to bat. Kenmore Street runs perpendicular to Waveland, and a third of the way down the block an X is painted on the sidewalk where Kong's longest shot landed, 533 feet from home plate.
On the corner of Waveland and Sheffield, a block from the El, is Ray's Bleachers, meeting place for the hard-core, hard-hatted Wrigley Field Bleacher Bums who terrorized opposing leftfielders in 1969-70-71, when the Cubs made respectable pennant runs only to collapse in August and September. There is a poster of Ron (Pizza) Santo on the wall and countless other bits of Cub memorabilia. The Bleacher Bums' behavior was so inciteful that in 1970 the Cub management installed a 42-inch chain-link fence around the top of the outfield wall to discourage fan participation. When Leo Durocher was manager from 1966 to 1972, he declared Ray's Bleachers off limits for the Cubs—but Dick Selma and Fergie Jenkins regularly disregarded this edict, in the proud tradition of Hack Wilson and Pat Malone. Selma used to lead the Bums in cheers from the bullpen and became so popular that when he was traded to the Phillies and came back to play a game, the bleacher crowd showered him with quarters. Selma ran out with a satchel and, after the game, brought all the change to Ray's, putting the satchel on the bar and declaring the drinks were on him until the quarters ran out.
"They deserve a pennant," says Ray Meyer, proprietor of Ray's Bleachers.
About 80 of the original Bums still return regularly, and last year one held his baby shower at Ray's. "It's the same story every year," says Meyer. "It gets sad near the end."
It gets sad near the end because it is the end of another season, not because it is the end of another pennant-less season. If you think about it for long, it becomes very sad, so you don't. So you just go on, like Papa Carl, who, the last day of the last season, took four weepy young bleacher ladies who would not, see him again until spring and hugged them to his brown, wrinkled chest. The bleachers are the only place in Wrigley Field where males may remove their shirts, which, of course, is why Papa Carl sits there. As the girls said their goodbyes, Papa Carl winked his good eye and grinned, exposing his one good tooth, "How'm I doin'?" he said. "Pretty good, eh?"