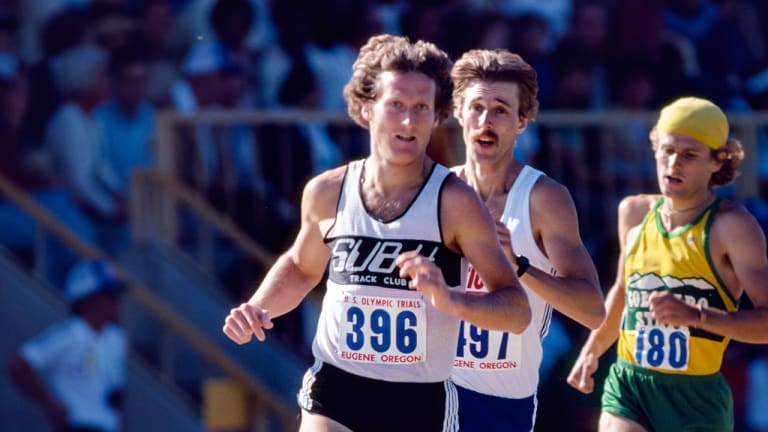 Trying Hard to Go Nowhere
The Olympic Track and Field Trials led to a dead end, not to the Games in Moscow. Nevertheless, competitors like winning vaulter Tom Hintnaus gave golden performances
With 400 meters gone in the Olympic Trials 1,500-meter race, Steve Scott strained to catch—through the wind in his ears—the split times being called to the runners. He was in second place, behind Craig Masback, and he had a plan. If the first quarter were :59 or :60, he meant to take the lead and run 57s for the next two laps, hitting the three-quarter mile in 2:54. A sustained sprint from there would bring him near Jim Ryun's 13-year-old American record of 3:33.1. The time he heard was :58.6.
But a hard, cold wind was blowing out of the Willamette Valley to the north, snapping the flags surrounding the University of Oregon's Hayward Field in Eugene and making it difficult to keep to his plan. A few minutes later the same wind would blow away Mary Decker's chances of breaking Jan Merrill's American record in the women's 1,500, and Decker would have to settle for a Trials-record 4:04.91.
Ahead, Masback slowed. "I'd hoped he would protect me for one more back-stretch," said Scott later. When Masback didn't, Scott went to the front. "I just hate the kicker's type of race," he would say. "Three minutes at the three-quarter and the whole field ready to blast by."
Scott had reason to be nervous about kickers. Behind him somewhere was Don Paige, who six days before had sprinted for the final three-quarters of a lap to win the 800 in 1:44.53, the best in the world this year. "I had watched that and kind of went into a one-day frenzy," said Scott. "My coach, Len Miller, settled me down. The plan was to put Paige away early after his 800 races and a hard 1,500 heat yesterday." Scott's pace did just that, abetted by Paige's very sore left Achilles tendon. After half a mile it was clear that Paige would be no factor, and he dropped out, on the shouted advice of meet physicians.
Now Scott forced the pace, not so much with resolve as with absorption. "I didn't hear the crowd. The second and third laps almost aren't there in memory," he said. They were there in fact, as he and Steve Lacy were pulling away, passing three-quarters in 2:54.7, very near where Scott wanted to be.
With 300 meters to run, Scott called himself to maximum effort. In answer, the wind pressed against him even harder. "It really stood me up that last lap," he said. Lacy stayed close. Out of the last turn Scott drifted wide and it looked as if Lacy had the strength to challenge on the inside. But Scott's stamina was too great and he pulled away to a seven-yard victory. He hit the tape pale and grateful in 3:35.15, about two seconds from Ryun's record but the fastest time in the world this year. Lacy finished in a personal best of 3:36.23.
"Without the wind I know I could have done it," Scott said. "But it's so good to get it over. I can't imagine what the Olympic pressure must be like, if it's like this for Trials that don't even get you there."
"These aren't the Olympic Trials," said Al Oerter shortly before the discus throw. And Oerter, unlike Scott, ought to know, having won four Olympic gold medals. "I'm sure they're not the Olympic Trials because I've been sleeping at night. It's a wonderful track meet, but a meet for its own sake, nothing more."
In this atmosphere one could easily preserve one's wishful conviction that instead of settling for fourth with a throw of 215'1" behind the masterful 225'4" of Mac Wilkins and the 223'1" of John Powell and the 218'2" of Ben Plucknett, Oerter, breathing in the sharp air of a real Olympics Trial, would have pulled out at least third place on his final throw.
Yet athletes give their own meaning to what they do, simply by the force of their desires. "Being an Olympian, even in name only, is rare" said Powell. "It doesn't do much on resumès, I can attest, but you have to go for what you can get. It is important."
So within these limits the nation's best track athletes fought it out, producing a meet filled with as much poignancy—and as much acrimony—as any true Trials could want. Certainly for poignancy, the performance of Madeline Manning, Oerter's only fellow gold medalist from the 1968 Games competing in Eugene, would long be remembered by the knowledgeable and enthusiastic crowd. Manning had retired from running twice since Mexico City, the first time in 1972 following a heartbreaking semifinal loss at the Munich Olympics where, because of a judge's error, she stopped short of the finish line. But she came back and became the first American woman ever to run the 800 in less than 2:00 during the 1976 Trials, only to finish last in her semifinal heat in Montreal with a 2:07.
Lying awake that night questioning her performance, she opened a Bible and found herself staring at Galatians 5:7, which reads, "Ye did run well." Two weeks later at College Park, Md., Manning set the still-existing American record of 1:57.9. She again retired at the end of that season and embarked on a career of ministering, but began running again in 1978.
In the soft rain before the 800 final at Eugene, Manning called her rivals together for a prayer, telling them, "Nobody can lose doing her best." Then she stripped off her blue sweats and ran her best since coming out of retirement to win by 15 meters in a Trials record of 1:58.3.
Here, too, were the Howard sisters of Los Angeles, Sherri, 18, and Denean, 15, finishing first and third in the women's 400, with a 51.48 for Sherri on a sore ankle, and a 51.70 for Denean, who, though not yet a junior at Kennedy High, seems potentially the greatest talent the event has ever seen. The pair, who hugged as if magnetized after the race, became the first sisters ever to make an Olympic team in the same event. Their mother, Barbara, was left shaking. "I don't think Denean realizes what she has done," she said, and that was nice, too, the thought that the moment of accomplishment might grow richer with time.
On the experienced side of the ledger were Edwin Moses and Craig Virgin. Moses, recovering from a sore foot, cruised through a magnificent 47.90-second victory in the 400-meter hurdles, winning his 38th straight race. An early and vehement foe of the boycott, Moses seemed to have gained at best the perspective of resignation. "I'm disappointed, every athlete in America is disappointed. But I hope that in some way our sacrifice will help keep the planet Earth peaceful. If we can do that passively, what can you say?"
Virgin won the 10,000 in 27:45.61 with surging tactics that broke most of the field early and Herb Lindsay after 3½ miles. "I came here knowing Lindsay could out-kick me if I couldn't shake him," said Virgin the next day. "I was willing to have a death battle with him." As Virgin spoke he witnessed Deby LaPlante and Stephanie Hightower wage their own swift struggle for supremacy in the 100-meter hurdles. Hightower led for six of the 10 barriers, then LaPlante came on, running recklessly, faster, she thought later, than ever before. Too fast. She clipped the eighth hurdle, lost her balance and jack-knifed over the ninth, injuring her right shoulder and turning her world into one of confusion and pain as Hightower blew on to a 12.90 victory, second fastest ever by an American.
"That's sad," said Virgin, transfixed, as trainers and LaPlante's husband, Fred, bent over her writhing form, "but not so tragic as if we were going to the Games."
While the athletes struggled to perform to Olympic standards, it seemed that the bureaucracies that govern track and field were similarly compelled. Former professionals, including shotputter Brian Oldfield, hurdler Rod Milburn and pole vaulter Steve Smith, had been members of the now-deceased professional track tour (1973-76) and had only been reinstated for international amateur competition this spring by the International Amateur Athletic Federation. Yet the International Olympic Committee had not gotten around to clearing them for Olympic competition, having the larger question of the survival of the Games before it. Therefore, the former professionals were banned from the Trials. "This meet is to select the team we would have taken if we were going," said Coach Jimmy Carnes, who is also president of The Athletes Congress, the national governing body for track and field. "They couldn't go to Moscow, so they can't compete here. It's that simple."
Simple it turned out not to be. On the Friday before the Trials began, five hours of hearings in Philadelphia reaffirmed the U.S. Olympic Committee's right to keep the former pros out of its Trials, even though the team would not be going to the Games. "The only way those athletes can get in the meet now is with a court order," said Carnes.
The following Monday two separate actions against the USOC and TAC were filed, one for a temporary restraining order by Steve Smith in Federal Court in Portland, the other for a temporary injunction by 1972 Olympic Coach Bill Bowerman on behalf of Oldfield in Eugene. Both were granted the next day. Oldfield took the papers to meet director Bob Newland, who said, "Glad to have you. I'm only sorry this couldn't have happened in time for Rod." That was because over the weekend a sober Milburn had had to watch Renaldo Nehemiah bolt through the rain to the high-hurdle title in 13.26. But this tortuous episode is about nothing if not justice, and there was a measure of that in London on Friday when Milburn finally got on a track against Nehemiah and won in 13.69 on a cold night when Nehemiah clobbered the last hurdle.
Smith, who once held the indoor world record at 18'5", went on to vault more than 18 feet on Friday for the first time since 1976, finishing fourth at 18'2½" behind Oregon's Tom Hintnaus' 18'4½". Before this season, Hintnaus had never cleared 18'. "I don't know what was more unbelievable, getting in or getting over," said Smith, whose wife, Cindy Jo, was one of the attorneys on his case.
Many observers were struck by the apparent vindictiveness of the TAC officials against the former ITA men. Asked why Carnes didn't seem to appreciate him, Oldfield answered as a classical tragedian might, remarking on how we are locked into our fate by our character. "He's not supposed to like me," he said. "He's an official. I'm an artiste."
But Oldfield's artistry, the putting of a 16-pound iron globe from the 360° spin he invented, calls for delicate technique and is capable of misfiring when charged with too much emotion. Two weeks earlier he had thrown a 71'7" at the TAC's own meet, but Oldfield had a terrible day in the Trials finals, finishing fourth with 67'4¼". Surprising 1976 Olympian Pete Shmock put 68'4", farther than he has in four years, to win a close competition from Al Feuerbach (68'3¾") and Colin Anderson (68'¼"). Shmock always trains alone, so perhaps he was better prepared for the loneliness of pressure.
Oldfield did not rage against his fate, sensing that his hubris had been punished. "I've been humbled. But what can I say? Those are my friends who won," he said.
One other victorious friend was Bowerman, who had directed Oldfield's legal work and saw the case as setting a clear precedent concerning all athletes' rights to compete free of arbitrary restrictions. "Maybe it's a little shift from the long history of self-centered administration of our sport," he said. Bowerman retired from Oregon in 1974 but still coaches a dozen or so athletes he is fond of, one of them steeplechaser Henry Marsh, 26, a law student at Oregon. Bowerman's pre-race instructions to Marsh were laconic: "If the wind is strong in the backstretch, make your moves in the front."
The wind was strong against the runners in the backstretch, so a fast race seemed unlikely, but a series of courageous moves would make this the best steeplechase in U.S. history. Doug Brown led briefly, but Mike Roche of the Greater Boston T.C. went past him hard and drove the pace for two laps. Then Brown took the lead back, passing the four-lap mark in 4:25. Marsh, who had run last for three laps, was moving up as stragglers fell out of the pack. Arizona's Thorn Hunt surged ahead with three of the 3,000-meter race's 7½ laps remaining, keeping the pressure on. With two laps left, Athletics West's third finalist, Ron Addison, tried to get away. Although he staggered after clearing the barrier at the top of the backstretch, he refused to be passed by Brown. Marsh had moved to fourth, behind Ken Martin. With one lap to go, the top four were within two yards and the time was 7:13. A 66-second lap would break Brown's American record of 8:19.3. Aiming to do it himself, Brown moved past Addison with 330 yards left. His lead lasted all of a dozen strides as Marsh let go with a powerful sprint that carried him well ahead. Taking the last barrier like an intermediate hurdler, he flew on to the tape in 8:15.7. Brown finished in 8:20.6. Behind him, Addison was practically blind with exhaustion. Georgetown University's young John Gregorek sprinted up the inside to take the third place, in 8:21.4. As Gregorek came even, 10 yards from the end, Addison lurched into him and went sprawling on the track a yard from the line. With a fractured collarbone, he rolled across in 8:22.6 but was disqualified for causing the collision.
The female athlete of the meet was clearly Jodi Anderson, who, after winning the pentathlon last week, added four inches to her American record in the long jump with a 22'11¾", thus becoming only the second woman ever to jump seven meters, which she hit on the nose. (The U.S.S.R.'s Vilma Bardauskiene, who holds the world record of 23'3¼", is the other.)
At the measurement, Anderson fell to her knees and buried her face in her hands. Regaining her composure, she included all the applauding crowd in a gesture of thanks. "It didn't feel like 22'11"," she said later. "It felt like 22'7". I was on a high, unaware of what I was doing, just letting the training, the hard work do its job."
Chuck DeBus, Anderson's coach, predicted a world record when she can handle a slightly longer approach and defended her labors for the pentathlon as strengthening her long jumping. On next year's change of the women's multievent from five events to seven (adding the javelin and 200 meters), he was blunt. "It's stupid. They should go right to the decathlon. There is no question that Jodi could pole-vault very high." His tone, so often heard at these trials, was that of a sense of justice offended. "It's the same old thing. They say women can't do as much as men. Officials. They never learn."
PHOTOPHOTOHenry Marsh won the grueling and closely fought steeplechase with an American-record time of 8:15.7.TWO PHOTOSCraig Virgin's strategic surges sapped Herb Lindsay's strength in the 10,000, while Don Paige's 1:44.53 in the 800 (right) was best in the world this year.PHOTOManning's 1:58.3 was her best 800 since 1976.PHOTOPentathlon winner Jodi Anderson doubled with an American record of 22'11¾" in the long jump.