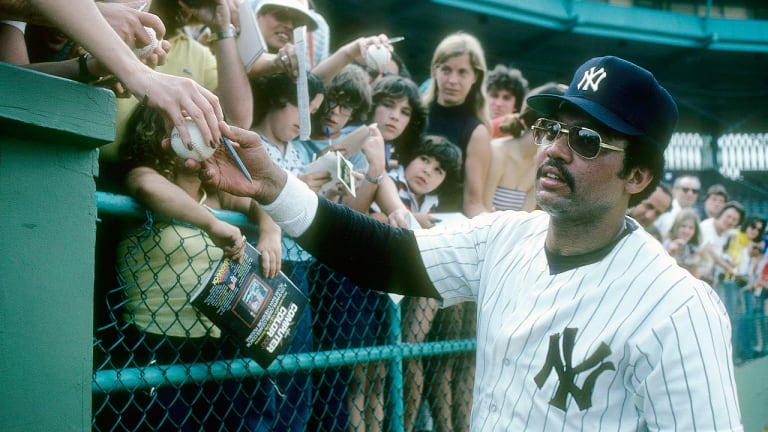 The Man Who Owns New York
After three years as the city's damned Yankee, Reggie Jackson is smashing home runs to rousing cheers on and off the field
The burgundy and silver Rolls-Royce is moving north on Madison Avenue, slipping in and out of honking Harlem traffic. Only the air conditioner is blowing its cool. Music is playing in the Rolls, a woman is singing, and Reggie Jackson is sitting behind the wheel and humming along, looking and sounding like a man in total control of his world. And he is. Jackson is going where he wants to go most, to do what he does best. He is heading north to the Bronx and Yankee Stadium, to play a game of baseball.
"I'm just looking forward to getting there," Jackson says. "There's time to get your mind right, talk baseball, get pre-gamed. I want to get out to the ball park, get out there and fool around. I enjoy going to the ball park and playing baseball. Like, I like putting my 'uni' on. I like getting taped up. I like getting my hat and my glasses and my sweatband on. I like all that stuff. I like my number. I'm number 44, big number. It's neat. I like to lie around, shoot the bull, raise hell with the players. The guys. It's a game: Ball.... I'm up, I'm fired up. I'm going to the ballpark to take my aggressions out. And when it's over, it's over. I have my Bud. Ride downtown. Go to a restaurant, go to McMullen's and get myself a piece of swordfish. Eat by myself. Relax. Drive through Central Park, listening to music. I like it here. I'm comfortable here."
It wasn't always so, of course. In Jackson's first season as a Yankee, 1977, the very idea that he would ever want to go to Yankee Stadium, that he would like playing ball there, seemed absurd. The simple prospect of going to that ball park, stepping into its coldnesses, filled him with unspeakable dread.
But now it is 1980, the middle of a new summer. The times and conditions have changed, and Jackson has changed, too, in the way he perceives himself in relation to those around him. He has found peace in his time. He can now enjoy his teammates' acceptance, even warmth, which helps explain why, although he is 34, the 13th season of his career could turn out to be Jackson's best.
Given the way he works at it, there is every reason to believe that the best of Jackson as a hitter has yet to be seen. "Each at bat is a pleasure to behold," says Charley Lau, the Yankee batting instructor. "He's getting better and better with age. The preparation, the discipline, the concentration. At bat after at bat after at bat. When everything is in place, in the proper sequence, he's awesome. In a season of 450 at bats, maybe 1,200 swings, you can only count on maybe 20 perfect swings a year. When he does it, I get goose pimples."
So do the pitchers who must face Reggie these days. As the week ended, Jackson had 28 homers, 75 runs batted in and nine game-winning RBIs. He was hitting .304, and his slugging percentage of .632 led the league. And the Yankees, his Yankees, had the best record in baseball.
Jackson knows who he is, what he can do and what he must have to find happiness in Gotham. He has it aft in his mind, organized like the numbers on a stat sheet. "I need 40 or 50 homers, and I need the club to win," he says. "Right now I need 50 more RBIs, 20 more dingers. And I'll keep a nice cool pace. Nice little goin's-on. Nobody bothers me. No ruffled feathers. Playoffs come around. Need one or two dingers. World Series comes. Need two or three more. We win. All over. Go see my old lady. Lay back. Drink some Budweiser. Work on my car. Spend some money at Christmas on my family. Read the Bible. Everybody has a nice time. Work out. Train. Do my running. Get ready. Go to spring training. Start the season again."
Voila! It seems so easy now, a simple formula for contentment and calm. Indeed, life is simpler for Jackson these days, now that the tempest is behind him and has become a wind at his back, pushing him farther away from where he came. He came from Baltimore in the fall of 1976, mere weeks after the Yankees had won their first pennant in 12 years. And he came in a way that befitted the man who once said in jest that someone would name a candy bar after him if he ever played baseball in New York. He was a free agent, and he signed a five-year, $2.9 million contract that made him the highest-paid player in the game, with hoopla and fanfare and a klieg-lighted press conference. The swashbuckler had arrived—glib, rich, confident, imposing. The established Yankees resented him, of course, and at spring training he felt a perceptible chill in the clubhouse.
But that coolness was nothing compared with what came later. In spring training Jackson told a Sport magazine writer that the Yankees' star catcher, the late Thurman Munson, was jealous of him and coined a phrase that would haunt him for months. "I'm the straw that stirs the drink," Jackson said to the writer over beers at the Banana Boat in Fort Lauderdale. "It all comes back to me. Maybe I should say me and Munson, but really he doesn't enter into it.... Munson thinks he can be the straw that stirs the drink, but he can only stir it bad."
After the article was published early in the season, Fran Healy, the Yankees' backup catcher at the time, remembers Munson walking around the clubhouse holding the magazine in his hand, saying, "Can you believe this? Can you believe this?" Healy, who would become Jackson's closest friend in the tumultuous months that followed, said something about parts of the article being out of context. Healy recalls Munson's incredulous response as the funniest thing he ever heard the catcher say: "For four pages?"
The publication of the article, Jackson says now, was the worst thing that ever befell him as a Yankee, certainly worse than any other episode that first season. There was the day in Boston when Billy Martin yanked him out of rightfield because the manager felt he had loafed and had turned a single into a double. And as Jackson came into the dugout, Martin tried to get at him on national TV. Charges of criminal harassment were leveled against Jackson by a 14-year-old boy who alleged Jackson had roughed him up outside the Stadium. He was found not guilty, but the episode left a mark just the same. And there was Jackson's benching in a playoff game with Kansas City.
Shunned by the players and humiliated by the manager, booed by the fans in a city he did not understand and subjected to endless comment on all these matters in the news media, Reggie withdrew into himself. "I didn't know how to talk to him," says Pitcher Ron Guidry. "He just didn't fit in with these guys. He was him and we were us."
Looking back, Jackson says he reached his emotional low point one day in July when, numbed by it all, he sat down in the director's chair in the living room of his 20th-floor apartment, overlooking Central Park, and brooded. His girl friend was there, but for four hours he said nothing. He stared out over the park at the trees, wanting to leave, not wanting to be there anymore. He finally got up, still saying nothing, and went to his car. He broke down and wept on his way to the ball park. His girl left him a month later, unable to take the pressures of his life. Gary Walker, his agent and closest friend, accompanied him to the Stadium one afternoon and feared that Jackson would not make it. "Stiff, an enormous tenseness I've never seen before," Walker recalls. "Rigid facially, and he walked with a rigid gait. I would say he was on the verge of a mental breakdown."
The recollection of those days haunts Jackson yet. He is not comfortable talking about them. "It would sound like a madman talking," he says. "It was horror. I was afraid. I lost my confidence. I didn't know how to manipulate here, how to move around here, how to adjust. My mother and father couldn't go to games, couldn't deal with it. And I used to go places with friends I hadn't seen in months, and they'd say, 'What's happened to you? Who's this monster that's been created?' If it wasn't for Fran Healy, I'd have lost my mind. The Bible, Fran Healy and Gary Walker. But I couldn't quit. I couldn't give up. I was the center of the storm. It was every moment of every day. It was a coldness in the clubhouse, a coldness on the field, a coldness from the stands. Every day. Every day. I don't want it on my mind; I don't want those scars."
In retrospect, it is remarkable that Jackson even produced at all. But he did. If he had become uncertain on defense, the one facet of his game that antagonists could pick apart, he had a tremendous year at the plate—32 home runs, 110 runs batted in, 20 game-winning hits—carrying the team in the stretch drive, culminating the year on that glorious October night, when he hit three home runs in the sixth and final game of the World Series. "I always produced," he says. "I was always able to hit. I was in a position where, if I failed, the fans and the press would have buried me. They getcha, boy. They don't let you escape with minor scratches and bruises. They put scars on you here. Come to the Big Apple and have a bite. I had to either learn to digest, or choke."
He not only learned, but he survived. Through a combination of circumstances, he has become the leader of a team on which, three years ago, he could not find a place to hide. Of course, the team is different. Martin was fired in 1978, following a celebrated dispute in which he said of Jackson and Steinbrenner, "One is a born liar and the other is convicted." He was back again in 1979, and then he decked the marshmallow salesman and ended up in Oakland. Munson died in a plane crash last year, leaving a void in the leadership. Looking back, Jackson says, "I was glad we eventually got along." Even if they never became close, Munson and Jackson acquired enormous respect for one another.
Other veteran players were gone after last year, too—Catfish Hunter, Roy White, Mickey Rivers and Chris Chambliss among them—so it was a different club that gathered in Fort Lauderdale this spring. It was a younger team, for one thing, and Jackson found to his pleasure that Martin's successor, Dick Howser, managed in a low key way. Jackson arrived two days late for training, a mistake that might have led to acrimony two years before, but Howser simply called him in, fined him $1,000 and told him to get dressed. "He didn't blow it out of proportion," Jackson says.
Jackson found Howser to be a manager who talked to him, consulted with him and assumed he was a leader. All the old tensions were gone and, with them, all the pressures they'd created. Jackson will not talk publicly about Martin—he believes that Martin will be back in New York one day—but he's an unabashed Howser fan. "He's got a nice feeling of calm over the ball club," Reggie says. "He really lets everyone alone. He listens to what I have to say. He has given me peace. I like to play for the guy."
That he likes to play the game again is evident to every player who has known him since he came to New York. Guidry says Jackson is no longer the remote figure who sat alone and existed only on paper: "Now that's all changed. Now he's more outgoing, more open to everybody. He's not by himself anymore. It's been a gradual change over the last year, but it's more evident this season."
The Yankees' first-base coach, former Cleveland manager Jeff Torborg, knew all about "Mr. October" and all about his hitting under pressure, but still knowing all that, he never really knew. "I've played against him, coached against him and managed against him," Torborg says, "but I never knew what a money player he is. I should have known, but I didn't." Torborg has also discovered a tactical side to Jackson unfamiliar to most people. Last May 31, for instance, Toronto's Joey McLaughlin had run the count to 3-0 on Jackson when Reggie stepped out of the box, looked angrily at the third-base coach, then angrily at Dick Howser in the dugout, as if protesting the take sign. Just as Jackson had hoped, the next pitch was down the pipe, and he mashed it for a game-winning home run.
"You've heard what he said, 'I'm the straw that stirs the drink?' " Second Baseman Willie Randolph says. "He believes that. It keeps him going. He believes he's the leader, and that's the way he carries himself. He leads by example—by going out and coming through."
Jackson has made his imprint in other ways, too. As the team's elected player representative, he provided decisive leadership in the recent contract negotiations. He has been especially helpful to young players like Rick Cerone, who replaced Munson as catcher. After being dropped in a game against Cleveland, Cerone was looking for a base hit to retaliate. "I wanted a hit so bad," he says. When he swung low on a pitch and popped it up, he threw down his bat and walked to the dugout, not bothering to run it out. Jackson watched from the dugout but said nothing, waiting for the right time. At the hotel that night, Jackson quietly told Cerone that he understood how he felt. Few in the game today have been thrown at as often as Jackson. "You got a great thing going here," Jackson said. "You're doing a good job. You don't want to mess it up with one at bat."
But the man's strongest and most abiding impact, which is even greater than his presence in the clubhouse, has issued from the left side of home plate. He still crushes home runs, sending most of them in arcs high and far into right center, but there is a difference now, too. And he thanks Martin for it. Last year, when Bob Lemon was fired and Martin rehired, Jackson redoubled his efforts at the plate, working on his preparation, his concentration, his discipline and pitch selection. "I really wanted to apply myself after Billy came back," Jackson says. "I really wanted to do well. I didn't want anyone to say I wasn't playing well for him. That was part of the reason I improved, that along with working with Charley Lau." In fact, last year he had 29 home runs and hit .297, his highest average ever.
Those with a basis for comparison have seen the difference. "He was a dead pull hitter when I pitched against him when he was at Oakland and I was with the White Sox," says teammate Tommy John. "Now he'll go the other way for his base hit. And he's more patient. That's the mark of a mature ballplayer, a confident ballplayer."
Jackson has always been a hitter, and his hitting made him a leader, if only by example on the field. But he seemed to lack a sense that he really belonged. This year, however, he has struck an uneasy peace with the city. "Understanding what it is about has helped a great deal," he says. "Playing here four years helps you learn that. It's a fickle town, a tough town. I don't feel loved here. I've almost force-fed them Reggie Jackson. As soon as my star tarnishes, they'll turn away. That's what I believe. I think that, deep down, if I stay here to play, it's gonna haunt me one day."
For now, though, he has made his accommodations, having long ago traced with meticulous care the geometry of a world in which he feels safe. He rarely ventures out of it when he is in New York. It runs from his apartment, where he lives alone and makes his bed, to a nearby diner, where he has breakfast. He walks home. He makes a few calls—to Walker or his girl in California, perhaps—and naps. He waters his plants and makes a jug of tea and plays music. Mary Williams, his housekeeper, comes in and cooks his dinner. He likes rice and greens.
"With greens and rice, I don't leave 'em on the warning track," he says. Mary's voice sings back. "I watch 'em. I say, 'There goes the greens!' " At four or so he drives up Madison to the Stadium. He sits in the clubhouse and talks to the guys. He steps to the plate. With one whiplash swing he crushes a home run into the seats in right center and brings 30,000 people to their feet roaring "Reg-gie! Reg-gie!" As he pulls out of the parking lot after a game, a flock of children presses to the windows of his Rolls and yells his name. He says, "Please don't touch." He drives away along a deserted back street. He goes to a restaurant, where he dines alone, and then takes a ride through Central Park. At times, he says, when the park is closed to cars, a policeman might move the barriers for the price of an autograph. He is home before two almost every night.
Reggie Jackson owns this town, as only athletes can own a town, but he doesn't know how to take possession. For all he has heard and seen, for all the time he has spent there, New York still baffles him. "I just don't know, honestly, what they really want me to be here," he says.
But surely there must be nights when he's alone and the answer echoes in his ears: "REG-GIE! REG-GIE!"
PHOTO
Relaxing on the terrace of his apartment above Fifth Avenue, Jackson has the world at his feet.
PHOTO
Every day is camera day when Reggie hits one.