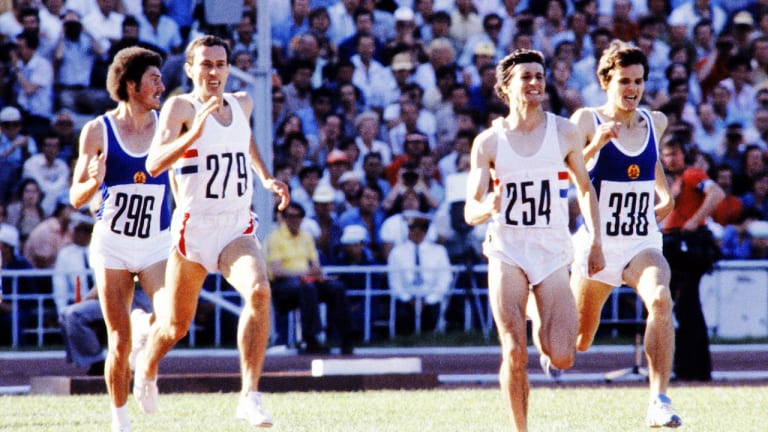 How's This, Mrs. Mullory?
Sebastian Coe, recipient of a cabled reproach after the 800, outkicked Steve Ovett (279) in the 1,500
The nine 1,500-meter finalists were led single file, slowly, formally, from the tunnel where they had left their sweat suits, to the start. Steve Ovett of Great Britain, the Olympic 800-meter champion, walked pigeon-toed; he is a picture of fluid strength only in flight. His countryman, Sebastian Coe, who shares the 1,500-meter world record (3:32.1) with Ovett but had never raced him at the distance until this moment, walked calmly to his place in Lane 6, then trotted a little circle behind the other finalists. He was the last to be steady on the line. Then the gun set them running.
Slowly. Coe went carefully to the head of the pack, but didn't cut to the inside. East Germany's Jürgen Straub moved up along the rail, and the two of them led through the first lap in 61.6. Ovett ran on the outside in sixth, a meter or two behind. Their faces, and those of the rest of the finalists, showed alertness but no irritation at the gentle pace. They had expected nothing more. In the 1976 Olympic 1,500 the first lap had been a sluggish 62.5; in 1972 it had been 61.4. Here in Moscow, with Tanzania's front-running Filbert Bayi having chosen the steeplechase (in which he had finished second to Poland's Bronislaw Malinowski) over the 1,500, no miler felt that leading would help his cause one bit.
So they waited, and slowed even more. Some grew nervous, telling themselves to stay balanced, to smooth out. Coe would later acknowledge that there was more pressure on him than in any other race of his life, but his sensation in this early stage was of clear resolve. "Losing the 800 was a terrible disappointment," he said. "If I hadn't had the 1,500 coming up, I'd have been tortured with recriminations. But the 1,500 was there. There was no choice. I had to make myself ready for it."
Both men had sailed through the preliminaries, Ovett winning his first-round heat in 3:36.8, appearing to do so as easily as that time—equal to a 3:54 mile—has ever been run, because as he coasted to a stop he happily drew the letters I L Y in the air for the TV cameras, a tender message for his girl friend, Rachel Waller, in Maidstone.
Coe's semifinal went smoothly until the last turn, where he permitted himself to be boxed by a rush of men. He had to drop to fifth and sprint around them, which he did impressively to win in 3:39.4, but it was a scare. "A blinding error," he said. "If that happens in the final it will be a disaster."
The incident provided more ammunition for those who believed Coe too nice a guy to win. Much of the British press, while lauding Coe's gentlemanly qualities, felt him hindered by them. "Coe is the man you'd want to dinner or your daughter to marry," said one reporter. "Ovett is the man you want on your side in a fight."
That sentiment was hardly to the taste of Peter Coe, Sebastian's coach and father. "What has happened to our world when you can't be tough and nice?" he asked acidly. "That logic is a slander on all champions. Are Nicklaus and Watson somehow not decent blokes because they make crucial putts under pressure?"
If Ovett had an advantage it was not in character but in experience. Since May of 1977 he had won 45 straight 1,500-meter or mile races, including a World Cup and European Championship, almost all with an overpowering finish over the final 200 to 250 meters. Coe in that time had concentrated on the 800. The Olympic final was only his eighth 1,500 in four years.
Yet, though Ovett was quoted in the London Daily Express as saying the 800 win made him feel capable of breaking the 1,500 world record by as much as four seconds, Coe and his father put together a plan similar to that which they had tried in the 800. "Looking at the video of the eight," said Sebastian, "the only thing that was O.K. was my finish."
The problem was in securing a good place to kick from. "We received a marvelous cable from England," said Peter. "It read: GET YOUR FINGER OUT, COE. I'VE GOT MONEY ON YOU, and was signed by a Mrs. Mullory, whoever she is. Well, the plan was Mrs. Mullory's instructions put plain: stay out of trouble and sprint home from the turn."
As the finalists neared 800 meters, Straub was on the pole, with Coe on his shoulder. Ovett moved to Coe's shoulder, forming a wing of poised athletes. Peter Coe was pleased. "Seb was up, in a controlling position. I felt a fair race was on."
And then, a wondrous gift. As the field passed 800 in a restrained 2:04.9, Straub accelerated. Coe ducked in behind him and Ovett kept a close third as the bunched pack suddenly became a single line of men working very hard. "When Jürgen nailed his sail to the mast with 700 to go, it let me do what I do best," said Coe. "I found a rhythm, a lane of my own."
They had run the previous 300 meters in 47 seconds. Straub led them through the next in 40. In the stands, Peter Coe was ecstatic. "No one in the world can sustain that speed as Seb can. And to have Straub apply it for him...." The 1,200-meter time was 2:59.1. Straub had run the next to last lap in 54.2. "It didn't look that fast because Seb and Steve are the supreme stylists," said the elder Coe.
With 300 to run, knowing eyes turned to Ovett. When would he kick? Two-fifty passed...200, but there were no moves, only Straub's ever-increasing pressure. "The pace was such that it took the sting out of all of us," said Sebastian later.
In the last turn Straub faltered slightly. Coe went wide and passed him, and as the three leaders swept into the stretch, Ovett was right where he wanted to be, off Coe's shoulder. For an instant there was a predator's gleam in his eye as he called upon his kick. Ovett came nearly even with Straub. And there he stayed as Coe sprinted beautifully ahead. As he passed the victory stand with 50 meters to go, it was clear Coe would win. Ovett strained in desperation, lost his form and was third behind the ferocious Straub.
Coe's last 800 was 1:48.5, far more impressive than his final time of 3:38.4, but he cared about none of that. As he crossed the line he showed a joy these Games had not yet seen. Coe went to his knees in an exaggerated gesture of thanksgiving, touching his forehead to the track. Then he was up on a victory lap, dodging a guard who was there to prevent such frivolity, his face as open as a child's in its array of emotions. Clearly, Coe's earlier calm had shielded tremendous strain. "I was surprised by the strength of my reaction," he would say a day later. "When I watched that display on the replay it was a bit embarrassing. But it was such a bloody marvelous relief."
Ovett smiled and waved during the medal ceremony, but afterward in the tunnel, appeared grim. "I was so high after the 800 that I couldn't get up again," he said. Later, explaining his practice of shunning the British press, he said, "They'll never leave me alone no matter what I do. They're like a wolf pack attacking."
This isn't a new Olympic theme, this pressure so great that victory is experienced as deliverance, this fascination so intense that good men feel hounded by the agents of the curious. It has happened before, but in Moscow the weight of the Olympics seemed to press further than ever into the ideals of the Games.
Take, for example, the pole vault. It practically guaranteed magnificent competition because this season European vaulters have gone wild. Four months ago the world record stood at 18'8¼", set by Dave Roberts in 1976. In May, Poland's Wladyslaw Kozakiewicz did 18'9¼". In June, France's Thierry Vigneron made 18'10¼", and in July, France's Philippe Houvion had cleared 18'11". In Moscow six men broke the Olympic record of 18'½" before things got serious. Clumps of French and Polish fans waved their flags as their champions soared higher and higher, the Poles chanting, "Polska, Polska," as Kozakiewicz made 18'6½" easily. That was drowned in a great Russian roar as Konstantin Volkov of the Soviet Union cleared as well.
As Houvion prepared to vault, the Lenin Stadium crowd rained down derisive whistles, caring more, it seemed, for national supremacy than individual performance. Rattled, Houvion balked in the middle of the run-in, ramming the pole into the box for a deliberate miss.
"Ladies and gentlemen, silence please," warned the public address announcer in three languages. To no effect. Amid more whistles, Houvion cleared, as did defending champion Tadeusz Slusarski of Poland.
The bar went to 18'8¼". To the shock of the Russians and delight of the Poles, Kozakiewicz lifted himself cleanly over. He was the only vaulter using a Fiber-sport pole, made by Bruce Caldwell of Kansas City.
Now the pink-cheeked Volkov, the indoor record holder, got whistles from the Polish blocs scattered in the crowd. He missed. Again more pleas for quiet. Then Houvion was up. Everybody, Poles and Russians, whistled, and he missed. As the pandemonium increased, so did the misses. When Slusarski went out, Soviet spectators near the pit yelled, "Bravo!"
Then Volkov passed his last try at 18'8¼", and the bar went to 18'10¼". "I only had one good one left in me," he explained later, "and I wanted to win." But the unflappable Kozakiewicz, up first, made this height, too, through a blizzard of jeers, and as he bounded from the pit he presented the non-Polish majority of the crowd with a forceful gesture of deep personal insult.
Volkov sat on a bench sniffing smelling salts, then had his final try, a close miss, and pounded the pit in frustration. Kozakiewicz went on to make 18'11½", the first time in 60 years that a world record was set in the Olympic pole vault. And his second of three misses at 19'1¼" would have cleared 19 feet.
"Yes, the whistling hurt our performance," Kozakiewicz said. "All of us wish to win. But not at any price."
The rest of the Olympic jumps were not quite as fanatically followed, but all were of remarkable quality. In the men's long jump, Lutz Dombrowski, a candid, offhand East German who prefers the triple jump, became the first human to achieve a 28-footer, with 28'¼", 12 years after Bob Beamon's 29'2½" in Mexico City. "Beamon's record isn't eternal," said Dombrowski, "but I don't think I'll ever break it."
In that vein, when East Germany's Gerd Wessig won the men's high jump with a world-record 7'8¾", he said, "It is absolutely crazy to jump such a height," and everybody believed him because he'd been acting a little wacky all day. A 21-year-old cook, Wessig had a previous best of 7'6½", and with each clearance above that he flung himself about like a dervish. After his record jump he bounced out of the pit headfirst in disbelief, crumpling on the takeoff apron, and officials and opponents rushed to him, not for congratulations but to see if he'd broken his neck.
By contrast, the U.S.S.R.'s defending champion, Yuri Sedykh, was serene in the hammer throw, lofting four of his six throws beyond the world record, his best being 268'4½".
The final track and field world record was set by the East German women's 400-meter relay team, which passed the baton atrociously but burned the ground in between to finish in 41.60.
The two 1,600-meter relays were occasions for that other consequence of Olympic pressure, the urge to cheat. Unlike swimming, track rules require the makeup of a relay team to stay the same through heats and finals. The only reason for substitution is authenticated illness or injury. To give their best runners an extra day of rest, the Soviets entered the heats with teams different from those that would appear in the finals. The result was Soviet wins over East Germany: 3:20.2 to 3:20.4 for the women, as fresh Irina Nazarova held off open 400 champion Marita Koch, and 3:01.1 to 3:01.3 for the men, as fresh Viktor Markin, the 400 champion, withstood 400-meter hurdle champion Volker Beck. The question the Soviets weren't answering was why these runners weren't on the original teams, saying only that no rules had been violated. "Yes, we have the Soviet medical certificates," said an International Amateur Athletic Federation official, "but we are not too happy about it."
That was because by then the IAAF, the overseer of the track and field events in the Games, was open to charges of laxity in keeping Soviet officials honest. Traditionally, red-coated IAAF men are stationed on the infield during the Olympics, to observe and make rulings. "But the Soviets asked that we not be on the field this time," said Amadeo Francis of Puerto Rico. "They felt it looked like we were suspicious of them."
So IAAF President Adriaan Paulen agreed to pull his men off, and then some very suspicious things began happening. After Soviet javelin thrower Dainis Kula had fouled twice and needed a fair throw to make the final cut, he got off a long one that clearly landed tail first, by the rules another foul. But the Soviet officials marked it fair, and Kula won the event with his next throw of 299'2". Soviet pole-vault officials also were accused by some vaulters in the qualifying of holding their flags higher when U.S.S.R. competitors were preparing to vault, so they might judge the wind. And in the triple jump there seemed a good case of a Western athlete being robbed.
Ian Campbell of Australia, a senior at Washington State, had qualified first in the preliminaries. On his third try in the finals, he got off a gorgeous jump of at least 57'5". If fair it would have won. But to his and Australia's consternation, a judge along the runway said Campbell had dragged his non-jumping foot and ruled it a foul. Campbell finished fifth.
Ron Pickering, coach of the 1964 long-jump champion Lynn Davies, was the expert commentator for British TV. "I ran the tape of that jump at every speed," he said, "and I could never see any contact of that foot or even any break in rhythm it would have caused. And the more I looked, the more I could see it was one of the great jumps of history." Paulen viewed the tape and let the decision stand, but subsequently gave in to pleas from his IAAF officials and allowed them back on the field, whereupon things settled down.
The final day of track and field seemed to offer the most vivid images of the Games, and for an American the most wistful. Here was East Germany's defending champion Waldemar Cierpinski in the marathon, taking the lead with four miles to go in the caramelly sweet atmosphere near the Red October Confectionary Factory and striding home so strongly that he was without question a deserving winner. Yet how could one not miss Bill Rodgers or Tony Sandoval?
Here was Tatyana Kazankina of the U.S.S.R., also a 1976 champion, running her last 800 meters in 1:59 to win the 1,500 in 3:56.6. What might Mary Decker have done against her?
No one could have beaten Miruts Yifter of Ethiopia. The 5'3½", 115-pound father of six added the 5,000-meter gold to the one he had taken in the 10,000. Tanzania's Suleiman Nyambui was close, 13:21.6 to Yifter's winning 13:21.0, but once Yifter was ahead with 300 to go he was in control. Ireland's Eamonn Coghlan gave all he had, but for a second straight Games did no better than fourth. "I must be near some record for disappointment," he said, but then he spoke of races to come in future weeks, compelling miles against Bayi and Coe and Ovett and Steve Scott, and one knew he was unbroken.
As the athletes flowed out of Lenin Stadium on that last long twilight, past leaping Ethiopian tribal dancers, to the Village where Eastern Europeans were greedily filling sacks with precious fruit to take home, where the British celebration ended with Sebastian Coe covered head to foot in talcum powder, the mood seemed a reflection of Coe's own dominant emotion at his golden moment—that of sublime relief.
"It is intoxicating just having it over," said Peter Coe. "I don't even plan on seeing the grand Russian pomp of the closing ceremonies. No, the last thing I want to remember about these Games is that picture of elation as Seb crossed the line, a man who had borne up and gone out and done exactly what he had set himself. You can hang the rest."
PHOTO
FOUR
PHOTOS
Having clinched the gold medal, and spurred on by the jeers of the pro-Russian crowd, Wladyslaw Kozakiewicz of Poland cleared the world-record height of 18'11½" with an American-made pole.
PHOTO
Kozakiewicz responded in kind to the spectators.
PHOTO
Gerd Wessig had never high-jumped above 7'6½", but in Moscow he cleared 7'7¾" for the gold.
PHOTO
He celebrated with a rapturous standing high jump.
PHOTO
Then the 21-year-old East German followed up by flipping out in a manner Nadia would love.
PHOTO
Wessig next leaped a world-record 7'8¾" before his exuberant acrobatics came to a crashing halt.
PHOTO
Yifter left Viren behind as he won the 10,000.
PHOTO
Five days later, Yifter fought his way through traffic to win the 5,000—and become the third runner in the last three Olympics to score a 5-10 double.
PHOTO
Soviet long jumper Kolpakova triumphed with a Games-record 23'2".
PHOTO
G.D.R. long jumper Dombrowski is the second man to better 28 feet.
PHOTO
Kula won the javelin gold thanks to his "judge-aided" qualifying throw.
PHOTO
As in 1976, Cierpinski won the marathon.
FOUR ILLUSTRATIONS