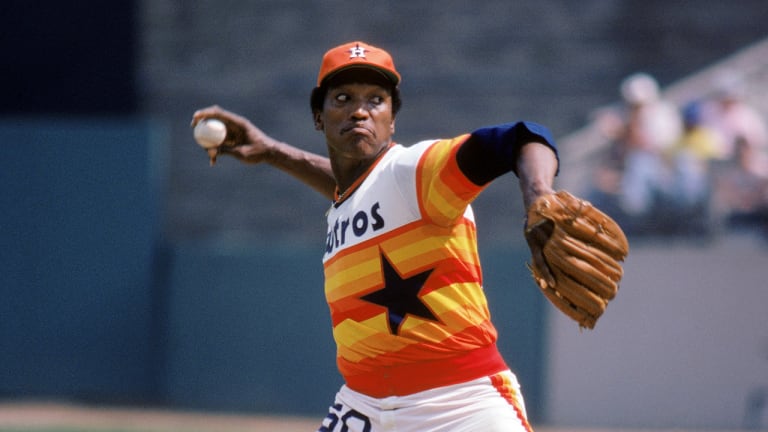 Now Everyone Believes Him
It took a near-fatal stroke to convince doubters that Houston's J.R. Richard wasn't faking when he complained of arm troubles
James Rodney Richard is sitting up in bed in his room at Methodist Hospital in Houston last Friday afternoon, staring at a bowl of vegetable soup and stirring it with a spoon. He has just finished his second dish of mashed potatoes, leaving the asparagus and rolls, and now Kathy Burke, his private nurse, moves to his side. The nurse steadies his right hand as he raises a container of milk to his lips. "Now sip," she says. He sips slowly through a straw. "That's it," she says. She turns and walks away. Lunch is over; a little party is about to begin.
"You been here long enough," says Tom Reich, Richard's attorney and longtime friend. "Let's have a hurricane party." Hurricane Allen isn't far away.
"Ready to get out of here," J.R. says softly out of the right corner of his mouth.
Chuck Berry, Richard's associate, steps forward with a case of wine. "Something for the party?" he says.
"Let's have some wine," Richard says.
This is the first festive moment in J.R. Richard's life since the morning of July 30, when he collapsed during a workout at the Astrodome. Richard, the best righthander in baseball, had suffered a major stroke. Surgeons subsequently removed a clot from the junction of two arteries in his neck. A few days later he was moved from the intensive-care unit to this private suite, into which only a few close friends and relatives have been allowed.
On the door is a sign: PROTECTIVE ISOLATION. The patient's name on the door is not Richard's. The suite is spacious, its view commanding. The windows to his left overlook the tree-shaded campus of Rice University. J.R. can see the running track, with joggers circling in the sun. Below the window, Fannin Street, bustling with noonday traffic, extends toward the distant skyscrapers of downtown Houston. The windowsills overflow with stacks of mail. On the wall in front of Richard is a handmade sign: GET WELL, J.R. A book, Where Is God When It Hurts?, lies below the sign. Flowers in pots are here and there. A giant basket of fruit is on a nearby coffee table, and there is an eight-foot-high fig tree, a gift from Reich, in a corner.
"Oh yeah," says Reich, laughing, "Dave Parker is going to be in town with the Pirates soon. He wants to come and see you. He says this is the only way he can get a hit off you." Only the right side of Richard's face can smile now, but it is beaming. He nods, jiggles his right foot nervously. His left leg, bent at the knee, is still. Then he pushes his left foot into the footboard, exercising it. Wilbur Howard, a former Astro teammate and close friend, comes through the door and across the room.
"Hey, what's happenin'?" he asks.
Richard looks up and grins. "Let's go fishin'," he says. Howard is seeing his friend for the first time since Richard collapsed while they were playing catch in the Astrodome.
"How you feel?" Howard says.
"My sister came down and home-cooked me some meat and greens," J.R. says. "Let's go fishin'.... I'm takin' my wife, my kids and my dog...."
"Speaking of fishing," says Berry, "someone sent you this." It's a box containing an Ambassadeur 5000 casting reel. Reich removes the reel and hands it to J.R. "That's a good one," J.R. says. "That's a good one. I'm ready to go fishin'. Where's the wine?"
Berry leaves to find a corkscrew. J.R. props himself up in bed, then straightens out the weakened left leg and pushes it against the footboard. "Keep pushin'," says Howard. "You push that end of the bed off and you'll be ready to get out of here."
The men talk of fishing and baseball. There is laughter. And reason to celebrate. Reich has been visiting Richard every day, and he hasn't seen him so alert and talkative since the stroke. When Richard first came out of surgery, in fact, his speech was so impaired he had to write notes. His first to Reich was: "Black walnut ice cream. One quart."
Howard reminds him of a long home run that Richard hit off Tom Seaver in Cincinnati this season. "Couldn't be longer than the one in Atlanta," J.R. says. "And you'd have to be there to believe the one I hit in Chicago. So far! The wind was blowin' in. I hit it. Yeow! Then I did my Willie McCovey trot."
The men banter some more and wait for the wine. Berry can't find a corkscrew. Richard grows tired. He closes his eyes. Kathy Burke lowers the head of his bed. The party isn't over, but Richard wants to nap. He rolls over, and one can see, on the right side of his neck, evidence of why he is here—in this room, at this moment, this young man in his prime. There is an incision about three inches long, healing nicely.
On that fateful Wednesday, July 30, Richard and Howard had driven to the Astrodome together to work out. Four days earlier Richard had been released from Methodist Hospital, aware for the first time that a clot had formed in an artery leading to his right arm. Richard's doctors considered the blockage stable and of no danger, so they told him he could work out under supervision. With the team on the road, Richard decided to test his arm in the Dome. On the way he stopped at his bank, where he was to sign documents setting up a trust for his five children, and then he called his wife Carolyn. Recently they had been doing some gardening together. "Go buy more plants," he told her. "I'll be home soon to work in the yard."
At the Dome he pitched to Howard for 11½ minutes—six easily, 5½ a little harder. "I never felt better," he told Jim Ewell, a former Astro trainer, when the workout ended. Richard and Howard sat down in the dugout. "He was sweating a lot," Howard says. "And it wasn't that hot to me. He kept toweling himself off." Then, says Howard, Richard reached over with his right hand and grabbed Howard's forearm. "Feel this," J.R. said. Howard describes the sensation this way: "Hold a cold glass, with ice in it, for a few minutes. Then dry your hand off. Then touch yourself with it. That's what I'm talking about. That's what it felt like."
Richard decided he wanted to stretch the arm out, so the two men went back on the field. Howard stood behind second base, J.R. behind first base along the rightfield line. After catching J.R.'s eighth toss, Howard took the ball out of the glove and started to heave it back when he realized that Richard was wobbling. "Like a person who was drunk," Howard says. "I thought: 'Why's he doing that?' " Richard stepped in several directions—right, left, back. Suddenly he dropped to all fours and collapsed on his left side. Ewell and Howard ran to him.
"J.R.—you all right?" said Howard.
"Yeah, just give me a minute or two," he said. "I feel a little dizzy." After turning him over on his stomach, Ewell raced to a telephone to call an ambulance.
"I got a headache," Richard said. "My head hurts." Howard got down next to him. He didn't know what to do. "Are you all right?" he kept asking.
"Just let me lay here," J.R. said.
Howard asked him again how he was. "My ear's ringin' " J.R. said. "There's something ringin' in my ear."
Richard closed and opened his eyes. Howard said he seemed only semiconscious. At one point, Howard says, Richard slurred his speech. It got worse. "Grab your tongue and try to say something," Howard explains. "That's how he sounded."
Still lying face down, Richard put his right hand under his chin and felt his left cheek with the palm.
"Where does it hurt?" Howard asked.
"It don't hurt," J.R. said. "I don't feel anything on the side of my face. I can't feel it. I can't feel it."
Howard was scared and confused. "What should I do?" he kept thinking.
"I saw him try to spit," Howard says. "He tried to spit but it wasn't going anywhere. He was drooling. His eyes were red. It was like he had got stuck in both eyes by a stick."
Shortly afterward the ambulance came into the Dome and onto the field. Moments later attendants strapped Richard on a stretcher and he was on his way to Methodist Hospital.
It is sad irony that J.R. Richard, 30, should have suffered the stroke on the very field where he had made his name as the most feared pitcher in baseball—a 6'8" righthander with a smoking fastball and a devastating slider. Two years ago his 303 strikeouts made him the first National League righthander to strike out 300 batters in a season. Last season he struck out 313 more. This year he was enjoying his best season ever. When the stroke occurred, ending his season and perhaps his career, he had a 10-4 record, a 1.89 ERA and 119 strikeouts. He was a leading candidate for the Cy Young Award.
So it all came undone—gradually at first, like the unraveling of a hideless baseball—where it all began, in the Dome. The last six weeks of his 1980 season, from the day he first felt the symptoms of the clotting to the day he fell on the field, constitute one of the strangest, saddest and most controversial chapters in baseball history.
On June 17, in a game in Wrigley Field, Richard began to experience an inexplicable tiredness, a deadness, in his throwing arm. From that single baffling symptom, all the consequent troubles stemmed.
Richard had never had a problem with his arm, and thus had never endured the pressures of handling one. Eventually, he grew defensive. Now everybody wanted to know what was wrong with his arm, but he could not explain. He made apparently conflicting statements about his condition. And the Houston media went after him because of the inconsistencies. The media, the fans, even teammates accused him variously of loafing, gutlessness or being jealous of teammate Nolan Ryan's more lucrative contract. There were intimations that he was into drugs. With their pennant chances in jeopardy, some of his teammates sniped at him in print—often anonymously. It was complex and confusing, and ultimately tragic. Reich believes that the attacks on Richard were probably exacerbated by the coincidental fact that his initials, J.R., happen to be those of J.R. Ewing of the television series Dallas.
So the headlines read: WHO SHOT J.R.'S ARM?
"They couldn't resist," Reich says. On June 28, in his first start since he had left the Chicago game with a "dead" arm, he came out of a game against Cincinnati after giving up five runs in 3 1/3 innings. He said that his arm was "tired."
"James Rodney Richard's right arm got better Saturday night," Ed Fowler of the Houston Chronicle wrote. "It improved from 'dead' to 'tired.' If his convalescence continues at the current pace, his arm may be 'puny' by the next time he pitches."
Just before the Cincinnati game Richard came close to the truth in a remarkable self-diagnosis. "I think it's been a nerve problem and maybe not enough blood was being pumped to my arm," he said. "It's sort of like an engine not getting enough gasoline. When that happens, the engine won't run."
It ran better on July 3, in a game against Atlanta, when he lasted six innings and gave up just two runs on three hits. It ran better for a reason. Dr. Charles McCollum, who operated on Richard when he had the stroke, says that the arm began developing collateral, or secondary, circulation after the blockage occurred. The system was bypassing the occlusion, or clot, and improving the circulation in the arm. McCollum recalls that Richard had trouble lifting his right arm and combing his hair after the occlusion occurred but that this problem diminished as time went on—that is, as the collateral system developed.
Though he tired rapidly in the sixth inning, his performance against Atlanta had been encouraging, so Manager Bill Virdon sent him off to the All-Star Game in Los Angeles. Richard started and pitched splendidly, yielding but one hit and striking out three in two innings. "My arm feels great," he said.
After the game, Richard visited Dr. Frank Jobe, a specialist in sports medicine in Los Angeles, and said that Jobe told him he had "muscle fatigue" and should take 30 days off. The inconsistency was shocking. Here was a pitcher who had just come home from an All-Star Game performance in which he had thrown smoke. And he was saying he had a tired arm.
Jobe had indeed told him that he had muscle fatigue, but he hadn't told him to take 30 days off. That was what Richard told the press—that he was taking a month to go fishing. For this fabrication—though easily checked and bound to be uncovered—Richard paid a severe price. When the Astros received Jobe's report, which suggested that Richard miss his next start and pitch only five or six innings in the two or three after that, the lid blew in the Astrodome. Some players had never believed the claim about the 30 days, sensing that the joker in the man was at work. Asked why he had lied, Richard said, "I felt like it." Whatever his motives, it was certainly no way to encourage understanding.
"I think J.R. handled the situation the wrong way," Pitcher Joe Niekro told SI's Kathy Andria last week. "I don't know what was on his mind, but instead of coming out and saying there's something wrong with me and I've got to get it worked on he lied to his teammates, and he lied to the press. A lot of guys were wondering what the hell was going on, why he didn't want to pitch for us. It was a tragic way to find out there was something really wrong with him."
Another Astro, Second Baseman Joe Morgan, believes the misunderstanding occurred because Richard was experiencing a completely new and strange situation. "He knew something was wrong with his arm," says Morgan, "but he didn't know how to go about explaining it. He'd never been injured before."
In Richard's next and final start, against Atlanta on July 14, he appeared to be lethargic. His movements were awkward and labored. He seemed dazed. He seemed to have trouble seeing the catcher's signs. As his teammates took the field in the fourth inning, Richard stayed on the bench. He didn't move. Virdon walked the length of the dugout.
"Are you going to be able to pitch?" he asked.
"Yeah," said J.R. He got up and walked slowly to the mound. He said his hands felt cold, his stomach nauseated. Virdon pulled him after one out. The next morning Harry Shattuck of the Chronicle snidely reported that Atlanta's winning pitcher, Phil Niekro, had courageously ignored an injury of his own and pitched the game anyway. The story began: "Phil Niekro doesn't have a dead arm. Or a tired arm. Or back stiffness. Or shoulder stiffness. Or a stomachache."
The Houston papers were certainly not alone. Local broadcasters picked up on the J.R. Ewing theme, while unnamed players grew impatient. "We're in a pennant chase, and now he pulls this," one was quoted as saying.
"Don't let this drive you crazy," Richard told Carolyn.
"What's it doing to you?" she asked.
"I'm fine," he said.
On July 16, Richard went on the disabled list, and the next day the team physician, Dr. Harold Brelsford, gave him a physical examination. He says he found that the circulation in Richard's pitching arm was excellent. He determined that by pressing down on Richard's fingernail beds, then relieving the pressure and watching how quickly they reddened again. Dr. Brelsford didn't X-ray Richard's arteries because, he explains, "You do it only if you have a pretty good reason." A few days later, Richard went home to Louisiana for a rest.
He and an old friend, former major-leaguer Ralph Garr, fished together. Garr is from Ruston, just four miles from Richard's childhood home in Vienna. "He was really tense, acting like he was really depressed and tired," Garr says. "I asked him about his arm. He said, 'Hey, man. I been pitching a lot. My arm's tired.' He didn't want to discuss it."
After returning to Houston, Richard checked into Methodist Hospital on July 23 for three days of testing. Arteriography, a process in which an opaque dye is injected into the bloodstream, revealed the occlusion of the distal subclavian and axillary arteries leading into his arm. It also showed the development of the collateral artery system.
So that was it. The discovery of the clot explained the mystery of the tired arm and reduced many of his critics to pained, embarrassed silence. McCollum and Brelsford agreed not to operate. The clot wasn't likely to move. And they feared that an operation might diminish Richard's pitching ability. They thought he might be able to continue pitching this year, though for shorter intervals, if the collateral system kept improving. It was decided that Richard could work out under close observation. Ewell was the observer on the morning Richard collapsed in the Dome.
Richard's ambulance arrived at the Methodist Hospital emergency room at 12:20 p.m. His condition was unstable, his heartbeat irregular. In intensive care his condition stabilized, but then it was discovered that he had no pulse in the right carotid artery leading to the brain. His nail beds were turning blue. He underwent emergency tests. One of them, an arteriogram, revealed something that both surprised and baffled McCollum. The clot had increased in size. Now it was cutting off the flow of blood to the proximal subclavian artery from which the collateral system had developed. This explained the blue fingernails. The clot also blocked off the innominate artery, which leads from the aorta, and above that the common carotid. It was this blockage that caused the stroke.
"We don't know what caused the blockage," McCollum says. "Even after all this time we still don't know. We really don't know what happened or why it happened. We've been over all the various possibilities."
Two of the three possibilities considered were rejected because tests suggested otherwise. The third possibility was that Richard suffered from a retrograde thrombosis, an extremely rare occurrence in which a clot moves counter to the flow of blood. "It doesn't make sense," McCollum says.
With circulation to the brain and arm cut off, with Richard's life in danger, the decision to operate was made. At 8:10 p.m., seven hours and 50 minutes after Richard entered the emergency room, he was given a general anesthetic. McCollum performed the surgery, removing the occlusion from the carotid and subclavian arteries. There was some difficulty eliminating the blockage from the distal subclavian. So it wasn't removed. But McCollum says it poses no threat.
Whether Richard will ever pitch again is problematical. No one yet knows how much permanent damage the stroke inflicted. But the entire episode left more than just unresolved medical questions.
For example, why didn't people believe the man when he said his arm was tired? Was it because, as some suggest, Houston fans didn't want to believe it, didn't want to face the fact that their best pitcher—a, possibly the, key to their pennant hopes—was suddenly unable to perform like his old indestructible self? There was an aura of indestructibility about Richard, similar to that which clings to the other superstar in the town, Earl Campbell. Surely Earl will always rise when the pileup disperses and that great giant of a righthander will always take his turn in the rotation and fire a hundred BB's over two hours.
But how could anyone have believed that Richard was dogging it? That he was gutless or lacked personal pride? This was a man who had been a workhorse for as long as he had been on the pitching staff. Until the clot weakened him, he hadn't missed a start in five years.
Reich believes Richard became a victim of a new phenomenon that is national in scope—fans and press demanding more of players making megabucks. "The big salaries have raised the expectations of the fans and the media as to how those players should perform," Reich says. "A lot of guys are getting eaten alive." He not only represents Richard, but also Dave Parker and George Foster—each of whom has felt the heat of that fire.
The feeling also exists that if Richard had been a white superstar—a Sandy Koufax, say—he would have been treated differently if he complained of a tired arm. "We always knew we had to be better," says Enos Cabell, the Astros' third baseman and Richard's closest friend. "There is a difference."
"Black and big, a big star," says Carolyn Richard. "Other guys had problems on the Astros. Ken Forsch [a white pitcher] had problems. He was out a whole half of a season. Ryan hasn't been pitching to his ability. I've never seen a player dragged through the mud like this. I don't know why, in 1980, they chose to do it to Rodney. But they did. It's something we'll never forget. Never. It was like a wildfire. It took death, or nearly death, to get an apology. They should have believed him."
They do now.
In a mea culpa for the local press, Mickey Herskowitz of The Houston Post wrote on Aug. 3: "Guilt has seized a lot of people in this town who believed in the weeks before his problem was diagnosed...that Richard was playing his own kind of game. Some wrote or said as much, and if anyone expressed any sympathy, or offered him the benefit of the doubt, no real notice was paid.... Our concern and shock were mixed with embarrassment and we ought to admit it."
Virdon believes there is another lesson to be learned. "Always double-check, triple-check," he says. "Even though nobody finds anything, if a guy keeps saying there's something wrong, you've got to be thorough. It's the only protection you have."
At Methodist Hospital, Chuck Berry has finally found the corkscrew, and the bottle is open. He stands at the foot of Richard's bed. Kathy Burke whispers to Richard: "Look who's here." Richard opens his eyes, smiles and sits up. The 1977 Chablis is poured into plastic cups.
"J.R.," Berry says, "here's to you."
Everyone drinks. Richard smiles.
"Wine—boy!" he says.
TWO PHOTOS
An overpowering pitcher before his collapse, Richard now lies behind the screen in this spacious Houston hospital room where he's comforted by his wife Carolyn and his lawyer Reich.
PHOTO
When a blood clot was first discovered, it was considered stable, but five days later it caused Richard's stroke, and Dr. McCollum removed it.
PHOTO
Reich believes big salaries have made athletes targets of a new play-or-be-damned syndrome.
PHOTO
When they went fishing just before the stroke, Garr says Richard was "depressed and tired."
PHOTO
Dr. Brelsford, the Astros' team physician who examined Richard after he went on the disabled list, indicates where the blood clot was found.
PHOTO
If the first check doesn't reveal the cause of an ailment, Virdon says check and then recheck.
PHOTO
Morgan thinks physical failings were so new to Richard he didn't know how to react to his.
PHOTO
Cabell contends the media might have acted in a different way if Richard were a white star.
PHOTO
When it became clear that Richard was indeed ailing, fans honored him with signs, cards and gifts.