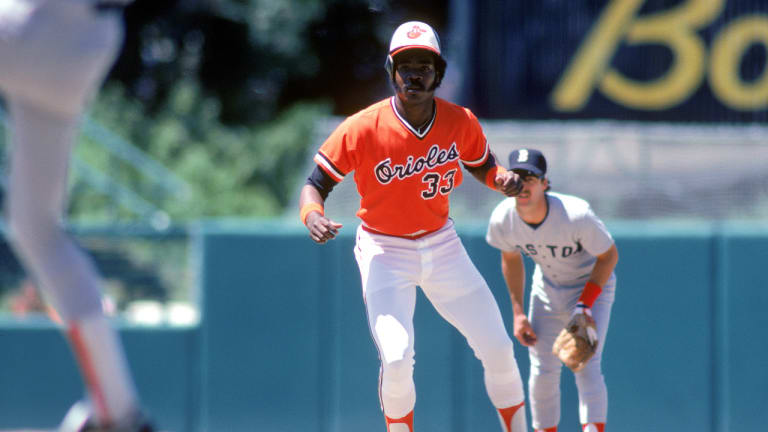 Now the Race is On
Five wins in seven games with New York have put the Orioles in hot pursuit of another AL East title
To all intents and purposes the American League East pennant race began at 10 o'clock last Saturday night in Baltimore's Memorial Stadium. That's when Earl Weaver threw a bag of sunflower seeds against the dugout wall and proceeded to engage the umpires in jaw-to-jaw combat. He had already been thrown out of the game, although he didn't realize it, and when Second Base Umpire Rich Garcia took the trouble to remind him, Weaver came out of the dugout, ran up and down three umps, paraded to second base and stood on top of the bag. Then he followed Umpire Steve Palermo home, and, with a malicious grin, kicked dirt between Palermo's legs and all over the plate while he was bent over trying to clean it. It was this bravura performance that signaled the onset of bona fide pennant hostilities. "I'd give Earl a 9.5," said Yankee Manager Dick Howser. "He didn't use his hat as well as he could have."
That there is a divisional battle at all this year is a pleasant surprise, considering that on July 14 the Orioles were in fourth place, 11 games behind the Yankees. But since then they have won 24 of 33 games, including 10 in a row in one stretch and five of seven with the Yankees over the last two weekends, reducing New York's margin to 3½ games. Of course, anything can happen in the six weeks remaining in the regular season—the Yankees still haven't reactivated Burleigh Grimes and Twinkletoes Selkirk, for instance—but, for now, the race is on.
About time, say Baltimore followers, who had been wondering whatever became of the team that had the best record in baseball last year while winning the AL East by eight games and romping through the Championship Series against California. The Orioles' slow start this season has been attributed to several factors. "We've had a lot of little injuries," says Shortstop Mark Belanger. "Not like California, but they've hurt us." Says Catcher Rick Dempsey, "We didn't lose any games because of outfield play last year, and very few in the infield, but this season the defense has cost us a few." The Orioles' pitching has been about the same, given the superb year Steve Stone is having. But the heart of the team is the switch-hitting Ken Singleton-Eddie Murray combination; the Orioles didn't begin to come around until those two started hitting. Rightfielder Singleton has batted .338 over his last 59 games to raise his average from .236 to .289. Before he went on his tear, he had been only 4 for 56 with men in scoring position, but since June 11 he has been batting .438 in those situations. Since the All-Star Game, First Baseman Murray has batted .350 to raise his average to .294. There is no way to pitch around the pair: Singleton bats .286 from the left side and .293 from the right, while Murray is hitting .292 from the left and .298 from the right.
With the Orioles' early-season problems behind them, not to mention five East Division teams, Memorial Stadium was packed to the gills with fans and media for the rare five-game, Thursday-to-Monday series with the Yankees.
Although it is only August, the playoff atmosphere was pervasive. "It's like a mini-World Series," said Tippy Martinez, the Baltimore reliever. The weekend before, the Orioles had humiliated New York by pulling off three come-from-be-hind victories, rising to within 2½ games. The Yankees got one of those back by taking two of three from the White Sox while Baltimore was losing two of three to Kansas City. On Wednesday came news that New York had acquired Luis Tiant's boyhood idol, Gaylord Perry, from Texas for what is commonly referred to as the "stretch drive." At times like these, only clichès will do.
Meanwhile, Bawlamer Mayor William D. Schaefer declared "Oriole Magic Week," and gave city employees early leave to attend Monday's 5 p.m. game. Weaver would have none of this fuss. "It's just one more game," he said. "Unless one team sweeps, this series won't mean much at the end of September. We've still got 50 games to go." Everyone was trying to be so casual about the series that Umpire Al Clark had to warn the players against fraternization before the opener. It was also Weaver's 50th birthday, although old friends maintain he's 53. It would be just like Weaver to try to get an edge on time.
On a steam cabinet of an evening, the Orioles opened with Steve Stone and the Yankees with Tom Underwood. From the time the 49,952 fans yelled "O's" at just the right moment during the singing of The Star-Spangled Banner ("O's say does that..."), the Orioles were in charge. They jumped off to a quick 2-0 lead. Reggie Jackson, Mr. August, halved it with his 32nd homer of the year in the second inning, but the Yankees would get only one more hit off Stone all night. Stone, who upped his record to 19-4, has been doing a Jim Palmer imitation all season, and unless somebody pinches him, he'll give the Orioles their sixth Cy Young Award in the last 12 years.
The Oriole hitters had been rude to Underwood, Gary Roenicke putting him away with a two-run homer in the sixth. In the seventh Rich Dauer and Singleton homered on successive pitches from Ron Davis. The Orioles' three homers in the 6-1 win were unusual for two reasons: 1) they went out in the exact same spot, next to the Tippy's Tweeters banner (for Pitcher Martinez) in leftfield, and 2) the Orioles haven't been hitting many homers. "I've never seen as many singles as I have this season," says Belanger. And that's not good for a team that depends heavily on what Weaver calls "Dr. Longball."
The Yankees were understandably glum after their seventh loss in the last 11 games. The next day Tommy John said, "I was going to jump out the window this morning, but I was only on the first floor."
When Bob Watson walked into the visitors' clubhouse Friday afternoon, he wrote the following message on the blackboard: MEETING AT 5:50. NO STAFF. "I've been wanting to call a meeting for two weeks," Watson said later. "We're pressing. When the pressure builds up, it's like being stuck on a bus in a mud-hole. The harder you press on the pedal, the further you sink in the mud. It's not until everyone gets off and helps push that you get started again." In the meeting such veterans as Watson, Jackson, Bucky Dent, Rich Gossage and Lou Piniella spoke their minds. "Who do you think spoke the most?" asked Jackson, without waiting for the obvious answer. Something right must have been said because Willie Randolph hit Mike Flanagan's first pitch of the game over the right centerfield fence. Although Al Bumbry likewise led off with a homer for the Orioles, the tone of the evening had already been set. Jackson punched a two-run shot to the opposite field in the fourth for a 3-1 lead, and Rick Cerone singled in another run in the fifth, chasing Flanagan.
Oriole fans are very good at sensing one of their team's patented rallies, and when John gave up a double to Bumbry to lead off the seventh, all 50,434 were in full voice. They had already been whipped into a frenzy by one of Wild Bill Hagy's spelling bees and by the Oriole mascot astride a Big Apple, waving the Orioles' 1979 championship banner. Baltimore did score two runs, including one off Reliever Doug (The Fidrych) Bird, but when Gossage came in, it was all over. He struck out five of the last seven batters and the Yankees won 4-3. "Awesome," said Weaver. "A Japanese locomotive on a straightaway," said John Lowenstein, whatever that means. "You feel guilty telling the batters to go out there and get a hit," said Pitching Coach Ray Miller. "They look at you funny, as if to say, 'You try it.' " "Maybe we'll have a meeting every night," said Howser.
The Yankees didn't need one the next night. They had Gaylord Perry. On a beautiful, springlike evening, he held the Orioles to one run in seven innings before giving way to Gossage. Not bad for a guy who looks like a member of the grounds crew. He had some help, of course. Ruppert Jones, who had been playing badly in recent games, singled in the first inning, stole second, scored on Bobby Murcer's single and made a sensational catch in the second inning of an Eddie Murray drive. The ball was a home run for sure, but Jones leaped high, extended his arm over the seven-foot wall, reached back and snared it. Oscar Gamble hit a two-run homer off Dennis Martinez in the fifth, and Eric Soderholm homered in the eighth for the Yankees' fourth and final run.
Dr. Longball was less generous to the Orioles, whose only run came on a Terry Crowley homer in the fifth. The Baltimore hitters were clearly bothered by Perry's do-I-or-don't-I routine. He paws the dirt about six times before each pitch, plays with the rosin bag, wipes his forehead four times and touches his cap twice. "And then he throws the ball exactly where he wants to," said Weaver. Singleton said Perry threw him only one spitter, on a 3-2 pitch, and it struck him out. "I took it as a compliment," said Singleton.
The Orioles' last chance at Perry came in the seventh, when they had runners on first and third with one out. After Doug DeCinces popped up, Pat Kelly was sent in to bat for Kiko Garcia. Kelly was called out on a checked swing. Third Base Umpire Dale Ford said he went around, Weaver said he didn't. Weaver was yelling so hard at the umpires he didn't hear about his ejection. He went back down the runway for a smoke, and when he came out, Soderholm had just homered. That's when he threw the sunflower seeds.
Following the 4-1 loss, Singleton remained philosophical. "The pendulum swings," he said. And indeed it swung back the Orioles' way on Sunday, thanks to Scott McGregor, who allowed only six hits in a taut 1-0 victory over Tiant. McGregor struck out Jackson four times, walked only one batter and threw 102 pitches. "That's the best game I've ever seen Scotty throw," said his catcher, Dempsey. The only run Baltimore needed came home in the sixth after doubles by Dauer and Designated Hitter Crowley. Dauer's hit would have been a home run except that a fan in the leftfield bleachers touched the ball and it was judged a ground-rule double. Weaver argued the point to no avail, but his performance was much more understated than that of the night before. Then Crowley, one of Weaver's regular irregulars, made the point moot by smashing the ball inside the rightfield foul line behind first base.
Baltimore might have scored two innings earlier except that Jackson crashed into the fence to make a nice lunging catch of a DeCinces line drive. For a few minutes the Yankees' pennant hopes lay motionless on the ground, but Jackson got up and stayed in the game with nothing more serious than a bruised forearm. "I thought he killed himself," said McGregor, "but Earl said, 'Oh, don't worry, he's just playing the dramatic.' "
In the Orioles' clubhouse after the game there was no champagne, but the mood was jubilant nonetheless. "This was as big a game as we've had all year," said Crowley. "Down deep, we knew how important it was. We couldn't let them take three out of four on our turf."
This series demonstrated that the Yankees and Orioles are as closely matched as any two teams can be. "I feel deep down [the Orioles have a lot of deep thinkers] that we have the best club in baseball," said Dempsey. "I honestly feel we're the better ball club," said Watson. "This is fun," said Howser. "It's demanding and draining and nerve-racking, but it's what baseball is all about. I'm only sorry we're not playing the Orioles in September." August has been plenty good enough.
PHOTO
The Orioles edged the Yankees 1-0 on Sunday when Crowley lined Tiant's pitch past first base to score Dauer.
PHOTO
When Dr. Longball prescribes a homer, the gang in the Oriole dugout has plenty to shout about.