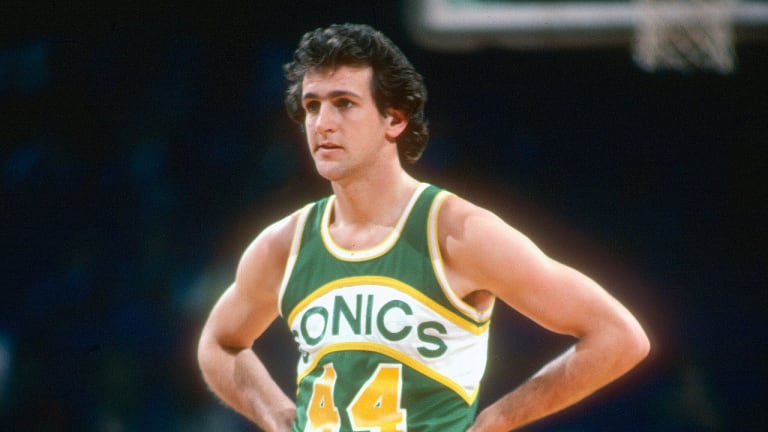 'A Chess Game with Soul'
That's how the pro game is described by Paul Westphal of Seattle. Like the others depicted here, he is a player whose skills would fit any team
As professional basketball enters the '80s, one can't help but wonder what Dr. James Naismith might think of the game he invented 89 years ago in a Springfield, Mass. YMCA. After all, if Naismith, a Protestant minister, was appalled when basketball was first played for pay in dance halls and smoke-filled arenas in the '20s and '30s, what would he think of the NBA on CBS in 1980? Or, to put it another way, can there possibly be a place in the good doctor's delicate and gentlemanly game for the Darryl Dawkins "Doctor Naismith, Get Outta the Waysmith, There Are Peach Basket Splinters All Over Your Facesmith" slam dunk?
Don't choke on your Red Auerbach autograph-model cigar, but the answer is yes.
Of all the team sports, professional basketball comes closest to being an art form. It's musical, balletic, continuous, fluid and spontaneous as it achieves order from what might be the chaos of 10 giants running and clashing on a small rectangle of hard wood. Naismith recognized this. When he tacked up his peach baskets, he encouraged individual freedom in his patterns and rules. "What this generation wanted," he wrote, "was pleasure and thrill rather than physical benefit only." By making the objective of his game a goal high above the heads of the tallest players, he required that the ball be "thrown in an arc" and intended that force and roughness be "of no value."
Naismith might have foreseen the likes of 6'8" Magic Johnson and 6'9" Larry Bird, who can turn the basic pass into something utterly wonderful. But it's doubtful that he envisioned 240-pound power forwards or seven-foot centers. Or the play of Julius Erving, George Gervin, David Thompson and Marques Johnson, who have taken the game into the stratosphere and, in defiance of gravity's law, kept it there. Or the shooting of guys like Paul Westphal, Downtown Freddie Brown and Lloyd (formerly "All-World," now just "World") Free, who launch impossibly graceful intercontinental missiles that score with frightening regularity. And no way did he imagine Kareem Abdul-Jabbar's sky hook or Dawkins' funk dunks. All of which makes the good doctor's credentials as an inventor all the more imposing. He devised a game so flexible, so indulgent of individual artistry that it has flourished even when played by men whose talents Naismith never imagined.
The Catch-22 is that no one of the game's circus moves is worth more than five seconds of video-taped highlights unless they are worked into the larger framework of the team. Abdul-Jabbar, alone, is a superb player but not a champion. Give him help, match all the right pieces together, and something magnificent happens. Last year one of those pieces was the 20-year-old Magic, who illuminated the L.A. night with his dazzling trickery and schoolboy enthusiasm. The result: an NBA title.
Basketball is most magical when all players apply their great talents in a way most helpful to the team. The scorers must score, the rebounders rebound, the passers pass, the subs do their chores cheerfully. The concept couldn't be more simple to state or more difficult to master. But it was practiced by Bill Russell's extraordinary Celtic teams and emulated by all championship clubs since. Just because the Gervins and the Frees have reputations as "bogarters"—selfish show-offs—doesn't mean their talents couldn't be harnessed and blended with others to form a devastating team. In their defense—though some might say their scoring averages prove they can't be defended—Gervin has never had a center to play with in San Antonio, and Free was the Clippers' only scoring threat. Some NBA people think Free would be an excellent player on a team like the Lakers, or even back with the 76ers, if he would apply his talent with a bit more discretion. That's one of the reasons why pro basketball is such a beautiful and delicate game. Terrific players can look awful on some teams, awful ones can be terrific on others.
Take Dennis Johnson, for instance. When he blossomed into a superb defensive guard in 1978 and '79, Seattle became an NBA finalist and then the league champion. But last year, when Johnson seemed more concerned with scoring than the dirty work of playing D, Coach Lenny Wilkens decided he was a "cancer" that had to be eliminated. Nevertheless, Phoenix was happy to take him in a trade for Westphal, one of the league's most dependable scorers. The teams did more than exchange outstanding players; they each created a new chemical mix.
An All-America at USC and an All-Pro in sunny Phoenix, Westphal brings enormous skill and a thoughtful perspective on the game to rainy Seattle. "College basketball has the students, the alums, the cheerleaders, the bands and changing players," he says. "But anyone who thinks their game is better man ours is crazy. In college, the coach is the star. We've got the players, and our games are great. I think the problem is in the way our game is seen. Team managements have tried to sell individuals, and it's not an individual game."
Westphal believes that other qualities should be emphasized. "The best thing about basketball is that when you play right, no matter how good the opposing team is, there is always something you can do to affect the other guys' game. If they've got a big guy, well, he might not be fast. If they've got a great shooter, he might not be able to pass or drive to his left. The challenge is to attack their weakness and protect your own. But amid all the teams' moves and countermoves, there is still a chance for creativity, for the artistic talents of the individual to come through. It's like a chess game, but a chess game with soul."
But what about the malcontents who jump teams without shame, who want to renegotiate this year's contract before the ink is dry? A few years ago, when he was the object of a furious bidding war between the Knicks and the 76ers, that noted team man, George McGinnis, walked away from his latest multi-million-dollar offer and told a reporter with a wink, "If they only knew that I would play basketball for nothing."
Milwaukee struck gold when it signed UCLA's Marques Johnson to a modest six-year contract in 1977. When Johnson became an instant superstar, the Bucks marketed their team by marketing Marques. But last year, when Johnson tried to bring his salary into parity with those of the game's other stars, the Bucks tried to persuade their fans that Johnson was a greedy ingrate. After he and the team came to terms, the Bucks went back to touting Johnson as "the best all-round player in the NBA," and he led them on a solid charge toward the championship.
"It's the sport that I love, not the business," says Johnson. "The business end messes everything up. I almost wish there was no money in it, then we could all go out and enjoy playing like we did when we were kids. I'd still play if there was no money, because it's the best game there is, and you can play all the time if you want. Anybody who's ever been into it, pro or playground, knows what I'm talking about. When I'm playing ball, it's like I'm not even part of the earth—like I belong to a different universe."
The two top scorers in the NBA the past two seasons—Gervin and Free—are known to most fans as merely that, top scorers. To many, they are anathema to Naismith's concept of team play, even though, in fairness, they have done only what was expected of them. Free was brought to San Diego by his former Philadelphia coach, Gene Shue, who took one look at the undermanned Clippers and said to Free, "Lloyd, put it up whenever you want to." Free did, averaging 28.8 points on 48.1% shooting, and came close to leading his team to the playoffs the last two years. When Paul Silas, a no-nonsense team man, took over as coach of San Diego this summer, he immediately summoned Free to discuss what would be the Clippers' new philosophy. Shortly after the meeting, Silas shipped Free to Golden State. Free was quoted as saying, "Nobody is going to change my game," and his "All-World" rep went with him.
"I never said that," Free claims. "Paul and I would have gotten along fine. The problem was with my contract." How will he get along with Warrior Coach Al Attles, who is famous for settling disagreements with one menacing glance? "Just fine," says Free. "I'll take two shots a game if that's what AI wants. I'm a team man through and through." If Free is sincere, the Warriors will be the better for it.
Gervin is also facing a special challenge this year. The Spurs may have found a way to make the Iceman—a constant contract squabbler—shut up or put up—or, more precisely, put up less. His new contract pays him a base salary of $3.6 million over the next six years, but a unique clause will give Gervin—and every one of his teammates—a bonus for each win between 36 and 56 in the 82-game season. (Last year's record was 41-41.) For Gervin, bonus victories will pay him something like $14,000 apiece.
"I might have to score 30,I might not," says the Iceman, whose 33.1-point average last year made him the fifth player in league history to win three straight scoring titles. "Maybe I'll have to score 50. People have said I'm an individual player, but I don't like the rap. This game here's not an individual game, it's a team game, and a team player's the only kind that wins. On my team I put 'em in the hole because I'm trying to win."
Although this may be a self-serving definition of the "team" concept, there is no doubt that Gervin is a player of such tremendous talent that he can score anytime from anywhere against anyone. Unfortunately, he has a compulsion to prove his scoring ability time and again, mindless of the fact that only once since 1950 has an NBA scoring leader played for the league champion. (That was Milwaukee's Lew Alcindor—he hadn't officially changed his name yet—in 1970-71.) "I'm perfectly happy being known as George Gervin, scoring machine," he says, "because in this game the person who puts the ball in the hole is the person that usually gets ahead." Whether he makes a million a year or $3 an hour, Gervin would still be playing ball, he says. "Always. Until they have to put me in the grave. Maybe even then I might come back if there's a game. I'm always wanting to take somebody one-on-one." The Spurs are hoping that at $14,000 per, Gervin will also learn to appreciate the beauty of going five-on-five.
ILLUSTRATIONILLUSTRATIONBOBLAPSLEYMAGIC
D.J.
KAREEM
WESTY
MARQUESILLUSTRATIONBOBLAPSLEYGolden State's Attles and Free seem headed for a philosophical joust over team play.ILLUSTRATIONBOB LAPSLEYSan Antonio hopes its cash-incentive plan will spur Gervin to put the team interests ahead of his own.