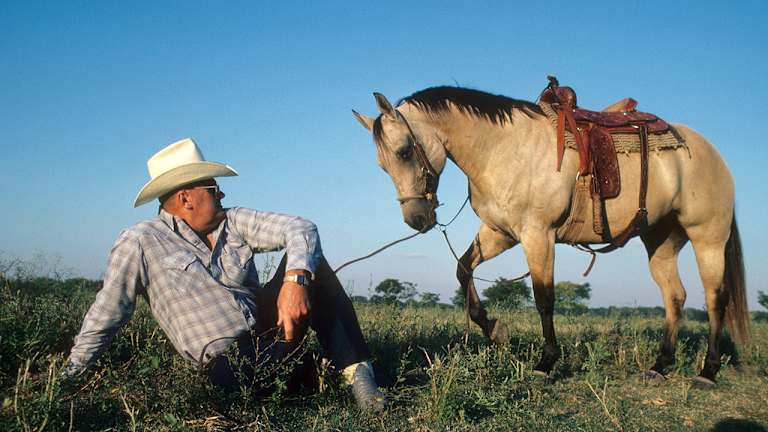 Hallelujah. He's. Uh. Bum
With his kangaroo-skin boots and down-home demeanor, Oiler Coach Oail Andrew Phillips suits Houston to a T. He doesn't mind his nickname, just so it isn't used as a description
It was when he had the job at Nederland that ol' Bum Phillips got hisself a defense. Coach Bryant had been fiddling around with some numbers at one of them clinics up at A&M and he reckoned there must be some way to call the D that way. Coach Bryant was like that. He was always mentioning something, giving folks an idea, then leaving them to figure it out for themselves. After Coach Bryant planted the seed, sure enough if ol' Bum didn't go concoct the thing, deciding there ain't but eight places a man can run with the football, so if he numbered them gaps it'd be easy as pie for the little buckaroos to remember where to cover. After 'while, Bum could take 11 kids from any high school in those parts and in one practice show 'em 15 different defenses and they'd line up right every time. Didn't even have to think. Damn. It was just like Bum said: "Ever' time you make a football player think, you handicappin' him."
Anyhow. Once during those six years at Nederland, ol' Bum turned down the opportunity to interview for the Odessa job in 4A. Didn't think he was ready. Too big a staff. All the time Bum kept wearing out the chalk with those X's and O's and he won something like 50 straight at Nederland. Came to give Coach Bryant his blocking rules, too. The ones he invented to beat little Fuzzy Brown across the border over in Baton Rouge. You 'member Little Fuzzy. He was Big Fuzzy's brother. Big Fuzzy was the principal. Little Fuzzy coached and Big Fuzzy 'ministered. Little Fuzzy and Big Fuzzy.
Anyhow. Bum drove up to College Station for lunch on Thursday and A&M scored against SMU three times with them blocking rules on Saturday. The next thing you know—it was 1956—ol' Bear hired ol' Bum to come work for the Aggies. They whipped up on some people, won 14 in a row.
The thing was, the Aggies shoulda beat Rice in 1957. Would have, too, only they didn't run Bum's fake punt good enough. Bear never wanted it, 'course. Bear never was a trick guy. But Bum must have called it 25 times in high school and scored ever' time. They even gave the fake punt a name. The Bumerooski. At A&M they practiced it and practiced it, even though Bear didn't want it. But here it was. Aggies down by a point. So Bum says to Bear he might could go with the Bumerooski, he's gonna get beat anyway. And Bear says do it, and so they did. Well, Loyd Taylor is steaming around end and the Owls are fooled and A&M is gonna pull it off just fine, except for one thing. Bobby Marks misses the in-block on Buddy Dial and Dial forces Taylor out of bounds. A&M loses by a point. God-almighty. Made Bum so mad he still throws the chalk against the board diagramming the blamed play.
Anyhow. After Coach Bryant left A&M to take the job at Alabama—it was 1958—he wanted Bum to come along, but Bum never'd been out of Texas 'cept to fight in the war, so he just stayed around. "Somethin' will happen, always does," Bum said. Well, he got the job at Jacksonville, out near Tyler, right away, and a year later he moved clear 'cross the state and got the job at Amarillo.
Anyhow. About the double quarterback. Way back ol' Bum never saw such a thing before, but he'd been whomping folks so bad using the middle linebacker all over the place that one time Duncan over at French High School in Beaumont—what was his first name? Paul? Bill? Bum says it don't matter anyway because the guy ended up an Aggie—well, Duncan sent out two quarterbacks over the center to confuse the linebacker. Sometimes the snap'd go to one, other times to the other. Bum told his 'backer don't worry about it, don't fool with it. Bum kicked Duncan's tail anyway. Bum says if a man's gonna use tricks, a man oughta be sure they work.
Like the onside kick. Ol' Bum got that one from a guy on an airplane. The guy was from Arkansas, if you can believe it, and Bum found hisself sitting next to him on the way to one of them coaches' conventions. After 'while Bum said, "What you do good?" The guy said, "Onside kick. We never kick it straight." Well ol' Bum thought he had a weirdo for sure this time. Then the guy explained how he got his kicker to kick upside the top of the ball so the thing bounces end over end, crazy-like, for 10 yards and then hops 15 feet straight up in the air. Hell to catch. At home Bum tried it and it worked. Like every cotton-pickin' time, that's all. 'Course, that was before soccer kickers. When a man runs sideways to the ball, Bum says, it don't matter if he's Pelè hisself, the thing won't hop straight up.
Anyhow. In 1962 when Bum got the head job at Texas Western and they promised him everything and delivered on nothing, he must've run off about 40 guys who came out for practice. They didn't even have enough bodies for a spring game. Had to call up some alums. Texas Western's called the University of Texas at El Paso (UTEP) now—la-di-da—and Don Haskins, the basketball coach, remembers living in the dorm and hearing "suitcases rattlin' around the halls at night." That meant Bum just run off some more. Or else they flat-out quit their own selves. At Texas Western, Bum described his position as "a job in college, not a college job. It was the kind of job where you gonna have people who get you beat 21-7."
Anyhow. Against New Mexico one time the Miners didn't move the ball diddlysquat, zero first downs, but a guy they called McGoo intercepted a pass and ran 105 yards for a touchdown. Somebody else blocked a punt in the end zone for another six. A guy with glasses from Wink, Texas kicked what was probably the only field goal of his life. And Texas Western led 16-12. "Then we held 'em on the goal line," Bum says. "No, wait. What was it? We had 'em by four points, but they had four downs from the six. We held and took the safety. Beat 'em 16-14." After the game the Miners carried Bum off the field. When Bum resigned at the end of the season to move on down the line, the Miners cried. Right away Haskins remembered an article he had read before Bum even came to El Paso. The Amarillo Globe-News had asked famous people from around the state what they'd do if they had it to do over. Bum Phillips, who'd been coachin' football in high school nigh onto 10 years, answered that he would be coaching football.
Anyhow. Ol' Bum, who had already jumped from high school coaching to college coaching twice, went back to high school again and became head coach in Port Neches, across the road from Nederland. Talk about your turncoats. It was 1964. He and his wife Helen had four daughters at the time, they're up to five now, and a son, who had transferred so much he hadn't once been eligible for the varsity. It was five times in six years that Bum had picked up his whole family, kit and caboodle, and moved on down the line. Ever' time Bum told the kids to get in the car to go to the Dairy Queen or somewheres they were afraid they were moving again. Ever' spring Helen started packing because they sure enough were. But now, all of a sudden, Bum said the hell with it. He was a legend in the state already. He had a good superintendent who gave him ever'thing he wanted. He got paid enough. It was a great job. He'd quit knocking around. He'd stay in Port Neches. He told the family he'd stay. And he did stay for two seasons. But, dammit, Bum knew that giving up here, now, would be like quitting in the fourth quarter. Bum always swore he'd never quit. Bum had always said, "Ever'body's gotta be somewhere." So at the two-minute warning he took off the headset, called his family together and audibled his way out of the huddle. It was another Bumerooski. Bum Phillips was 41 years old when he decided to leave Port Neches-Groves High School and try to win the Super Bowl.
Past is prologue, even in Texas. Ironically enough, there were to be many more whistle stops both large and small before O. (for Oail) A. (for Andrew) Phillips came achugging into the wheelhouse of professional football, which may or may not be the same thing as the depot of American life, depending on whether you are a network sponsor or a nickel back. Following his sojourn along the sidelines of the Golden Triangle in East Texas, Oail Andrew worked in chronological order—you may need a scorecard now—for the coaches of the University of Houston, the San Diego Chargers, Southern Methodist University, Oklahoma State University and the Houston Oilers. Then he was catapulted into the head job with the Oilers. How Oail Andrew has survived and prospered in the ultimate megabucks business-sports world of homogenous, regimented and robotized hearts and minds is a feat as wondrous as all...well, considering where the Oilers play half their games, as all indoors.
From the beginning he wore a burr haircut under a 10-gallon hemp hat. He collected a wardrobe of boots made from the skins of every dead beast from the boa constrictor to the kangaroo. He gnawed forever on a plug of Tinsleys stashed somewhere in the porcine cheeks of that marvelous dirt rancher's face. Only in America, right? Only in the NFL. Still, Bum Phillips played against all the modern day, Mad. Ave. rules. When Houston Coach Sid Gillman named his successor in 1975, the designee turned out to be the Oilers' own laid-back defensive coordinator, the rube, Phillips. Oiler owner K.S. (Bottom Line Bud) Adams Jr. said, "I thought he was kind of a cowboy."
Well, by God, he was. But mamas don't let their cowboys grow up to be puppets. Phillips won 44 games in five years at Houston, and when Kenny Stabler, the new Oiler quarterback, joined the team this season, he said, "Me and Bum are as alike as two piles of cow manure. The guy is just an unpretentious cowboy who happens to be a football coach." There is, of course, a world of difference.
To rebuild in the National Football League is difficult enough. To win while rebuilding is something else again. Just ask Bud Wilkinson. To win while rebuilding at Houston—whose team had a well-deserved reputation for having the NFL's cheapest owner, the most outdated practice facilities and an embarrassment of a front-office operation—was considered an accomplishment beyond the fringe.
Adams, a scion of the wealthy Phillips petroleum family (no Bums there) out of Oklahoma, had been through eight coaches in 15 years and four in the previous five seasons before Phillips was offered on the altar. These men included the immortal Slingin' Sammy Baugh, who came off the range long enough to go 4-10; his successor, the immortal Hugh (Bones) Taylor, who was accused by his wife of aggravated assault in the midst of an equally awful 4-10 (she dropped the charge); and, lest he be forgotten, the amazing Bill Peterson, whose Oiler tenure lasted 19 games in 1972-73—the team lost 18—but whose even more amazing contract paid him until 1976.
Adams is the owner who was held up for the John Brodie contract in the AFL quarterback raid. Adams is the man who was involved in a controversy over "stuffing" game tickets—that is, hiding tickets to avoid a sellout and, ergo, home TV, then placing the tickets on sale following the blackout deadline. On whim, Adams has pulled parking passes to stiff the media. Adams has filled the Oiler charter flights with fat-cat business associates—"Here comes the Elks Club," Defensive End Elvin Bethea will bark disgustedly upon the arrival of Adams' cronies on the plane. In place of the ritual holiday cash gifts, Adams has doled out turkeys and hams to his unappreciative staff. In 1978 each Oiler assistant coach received a $3,000 bonus for defeating Miami in the playoffs. The following week the assistants were given $2,000 for beating New England. "If we win the Super Bowl," said one, "we could wind up paying the owner."
In the middle of the Oilers' disastrous 1-13 season in 1973, Adams replaced Peterson with the bow-tied workaholic, Gillman, who had brought Bum Phillips into the league at San Diego in 1967. Gillman enticed Phillips out of the college ranks (Oklahoma State) again in 1974. That year was the first the Oilers used the 3-4 defensive alignment exclusively.
"Hailfire, we don't have but three guys who can play defense anyway," Bum explained. It was the first of a veritable saddlebag full of one-liners that have been shaking down the pinstriped image of the league ever since. Houston's points-against total dropped from 447 to 282 in one season, and the team won seven of 14 games in 1974.
Once he had stepped down as coach, Gillman envisioned total control emanating from the general manager's office. In January of 1975 he resigned his field position to run the team from upstairs, where he could oversee everything the new coach did. The new coach was the old high school guy, the cowboy—"All he needed was a holster," Gillman said—who would be so flattered he would tap-dance at his mentor's every beck and call.
But Gillman—like so many others before and since—had not measured his drawling cattle caller. Behind the gold-rimmed spectacles, the constant chaw and the bumpkin facade, Bum Phillips was one shrewd operator—Douglas MacArthur playing Pa Kettle. Phillips was not the troglodyte gimp carrying the garbage out the back door of the saloon. He was the ruthless shark drawing to an inside straight at the big table in the front. Phillips didn't care about the insulting salary. At 52, with a first shot at the big leagues, a man who loved it as Bum did might coach for free. But that's exactly what he did want: to coach, to lead, to be in charge.
A clause in the contract Gillman wrote up gave Phillips responsibility in all policy-making and player-personnel matters—with final approval by the general manager. Phillips knew this was coming. He had seen Gillman do this number on Charlie Waller at San Diego; seen him move up to G.M. and cut Waller's legs right out from under him. Phillips wasn't about to sign away his legs. With Gillman out of town, Phillips got the draw on Adams. He refused to coach unless the approval clause was deleted; furthermore, he demanded that Gillman be barred from the locker room and the practice field as well.
"Bud Adams had to let me have it. He couldn't get anybody else to screw it up much worse than it'd already been screwed up before Sid," Phillips says. "But Sid had to know my feelings. I was going to run this football team."
Within a month Gillman had departed and Phillips had both jobs to himself. The crew-cut cowboy had hot-branded the whole corral. Now, all he had to do was know football, get along with the players and win the games. Shoot, after nine jillion clinics and practices, 25 years and 10 different teams at all the levels—you can look it up—is it any wonder that all the rest was easy?
Bum Phillips' granddaddy rode the Chisholm Trail across the Panhandle. His daddy—Flip—rode a truck, Beaumont-to-Houston round trip twice a day, 18 hours on the road. He did it six days a week for seven years, then quit to try selling milk from his cows in the field. Flip died of emphysema.
Bum Phillips played football at French High in Beaumont. He served 31 months in the Pacific theater during World War II. "I went in thinkin' they couldn't win the war without me," he says. "I came out knowin' they couldn't win with me."
Bum played football at Lamar Junior College. He rode and dogged bulls in the rodeo for spending money. "Hail yes, I won," he says. He played football again while attending Stephen F. Austin State University.
Bum Phillips got his peculiar nickname early on because nobody could pronouce Oail, thank heavens, least of all his younger sister. Edrina Phillips also could not say "brother," which came out "bumble,", which was shortened to the now-familiar "Bum." Great moments in sports.
Surely, Phillips will be cracking that "Bum is a name, not a description. It's fine as long as you don't put a 'you' in front of it" to his dying day. But Ronnie Brown, the Oiler photographer, is credited with the best of the plethora of abominable plays on this name. What Phillips has done in five years is create, Brown said, a "bummerization" of the Oilers.
"Bummerizing," in effect, is a sense of and feel for the team. Everyone is an adult. Everyone is an individual. Everyone knows what is expected of him and is trusted to carry out these duties and responsibilities. The coach is close to the players. He is a friend. All the coaches are friends. Bethea, the elder statesman, refers to "our happy home." Signs all around trumpet: "Luv Ya Blue." Somehow it works.
Bum lets his "boys" or "kids" eat banana pudding, play volleyball and wear funny hats in practices, which are seldom long or hard. Thursdays are beer-keg days at the training field. On Saturdays the players can bring their wives, kids and dogs. One Saturday, Phillips' friend Willie Nelson, the C&W singer, showed up on the field in an Oiler T shirt. It was all the players could do to keep from breaking out in a few bars of Whiskey River. "Ah, the Texas national anthem," Phillips sighs at the mere mention of the song. "Now we're talkin' heaven."
There are no curfews for the Oilers, few rules, seldom a fine. Last year Phillips held up the team plane an hour and a half to wait for a linebacker who was late. "Houston's traffic's a bitch," Bum explained. In the historically quiet, grim sanctuary of the pregame dressing room, at least 18 different strains of music blare from stereo "boxes" as the Oilers boogie away their nerves.
Phillips drives his red pickup to workouts. He drinks beer with the players. Lots. He sings country and western with some, plays dominoes with others. He "discusses" his on-field decisions with a few. "Hey, Short Hairs, why didn't we go for it?" Center Carl Mauck, Bum's favorite, bellows at the back of the plane. "Hey, Short Hairs. You got to be nuts."
"Loyalty up and down the line," Bum says. "That's what's important. But you know what? I can get away with all this because they like me. If they didn't, the sonsabitches would kill me."
Phillips never criticizes a player in public. "Bum would rather release a player than yell at him," says Ed Biles, the defensive coordinator. Though the Oilers have been one game away from the Super Bowl the last two seasons—Phillips bawled like a baby after the second of the two devastating playoff losses to the Steelers—the most emotionally upset the team can remember him being was following a preseason loss to Dallas in 1979. The locker room was eerily silent for once. "Any one but this one," Phillips murmured. That's all he said. The Oilers felt they had deserted the old man. On Thanksgiving Day, in the rematch that counted, they beat the Cowboys 30-24.
The Good Ol' Boy family atmosphere on the Oilers is not a myth. In search of the perfect chord, Phillips has fine-penciled the waiver lists to bring in every reject, castoff and renegade this side of Jesse James to help the Oilers. At different times he has hired on a fireman, a softball player and a cement-mixer truck driver. This year's kick-return man, Carl Roaches, was driving an ice-cream truck last year. Good Humor's on the 30, the 40, the 50....
Phillips employs his son, 33-year-old Wade, to coach the defensive line. Wade says if he ever messes up he'll claim heredity. Phillips' 1978 team, which went to the AFC title game, included 21 free agents. Andy Dorris, the defensive left end, calls the Oilers "football's melting pot." Recently a 5'9", 230-pound Mexican-American named James Juarez turned up on the Oilers' doorstep wanting to know if—"Don't laugh, amigo" he said—he could help Bum at linebacker. Juarez said he hadn't played football in a couple of years but that he'd been working out at a health club. A trainer told Juarez that Bum would get back to him.
That is the whole ball of wax, don't you see. The reason Bum Phillips has captured the imagination of all football is not so much the hats and the boots and the twanged-out jokes in between the tobacco juice flying into his makeshift spittoons. Why, this fat old red-neck truck driver has turned a disheveled, downtrodden NFL franchise into a Salvation Army Sunday-afternoon sandlot pickup crew, the same kind we see celebrating a W in all those TV beer commercials every week. Luv Ya Blue is nothing but buzz language for "Kick ass, blue collars." Come on down, James Juarez.
Winning enough to play for the AFC championship two years in a row may be merely a footnote in the developing legacy of Bum Phillips.
"Discipline?" Bum says. "My idea of discipline is not makin' guys do something, it's gettin' 'em to do it. There's a difference in bitchin' and coachin'. Some places the whole damn practice is a constant gripe. All negative stuff. The first thing you know is your people tune you out. Then it becomes a challenge to make them do somethin' they should be doin' on their own all along. The only discipline that lasts is self-discipline.
"Anyhow. A long time ago I gave up this philosophy of not gettin' close to the players. 'Stay away. Keep your distance.' That's a lot a bull. It came home to me when I was coachin' my son and workin' his little fanny off. I was mean and tough. But he knew it was just pretendin'. He knew I loved him. There was never any doubt. I'm around these guys seven months, seven days a week. I laugh with 'em. Cry with 'em. I know'em. I want 'em to understand my fondness. I want us to be close. I think it helps 'em play better.
"Anyhow. Our practices aren't that easy. I believe our folks work hard. There's such a thing as 'busy work.' You know, shufflin' your feet. Actin' like you doin' somethin' when you ain't, just so you take up time. A lot of hard work is spent wastin' time. Millin' for practice. Don't write it like this, but a guy has to have confidence not to do things the way others do. Somehow people get long hours and success confused. I say, do what you got to do, get it done and forget about it. Time to go home.
"Anyhow. I just don't think rules are that important. Good people are important. Lookit this Dorris. Nobody thought he was much. But I knew he was good people. He'd be good for this team. Then he muscled up and learned how to play. [Rich] Caster—the Jets gave up on him. What a person! By the time he gets through he could be a politician in this town. Jack Tatum, another one. Hasn't said one word of trouble. These people are team people. That's why we got 'em. I don't pay attention to bad reputations or worry about a guy's past. It's a new day here. 'Course, it was a long haul." (Bum switches to the second person now real fast.) "Sometimes you had to go with what you might call your misfits. A guy has to satisfy your needs, fill the gaps. Sometimes you had to pick up an ornery cuss you'd never want to hold the end of your rope instead of some good Ol' boy who'd get you beat 21-7."
As a 6'4", 225-pound rookie linebacker in 1973, Dorris might have been thought of as a good ol' boy who'd get you beat 41-3. Three seasons later, in a two-month period, he was traded by one team, released by another and rejected by two more after tryouts. But when Bethea broke his arm in a November 1977 game against Oakland, Phillips was desperate. He inquired around the locker room if the Oilers knew anyone who might be home. Somebody mentioned Dorris.
"I'll never forget Bum's words on the phone," Dorris says. "He asked me if I'd like to come down and play a little ball. He sounded like an old farmer trying to get a game going in the pasture. Bum blew my mind. I came out to the field on a bus and asked when practice was. I guess it was when everybody got there. I couldn't believe it. Here were guys sitting on helmets and shinning up goalposts. There were stray dogs running across the field. No whistles. Everybody did his own calisthenics. Guys were wearing different outfits, T shirts, hats. Guys came late. I had just been with New Orleans under Hank Stram. We got fined $50 for having a chin strap unbuckled. They fined a guy who missed practice there even after he told them he'd been in a car wreck. We had three practices a day in the preseason. Stram took two years off my playing life. This deal here looked like a paradise."
In gratitude, after three years in Houston, Dorris has gone from 228 to 260 pounds and become an integral part of the team's fearsome pass rush. He named his youngest son Sam Houston. "Under most of these stiff team regimens around the league, young, untried players play nervous and they're always afraid they'll make a mistake," Dorris says. "The system takes away aggressiveness. But Bum withdraws that pressure. It doesn't seem like a business. It's so much more personal. He's acutely aware of what everyone is doing—in their business dealings, personal affairs, home life. He's told us many times we've been hand-picked for our interrelationships. We're close enough so that we can act like fools, then get down to it."
In the beginning, back in '74, when Gillman was in charge and Phillips was just a small-time cornponist doing Will Rogers in the back of team meetings, there wasn't much evidence that things would turn out this way. Don Haskins down at UTEP remembers "the burr head spitting his juice into that Folger's can, but you know, this coulda happened. The players idolized the guy." And Bill Yeomans, who employed Phillips as an assistant at the University of Houston, says Bum was always good at "the tedious things—getting along with the players, being gentle, sweet, rolling with the punches and not letting anything explode."
But on the Oilers nobody could have predicted where Bum Phillips was going. "He was just another assistant," says Bethea. "Then Bum got to be the man and started bringing in these characters off the street. This got to be a zoo, a wild bunch. I said, 'How could this country hick be a football guy?' Sometimes I sit back and still wonder. But he made players out of people you'd never believe. [Defensive Back] Greg Stemrick. He was cut from here once before. He went with the WFL. [Linebacker] Teddy Washington was at K.C. Teddy was lost. Now they're starters, big contributors. Bum gave these guys the opportunity to find themselves."
Originally, Bethea, a perennial All-Pro who nearly singlehandedly held the Oilers together through the lean years, made it known he wanted no part of Phillips' 3-4 defense. "I've wanted out several times," he says. "I would've even gone to Buffalo, I hated the 34 so much. But Bum kept saying to me, 'Yeah, Elvin, but you got to play it.' Real easy-like. He said we'd win with it. Then when we did, he had me convinced. What Bum does differently is enable us to voice our opinions. And he listens. He lets men be their own men."
Among the men's recognized freedoms is that of speech. After the voluble Mauck was observed with his uniform shirttail hanging out in a Monday night TV game against Cleveland, the league fined him $250. The official statement noted the shirt was out "drastically and continuously." Phillips couldn't wait to hear Mauck's reaction. It was a beauty. "Pete Rozelle is a Czar, he belongs in Russia," Mauck ranted in the dressing room. Then he told Barry Warner of radio station KIKK in Houston, "In the off-season NFL players rob banks, forge checks and sell dope to kids, and Rozelle does nothing. Then he fines me for a shirttail. He's a despicable lowlife. It's people like him who are what's wrong with America."
Phillips himself is the antithesis of harsh. He speaks—as has been written—"with the gentleness of a man stroking a calf." Phillips' most oft-quoted pearl may be the one about the other team in football's toughest division. Of Pittsburgh, Bum said, "Last year we knocked on the door, this year we beat on it, next year we gonna kick the sonofabitch in." He said this last January in front of 50,000 people who were waiting in the Astrodome—20,000 more were in the parking lot—when the Oilers arrived home after losing to the Steelers once again. But Bum's mama, 82-year-old Naomi, didn't like the language one bit. For Western purists, the essential Phillips is better on subjects of general import, such as "They ain't but four things in life I know somethin' about—pickup trucks, gumbo, cold beer and barbecued ribs."
Phillips left out football players. For all his reputation as a defensive blackboard strategist and humanitarian molder of relationships, the man's eye for individual talent and flair for weaving it into the fabric of a team has been the outstanding characteristic of his reign at Houston. While Phillips gave the franchise direction, cohesion and his inimitable style, his trade with Tampa Bay for the draft rights to Earl Campbell didn't hurt. Not that it took a genius to see what Campbell could do for a team. But Bum was wheeling and dealing to get the Oilers untracked long before the Campbell opportunity presented itself.
One of the most fragile of front-office skills is the achievement of balance between trades and draft choices. Backing and filling the meat on and off the hoof. George Allen extended the lives of his teams by trading for ancient relics. Chuck Noll and Tom Landry have relied almost exclusively on the draft. To move the Oilers into the neighborhood of the elite, Phillips has craftily employed both tools of the trade. Since taking over, Phillips has pulled off at least one "blockbuster" trade before each of his six seasons as Oiler coach.
1975. Center Mauck to Houston from San Diego for negotiating rights to two players no longer in football. Mauck has started 142 consecutive games; from Day One he has been the spiritual leader of the Oilers.
1976. Quarterback John Hadl, Cornerback Ken Ellis, cash and two draft choices from Green Bay for Quarterback Lynn Dickey. Though Hadl contributed little, with one draft the Oilers got Fullback Tim Wilson; they traded Ellis to Miami for two other draft picks, one of which turned out to be Jimmie Giles, the man the Buccaneers desired for the rights to Campbell.
1977. Punter Cliff Parsley from New Orleans for a sixth-round draft pick. Punting had been an Oiler embarrassment; Parsley has started for three years, sacrificing his average on a control team that often gives up the ball at midfield where a kicker must finesse rather than boom away.
1978. Campbell via the draft from Tampa Bay for Giles and four draft picks. With Giles and Quarterback Doug Williams, drafted with a Houston pick, the Bucs made the NFC championship game last year. With Campbell, the Oilers made history. The former University of Texas Heisman Trophy winner led the NFL in rushing his first two years (1978, 1,450 yards; '79, 1,697). Houston also gave up virtually nothing in exchange for the Jets' Caster.
1979. Offensive Tackle Leon Gray from New England for more draft choices. The Oilers had slumped into a malaise after a career-ending head injury to Tackle Greg Sampson, a budding star. Gray is merely one of the best at his position. Ever.
1980. Quarterback Ken Stabler from Oakland for Quarterback Dan Pastorini. The Big Gamble. And when it became evident that Stabler was not able to complete those passes underneath defenses as he had at Oakland, Phillips backed his bet last week by acquiring four-time All-Pro Tight End Dave Casper from the Raiders. Total cost for this new battery: a first-and two second-round choices (for Casper) and Pastorini, a nine-year starter for the Oilers (straight-up for Stabler). Tune in Jan. 25 to see if Bum Phillips snookered a championship.
As for the draft, in 1975, with his first choice in his first year, Phillips chose the awesome Robert Brazile, Doctor Doom himself, now a consensus All-Pro linebacker. Gillman had traded away most of the 1976 Oiler picks; still, Phillips came away with Mike Barber, the starting tight end. In the 1977 draft the Oilers hit the jackpot, landing running backs Wilson and Rob Carpenter, offensive linemen Morris Towns and George Reihner and Defensive Back Bill Currier, all of whom became starters.
Reclamation projects? The Houston halfway house for the extremely wayward remains open. The Oilers got five solid years out of Steve Kiner, an admitted reformed drug user. Phillips got several productive games from the Smith brothers, not the cough drop twins but the noted malcontents, Bubba and Tody. Now Bum is further testing his mettle with the recent employment of Thomas (Hollywood) Henderson, the prince of shuck and jive.
Among Houston's other free-agent pickups are Placekicker Toni Fritsch, who was reputed to have a drinking problem, and Defensive Back Vernon Perry, who came from the Canadian Football League, allegedly a more serious flaw. Fritsch made the Pro Bowl last year. "Fritsch is so good he practices missin'," Phillips says. "I don't listen to no rumors. Fritsch don't drink during the season. Hail, the man who put that story out would say I have a drinkin' problem."
Phillips has become such a hero in Houston that even his most glaring mistakes are passed over as mere bagatelles. In 1976 Bum gave up on a rookie receiver named Steve Largent, who has gone on to renown in Seattle. Last season, in the first Pittsburgh game, the Oilers were behind 31-7 when Phillips froze on the sidelines and inserted Billy Johnson to return a kickoff. The popular "White Shoes" had missed most of the previous season with knee surgery and was obviously vulnerable, gun-shy. Moreover, Phillips had publicly announced that Johnson was too valuable a property to be used as a kick returner anymore. But here he came in a cause that was long-lost. This time the other knee buckled and, whoops, there went another White Shoes-less season.
Another questionable game-day decision came in this season's opener at Pittsburgh when he decided to punt away on fourth-and-inches in Steeler territory. The Oilers had come from 0-17 to tie the game 17-all and were in full cry with three minutes, six seconds to go in the third quarter. But Earl Campbell didn't get the call; Parsley did. After they recovered from the shock of Phillips' giveaway, the Steelers took the ball and drove 80 yards for the score and won 31-17. Afterward, Joe Greene said, "When you've got a howitzer [Campbell], you've got to fire it." Lynn Swann said, "Campbell should have carried. Chuck Noll would've let us go for it."
Ouch. In New York or Philadelphia, wonderful places like that, Phillips would have been crucified by press and public alike. In Houston the situation was kid-gloved all the way.
This is not to say that every silver lining has lacked clouds. Phillips has lost some credibility with the Houston media—largely a result of his loud denials that the Stabler-Pastorini deal was imminent. There are journalists who claim that, with fame and celebrity, the coach has become too pompous and lazy for his own good. For a long time Phillips didn't speak with the Oilers' administrative vice-president, Ladd Herzeg, a young accountant from Cleveland (Cleveland?) who says it took him "several months to realize how intelligent and sophisticated Bum is." Then there is the coach's ongoing arms-length relationship with his difficult boss, Adams, who some believe would just as soon fire Phillips as not if he could find any good reason.
Phillips' 5-9 record in 1976 would have been grounds for dismissal had not the Oilers been depleted by injuries and had not the season been preceded by the team's fluke 10-4 record in Phillips' initial campaign. In 1978, when Phillips' second two-year contract was running out, Adams was thought to be tying the noose, but the Oilers put together a November winning streak during which they came from 23 points behind to defeat New England 26-23, then beat Miami 35-30 in Campbell's famous (199 yards) Monday Night monster mash. Adams was forced to sign up Phillips for another three years. Now seemingly poised to make a third strong run for the Super Bowl, the coach may be beyond Adams' reach.
Bum Phillips doesn't go out to restaurants in Houston much. He usually escapes to the privacy of his cutting-horse barns out in Dewalt, just west of suburban Missouri City, where he is building a new home on a 10-acre plot hard by the railroad tracks. Bum himself cut out a piece of the land for a lake. Bum got his friend Red Adair, the oil-well fire fighter, to fill the lake with water. Bum stocked the lake with catfish and perch; he has a high old time out there every night just sitting under the cottonwoods feeding the fish and waiting for the house and stables to be built so he can bring over his 14 quarter horses.
Helen Phillips doesn't share much of Bum's football world. She raised the children, and he coached the team. They never related the two lives to one another. After Wade, there were five daughters in a row. Cheerleaders, not players. "Seems like coaches always have daughters," Bum says. Kim Ann, "my 14-year-old," is still at home. So is Charlie, the myna bird.
"I'm 13, Daddy," Kim Ann says.
"Feed the bird," Charlie says. (It comes out sounding a lot like "beat Pittsburgh.")
"How long have you had the myna, Mrs. Phillips?"
"Since SMU," she says. Helen knows football teams, not years. But of course there is the connection. A life-span marked off by the first-down chains. That's the way it always was.
"Naw, Helen don't know much about the teams either," Bum says later, far from home and Helen. "Ever' time somebody asks her about football, she acts dumb, like she has no idea what a first-and-10 is. But I taught her enough to watch a game without always lookin' at the guy who's got the ball.
"You know, I never had time for my family," he says, lost in thought. "Never got real close to any of 'em. Always movin' and coachin' and doin' the X's and O's. Maybe it wasn't worth it. Here I am in the pros and I haven't got any more money or happiness than I had back in high school. Damn. It must have been hard on Helen and the kids. 'Course, I never knew. I never asked 'em."
Bum is riding shotgun and sucking on his third six-pack of the night on the way home from a horse-cutting exhibition at Jim Reno's in Simonton. Reno is one of the foremost horse sculptors in the land, a genius in his field who left art school in the Midwest and spun his wheels around Houston for 18 years before he was discovered. Now Jim Reno, from way back in New Castle, Ind., is commissioned to do private-collection Secretariats and life-size Bob (King Ranch) Klebergs just as Bum Phillips, a nobody past 40 at Port Neches so long ago, is now in against the Dallases and Pittsburghs at the zenith of his professio