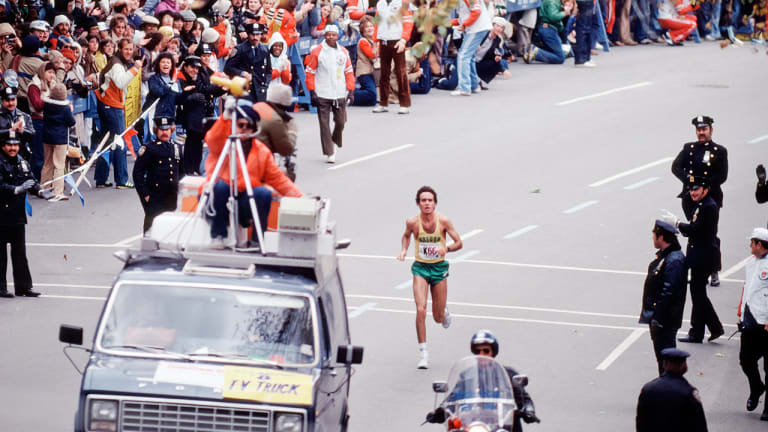 Publish date:
There Are Only 26 Miles to Go
And at the New York Marathon's end there was a predictable winner in Grete Waitz, a surprise in Alberto Salazar
Bill Rodgers is 32 years old and has won the Boston and New York marathons four times apiece. Alberto Salazar is 22 years old, and before last Sunday and the 11th running of the New York race he had never entered a marathon, though he was the second-fastest American at 10,000 meters this year, at 27:49.3. Both are from Massachusetts, and both are exceedingly confident men, which led to a most spirited prerace exchange for usually mild marathoners.
"I feel capable of a 2:10," Salazar had said, a pointed remark because Rodgers' New York record, set in 1976, was 2:10:09, "and I'd like to—I intend to—beat Billy Rodgers at his own game."
"There are 20 miles out there after Alberto is used to stopping. He's going to learn something in them," Rodgers said after hearing of Salazar's remarks. "And I'm firm on one point: no rookie is going to beat me."
It is more normal to hear marathoners sounding like Norway's Grete Waitz, who, though she had set world records in the last two New York marathons, rejected any attempt at clairvoyance. "You can't predict a record," she said before the start. "I'm running for the victory. It's hard enough to predict that."
In New York it was hard for the top contenders just to get through the welter of press conferences and expositions and corporate receptions that comes so easily to the media capital when it has a movement on the rise thrust at it. Thus there was a sublime relief in the hearts of many of the 14,000 runners as they took off at the toll plaza of the Verrazano Narrows Bridge and climbed the first mile to the span's summit with the chill (45°) wind, which gusted to 35 mph, at their backs, a crystalline view of the Manhattan skyline to their left, rainbows beneath them from fire boats spraying water in celebration of their passage, and all the film crews and meet promoters left blissfully behind with the "world's longest urinal" at the marshaling area. Two hundred feet must not have been quite long enough. Several men stepped to the railing in midspan and created the world's highest—228 feet.
Fank Nenshun of the Peoples Republic of China led for the first three miles, while Rodgers and Salazar stayed in a huge pack. "My plan was just to keep close," said Salazar. "I hoped to have something left for the last six miles." The pace was fast, but easy. "The wind just threw you along," said Rodgers, "but it scared me a little. I was afraid we'd get lulled into battle too early."
That appeared to be a possibility as Filbert Bayi, the former mile world-record holder, led two fellow Tanzanians quickly up to Nenshun as they ran past over-coated spectators in Brooklyn. Salazar alertly kept close, having tossed aside the T shirt he had worn over his University of Oregon singlet at the start. Salazar has one track season of eligibility left at Oregon, but none for fall cross-country, "so I thought this would be a perfect time to try the marathon."
Despite doing no training run longer than 20 miles, Salazar had to be taken seriously, for he sets himself no task lightly. "He will win," said his father, Jose, who brought the Salazar family to Wayland, Mass. from Havana in 1960, when Alberto was two. "He has always called the outcome, and he has always done it."
Waitz had led all women from the gun, the wind blowing her pigtails around into her eyes. Patti Catalano, who holds all American records from five miles to the marathon, drew up beside her. "I thought, I'm not here to be intimidated by her," said Catalano, "so I went by. But at five miles I heard my time of 27:03—awfully fast. I was afraid of blowing up at the end." Catalano eased, and Waitz went on, never to be headed again. She hit halfway at 1:12:30, world-record pace, looking serene. "I wasn't calmer, I was cooler," she said later. "The last two years have been hot."
After seven miles the lead pack was down to perhaps 30 men, 10 of whom led at one time or another. Rodgers was easily identifiable by his fluffy lemon-and-green stocking cap. He was relieved that there seemed plenty of elbow room because with the wind behind, there was no need for runners to draft along on someone else's back.
Behind, that great field stretched back for miles, filling the street to the horizon. It was an arresting vision, this moving city of 14,000 running souls, and it couldn't help but provoke a stream of thoughts. First, one simply marveled at the raw figures, the 20,000 entrants turned away to wait for another year; the 1,142 lawyers and 546 doctors running; the 2,000 foreign entries representing 43 countries; the 2,500 volunteers who readied 450,000 drinking cups and who had used 130 gallons of blue paint to put down the line that drew the throng through the five boroughs.
A New York Telephone Company computer revealed that there were 168 company presidents competing, but only 166 construction workers; that 300 intersections were closed; that its own printout of the results would be 70 yards long. It showed that as the mass of the field has grown, the percentage of finishers hasn't suffered, going from 71% of 1976's 2,090 starters to 91% of last year's 11,405 (90% of this year's starters would hang in to the end). It reminded us that in 1970 but one woman ran, Nina Kuscsik, though she didn't finish. This year there were 2,465, of whom only 10 asked for extra-large T shirts.
The conductor of this vast symphony, as ever, was Fred Lebow of the New York Road Runners Club, who had easily disposed of all the usual problems in the weeks leading up to the race, and some not so usual. When Jordache jeans offered to put up $250,000 in prize money, with $100,000 for the winner, Lebow sought approval from The Athletics Congress, which told him that if the athletes' amateur standing was to be preserved, the money would have to be awarded to (read funneled through) their clubs. The freshly formed Association of Road Racing Athletes then protested that arrangement as perpetuating the hypocrisy of under-the-table payments and said its members, including Rodgers, would boycott if such a plan were put into practice. So Lebow decided there would be no prize money. "We just didn't have enough time to create a plan that all the sides could live with," he said, firmly implying that next year would be different.
A far more elemental crisis blew out of the Atlantic on the day before the race. A storm dropped 1.54 inches of rain on New York City, and winds up to 50 mph blew down a tent in the starting area. Lebow fretted about the three-quarter mile carpet that crews were about to lay across the open grating of the Queensboro Bridge at the 15-mile point. "We don't know what's worse, running in high winds on soaked carpet or on slick grating," he said. Finally he judged the carpet was such an unknown variable that it might be dangerous and vetoed it.
But the sight of the 14,000 as they passed through a dismal industrial district in Queens toward what turned out to be a perfectly dry bridge inspired more than interest in the logistics of their welfare. Watchers were struck again with the satisfyingly democratic observation that in a marathon the weak and faint and lame get right out on the same road with the species' finest runners, and in New York they do it with the vocal help of about two million curbside assistants. "We're all devout marathoners here," said Parks Commissioner Gordon Davis, "even those of us who don't run a step." Since most viewers only got to see the runners once, they howled as if it were the homestretch, even if 20 miles remained. "This would be a hell of a spectator sport," said Jim Dunaway of Tenafly, N.J. as he labored toward his goal of completing the race in four hours, "if somebody invented a truck that would carry 60,000 people."
Yet for all their sharing of the asphalt, the runners soon divided themselves. Up front, nearest Rodgers and Salazar and Waitz and Catalano, were athletes born to run long distances. Behind came those persuaded in more complicated fashions. Few humans need run more than six miles at a time for the optimum health benefit, but marathoning in this country has little to do with health. Rather it has become a very literal rite of passage. Through this test the determined thousands seem to stride their way to what some know as therapy and others as chemical release (running has been shown to increase pain-blocking hormones in the brain), and still others as an enduring sense of worth that comes from keeping a promise to oneself and mastering this brute, daunting distance.
Powerful forces can be set loose in these people, and no one knows that better than New York officials. "One woman told me, 'My life is nothing, the marathon is all I'm living for,' " said Gloria Averbuch of the Road Runners Club. "Another said finishing was 'more gratifying than the births of my three children.' " Lebow has had threats of suicide if he will not accept an entry, and last year received a note from a woman who said she had a brain tumor and only a few months to live. Lebow let her in. Her name was Rosie Ruiz.
Waitz had smiled at the carnival attending the race. "In New York you can go out in the street and watch the people and be wonderfully entertained," she said. All through Manhattan she returned the favor. "It only looked easy," she said later. "I was suffering. I felt a cramp coming in my left thigh with six miles to go. I just said, 'Now forget about the time, just be first woman.' " Even so, she barely slowed. "It has to do with your will, and how much pain you put in your running," she said, seeming the stern schoolteacher she is. "At 23 miles I saw the time of 2:08 and I knew I had a chance to break the record."
Salazar had known his chances to win were very good as the leaders leaned through two lefts off the Queensboro Bridge and headed up First Avenue in Manhattan, Steve Floto of Boulder, Colo. had led strongly by 40 yards at the halfway point, in a rapid 1:04:42. Salazar and Jeff Wells of Dallas had led the pack of close contenders, now down to 20.
Then at 14 miles, Dick Beardsley of Excelsior, Minn. stumbled on a Queens pothole and went down, tripping Rodgers. Beardsley was up quickly, but Rodgers stayed on the road long enough to lose 80 yards. He finally rose with skinned knees and resumed, but off the bridge was still back in 10th. Across the grating, watching the wind-scoured water hundreds of feet below, the pack drastically rearranged itself. With 10 miles to go, the three front-runners were John Graham, 24, of Birmingham, England, running his third marathon; Rodolfo Gomez, 30, of Mexico, who had led the Moscow Olympic marathon until the final five miles and had finished second to Waldemar Cierpinski; and Salazar. The crowds were thick outside the East Side singles bars, and Salazar felt a rush. "I was tempted to take off right then," he said. "I had to hold myself back." He carefully placed himself behind the other two and settled down to wait, his dark eyes hooded.
At 20 miles, Salazar and Gomez realized that they had met before, and shook hands, exchanging a word or two in Spanish. Salazar began to feel the need for a faster pace. "The only guy in the field I knew I'd have a hard time beating if it came down to the last half or quarter mile was Rodolfo," he said. So Salazar ran the 21st mile up some stiff hills in 4:57. Graham dropped off, and suddenly this was a very Latin affair.
Gomez stayed on Salazar's back, thinking that the headwind they faced as they turned south for the run into Central Park was hurting him a lot more than it had helped when it was pushing. He is a bounding runner, slighter than the six-foot, 144-pound Salazar, and his expression occasionally seemed frantic at the effort it took to stay near.
Salazar runs like no one so much as Bake McBride, with a kind of hunched posture and low knee lift, but the middle of one's footstep is where the most power lies, and against the wind Salazar moved easily away: by 10 yards at the 21½-mile refreshment station, by 40 yards at 22 miles, by 100 yards as he entered Central Park with three miles to go. "I knew I would win then," he said later. "It was a different feeling from a hard race on the track. There you hurt most of the way. Here it was really bad only the last two miles. I was surprised. I thought I'd have to kill myself to do 2:10." He ran through swirling dry leaves to finish in 2:09:41, clipping 28 seconds from Rodgers' course record and becoming the only other American ever to go under 2:10. In addition it was also the fastest first marathon ever run.
Rodgers himself hadn't lost hope after his fall. He worked himself into seventh with nine miles to go, and fifth with six. "I felt good to 20 or 21 miles, but I struggled then, had to grind. People would shout, 'He's got two minutes on you,' and I would think, 'If he's got that, he'll break my American record.' It was agonizing."
Gomez held second in 2:10:14, Graham took third in 2:11:47, Wells was fourth in 2:12:00, and Rodgers finished fifth in 2:13:21. The first thing he did when it was over was ask Salazar's time. Learning it, he reeled back. "It's shocking when a guy runs 2:09:41 in his first try," he said. "I've run more than 30, and I've only run one faster than that. And it took me three years to learn how to run the thing...." It seemed he walked away more battered by the significance of Salazar's run than by his own fatigue.
Jack Waitz, Grete's husband, waited at the 25-mile mark, where he knew she would need him. He called to her that she was on record pace, to keep on enduring. "I thought, 'Oh, you should know how tired I am,' " Grete said later. "If it feels like that, I know one of these a year is enough."
She crossed the line in 2:25:42, a minute and 51 seconds better than her record, in 74th place overall, then was embraced by the long and none too tender arms of the police, who hustled her to the interview area. "I have not had a moment to think, to feel anything but crushed by people," she said, growing faint.
Catalano had run the first 16 miles accompanied by her husband and coach, Joe. He then took a shortcut to the 24-mile mark. With Waitz out of sight, Catalano's goal was to become the second woman ever to break 2:30. "With two miles to go I looked at my watch," said Joe. "I saw that in order for her to make it, she had to keep a 6:30 pace. I yelled, 'Six-thirty! Six-thirty!' and she got pumped."
"I'm no sprinter," said Patti, "but when I got near the end and saw the clock reading 2:29:20, hoo, I ran as hard as I ever could." She reached the finish line with a face that showed all the toil of the previous hours, and all the reward, as she was timed in 2:29:34, lowering her American record by 1:23.
The winners were gathered in the sudden warmth and gentility of the Tavern on the Green and began to reflect. Waitz and Salazar chatted, finding themselves kindred spirits, both saying they would not run again in a marathon for a year, both asserting the importance in long races of training and racing on the track; both equally calm, equally sure. Here they were, the woman who has cut the world women's record by 8:30 in the last two years and brought it to a point 37 minutes faster than it was in 1970, and the man who clearly has the best chance to break the men's record of Australia's Derek Clayton (2:08:34), which has stood since 1969. And they seemed alike, too, in both carefully rationing a deep reservoir of discipline that only they can judge.
Salazar might have spoken for both of them when he said, "I don't want to add to the myth of the marathon. It's just a distance, not a shrine. I didn't think you had to run it a lot to run it well. But everybody told me you did. 'It's different, Alberto,' they would say, 'those last miles.' It wasn't that much different from the pain I've known before. I don't think I proved anything to myself, but I imagine I did to a lot of others."
PHOTOPHOTOFourteen thousand strong, the runners rambled through the Big Apple to enthusiastic applause.PHOTOCooler than ever, Waitz set another world mark.PHOTOSalazar won his first marathon in a race record.PHOTONot all promotions stopped at the starting line.PHOTORodgers' knees were barked, his streak broken.PHOTOCatalano got herself pumped up and broke 2:30.PHOTOThe runners looked like medieval knights as they emerged from the timing chutes wrapped in silver Mylar blankets to ward oil the bone-chilling wind gusts.